15 Pairs of Shoes in 2 months & Lessons Learned
I've never considered myself much of a "shoe girl". I like shoes-sure, who doesn't? But I was never overly jazzed over shoe shopping, didn't have shelves filled with every style you could think of and definitely opted for new clothing over shoes when given the hard choice. But starting my job as a Personal Stylist with Nordstrom changed something in me. Being surrounded by so many beautiful shoes and realizing my own repetition I just broke down and suddenly "needed (a ton of )shoes for work."
15 pairs to be exact.
It wasn't all at once- certainly not. It was a pair here, two pairs this day and another pair a couple days later. I was averaging more than one pair a week. Sure, some of you may be thinking to yourselves, "So what? 15 pairs is nothing!" But, when I say I never bought shoes, I mean it. So for me, this is highly excessive. Realizing the other day just how many shoes I had recently acquired got me thinking. Which of these am I actually wearing? Why am I wearing these and not some of the others as often? And the dreaded question, which of these could I have lived without? So I thought I would share my true "must haves" and why these shoes should be your first go-to's when building a core shoe collection in a business casual setting!
I was shopping for work shoes that needed to be a few things:
Fashionable- Hello, I'm a Personal Stylist I can't be walking around in one pair of "what are those" while insisting variety in your wardrobe. Different looks call for different styles of shoes, to truly compliment a range of styles you must have a range of footwear.
Comfortable- I'm on my feet all day long and not just standing there, I'm constantly on the move. Whether setting a room, pulling clothing for multiple appointments or shopping the store with a client; I'm on my feet and walking a lot. Averaging between 7-10 miles a day, according to my sports tracker. High heels were out of the question!
Appropriate for the season- The store opened September 30th, that's the start of fall if you ask me! I wanted boots, booties, flats and menswear inspired everything-so oxfords. As well as rich colors, prints and fabrics.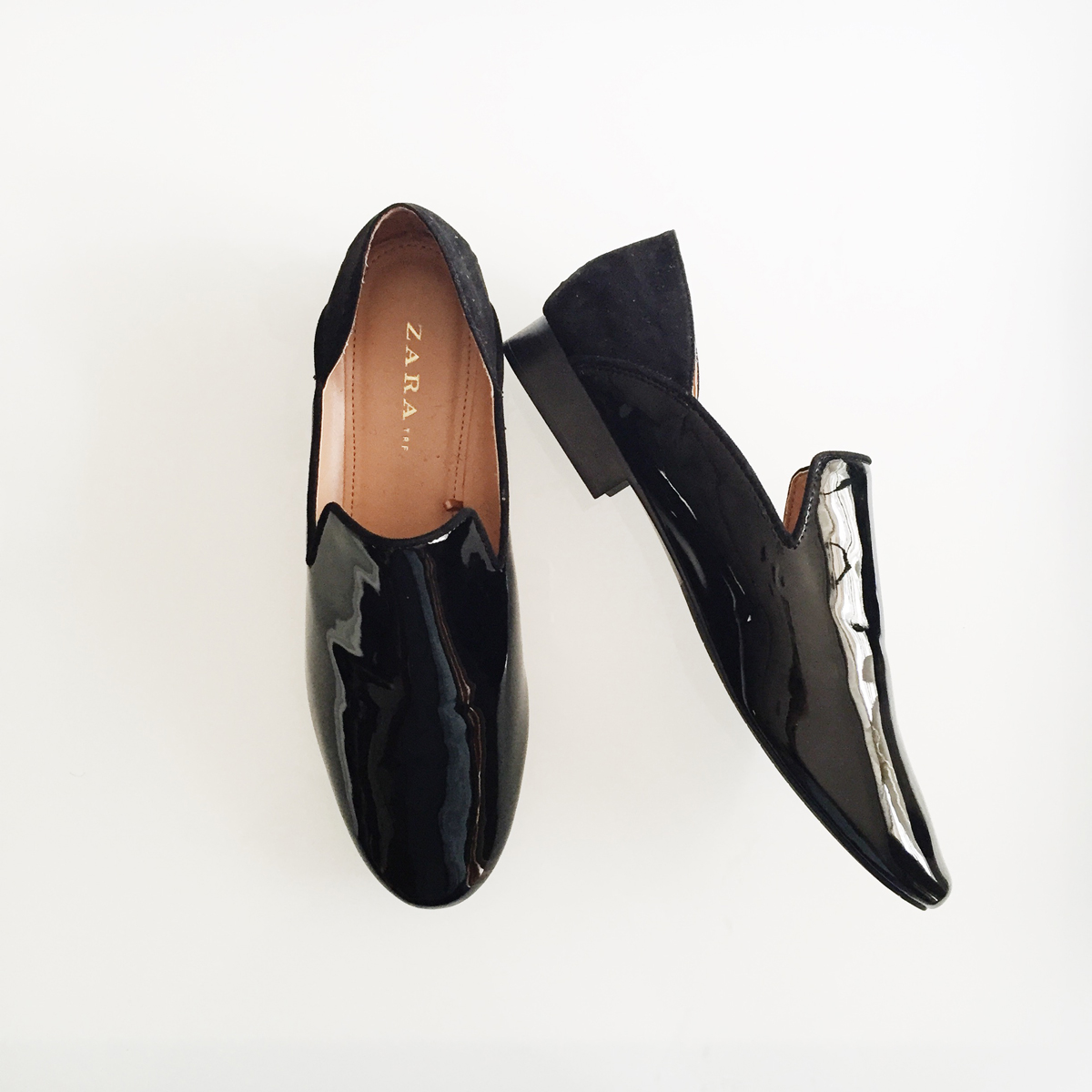 Right off the bat I bought some what I believed to be essentials; the black two-tone loafer like flats were a "love at first site" buy and have been one of the most repeatedly worn shoes I've bought and have resulted in zero blisters. Making them well worth the $29 asking price!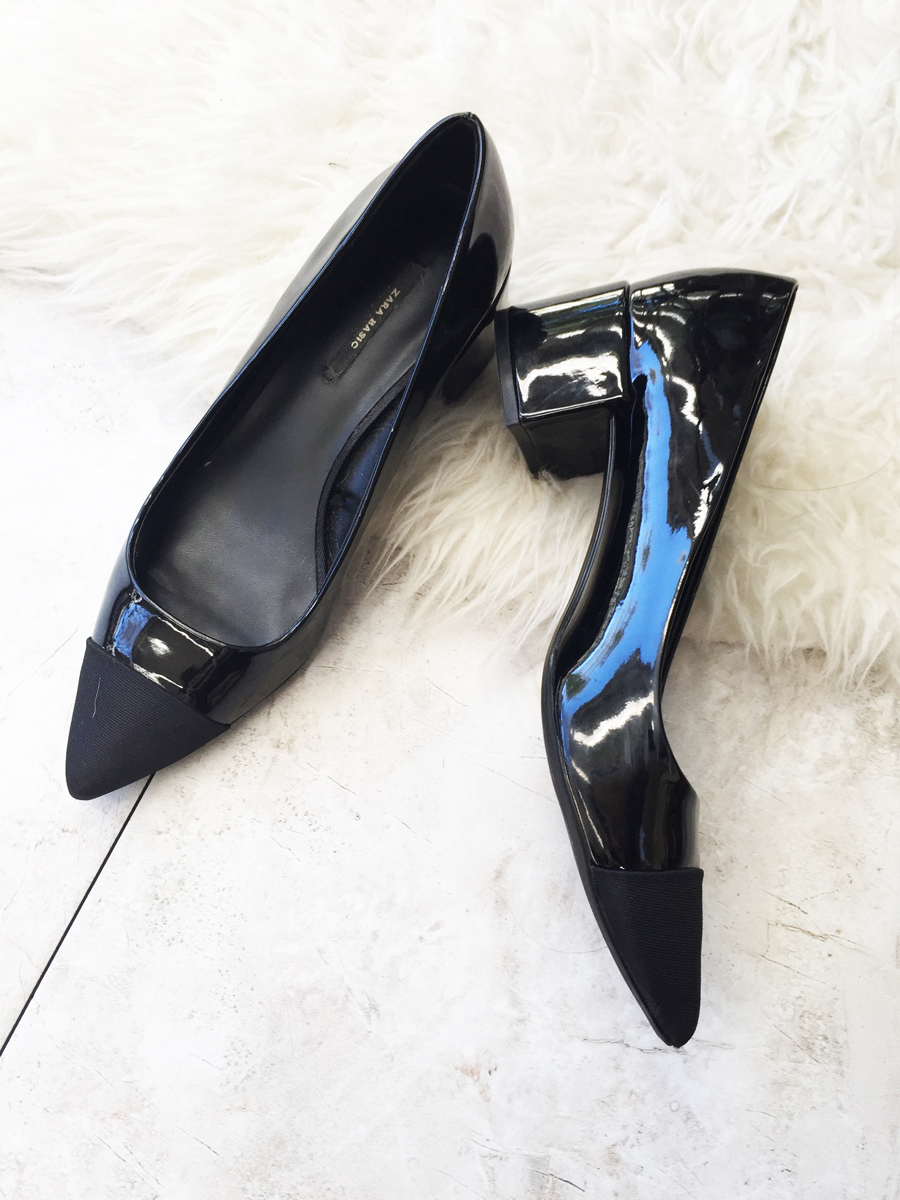 The 2 inch mid-heel, cap toe shoe was so cute and I remember thinking to myself "A little heel is better than no heel." I think I just need to break them in a bit more, I've only worn them once because they completely destroyed my feet within a few hours! They are a very stiff shoe. Because of how bad the they hurt my feet I've been really apprehensive about wearing them again-especially to work for such a long amount of time.
The pointy toe black flat is a necessity of course, but even more necessary is the importance of trying shoes on before buying, taking home and removing tags/receipt. I made the mistake of assuming I was my usual size at a store I'd never bought flats at and they ended up being way too big. Unfortunately, because of the return policy I was unable to return the shoes and had to eat that cost-never getting any use out of the shoes. Lesson learned, sort of-keep reading.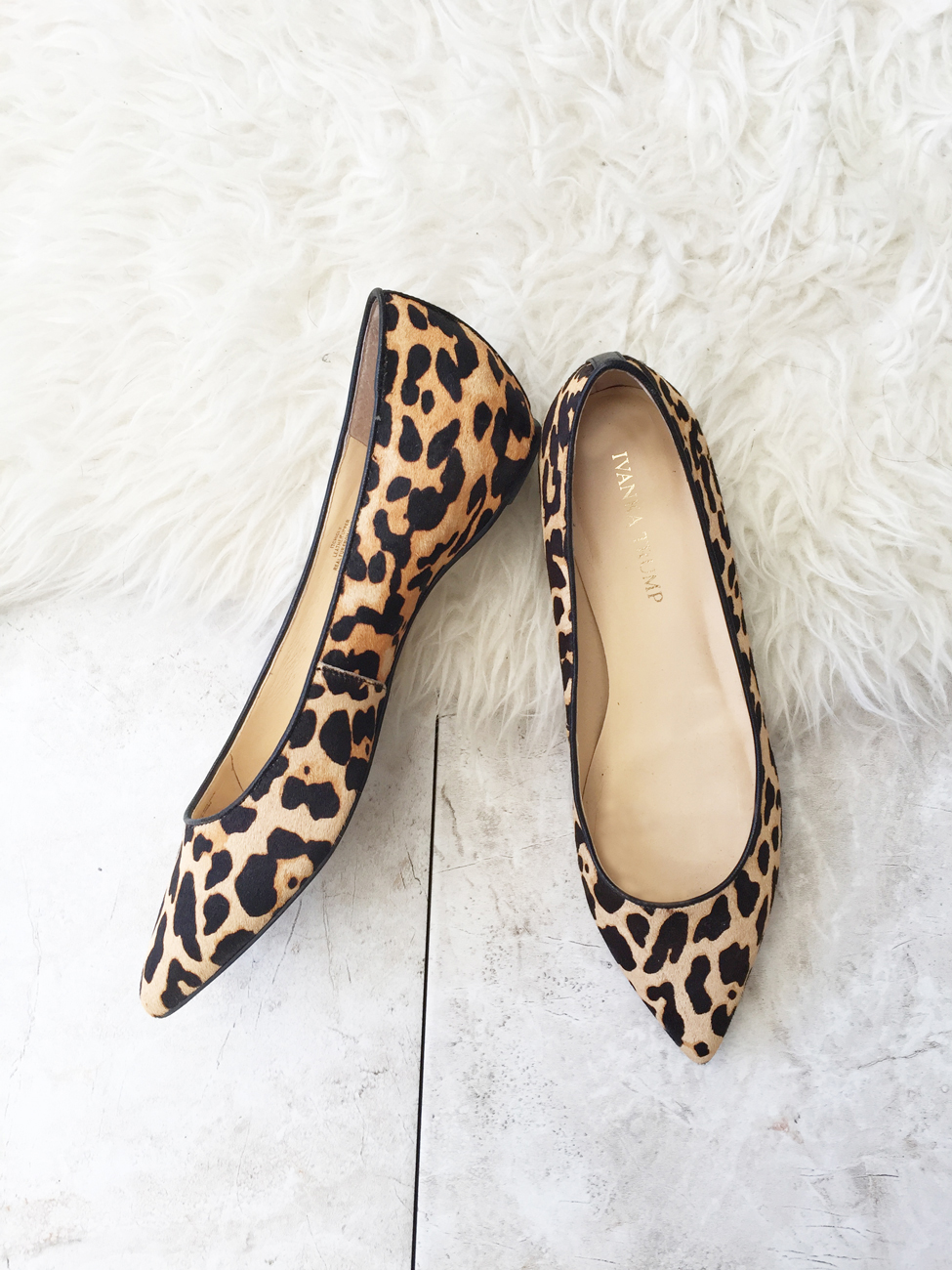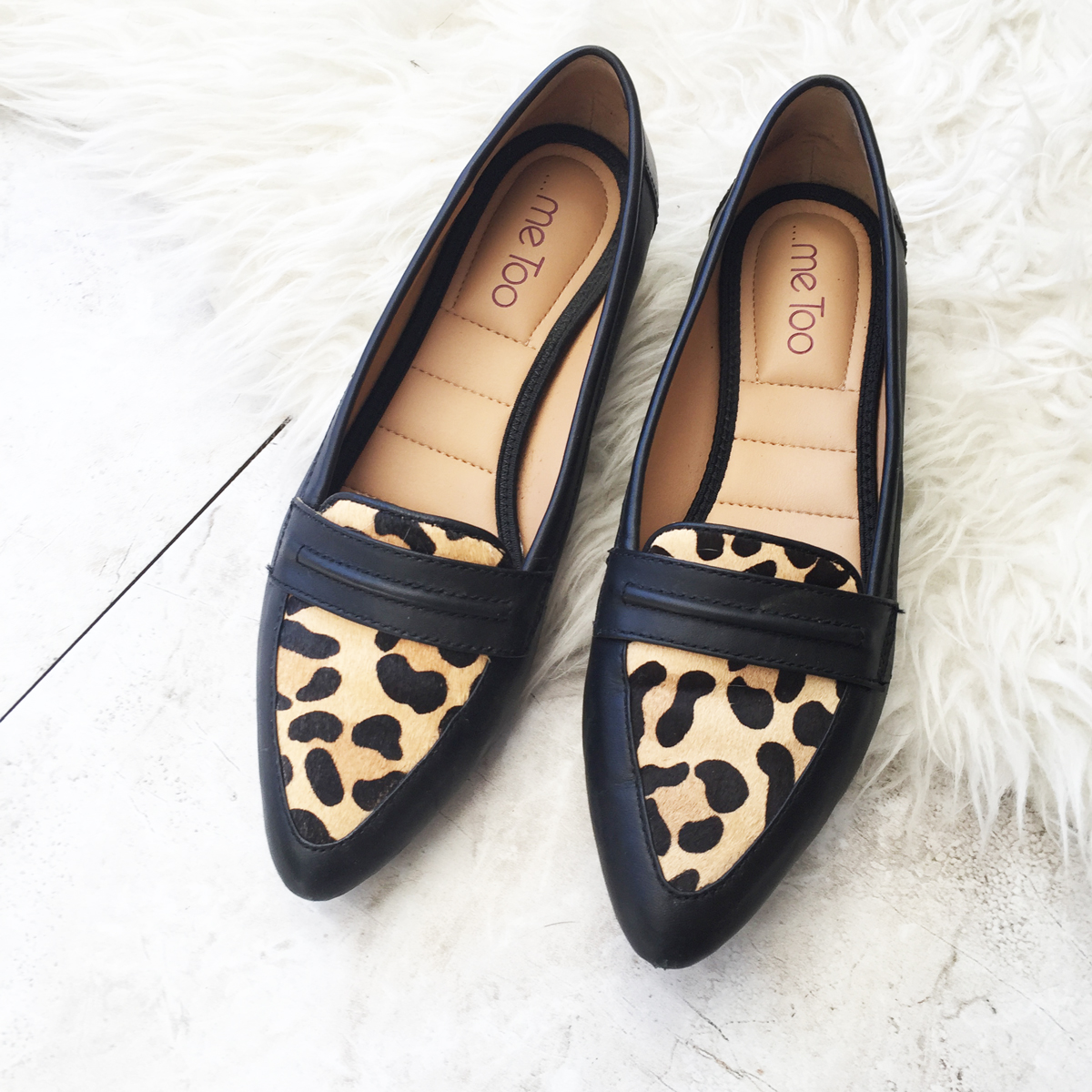 Next, I "needed" some new leopard print flats. I hadn't had a good pair of leopard print flats since I was about 22 years old and I had had those for a solid three years (with constant use) before they were retired. I'm picky about the type of leopard print and I prefer calf hair styles. I saw and loved the Ivanka pair online and ordered them, again without trying on. These flats are only slightly big, I'd suggest ordering a half size down if you're thinking of purchasing. With the right insoles these are fine, however, in the back there's a little elastic strap detail that rubs like crazy-because of that I haven't worn them as much as I thought I would, had they been the right size it wouldn't bother me. I then came across the black pointy toe flats with the leopard detailing and *after trying them on brought them home where they have been worn over and over! The soles on these shoes are so padded, making them one of my most comfortable pairs of flats!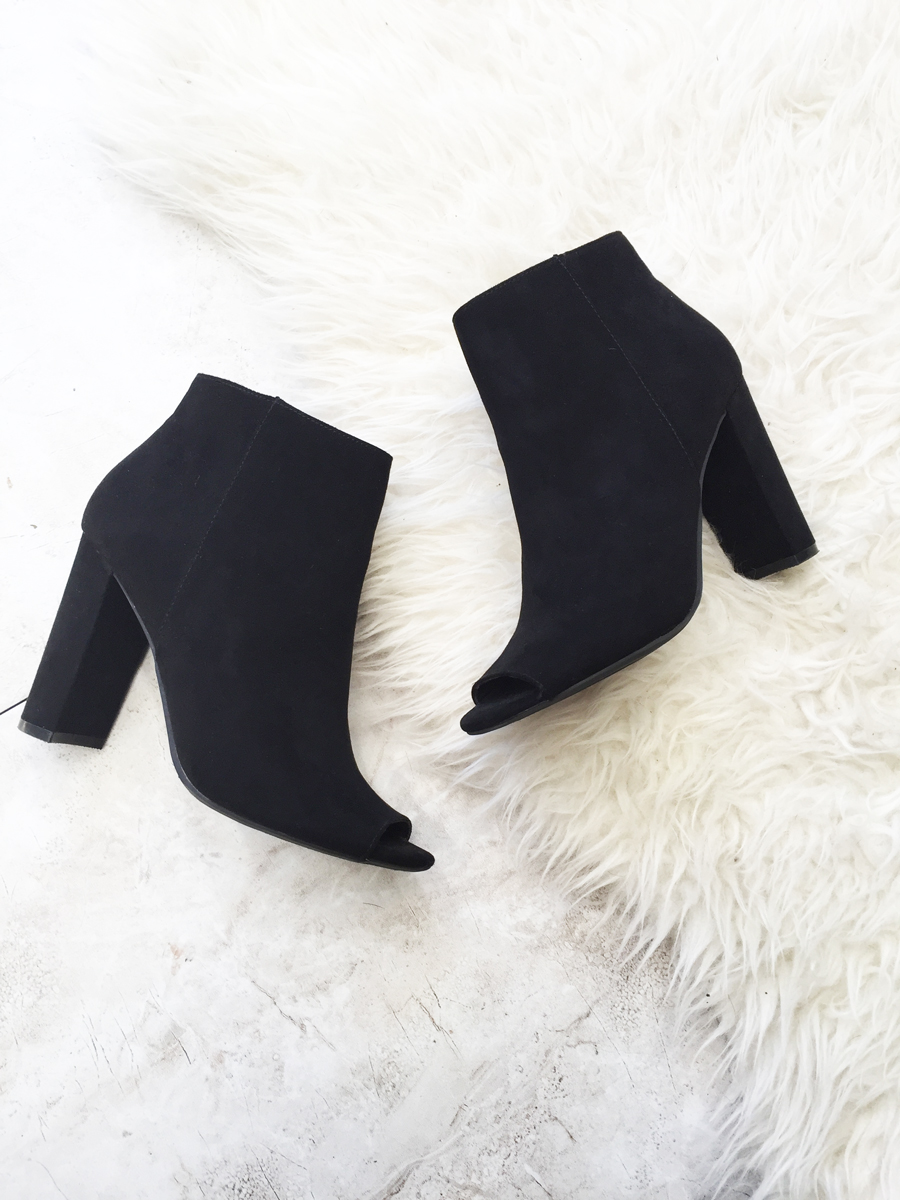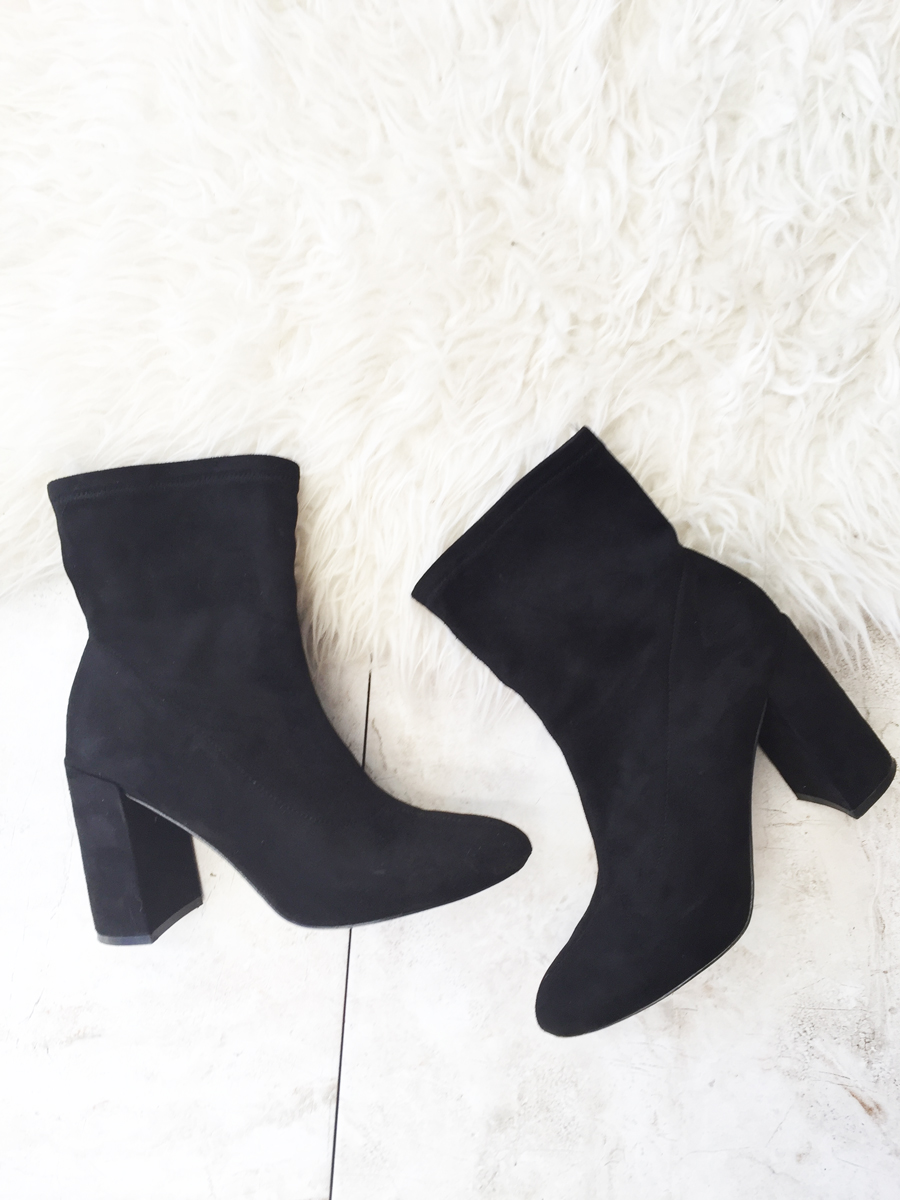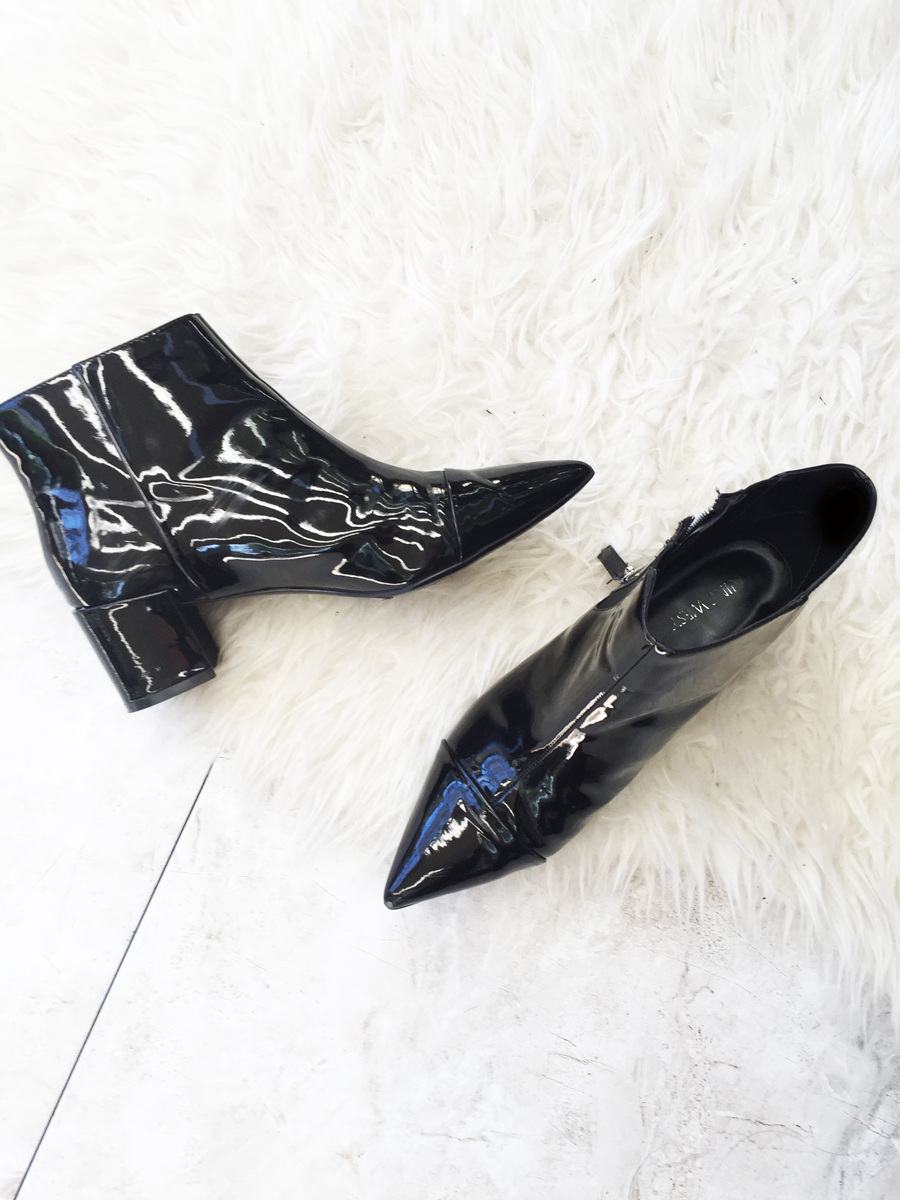 On a trip to Target to shop for Halloween decor I got sidetracked in the shoe department and that led me to these peep toe beauties. Comfortable and very chic-I love these shoes. At the end of the day though they weren't able to take the spot of an actual ankle bootie, they only deepened my want for some.  Always a fan of a good sale I scored these BCBGeneration booties after they dropped by $60 to only $80, such a bargain! I wear these booties constantly and can last an entire shift in them-they are that comfortable! I then realized that I didn't have a flat ankle bootie and soon remedied that problem with some pointed toe, patent leather cuties.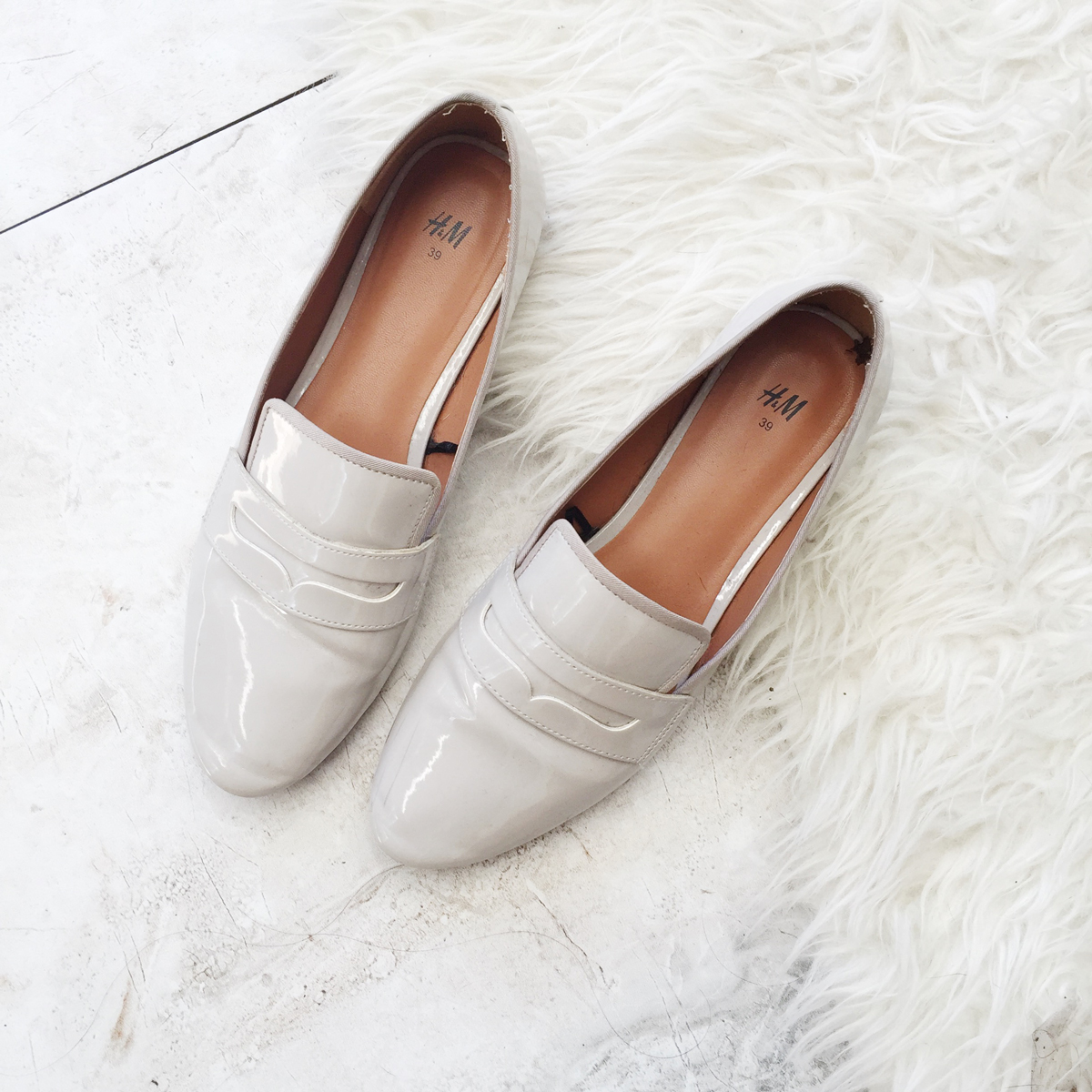 After realizing how frequently I was wearing my black loafer like flats I knew I needed more in this style. The patent is chic and the menswear aesthetic adds an extra bit of flair to my outfits so I ordered the same shoes in a deep burgundy color then found a similar style at H&M in an easy to wear nude. While I was in H&M I decided to grab another pair of black flats, a d'Orsay style.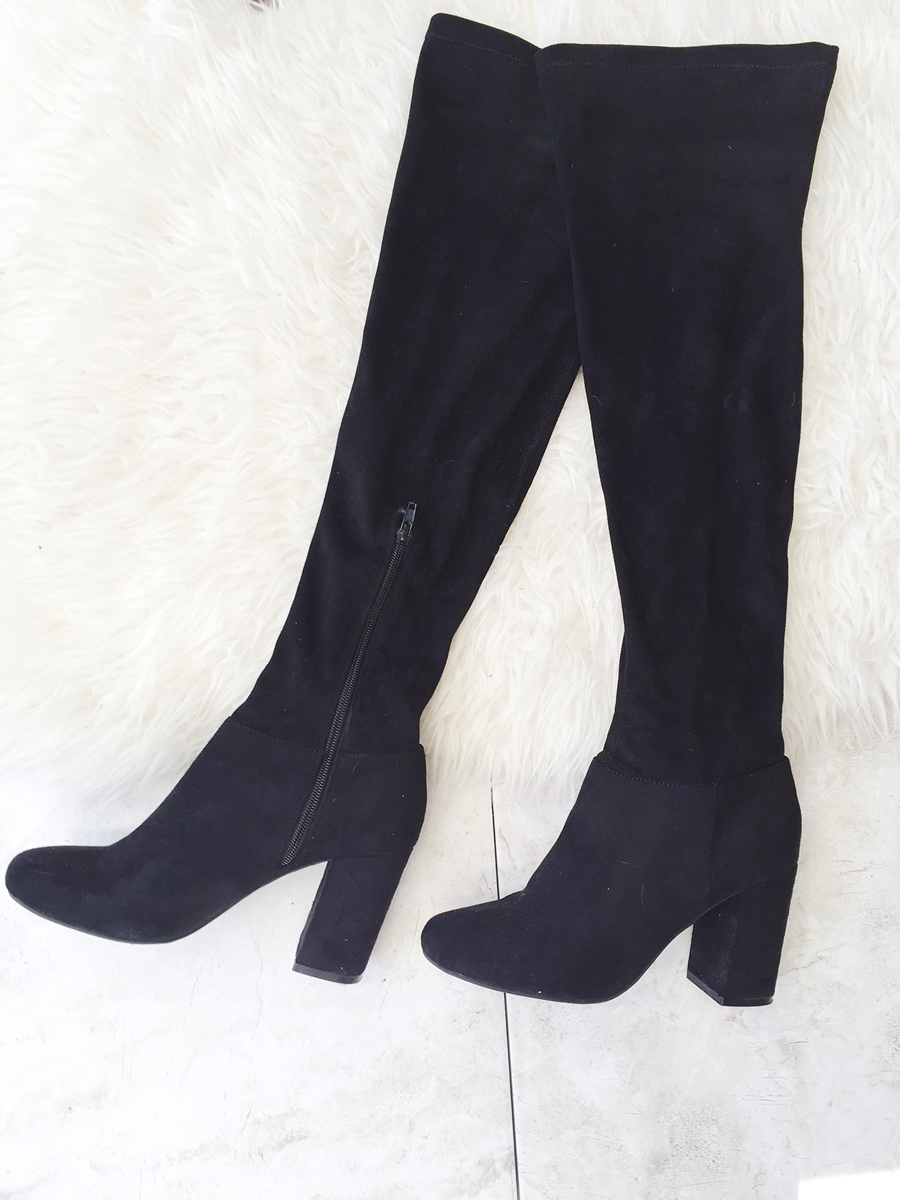 Next came my OTK boots, I had one pair already-pictured here, and rarely wore them because the straps constantly come untied and I'm a very impatient person so stopping every few minutes to re-tie my shoes is just not going to happen. I knew I wanted some that were slimmer fitting, without the lace up detailing and hit the jackpot when I came across these classic black ones at the rack then three boxes over saw these grey beauties as well. I grabbed them both and called it a day.
A few days later I decided to break in my new boots at work and forgot to take a back up pair of flats for when they got unbearable. This led to an impromptu lunch run to Zara, my go-to for fun oxfords, and sure enough these royal blue velvet cuties were just calling my name and ended up relieving my feet.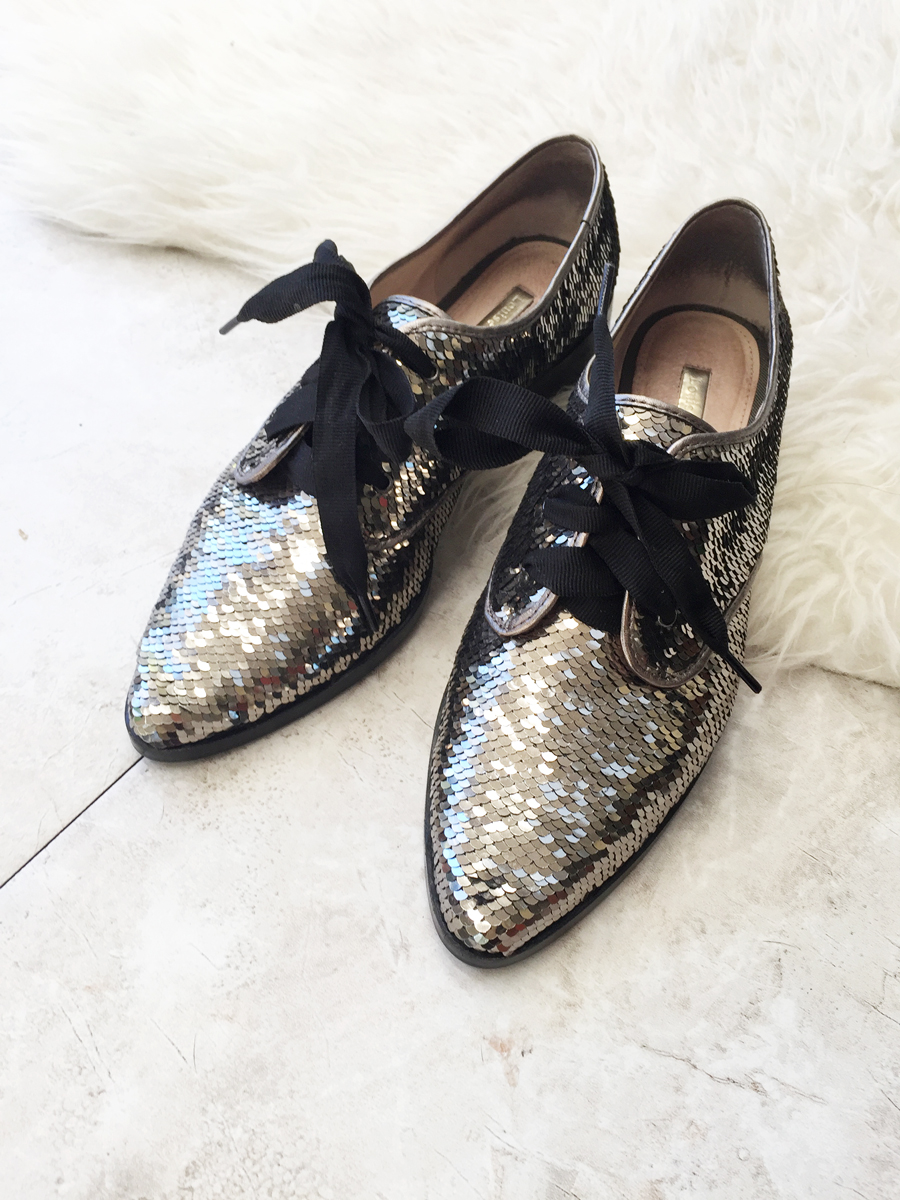 The sparkly Louise et cie loafers were pure "MUST haves" I ordered them the moment I saw them-no hesitation. They spoke to me and I knew that the brand was one that I find to be very comfortable, they were an easy decision and a great one as I wear these shoes a couple times a week and get tons of compliments each time that I do!
After buying all of these shoes I can say without hesitation that the only ones I absolutely couldn't go without are my black & burgundy oxfords, my ankle booties, black over the knee boots, black and leopard flats and sparkly oxfords. That's right, I would've been fine with just these six pairs of shoes. These are the styles that I find myself reaching for day in and day out. Having the other options are great but definitely not imperative, for me at least. What each of these shoes have in common are comfortability-they allow me to feel chic without killing my feet!
Which are your favorite?
Xx Sylvia
---