Runway, My Way: Tibi FW15
I've been obsessed with runway shows for as long as I can remember, I swore I was going to be a runway model until reality set in that this frame would go no higher than 5'6″. It was the saddest of days but I'm still pretty obsessed with runway shows for other reasons. Hello, first peeks at the upcoming season, what's not to love? Though technically I currently lack the bank account to shop off the runway, I do like to take my seasonal inspiration from what I see. Today I did just that. While watching the Tibi runway show (again & again) I noticed the deep blues, classic hues and fun pops of pastels all of which fit so effortlessly into the fall feel of the outfits and I took notes. I then decided to share those notes with you dollfaces! Here's some fall fashion inspiration Tibi style.
Xx Sylvia
---
Runway, My Way: The Michael Kors Short Suit
I am obsessed with bold short-suits. They are so, sooo chic and they have that menswear inspired touch that I love. The hotpants from the runway version are a little risque for me but how cute are these suuuuper inexpensive alternatives? I need that pink one!!
When wearing such a bold print all over I would stick with a solid, neutral colored top underneath to let the suit do all of the talking for the outfit as well as a simple sandal or pump. This little suit is statement enough. I've been all about matchy-matchy sets lately. I may have even bought one this weekend, I guess you'll just have to stick around and see.
|   P   I   E   C   E   D     O   U   T   |
Xx Sylvia
---
Runway, My Way: Louis Vuitton RTW SS 2015
Keeping with the 70's revival of yesterday's post I wanted to remake this look from the Louis Vuitton Ready To Wear line but because the look wouldn't really be complete without a red boot and I don't necessarily see myself wearing red boots often I knew this may be a challenge. Never buy an overly trendy piece just to complete one outfit but if you have to have it try sticking to these shopping guidelines.
 CPW (Cost Per Wear)- are you going to get your money's worth out of this buy? Take these red boots for instance, personally I wouldn't really rock a pair of red boots too too often but I really wanted to recreate this look the best I could so I tried to find some that were inexpensive without looking cheap. There is a difference. I found these at UrbanOg where I've come to expect designer look alike shoes at a fraction of the price along with a great variety of fun pieces to mix and match. If you haven't checked out their site, go!
Again, inexpensive NOT cheap. It's easy to get caught up in the price tag of things but less isn't always better, sometimes it's essential to invest a little money in order to get a quality piece. I lucked out finding these boots for less than $25 but believe me they were roped in with some very gogo dancer looking ones as well and though this look is reminiscent of the decade I'd like to look a little more modern and less Austin Powers.
Don't settle for an EH anything! If you don't love it, don't absolutely have to have it, don't buy it! That simple. You will never love anything as much as when you first see it in a store and there's still the appeal of it not yet belonging to you, so if at that moment you only feel "eh" about it just walk away my child, just walk away.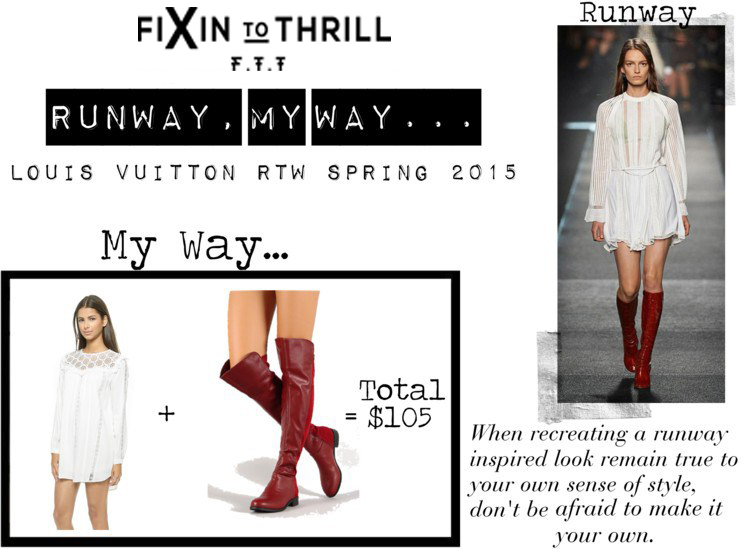 How do you feel about the red boots, love or hate em?
Xx Sylvia
---
Runway, My Way: Altuzurra Spring 2015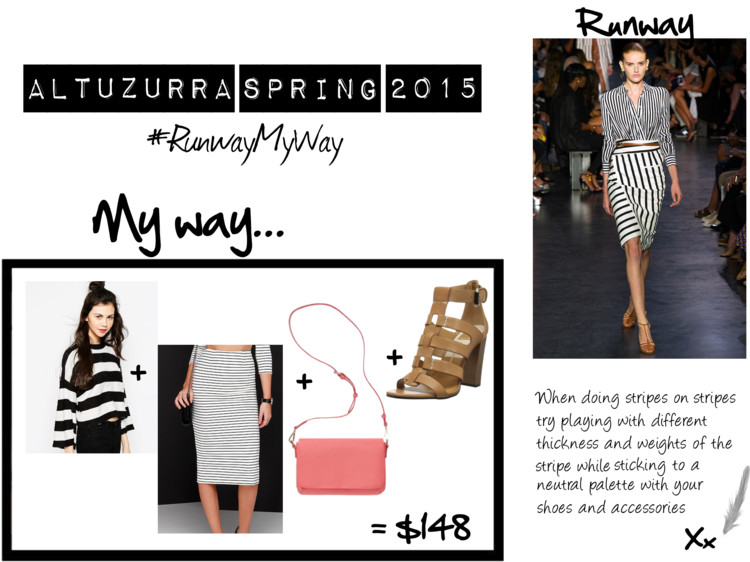 For this week's Runway My Way I chose this stripey look from the Altuzurra Spring 2015 Collection. I for one have always been a huge fan of stripes and contrary to any fashion rules I wear them going in just about any direction. When I saw this outfit I knew I needed to remake it in my own way, I actually found a shirt that very much resembles the one in the runway look (here) but because this is "my way" I thought I would show you the shirt I'd probably use. The billowy sleeves, cropped style and bold stripes made this shirt an easy choice for me over the more structured one in the inspo picture, paired with a more subtle striped pencil skirt and very neutral but fresh (read spring/summer) accessories all for under $150!! If wearing a full on striped top and bottoms is out of your comfort zone then try starting with a single striped piece to add to an outfit for an added punch of boldness or just stick with a dress or romper in a striped pattern.
Whether you go head to toe stripes or add a punch with a statement piece this is one trend that will always have a place in your closet. Personally, I'm trying to step out of my comfort zone and get a nice pair of striped pants, never have I ever worn striped pants in my life, that's about to change.
|   P   I   E   C   E   D     O   U   T   |
Xx Sylvia
---
Runway, My Way: Band of Outsiders SS15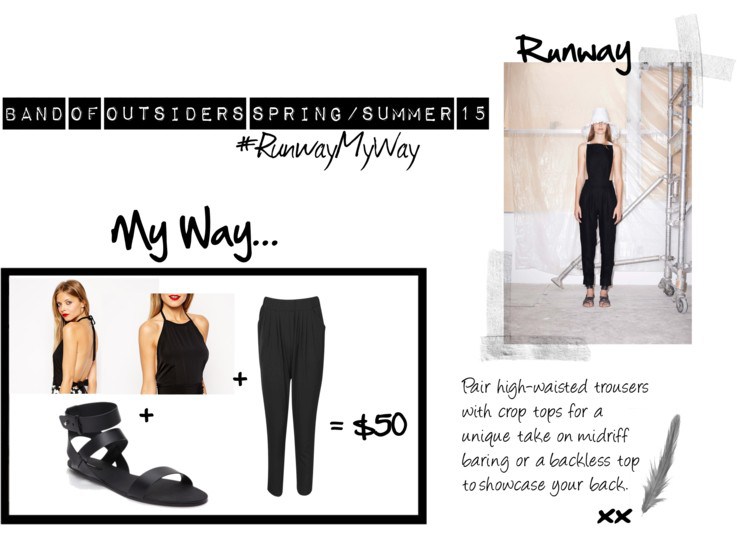 |   P  I  E  C  E  D    O  U  T  |
Xx Sylvia
---