Friday Fix: 4th of July Makeup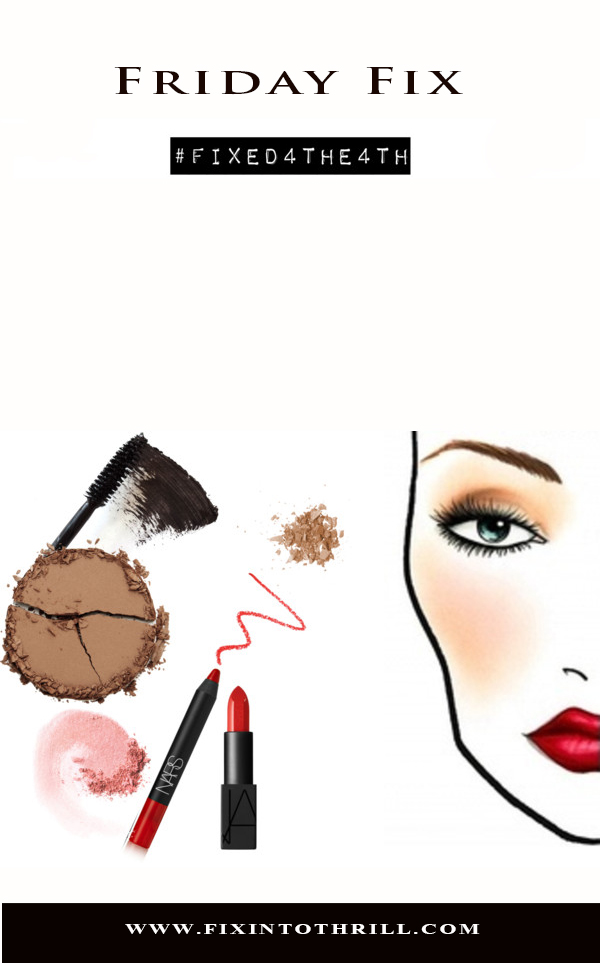 Today I wanted to share with you the exact products I'll be using for my 4th of July makeup routine. I'm going to go with a classic red lip and keep the rest of my face fresh looking. I've been using Coola Mineral Matte Sunscreen on my face and usually start by applying that. It's so smooth and velvety, unlike any sunscreen I've ever used before, perfect for going under makeup.
In the summer time  foundation is used on an as needed basis so I'm talking extremely light, if at all. I rarely skimp out on my concealer because dark circles are never cute and if I've said it once, I've said it a million times, Glam-o-flauge! Seriously, the BEST concealer. I'm on the verge of starting a not for profit street team to just go around informing girls of how amazing this concealer is. "Hi, my name is Sylvia, do you have a second to talk about Glamoflauge? Oh, by the way, I'm in no way affiliated with them"… yeah not weird at all. My love is that real though.
Speaking of real, They're Real by Benefit has been my go-to mascara lately, it really gives my lashes length while still maintaining the volume. As for eye shadow, I usually stick to very neutral colors because my eyes are already pretty small and I don't want to make them look even smaller. My favorite sandy colored neutral right now has to be MAC's Ricepaper and it will most definitely be on my lids come Saturday. I probably wont wear any eyeliner on the 4th just because my plans involve being outside and active but if you're planning a cat eye can I just say that the Almay liquid eyeliner is an exact dupe for the Bobbi Brown liner and I stand by that statement 100%. Test them, compare them and please tell me if you agree!
Now for the star of the show, the red lip. NARS Velvet Matte Lip Pencils are my life right now. These suckers have the highest turnover rate out of any of my other lipsticks. Dragon Girl is my color, it's the perfect red. This pencil kills it too, it's a liner, it's a lipstick, it's non drying, it has vitamin e, it's long wearing and it's so very highly pigmented, OMG yes. Keep it matte or top it with a little gloss, classic Betty.
Have a great 4th of July!
Xx Sylvia
---