Spotlight: Michelle Washington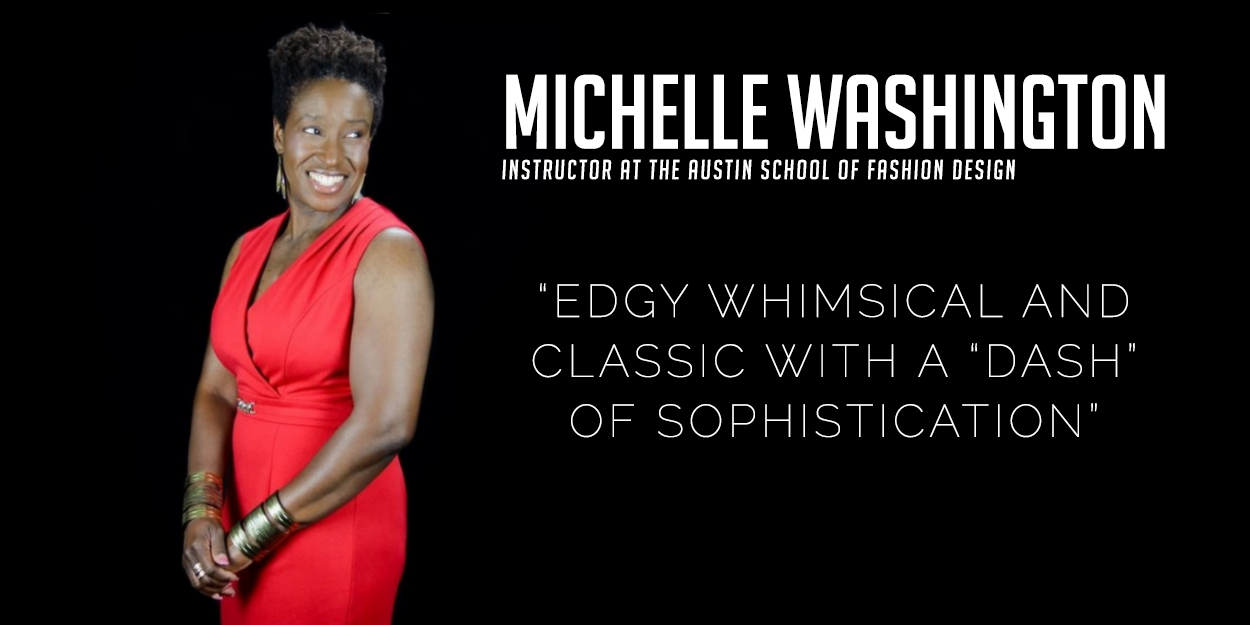 I've never written about a particular person on my blog but today I'd like to start what I can only hope to be an ongoing series of posts about creative, talented and driven women who inspire me. Over the past year of blogging I've encountered more unique, ambitious and empowering women than most of the previous years combined. I would love nothing more than to shine a little light on some of their stories.
Michelle Washington, an instructor at Austin School Of Fashion Design (ASFD) is the reason for today's post. Michelle heads the Styling class (which I'm attending and CANNOT wait for). She is a stylist with a focus on published fashion editorials/photo shoots both fashion & beauty, runway, TV, look books, and ad campaigns. With a background spanning everything from styling, wardrobe consulting and even design, she's worked with some pretty awe worthy labels like Ralph Lauren, Tahari and Nike to name just a few. Needless to say, she knows styling and if I want to learn some tips she's a great starting point (and probably ending point) so lucky me, I had the chance to ask Michelle a few questions and hear a bit about her background prior to my styling class with her this Saturday. If you don't get a chance to check out her styling class trying checking out some of their other classes to help you get on the path to a career in fashion. I've long been interested in ASFD for their various classes ranging from sewing, styling and even merchandising. The classes are taught by trained instructors with a wide range of backgrounds in the fashion industry. This year I really want to learn to sew, it's high on my resolution list so once again I'm on the ASFD website looking over course schedules deciding I need to take them all, which leads me to Michelle and her classes.
Q: What can a person expect to take away from your styling classes?
A: A better understanding of the differences between a Stylist, Personal Shopper, and Image Consultant.
Q:What led you to start teaching?
A: Aside from my own love of fashion, my educators taught me that fashion was more than a fleeting phase…it was love of the industry…love of art…love of a craft. When I hear newbies say "I have a passion for fashion", it's cliché. To teach them what the history of the industry is and true passion is lead me towards teaching.
Q: Define your personal sense of style.
A: Sophisticated with a touch of FUNKY 😊 I wear a lot of black and I love to sparkle!
Q: To women hoping to get into styling, would you say that getting a degree within the Fashion field would help further their careers?
A: When I first began, my toughest obstacle trying to gain industry knowledge. To have a degree in Fashion Design is one thing, but operating specific areas of the industry is quite another. I was not aware of how important a Stylist is to the fashion industry. I approached several professional Fashion Stylist (who I looked at as possible mentors) about being their assistant/intern, none of them would accept me. I learned that some Stylist are intimidated by new talent, so I jumped right in and learned on my own; a lot of bumps and bruises along the way that were well worth the experience. No matter how far I have come (no matter what celebrities I have worked with), I still consider myself to be a student in the industry. I am humble enough to gladly assist Stylists who are even more successful in the industry than I am.
"One of my models had super tall stilettos, as she cross-stepped…I could see her in slow motion falling in a $10,000 dress I put her in. I dove to the floor like a baseball player sliding to home-base, breaking her fall just in time…Wheeeew!"
-Michelle
Q: If you weren't styling and teaching what do you think you'd be doing instead?
A: In the next few years, I see myself as a Creative Director or Fashion Editor of a large circulation fashion magazine and mentoring new fashion industry hopefuls. My ultimate goal is to be the Editor-In-Chief of Vogue magazine…not too far-fetched!
Q: What advice would you give to all of the hopeful magazine & celebrity stylists?
A: If I could pass along any words of wisdom, it would be "keep at it", even when it seems like you may never get there. You will regret giving up even if you do not become successful. The fact that you continued the journey to your goals is worth the reward more than the success.
Xx Sylvia
---