Fixed to Travel: New Orleans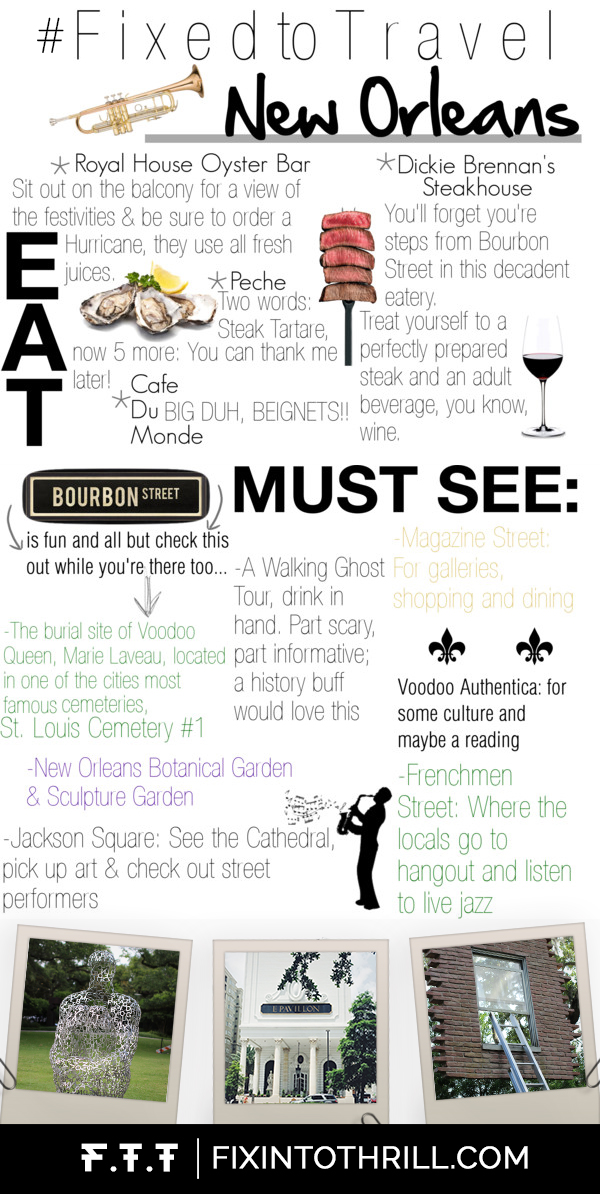 Visiting New Orleans can be a completely different experience each time you go. I've been over 5 times and I swear every time I have a new favorite restaurant, bar and hangout. The city has so much energy and culture, you have to visit more than once to really take it all in.
In the past I was obsessed with The Old Coffeepot Restaurant, I went every single time I was in town. You have to check it out, they're known for having the best breakfast in the French Quarter (although I usually grab dinner there)! I decided to step out of my "creature of habit bubble" and found a few more delicious spots like Peche, Dickie Brennan's Steakhouse and Royal House Oyster Bar where you definitely have to dine on the balcony and ask for Leroy, he was our waiter and he was absolutely phenomenal.
As far as bars, there's obviously a ton of options along Bourbon Street, some of my favorites are The Swamp, Pat O'Briens and honestly any dueling piano bar. This time we ventured about a half mile north of Bourbon to Frenchmen Street after hearing from a ton of locals that that's the place to be. They weren't kidding, we went to this club, 30/90  to catch some Jazz, it was one of my favorite nights. The artists performing were like something out of a movie, perfection. If you go south of the French Quarter towards Downtown there are more dance clubs where you can hear DJ's and get bottle service but that wasn't my plan this last trip, maybe next time.
During the day we walked the streets of the French Quarter taking in the architecture and popping into random shops and galleries. We went to Jackson Square and watched some street performers doing everything from playing instruments to live painting. We took tons of pictures along Magazine street with all of the gallery, restaurant and store fronts. We were even lucky enough to catch a concert in the park. No trip to NOLA would be complete without a reading though, right? On previous vacations I've found people set up in Jackson Square and gotten my cards/palms and even aura read with varying results. This time I went to Voodoo Authentica, which I was referred to by the owner of a different Voodoo shop (so you know its good) I got a 30 minute reading that left me with chills and a renewed sense of determination. I highly recommend!
If driving isn't a problem you have to check out the Botanical Garden and Sculpture Garden or go on a tour of some of the old plantations around town. I really wanted to go to this one but didn't get the chance to. Of course depending on the season you can also catch a Saints game in the Superdome, an experience I've been lucky enough to have & definitely want to do again. Then of course there's Mardi Gras and Jazz Fest (neither were going on this time around). Needless to say, there's always something to do in New Orleans.
I hope this guide gives you a few ideas of things to do while you're in The Big Easy!
Xx Sylvia
---