Runway, My Way: Altuzurra Spring 2015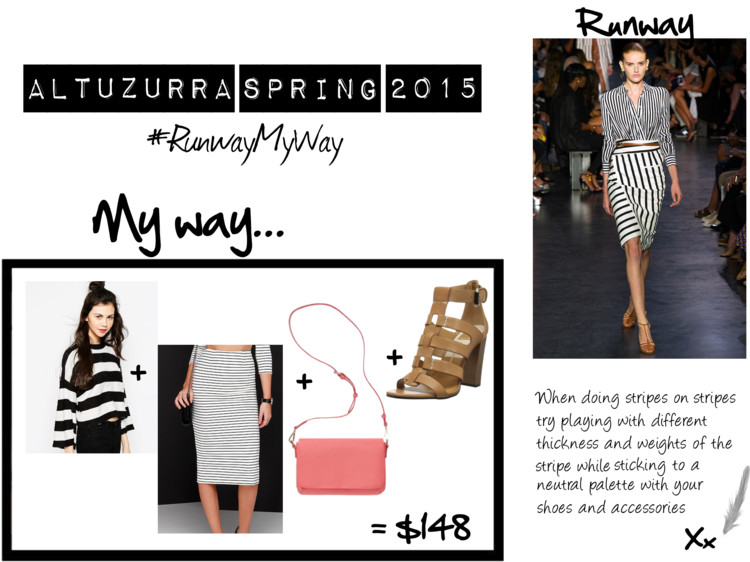 For this week's Runway My Way I chose this stripey look from the Altuzurra Spring 2015 Collection. I for one have always been a huge fan of stripes and contrary to any fashion rules I wear them going in just about any direction. When I saw this outfit I knew I needed to remake it in my own way, I actually found a shirt that very much resembles the one in the runway look (here) but because this is "my way" I thought I would show you the shirt I'd probably use. The billowy sleeves, cropped style and bold stripes made this shirt an easy choice for me over the more structured one in the inspo picture, paired with a more subtle striped pencil skirt and very neutral but fresh (read spring/summer) accessories all for under $150!! If wearing a full on striped top and bottoms is out of your comfort zone then try starting with a single striped piece to add to an outfit for an added punch of boldness or just stick with a dress or romper in a striped pattern.
Whether you go head to toe stripes or add a punch with a statement piece this is one trend that will always have a place in your closet. Personally, I'm trying to step out of my comfort zone and get a nice pair of striped pants, never have I ever worn striped pants in my life, that's about to change.
|   P   I   E   C   E   D     O   U   T   |
Xx Sylvia
---