Runway, My Way: Louis Vuitton RTW SS 2015
Keeping with the 70's revival of yesterday's post I wanted to remake this look from the Louis Vuitton Ready To Wear line but because the look wouldn't really be complete without a red boot and I don't necessarily see myself wearing red boots often I knew this may be a challenge. Never buy an overly trendy piece just to complete one outfit but if you have to have it try sticking to these shopping guidelines.
 CPW (Cost Per Wear)- are you going to get your money's worth out of this buy? Take these red boots for instance, personally I wouldn't really rock a pair of red boots too too often but I really wanted to recreate this look the best I could so I tried to find some that were inexpensive without looking cheap. There is a difference. I found these at UrbanOg where I've come to expect designer look alike shoes at a fraction of the price along with a great variety of fun pieces to mix and match. If you haven't checked out their site, go!
Again, inexpensive NOT cheap. It's easy to get caught up in the price tag of things but less isn't always better, sometimes it's essential to invest a little money in order to get a quality piece. I lucked out finding these boots for less than $25 but believe me they were roped in with some very gogo dancer looking ones as well and though this look is reminiscent of the decade I'd like to look a little more modern and less Austin Powers.
Don't settle for an EH anything! If you don't love it, don't absolutely have to have it, don't buy it! That simple. You will never love anything as much as when you first see it in a store and there's still the appeal of it not yet belonging to you, so if at that moment you only feel "eh" about it just walk away my child, just walk away.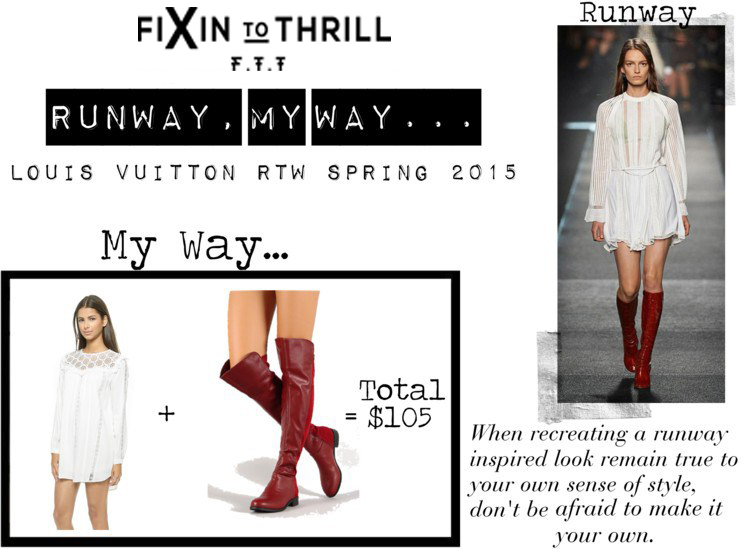 How do you feel about the red boots, love or hate em?
Xx Sylvia
---