The 7 things You Need in Your Wardrobe this Season
Not really one to hop on trends, I tend to stick to classic styles and won't spend higher than Forever 21 prices on anything I deem to be "too trendy to last." Given that last statement I can spot a good trend when I see one and if it's something that suits me on a personal level I'll definitely give it a go and invest when necessary. These "trendy" items are some that I've found to be critical in my outfit planning as of lately.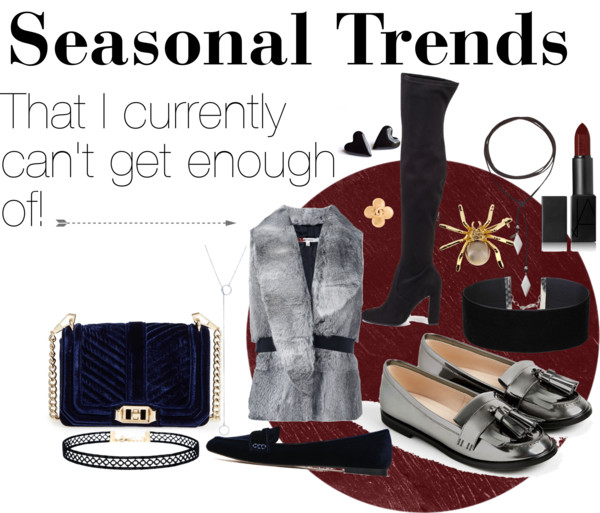 Menswear Inspired Oxfords– these should be replacing all of your round toe, super ballerina-esque flats immediately! I have a variety of styles; patent, sparkly sequined lace ups and even velvet. They are just as comfortable as throwing on a pair of flats but give a more polished appearance to your outfit.
Faux Fur Vest– whether adding a little textural interest to an otherwise monochromatic outfit or using it for added warmth, there are a number of reasons you need at the very least one in your wardrobe. If just easing into this trend try starting with a black one or even a leather/faux fur blend like this one here. I'm now up to three, a black one, white one and a great ivory to grey ombre style.
Chokers & Lariats– these aren't your middle school stretchy plastic chokers, invest in a sparkly number or buy a fun velvet style in a funky color either way try AT LEAST one style this season! The lariats are key for minimalist, the endless styling capabilities means more looks with less items.
Velvet– start small, I did- I jumped in feet first, pun intended, with a pair of velvet loafers (killing two trends with one buy!) then immediately bought a pair of velvet work pants in burgundy because, hello! It was a must! If velvet is scary for you try starting with a velvet choker or even a statement bag in the fun fabric.
OTK boots– you guys are going to laugh but until last year OTK boots were so "Pretty Woman" to me, I just couldn't do it. I loved them on other people but never myself! I have no idea what changed but now I'm obsessed, I love the more form fitting styles with minimal details like the Steve Madden "Emotions" or Stuart Weitzman "Highland" they just work best on me.
Mixing Blue and Black– throw this outdated fashion rule out the window! Mixing blue and black is the new black…you get the point! It's so chic, it shows that you're hip, current and as my grandma would say "with it".
Deep Red Lipstick– it's the season to go bold and nothing is simpler than adding a punch of color on your pout. Some of my favorite colors as of lately have been deep, dramatic reds.
What have been some of your must have items this season?
Xx Sylvia
---