My LA Diary: January 2017
I love any excuse to hop over to Los Angeles and my brother living in West Hollywood with a spare room has been all the reason I've needed over the last couple of years. It's always so much better when visiting family means visiting a cool city with tons of things to see and do! My brother didn't come home for Christmas last year so in January my boyfriend and I decided to take a little week vacation to visit and deliver our gifts in person. We, with our luck of course, chose the one week LA was super overcast, rainy and cold so we had to improvise. Instead of beach walks and outside everything we were literally trying to dodge raindrops the whole week…here's a little recap of our rainy week in LA.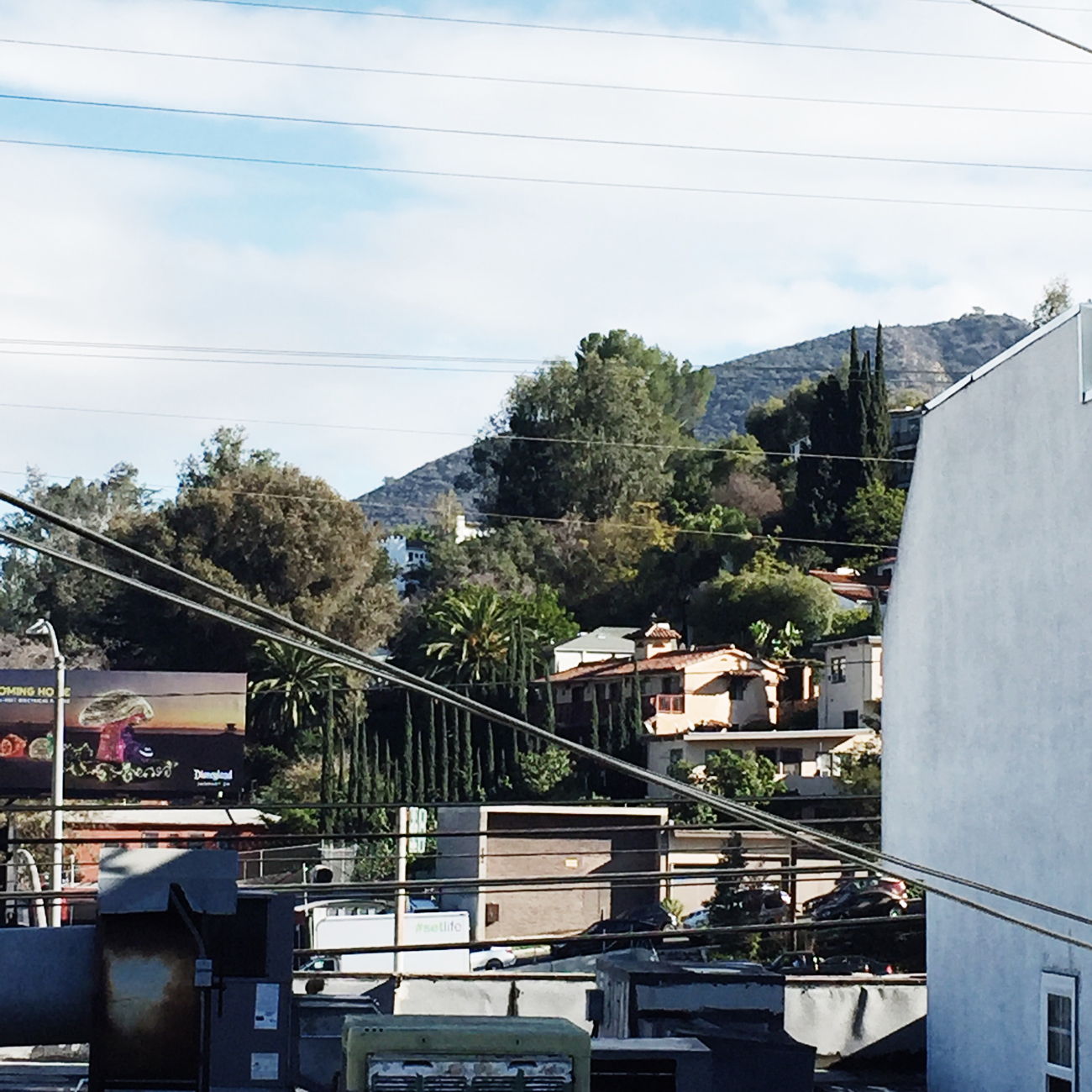 Wearing
Booties: Nine West
Jeans: Paige
Jacket: Shein
Purse: Rebecca Minkoff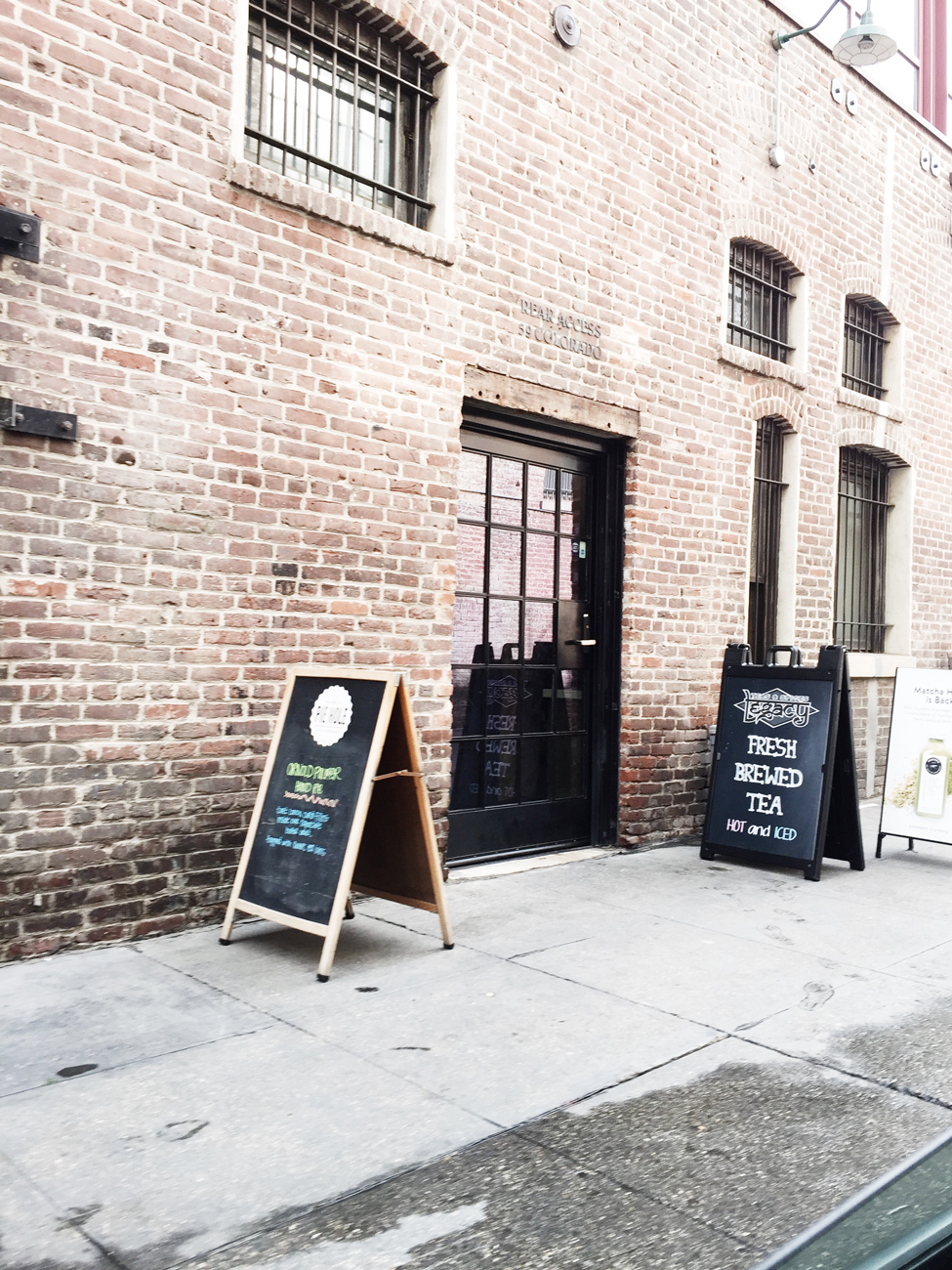 Our second stop, after dropping off our luggage, is always a coffee shop and this time we decided against the usual blogger stop at Alfred Coffee and Tea and opted instead for a very industrial feeling spot called The Pie Hole which came highly recommended by my brother's girlfriend.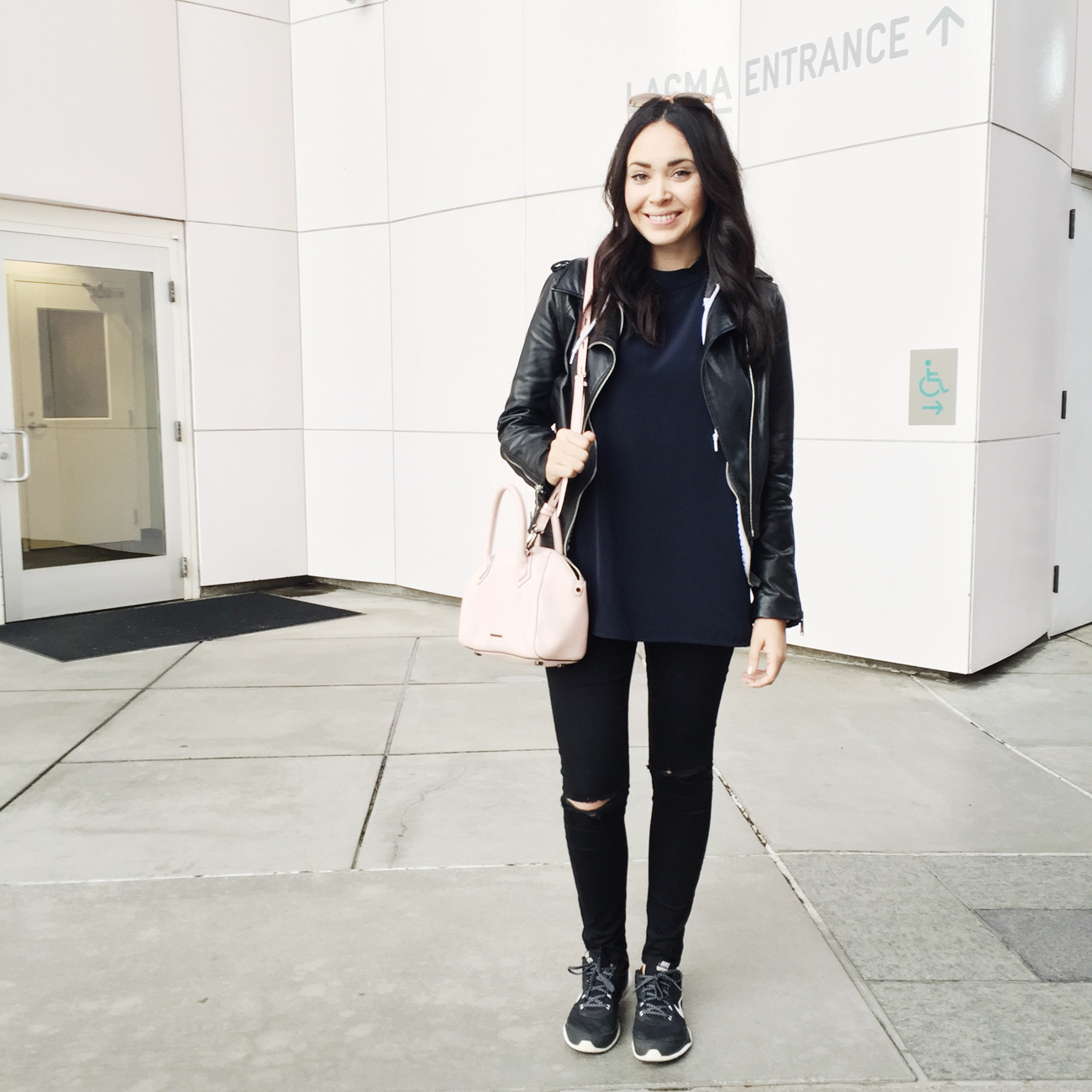 Wearing
Jacket: BCBGeneration
Sweater: American Apparel
Jeans: Topshop
Tank: Uniqlo
Shoes: Nike
Purse: Rebecca Minkoff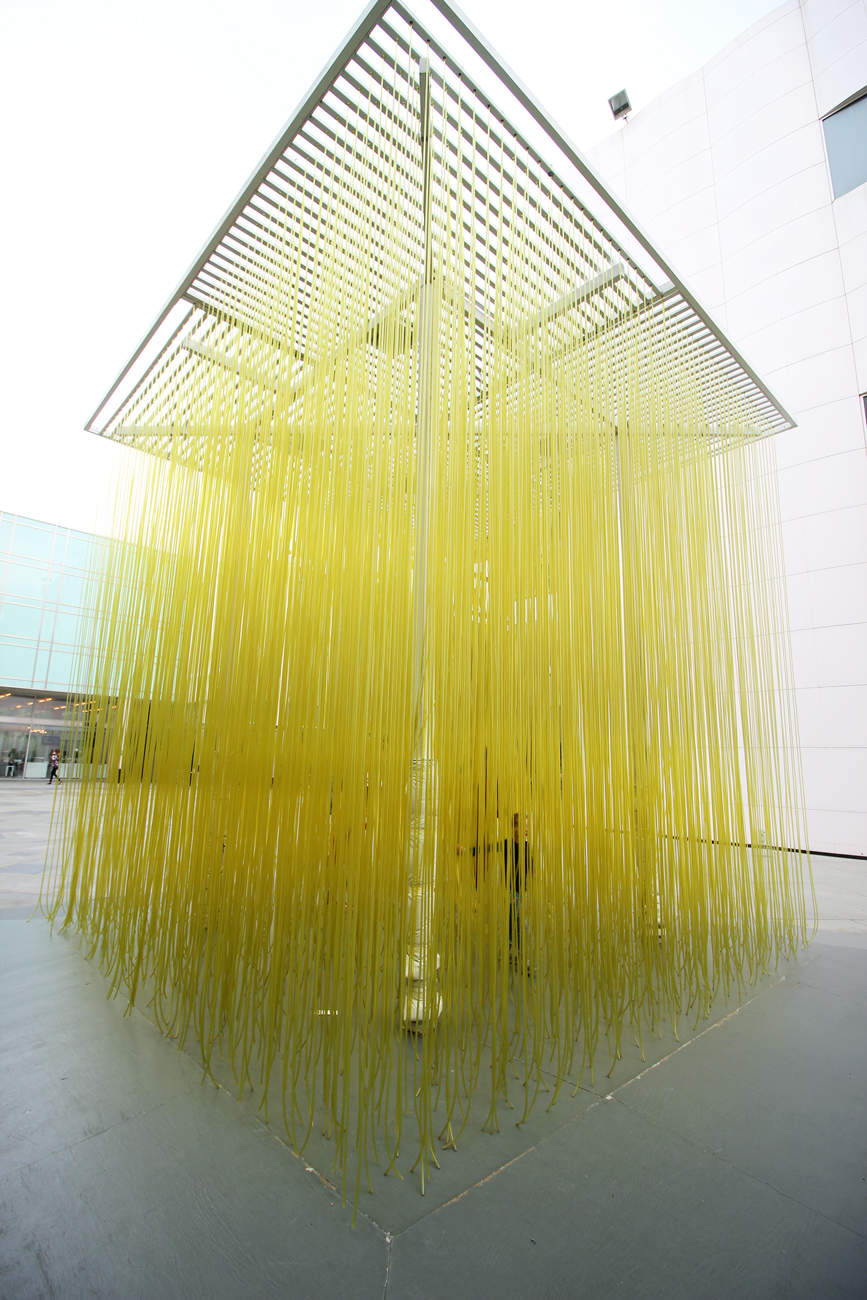 The LACMA is always a destination for me, with equally as beautiful of installations outside as inside.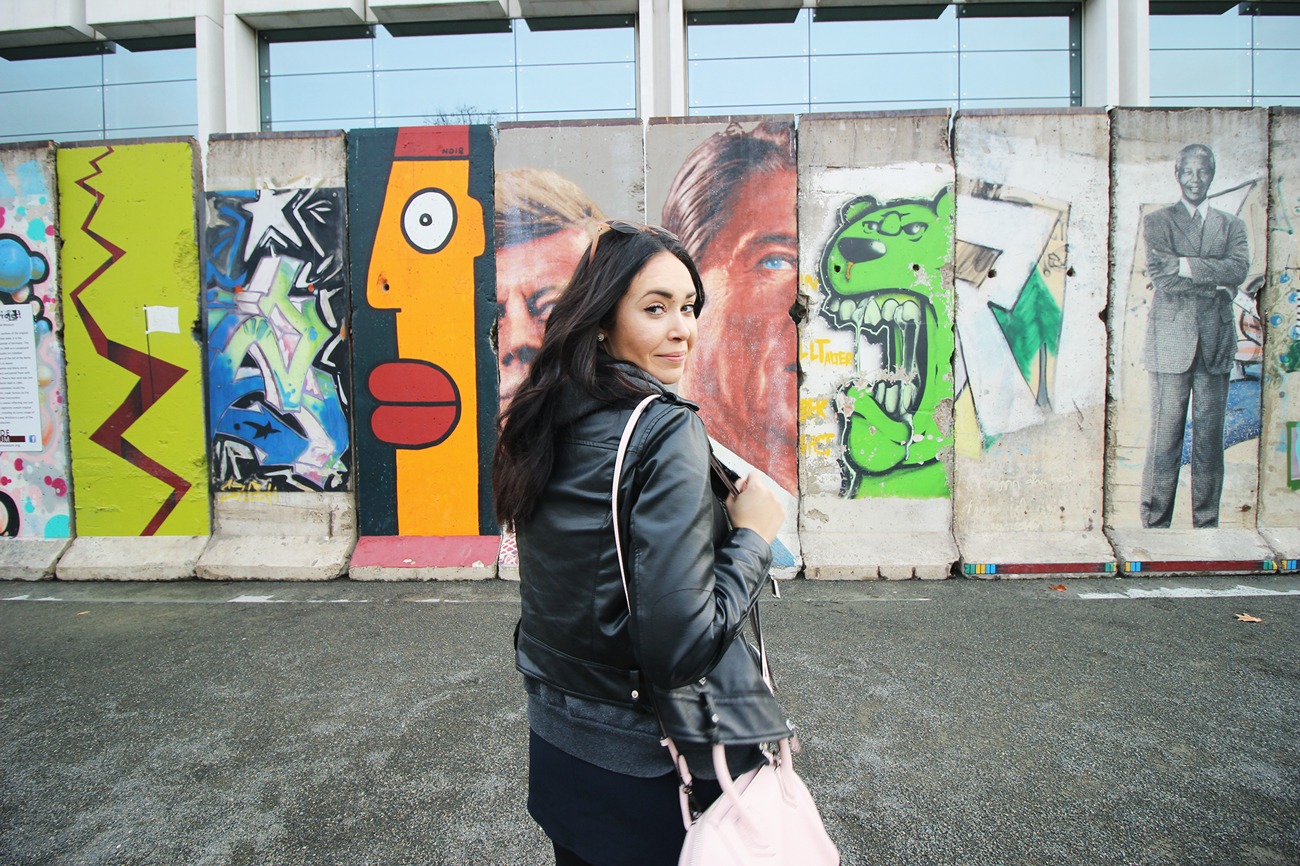 "Get on MY walls" is basically what I kept saying over and over throughout the museum, that or "hmm I could do that" followed by laughs from my brother and boyfriend.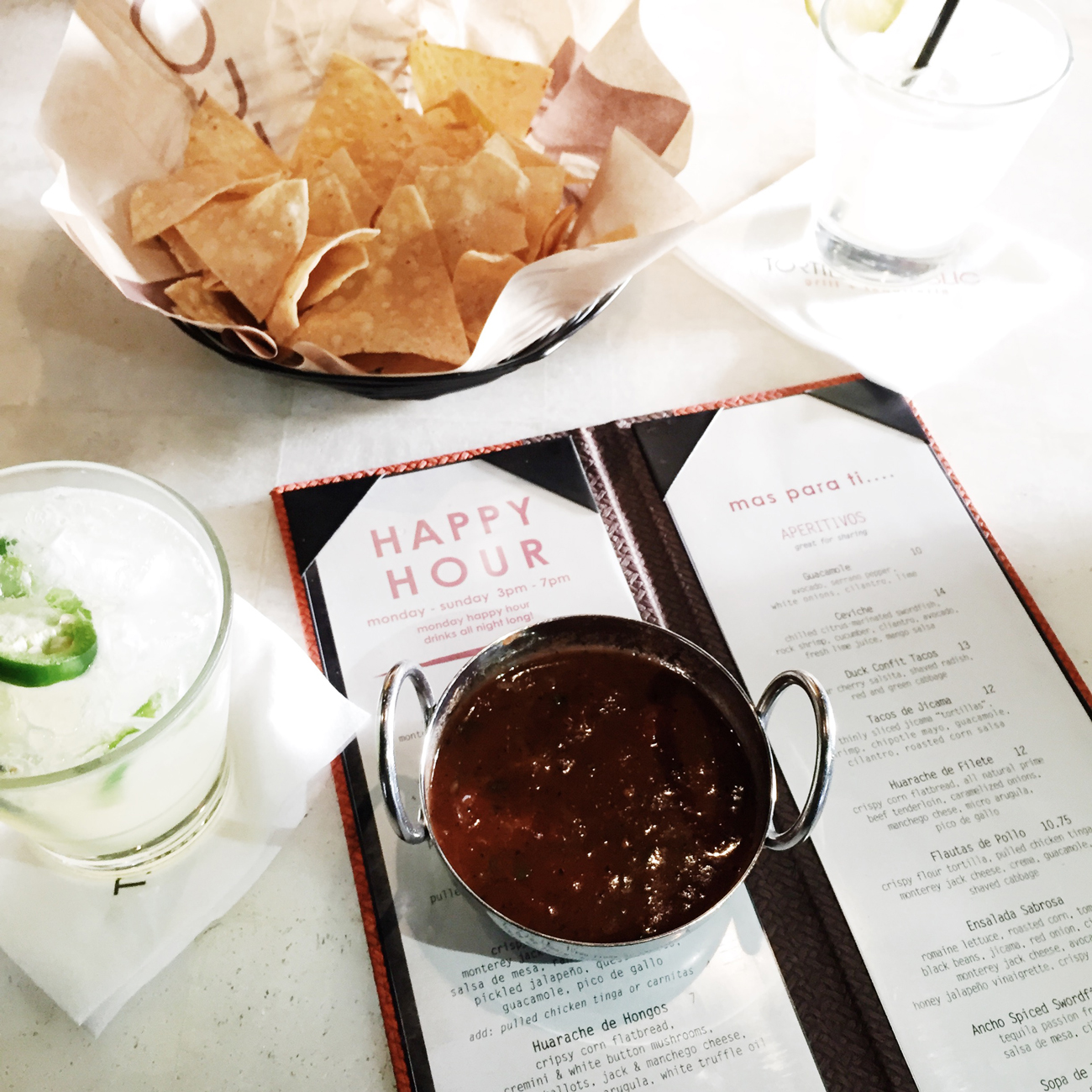 Restaurant hopping is probably a good majority of what I do on vacation and this trip was no exception. We checked out a number of places including Cecconi's, The Hudson, Gracias Madres, Nonna's Empanadas, Saddle Ranch and a slew of coffee shops including Waffleshots, where they fill specialty cake cones dipped in chocolate and other decadent treats with espresso.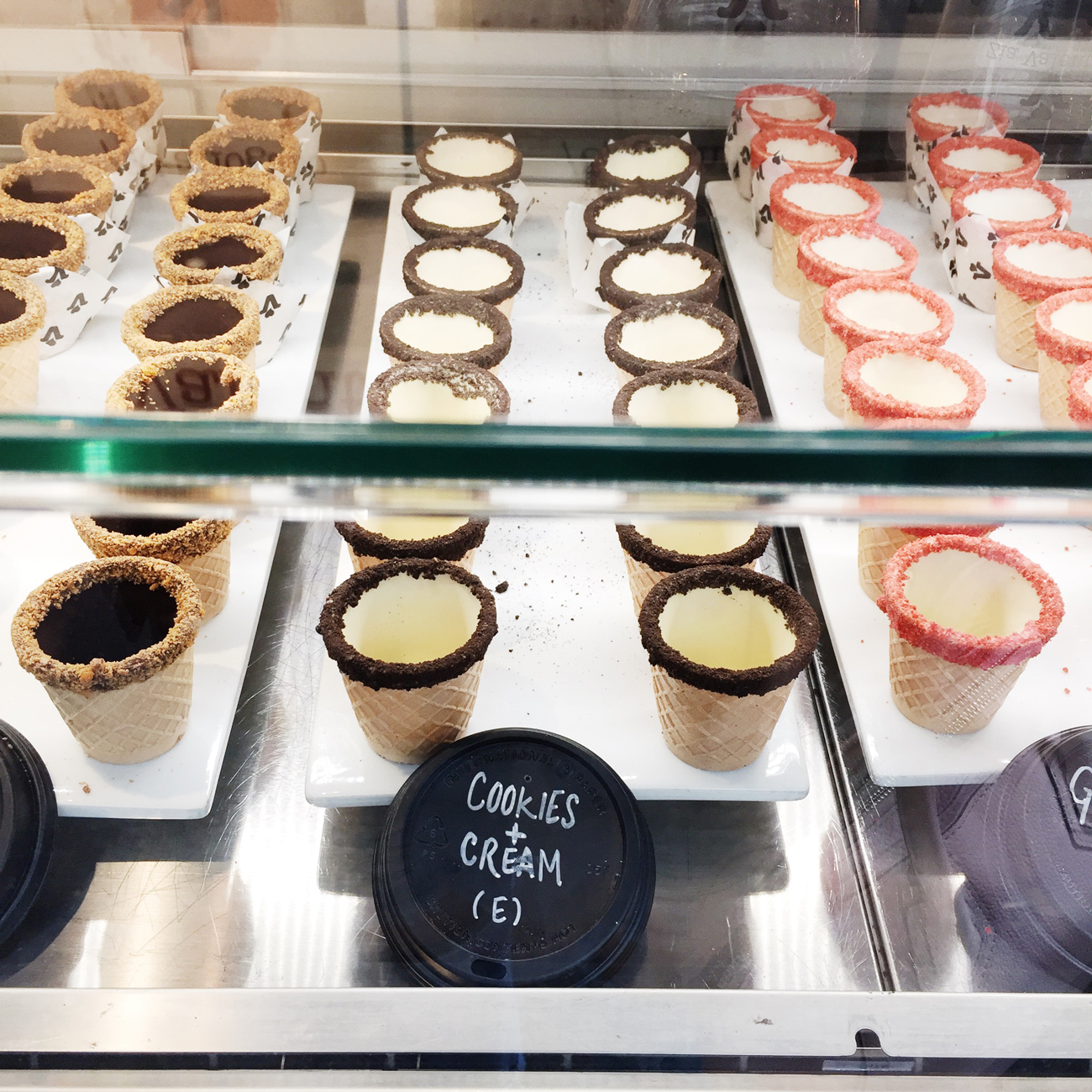 This view from lunch inspired a little post-food shopping trip at one of my favorites, Zara. A lot of times you want to check out completely local shops only but keep in mind that different regions carry different styles in major retailers too. I found so many pieces at Zara that I hadn't seen at my local store just days before.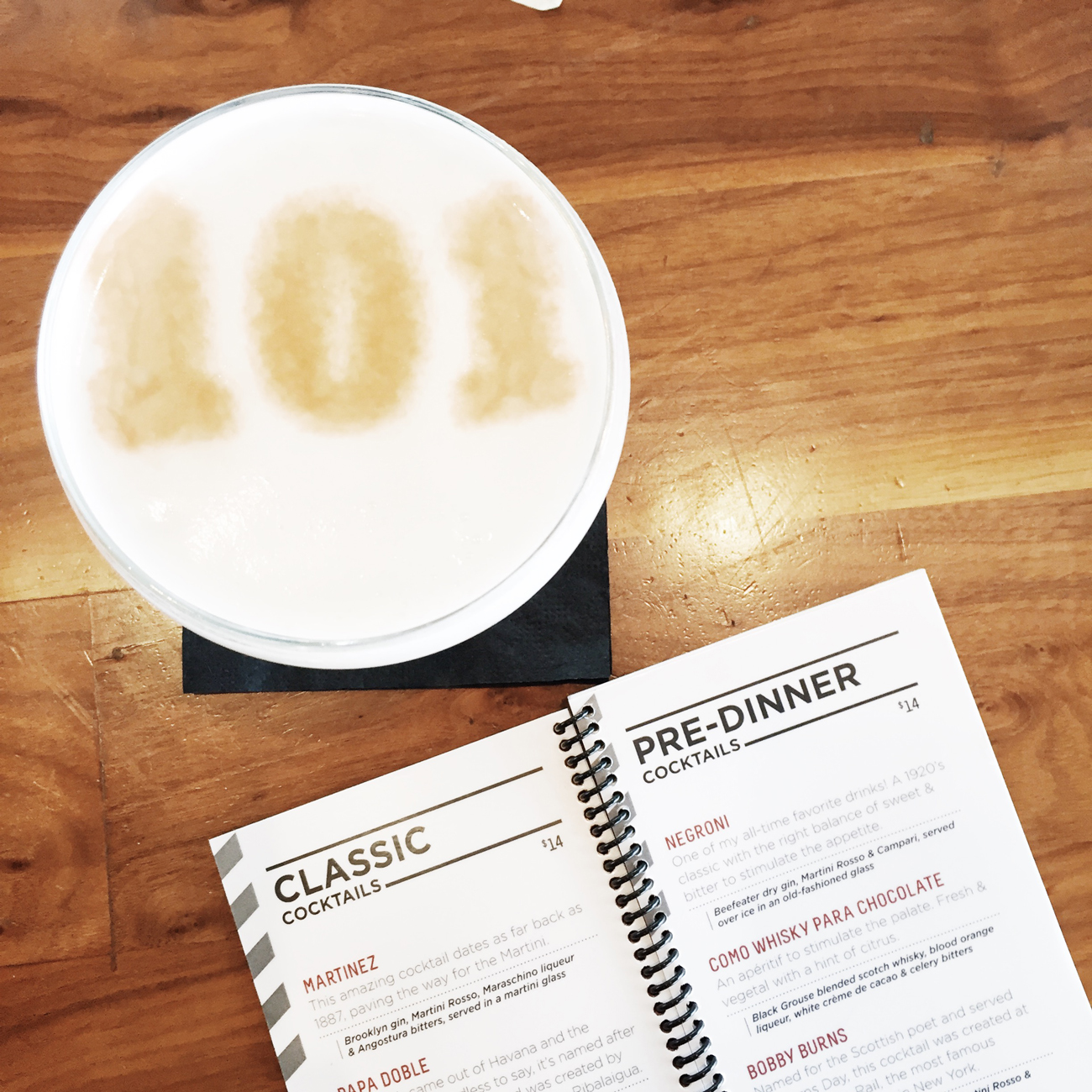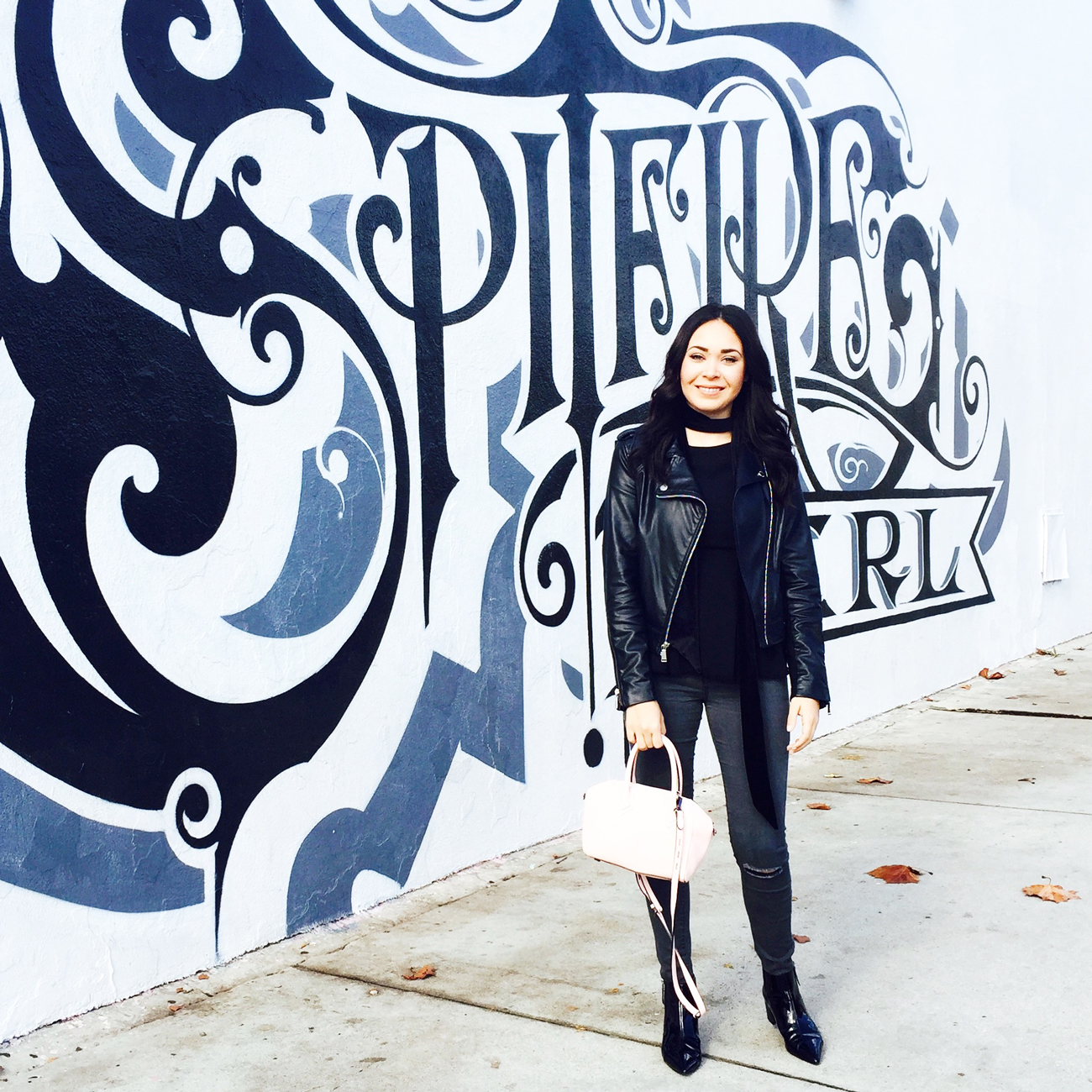 My boyfriend spent an entire three hours thrifting with me on Melrose. We hit up American Vintage where I found the perfect oversized denim jacket and Wasteland which was my absolute favorite spot for finding designer pieces.
Wearing
Jacket: BCBGeneration
Jeans: Topshop Leigh cut
Boots: Zara
Purse: Rebecca Minkoff
Scarf: Zara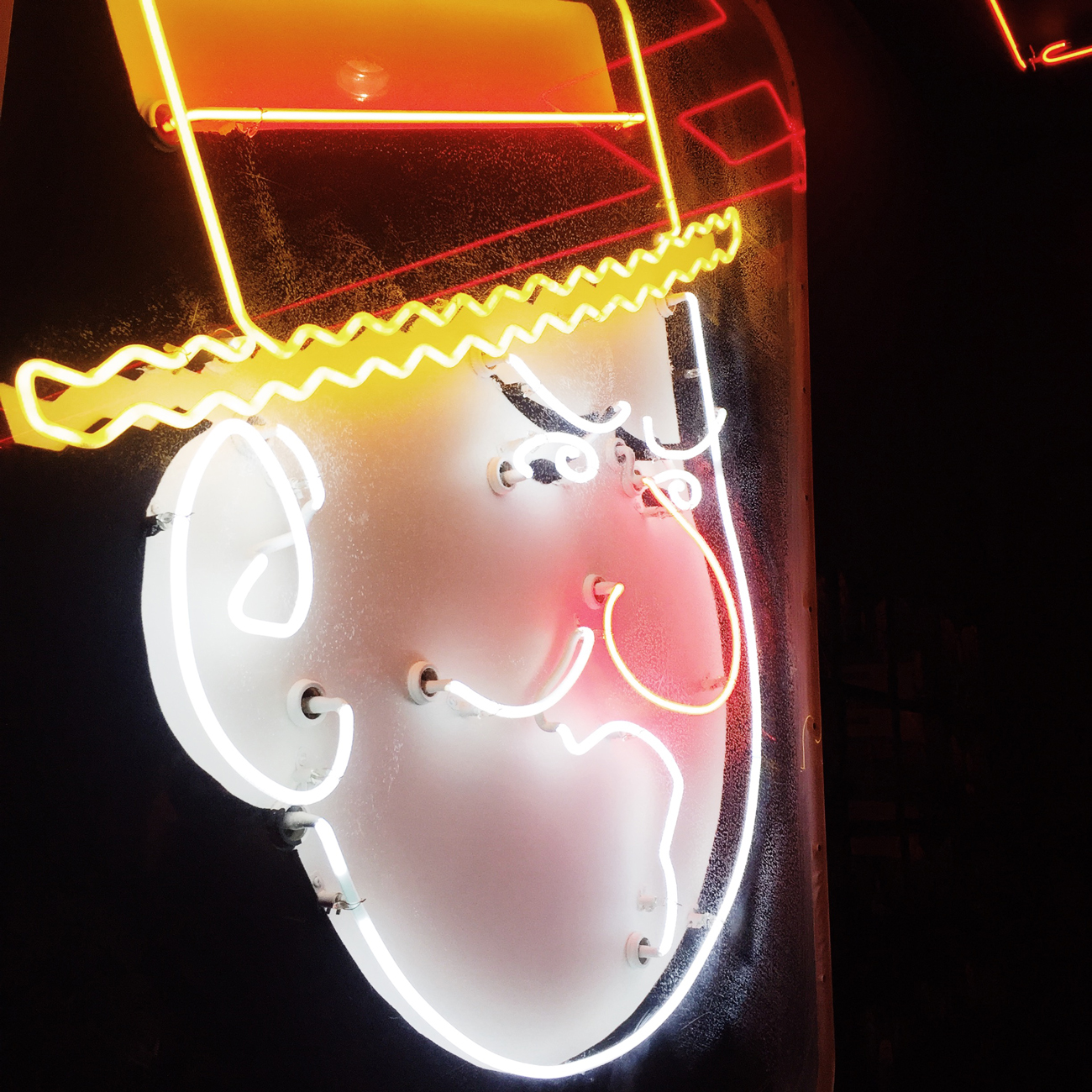 On our last night in LA we went to The Comedy Store and really lucked out with appearances by Chris D'elia, Rhys Darby, Margaret Cho and Joe Rogan to name a few. This was hands down my favorite night and Chris D'elia absolutely killed it!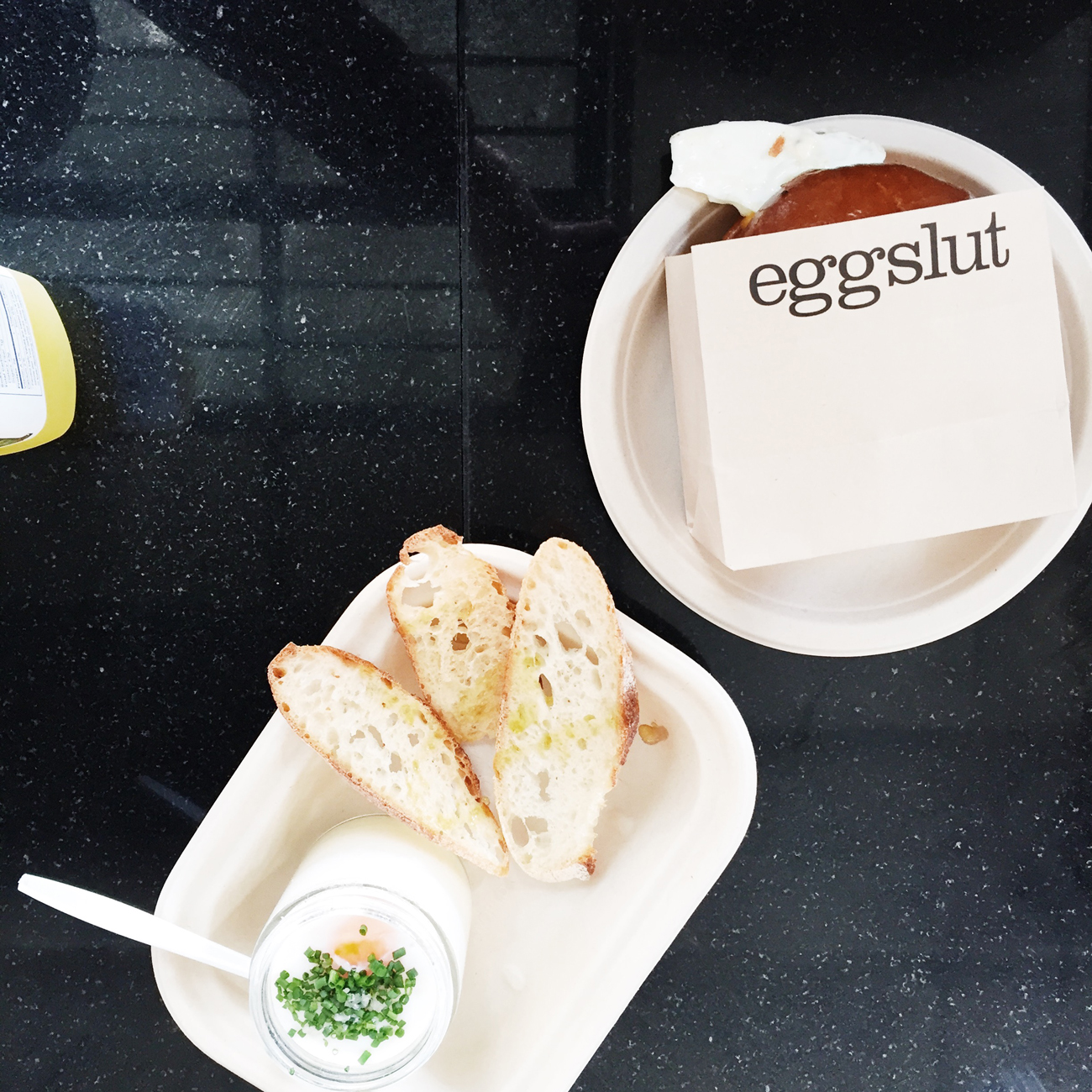 & On our last day we went to Eggslut and it was E-P-I-C! An absolute must try if you're in the area. I got the Sausage Egg and Cheese sandwich and my boyfriend got the Slut, a poached egg over potato puree. Pure goodness in a jar.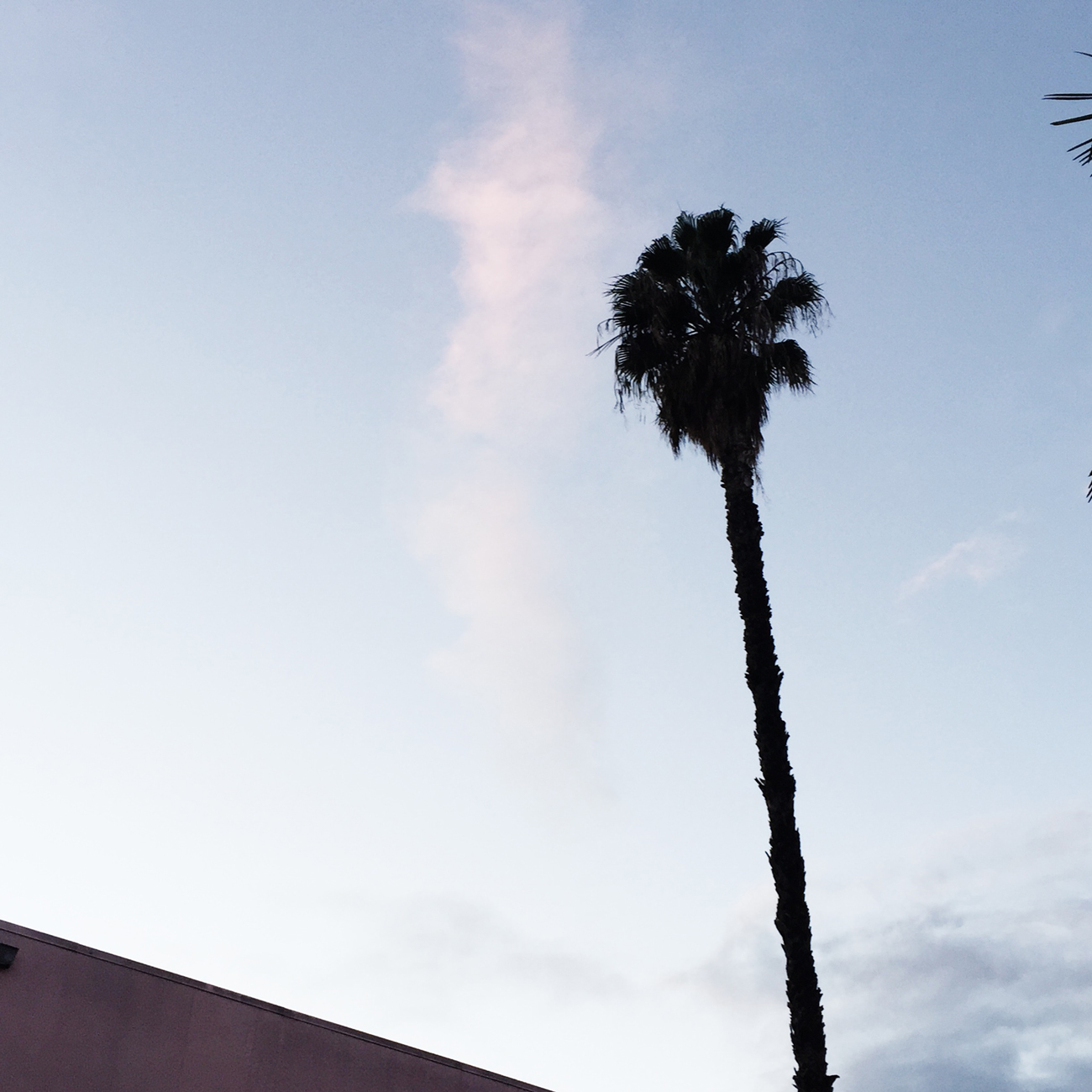 Oh LA, until next time…
Xx Sylvia
---
Florals? For Spring? Groundbreaking.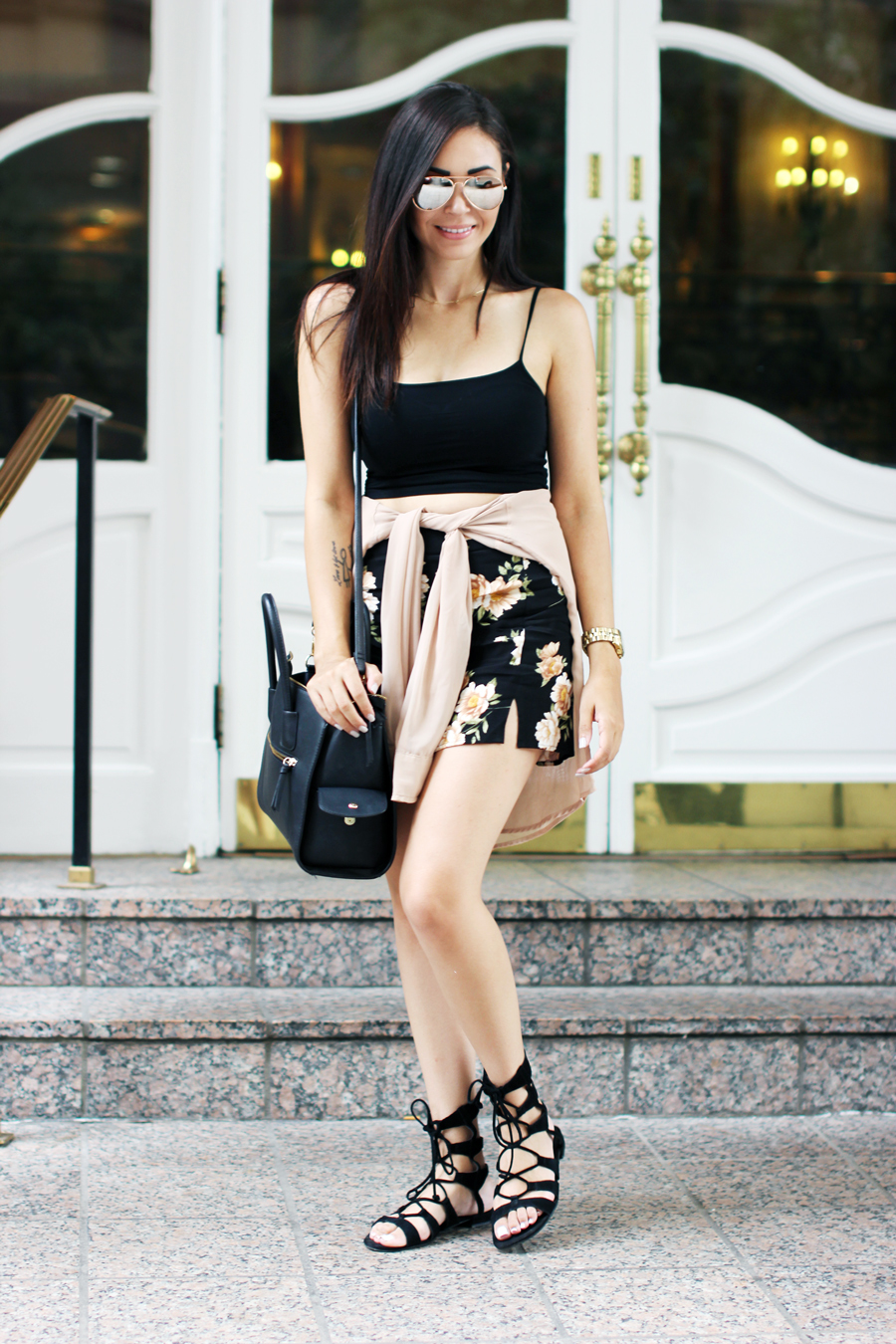 You guys, this entire look (minus the bag) is under $100, I linked all of the products below! I'm seriously obsessed with this little floral skirt I grabbed from Forever 21, it was under $15 and the print is just perfect! Plus this tank is $10 or 2 for $18!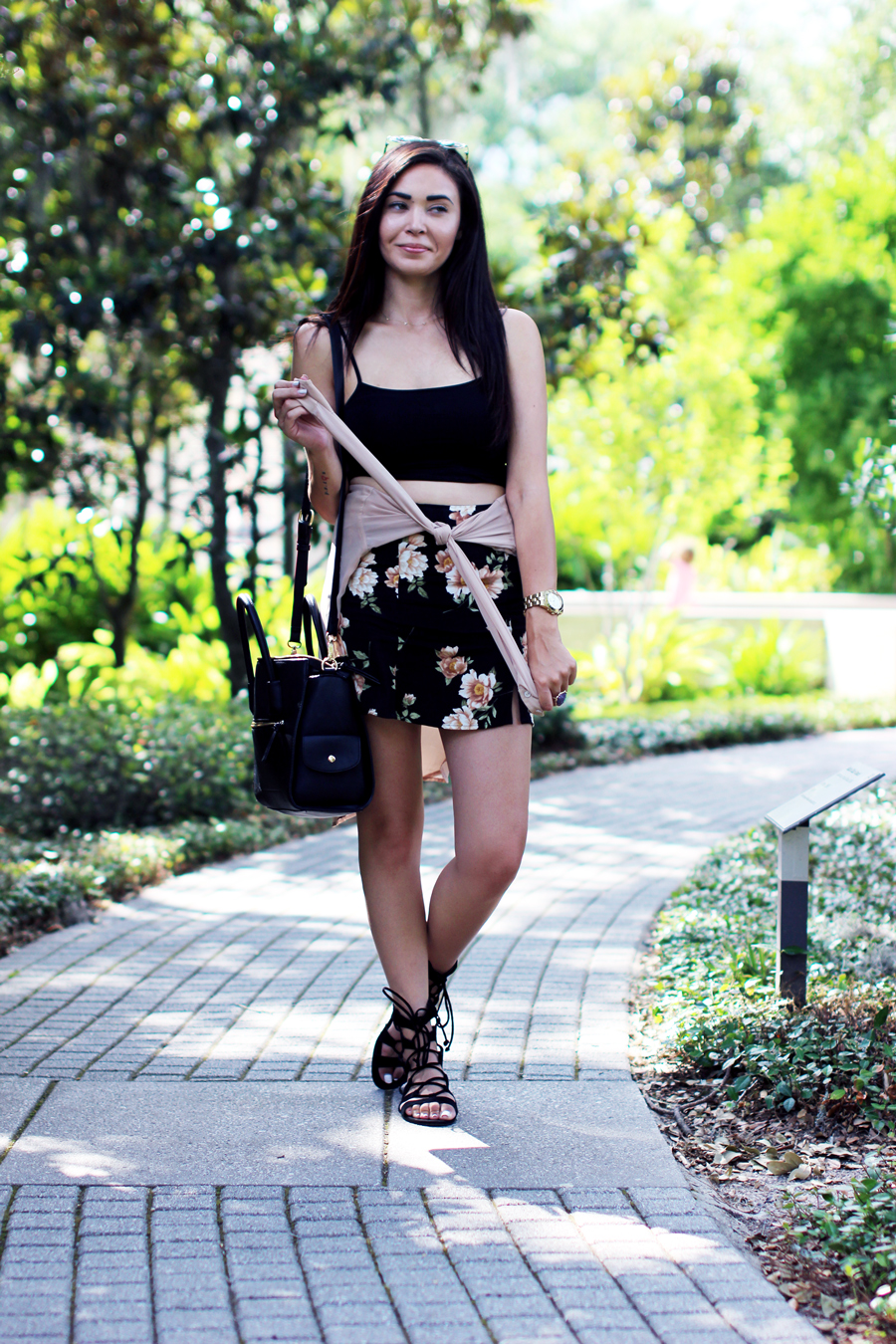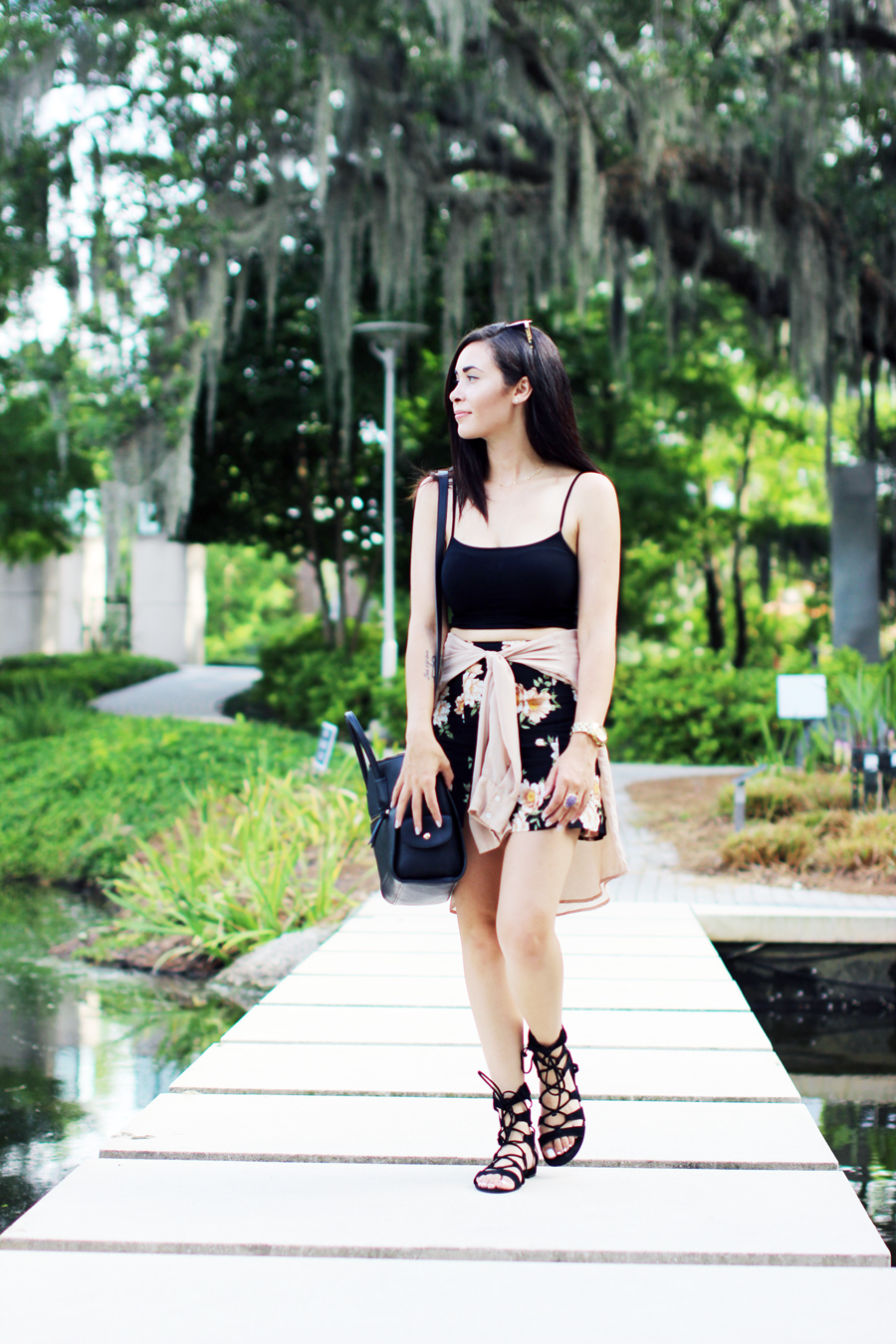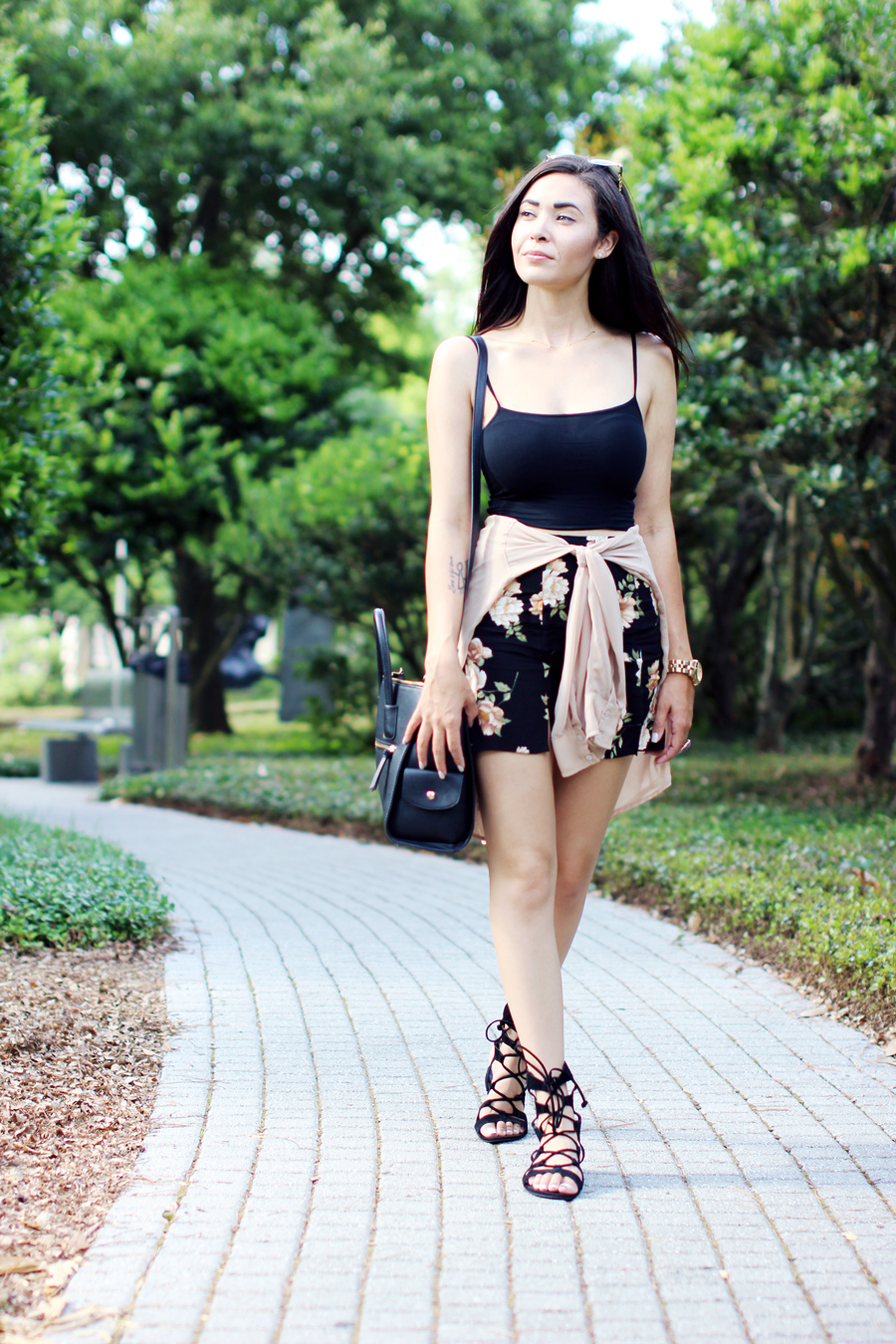 Wearing:
Top: Nordstrom
Skirt: Forever 21
Blouse: American Apparel, similar
Sandals: similar here & here
Bag: H&M, similar
Sunglasses: Nordstrom
Watch: Marc by Marc Jacobs
Xx Sylvia
---
Chatting Accessories with Rifle & Radford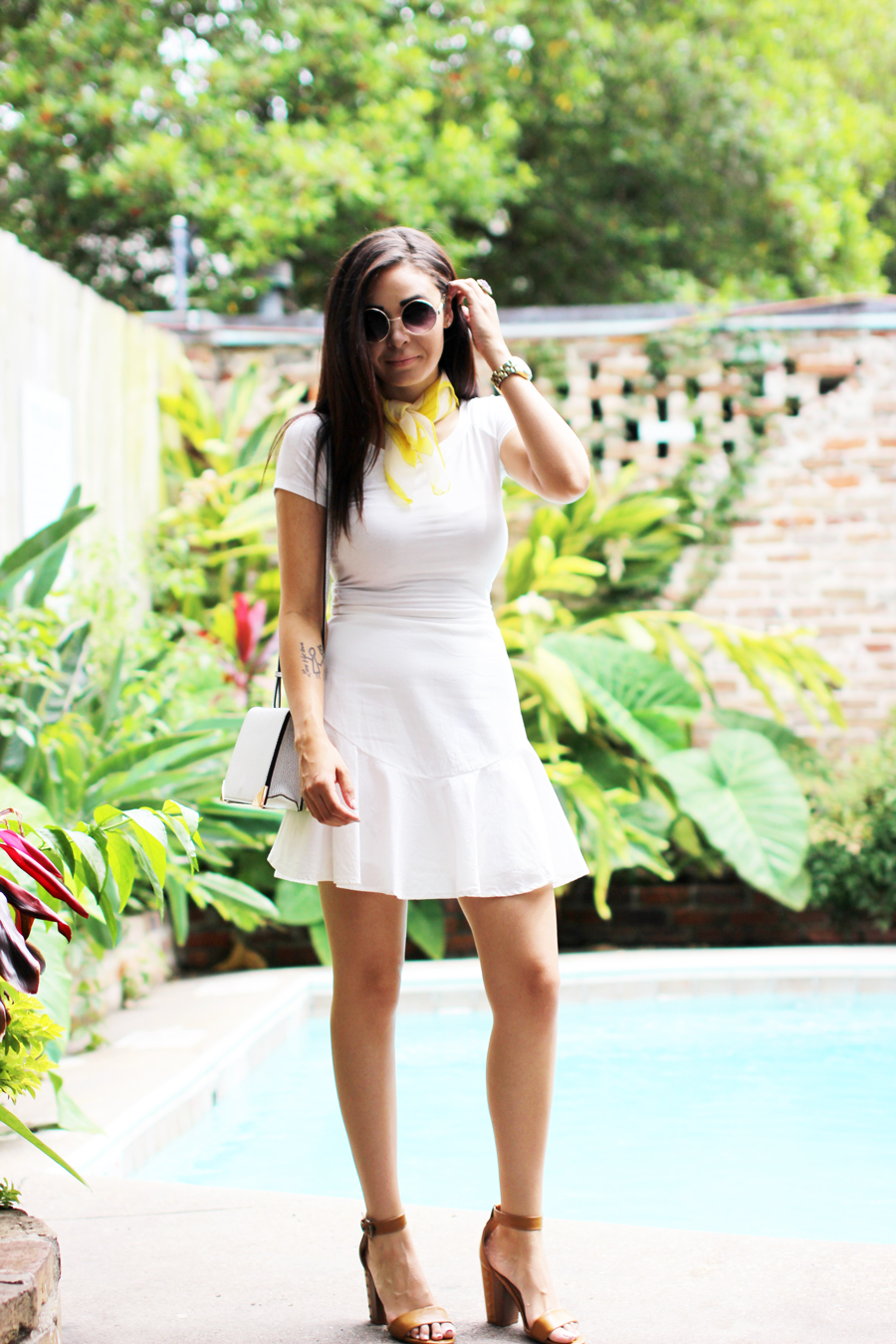 If you've recently read my blog, watched my Snaps, checked out my Instagram or even liked my Facebook then you know that I just went to New Orleans a couple weeks ago. I shared a packing and a travel guide and I've just been talking about it nonstop because I had such a great time.
This was one of the outfits I wore while I was on vacation; I typically pack a lot of black, white and grey and then throw in accessories, bags and shoes to complete different looks. Scarves have been a favorite add on of mine for many years, in all styles. I've been particularly partial to silk handkerchief scarves as of lately. This yellow cutie was a find while vintage shopping in Austin a few weeks ago but this Kate Spade one is so chic and I love this one too!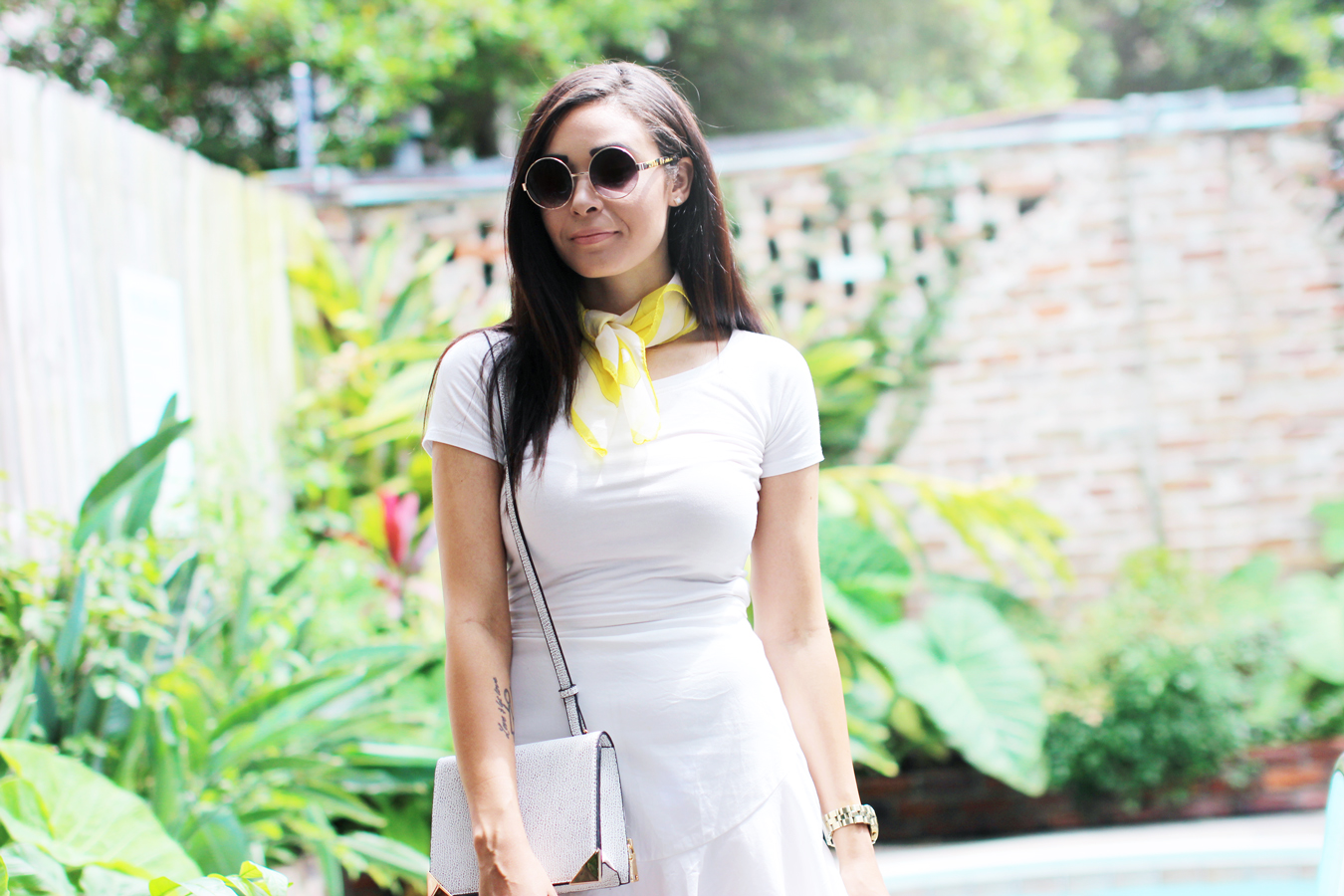 My Rifle & Radford ring has been a constant companion to my hand since it arrived in the mail. This ring just seems to complete any look, it's a no-brainer which is ironic because so much thought goes into the making of each one of these unique rings. Locally handcrafted by designer Melanie RR Edwards, a native Texan who's held apprenticeships with various major design houses such as Donna Karan at Urban Zen, Amy Smilovic at Tibi and Oscar de la Renta. Her designs are all southwestern inspired and one of a kind, you guys gotta check out her site- RifleandRadford.com.
& congratulate her on her 5 year anniversary this summer via Instagram!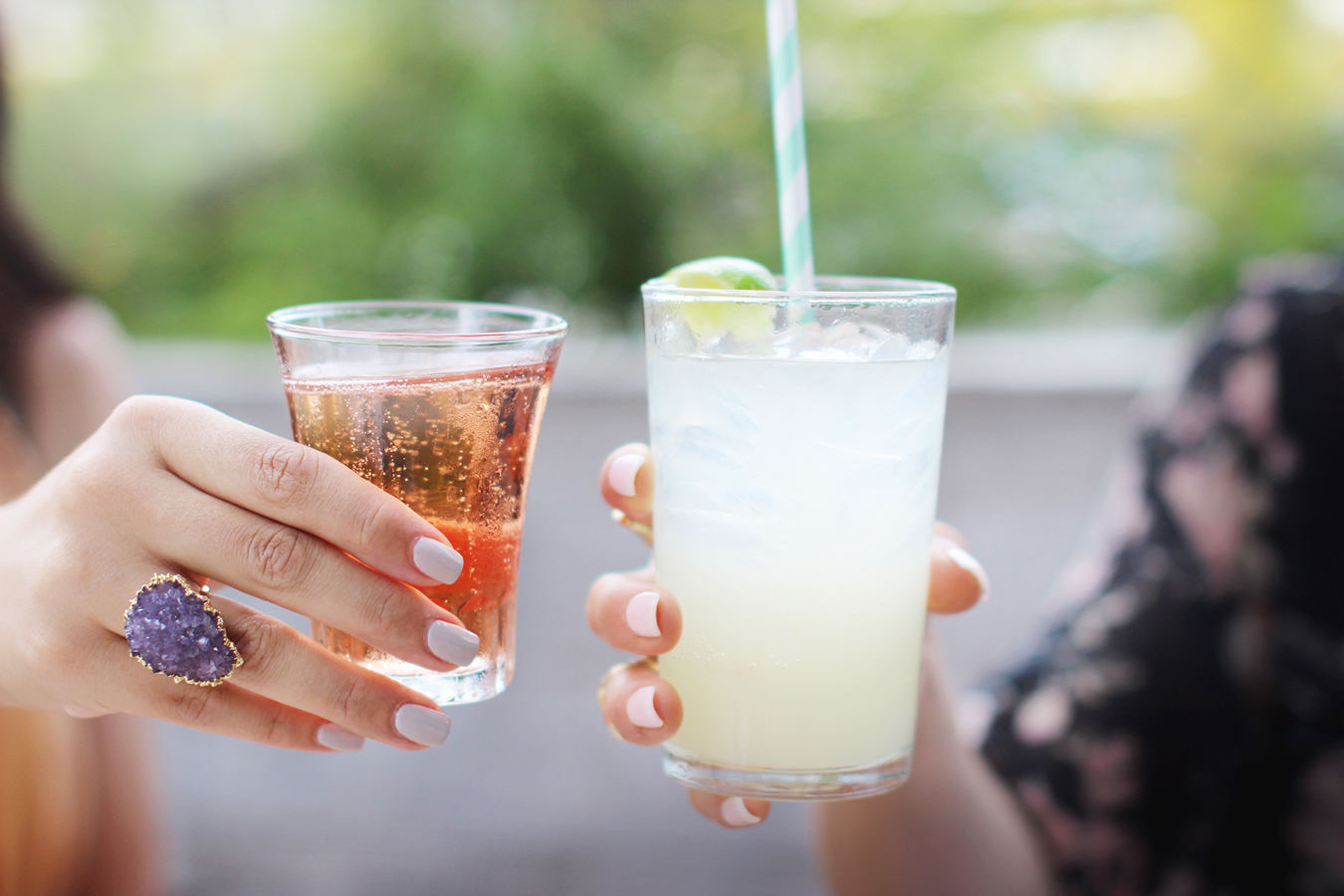 Wearing:
Crop: Nordstrom (On Sale!)
Skirt: Nordstrom
Heels: Love these from Sabo Skirt
Scarf: Love this one!
Bag: c/o Melie Bianco
Sunglasses: Nordstrom
Ring: Amethyst Geode Cocktail ring c/o Rifle & Radford 
[show_shopthepost_widget id="1672559″]
Xx Sylvia
---
Fixed to Travel: New Orleans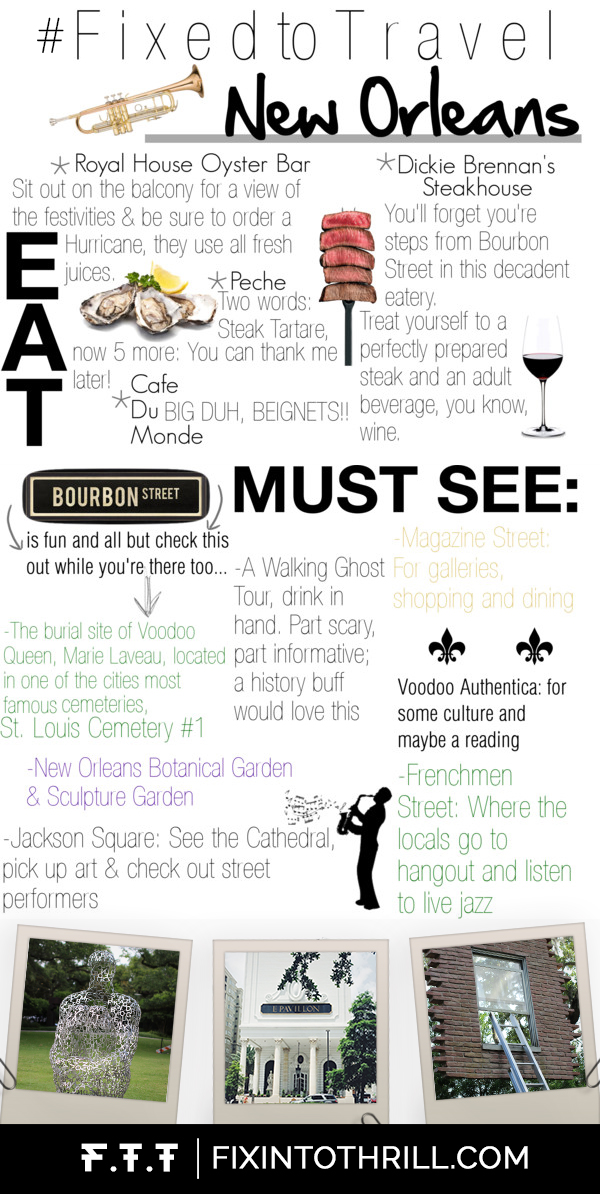 Visiting New Orleans can be a completely different experience each time you go. I've been over 5 times and I swear every time I have a new favorite restaurant, bar and hangout. The city has so much energy and culture, you have to visit more than once to really take it all in.
In the past I was obsessed with The Old Coffeepot Restaurant, I went every single time I was in town. You have to check it out, they're known for having the best breakfast in the French Quarter (although I usually grab dinner there)! I decided to step out of my "creature of habit bubble" and found a few more delicious spots like Peche, Dickie Brennan's Steakhouse and Royal House Oyster Bar where you definitely have to dine on the balcony and ask for Leroy, he was our waiter and he was absolutely phenomenal.
As far as bars, there's obviously a ton of options along Bourbon Street, some of my favorites are The Swamp, Pat O'Briens and honestly any dueling piano bar. This time we ventured about a half mile north of Bourbon to Frenchmen Street after hearing from a ton of locals that that's the place to be. They weren't kidding, we went to this club, 30/90  to catch some Jazz, it was one of my favorite nights. The artists performing were like something out of a movie, perfection. If you go south of the French Quarter towards Downtown there are more dance clubs where you can hear DJ's and get bottle service but that wasn't my plan this last trip, maybe next time.
During the day we walked the streets of the French Quarter taking in the architecture and popping into random shops and galleries. We went to Jackson Square and watched some street performers doing everything from playing instruments to live painting. We took tons of pictures along Magazine street with all of the gallery, restaurant and store fronts. We were even lucky enough to catch a concert in the park. No trip to NOLA would be complete without a reading though, right? On previous vacations I've found people set up in Jackson Square and gotten my cards/palms and even aura read with varying results. This time I went to Voodoo Authentica, which I was referred to by the owner of a different Voodoo shop (so you know its good) I got a 30 minute reading that left me with chills and a renewed sense of determination. I highly recommend!
If driving isn't a problem you have to check out the Botanical Garden and Sculpture Garden or go on a tour of some of the old plantations around town. I really wanted to go to this one but didn't get the chance to. Of course depending on the season you can also catch a Saints game in the Superdome, an experience I've been lucky enough to have & definitely want to do again. Then of course there's Mardi Gras and Jazz Fest (neither were going on this time around). Needless to say, there's always something to do in New Orleans.
I hope this guide gives you a few ideas of things to do while you're in The Big Easy!
Xx Sylvia
---
Tiny Boxwoods & Roadtrip Casual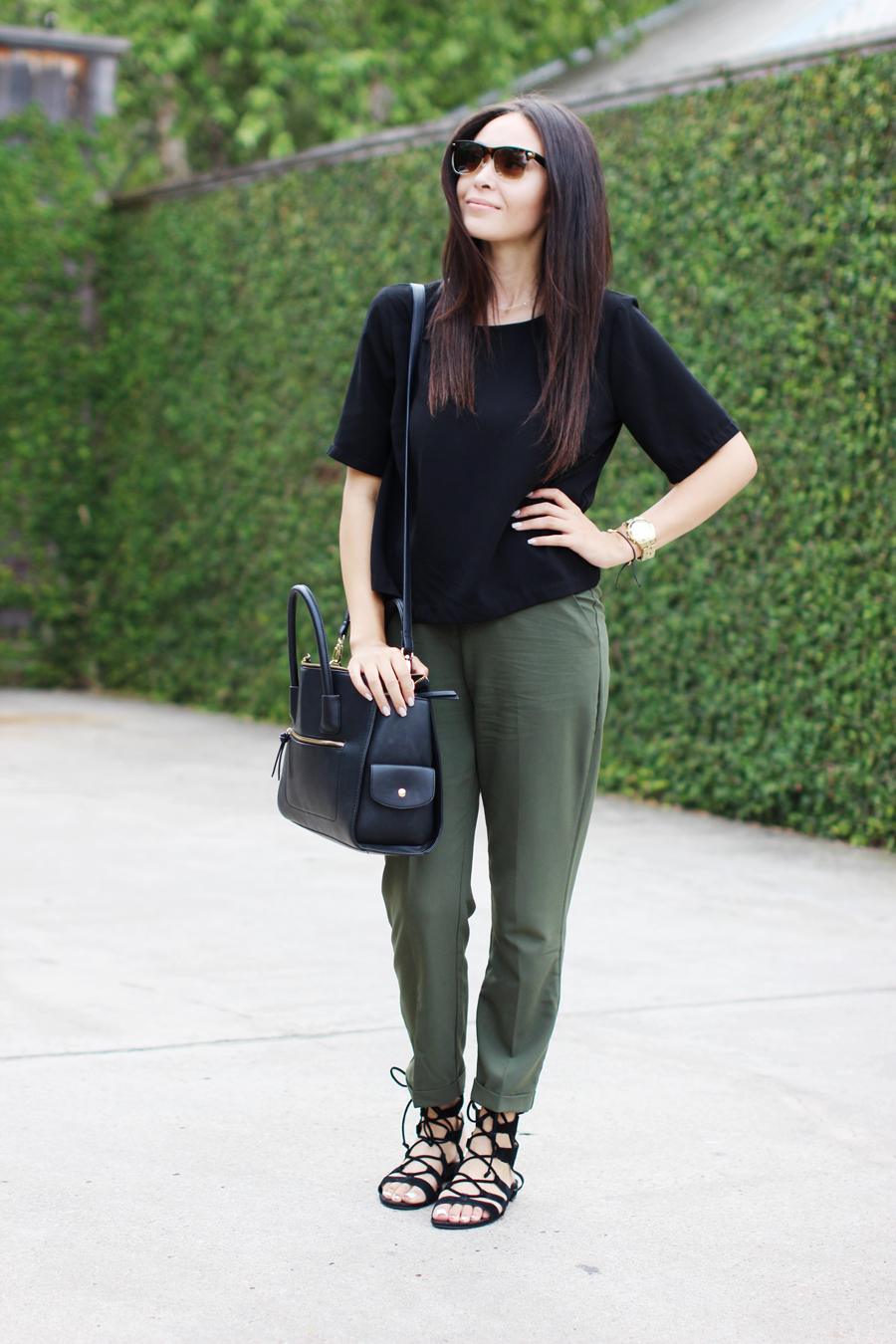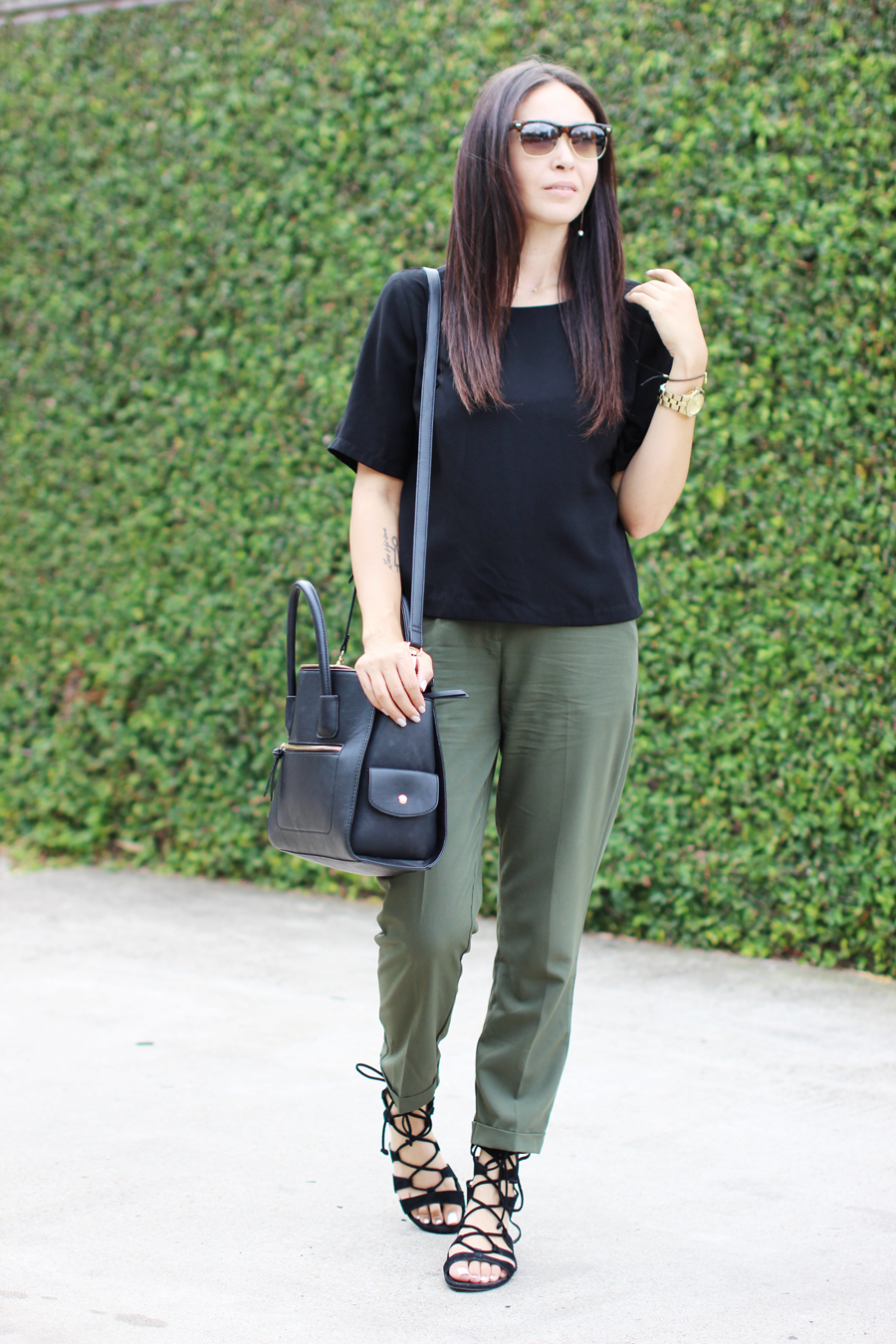 Have you ever stumbled upon something that became an instant favorite and you then questioned how you had ever gone so long without it in the first place? It happened to me last week on our way to New Orleans. We timed it to where we would be driving through Houston at lunch time with the intention of grabbing a quick bite to eat and hopping back on the road to complete the remaining 5 hours of our 8 hour drive to The Big Easy from Austin. My boyfriend, being the best passenger there ever could be hopped on Thrillist (always the go-to when we're trying to find new places to eat or grab a drink) and after about 20 minutes of reading me menu after menu says "I found the place and it looks like it'll be perfect for you to take pictures there for your blog too" (he's a keeper) and boy was he right.
Tiny Boxwoods was the restaurant he was talking about and it was seriously the cutest place ever. You walk in to an open grassy area surrounded by chic white tables and a covered dining area on either side of the grass. We came at noon on a Monday and nearly ever table was taken. After standing in a short line to order our food, the restaurant is counter service, we made our way to a far table that is actually the Garden Dinner table, it was so beautiful. We were surrounded by the beauty from the Thompson Hanson Garden on three sides. Even with a slightly higher humidity level than I'm used to in Austin, I never wanted to leave. My boyfriend had to keep reminding me that this was just supposed to be a brief stop for lunch. I was obsessed. If you follow me on Snapchat you know just how obsessed, if you don't you missed a ton of videos of the scenery, food and everything in between. I even wanted to buy some new plants! After he promised me multiple times that we would go back I finally finished up my food and agreed to get back on the road. Any who, I love this place and WILL be back as soon as possible. The food was amazing, the service was perfection and the scenery could't have been any better.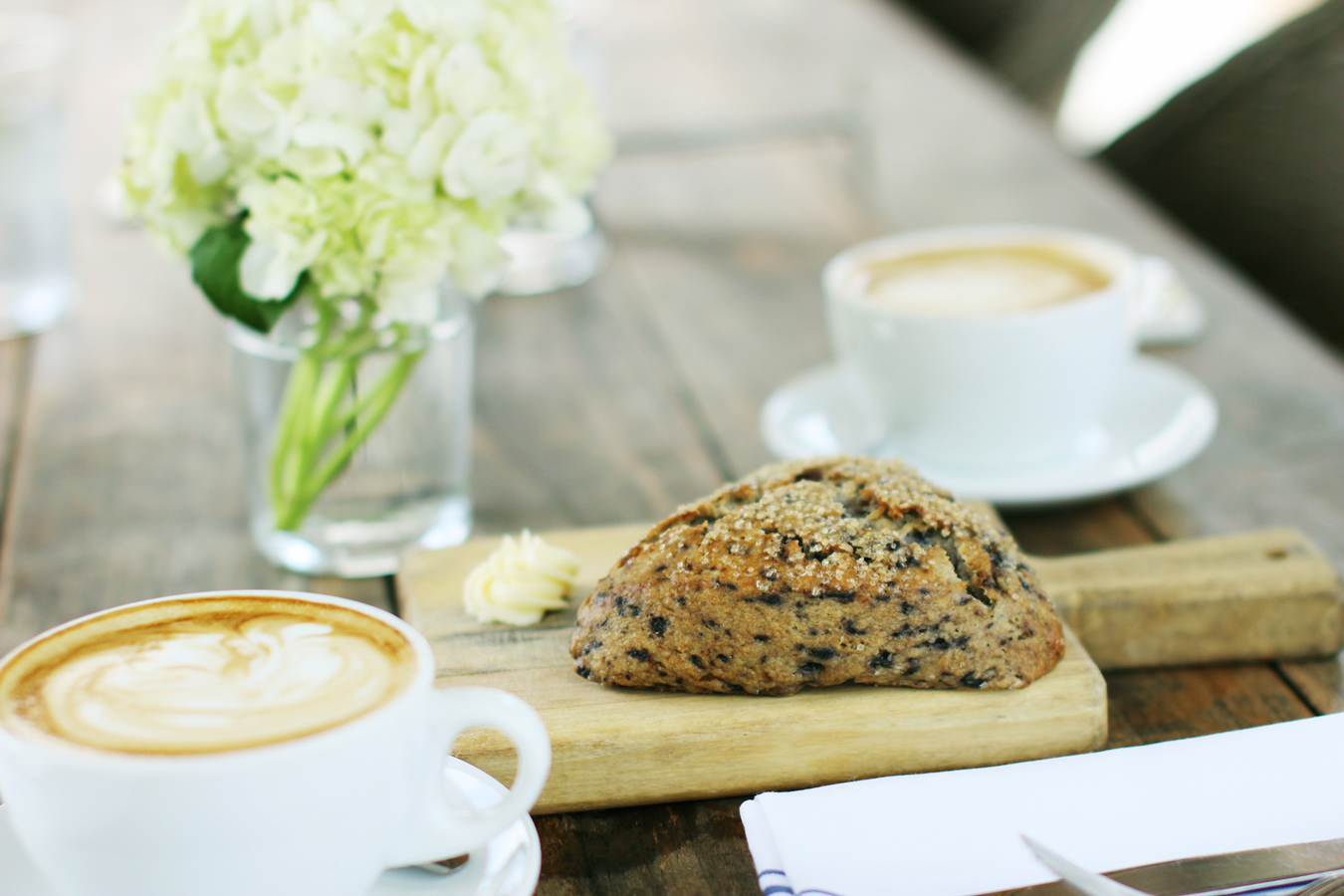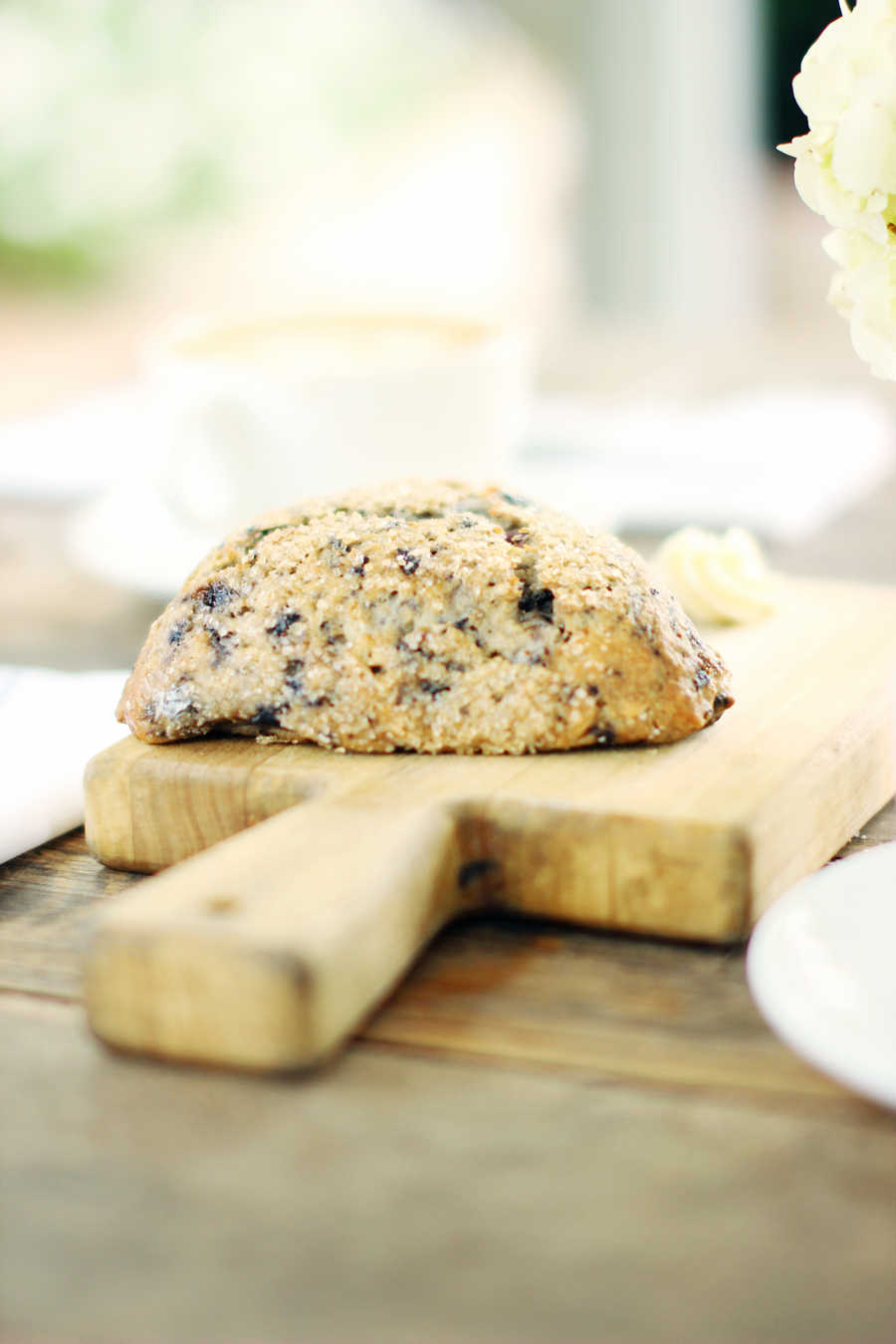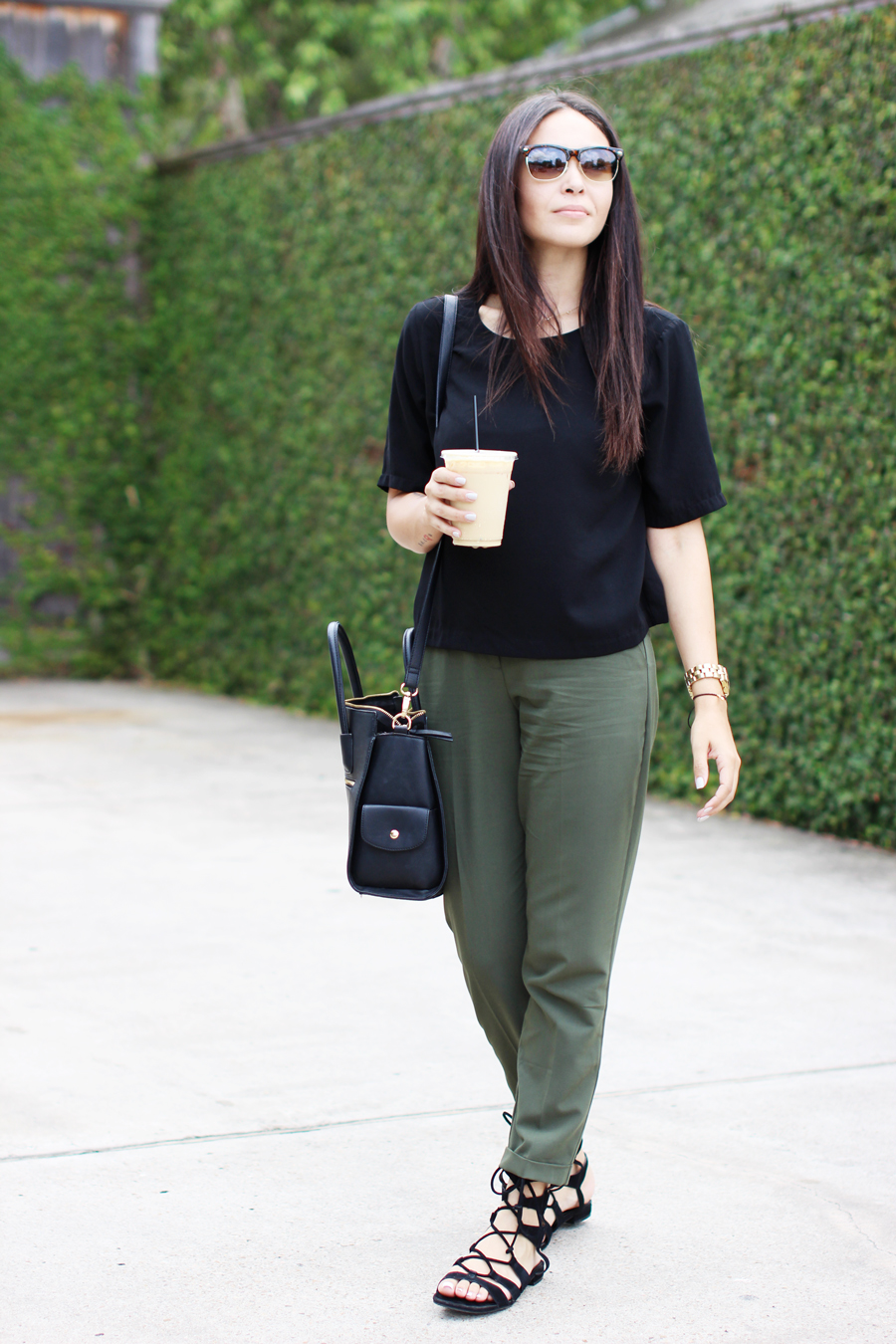 Wearing:
Boxy Crop: Forever 21
Trousers: here's a cute Forever 21 style
Sandals: Dolce Vida via Nordstrom
Tote: H&M, similar
Sunglasses: the boyfriends
Watch: Marc by Marc Jacobs
Bracelet: Pura Vida Bracelets 
[show_shopthepost_widget id="1658724″]
Xx Sylvia
---