Two. Little. Straps.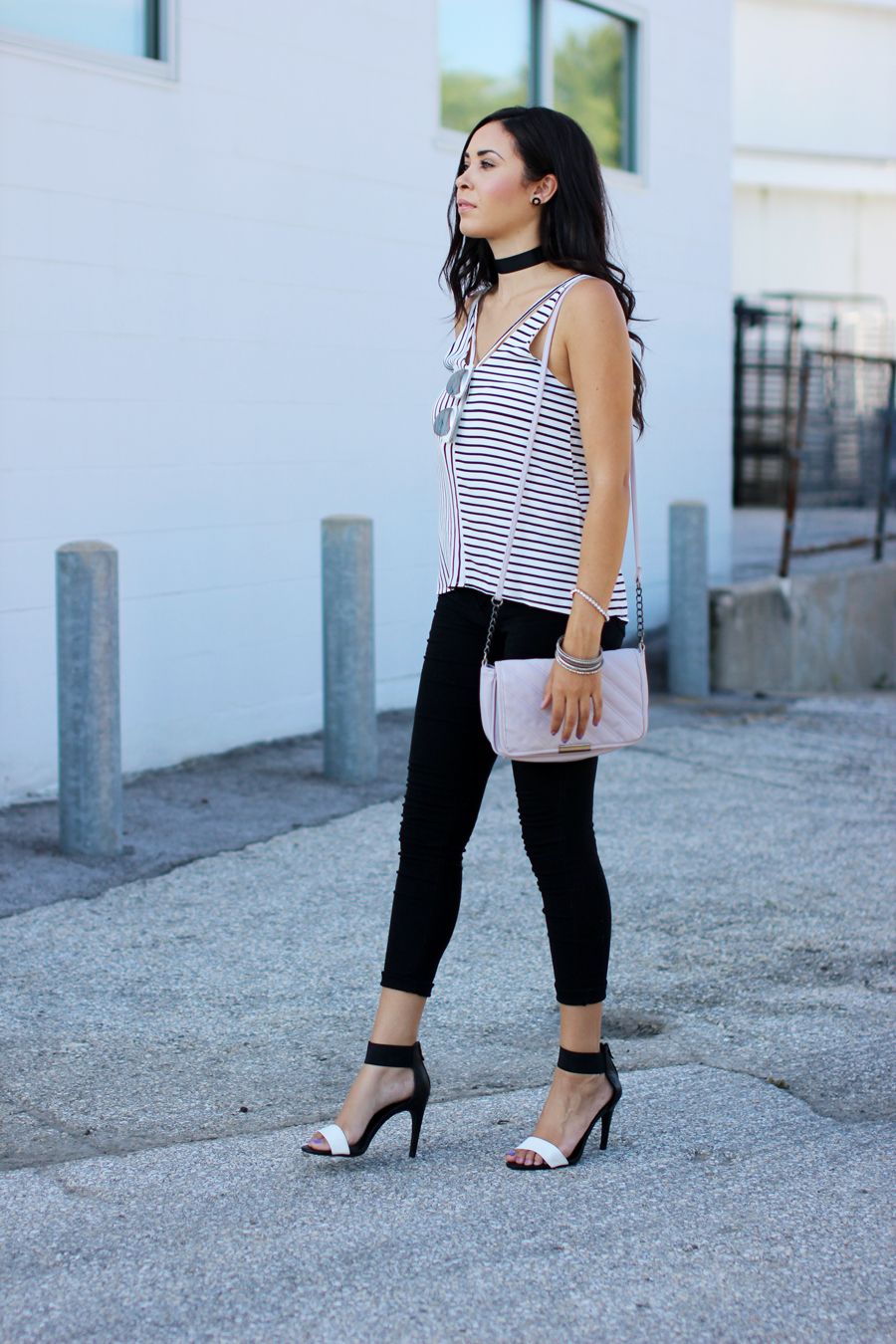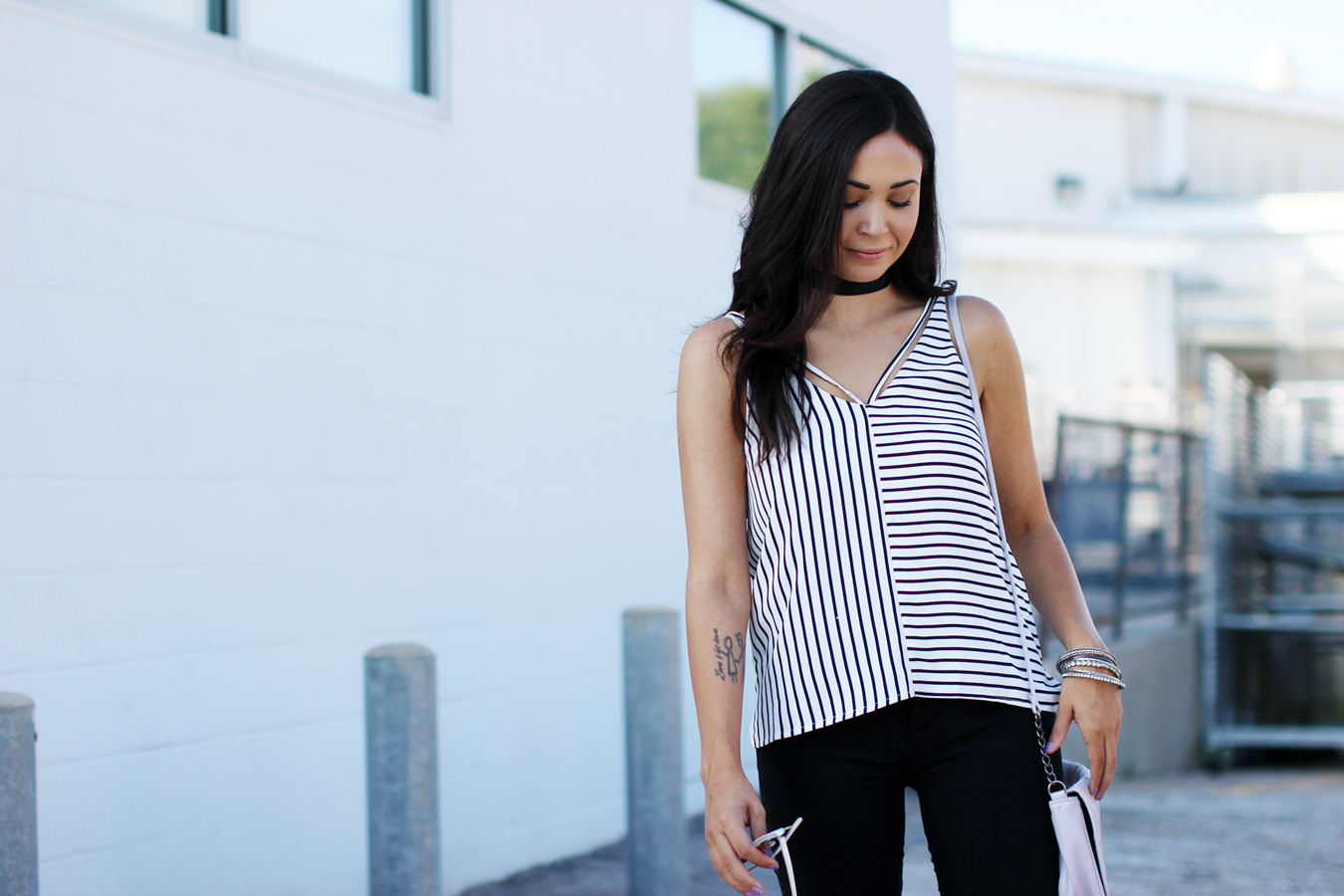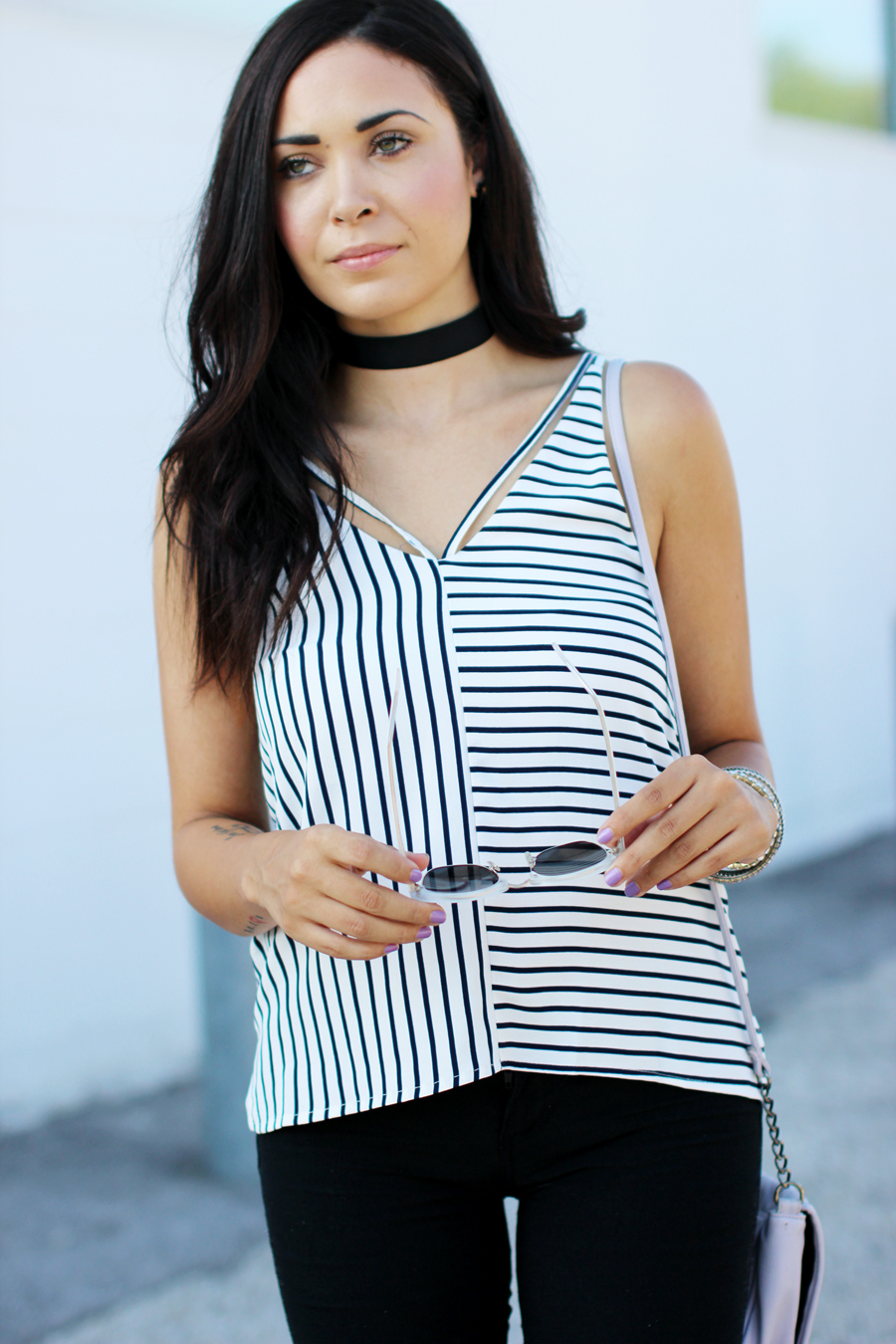 It doesn't get much sexier than a v-neck paired with a choker but add two little straps accentuating that deep V-neck and oh my goodness the sexiness is through the roof. Who would've guessed such a simple tank could have me feeling so sassy?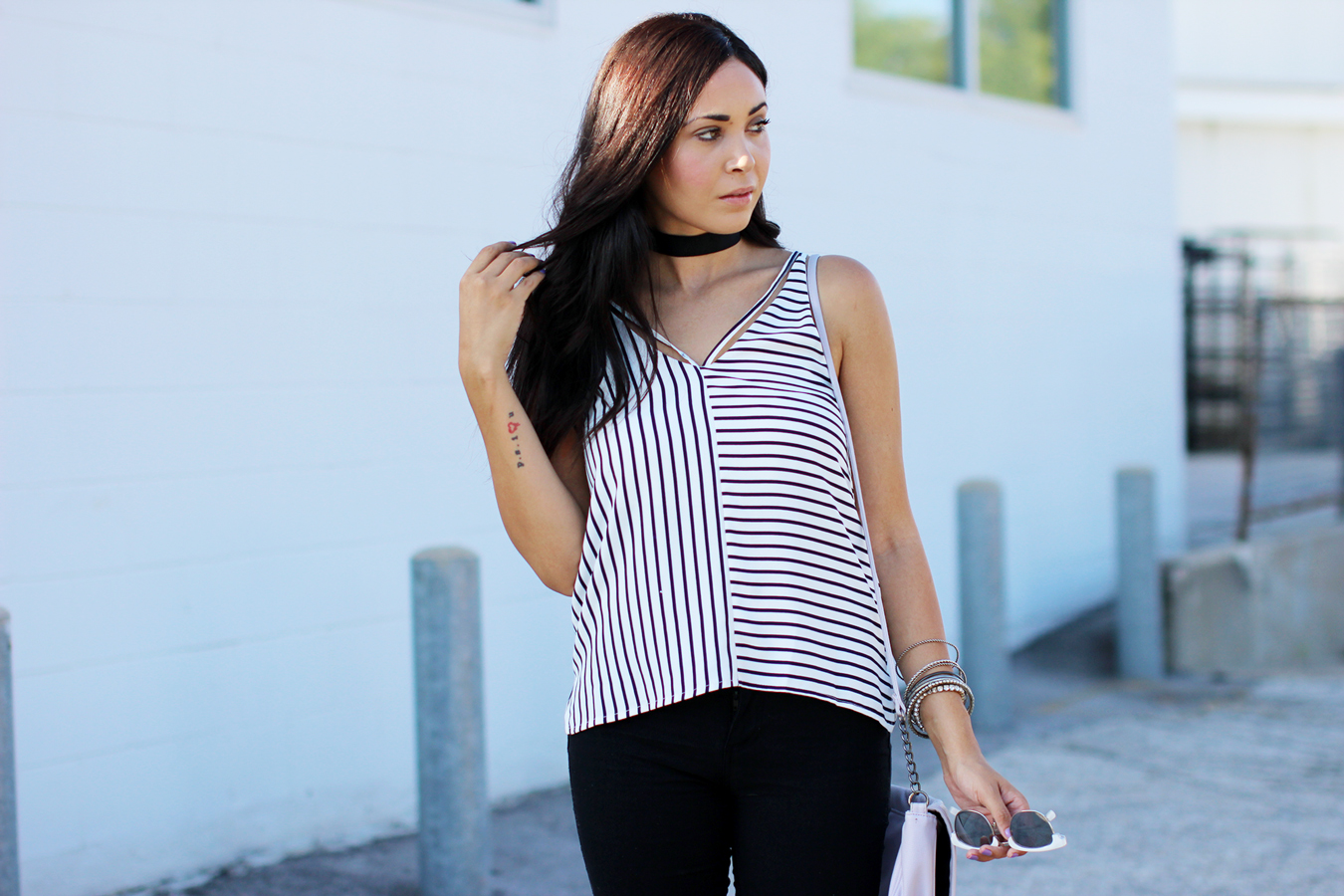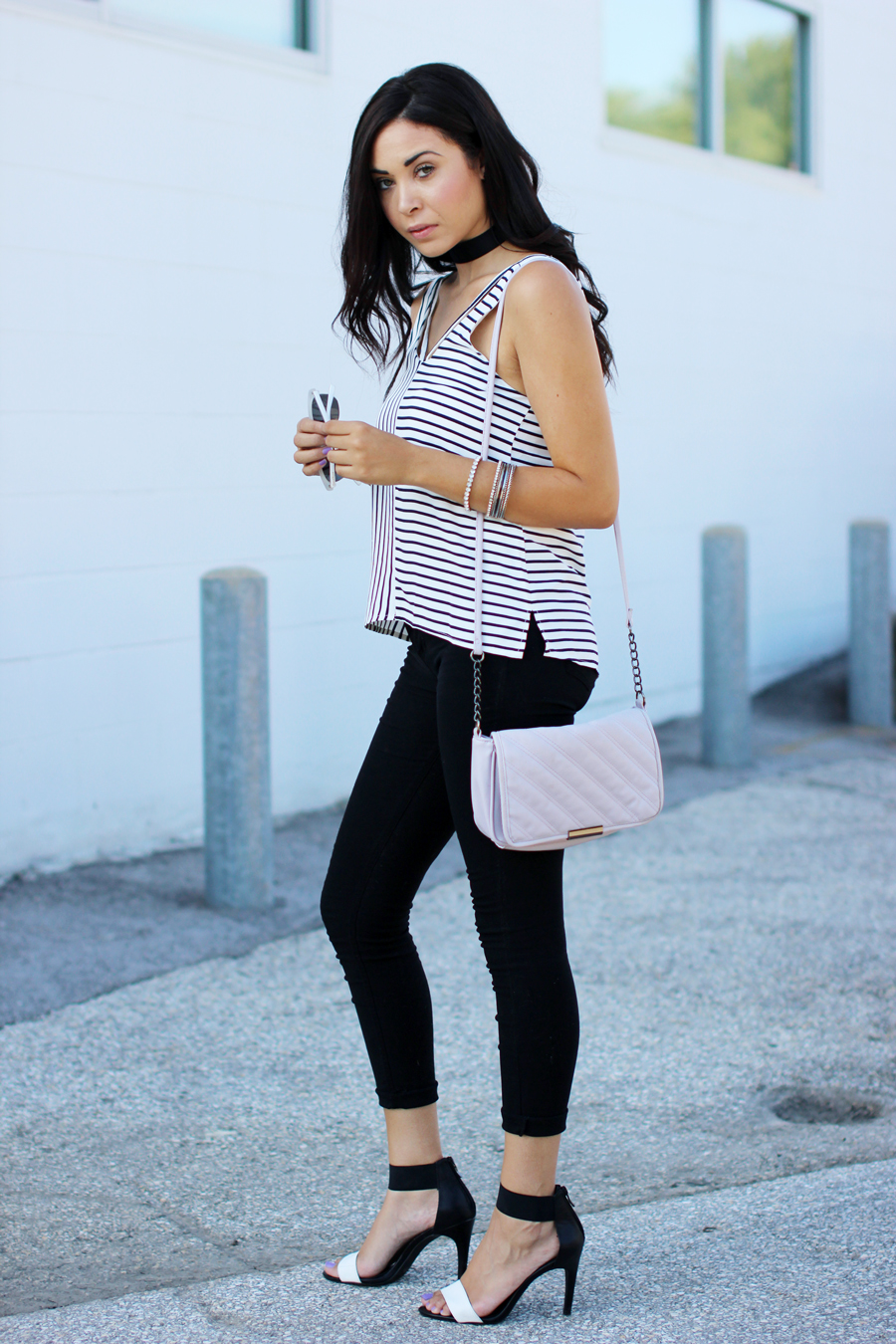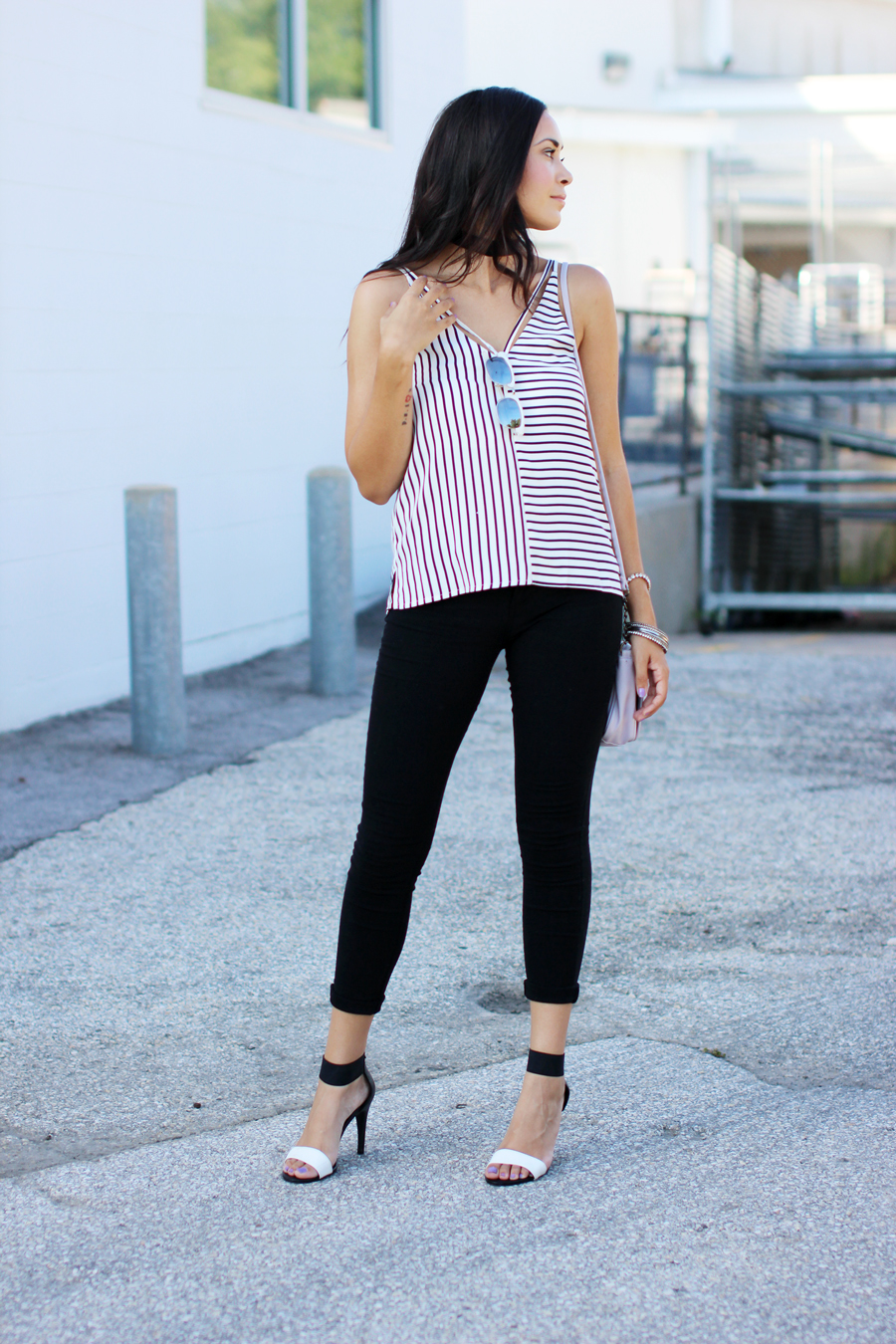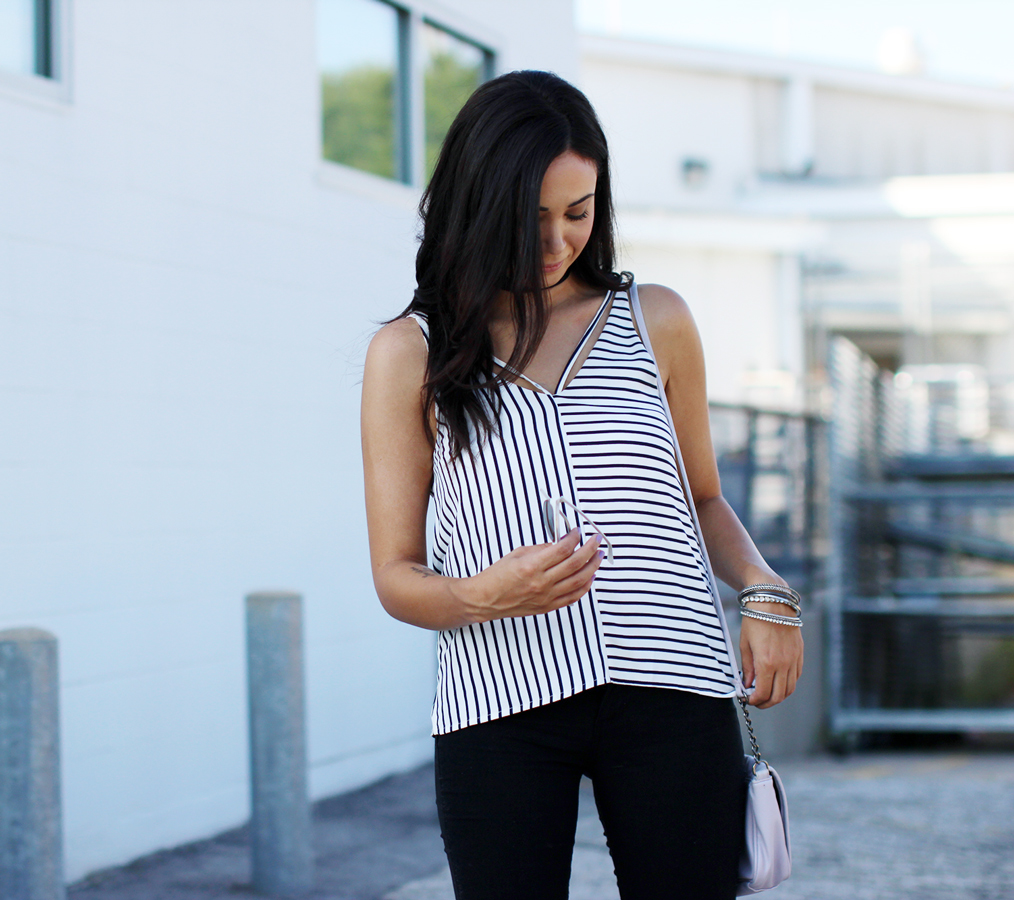 Wearing
Top: c/o Shein, sold out (similar, love this & this too)
Pants: similar
Bag: old, similar & here too
Shoes: BCBGenerations, similar
Sunglasses: Cole Haan
Xx Sylvia
---
Vacation Style with Zaful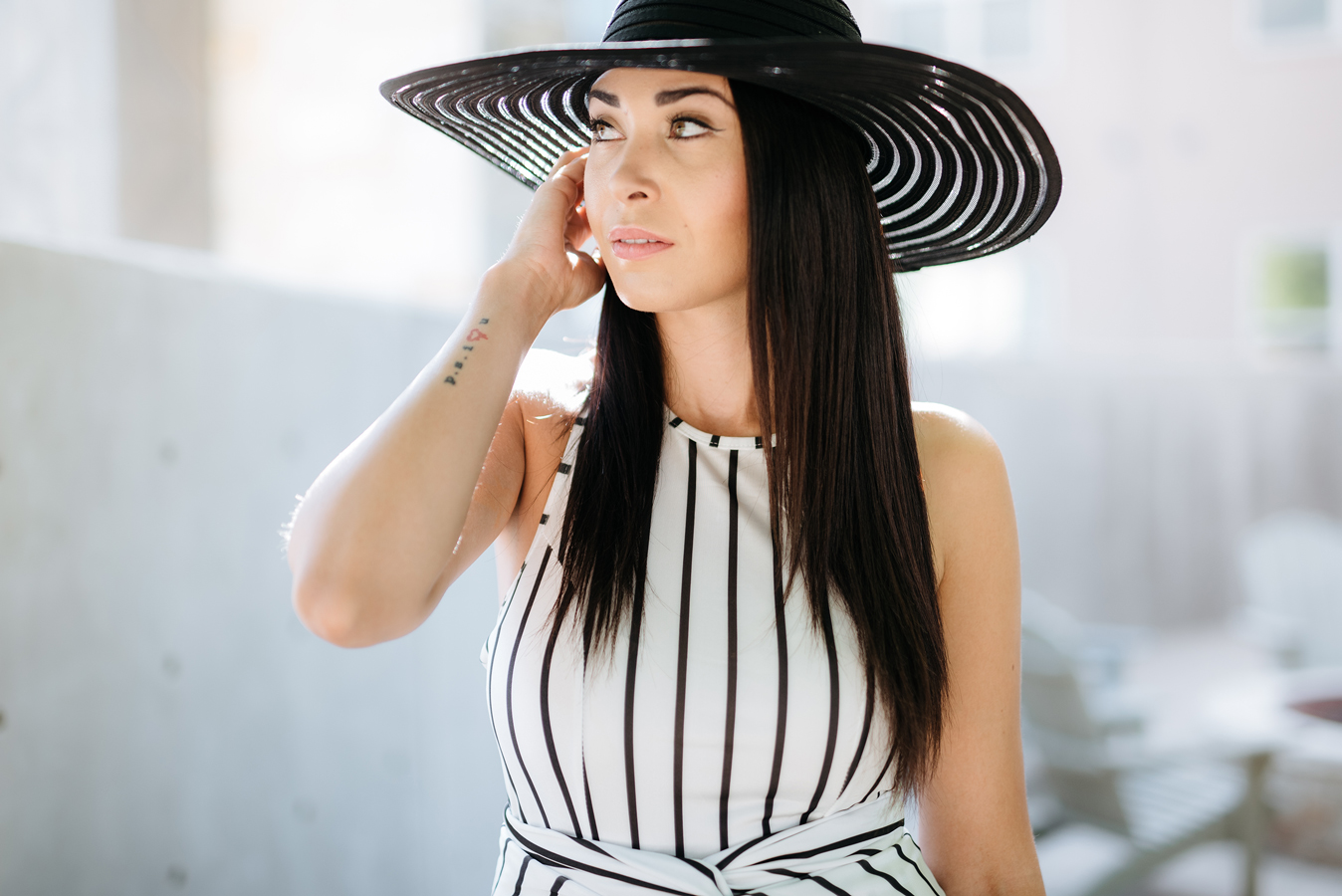 If you're reading this right now, I'm currently in Miami, Florida…
& this dress came with me. The hi-lo cut of this frock screamed "Take me on a vacation, I'm super cute!" so I did. Kidding, kind of, but on a serious note-it really is perfect for a beach vacation if you aren't a big maxi dress kind of girl. Plus shopping before a vacation can be stressful-not knowing if your pieces will arrive on time is a terrible feeling and with Zaful there was none of that. My package arrived within the week and everything fit perfectly. Plus this twist on the hi-lo design is so trendy; I'm not a huge fan of typical asymmetrical dresses but this one feels like a mini dress with an added waist tie-almost like when you tie a flannel around your waist. (Which is one of my go-to style moves.)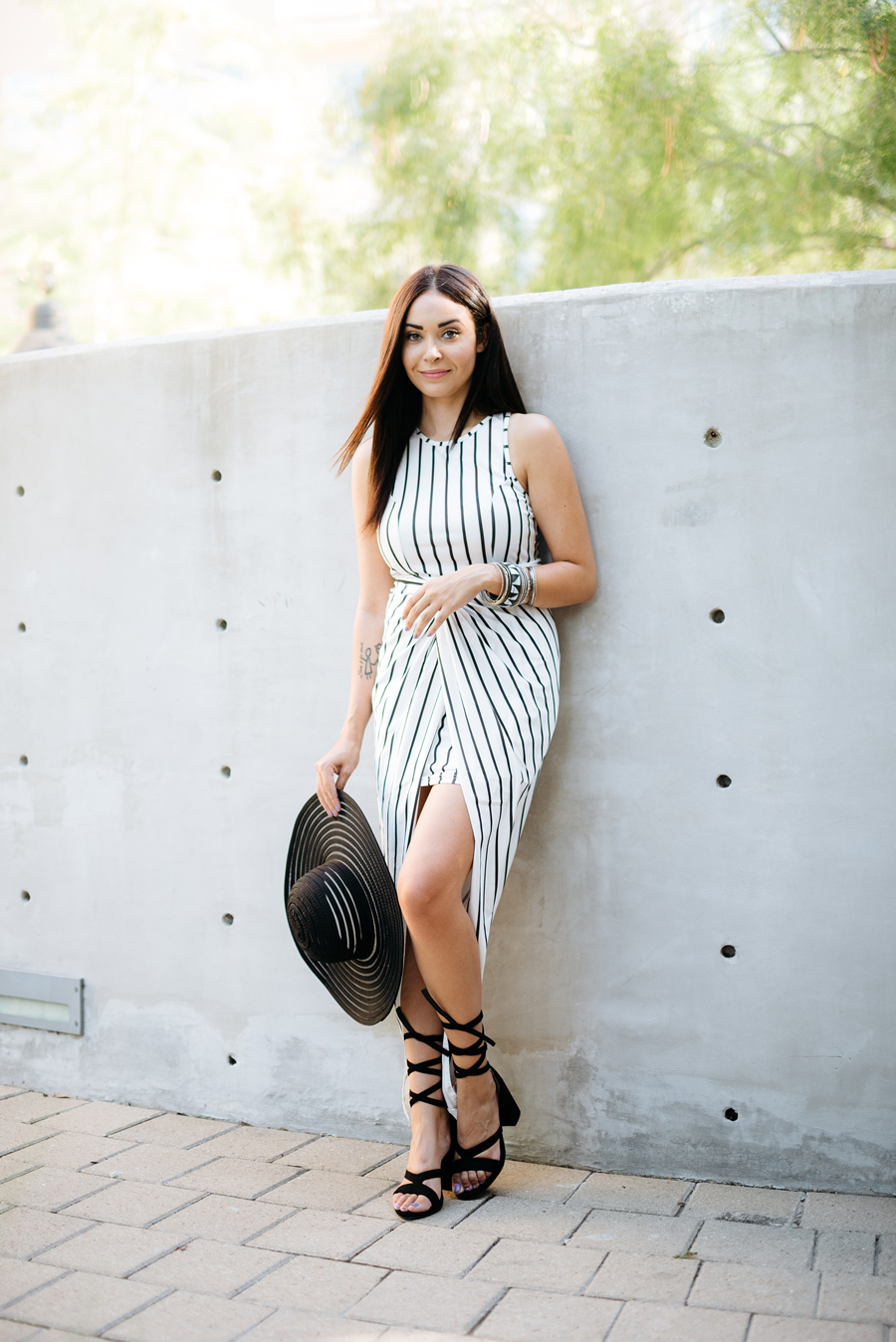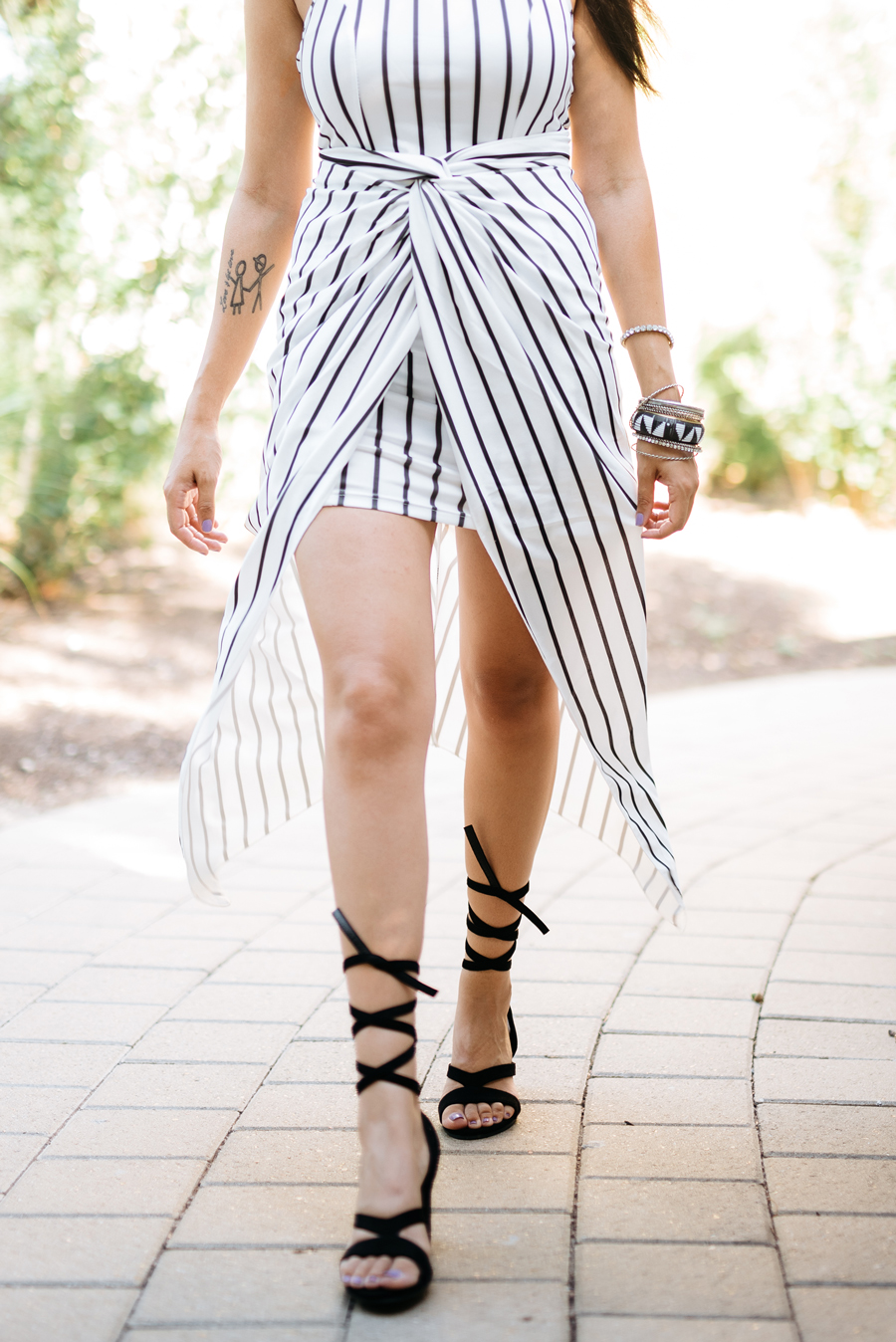 Lace up everything has been a huge trend this year and my favorite way to sport this style has to be on my feet. I'd been saving versions of this sandal to my Pinterest "Need to buy" board over and over and after buying a sandal version and pump style I was only missing a block heel to complete my collection. I had never heard of the Sugar brand before seeing them on the Zaful website so I was a little apprehensive about trying them out but they fit and wear just as well as any of my better known name brand shoes. & trust me, that opinion was formed only after wearing them to a party, out for a girls brunch, multiple photoshoots and even to Target- can you tell I might like them a little?
I paired these sandals and dress together with a black sunhat for an effortless vacation look that would work dining al fresca or even roaming poolside.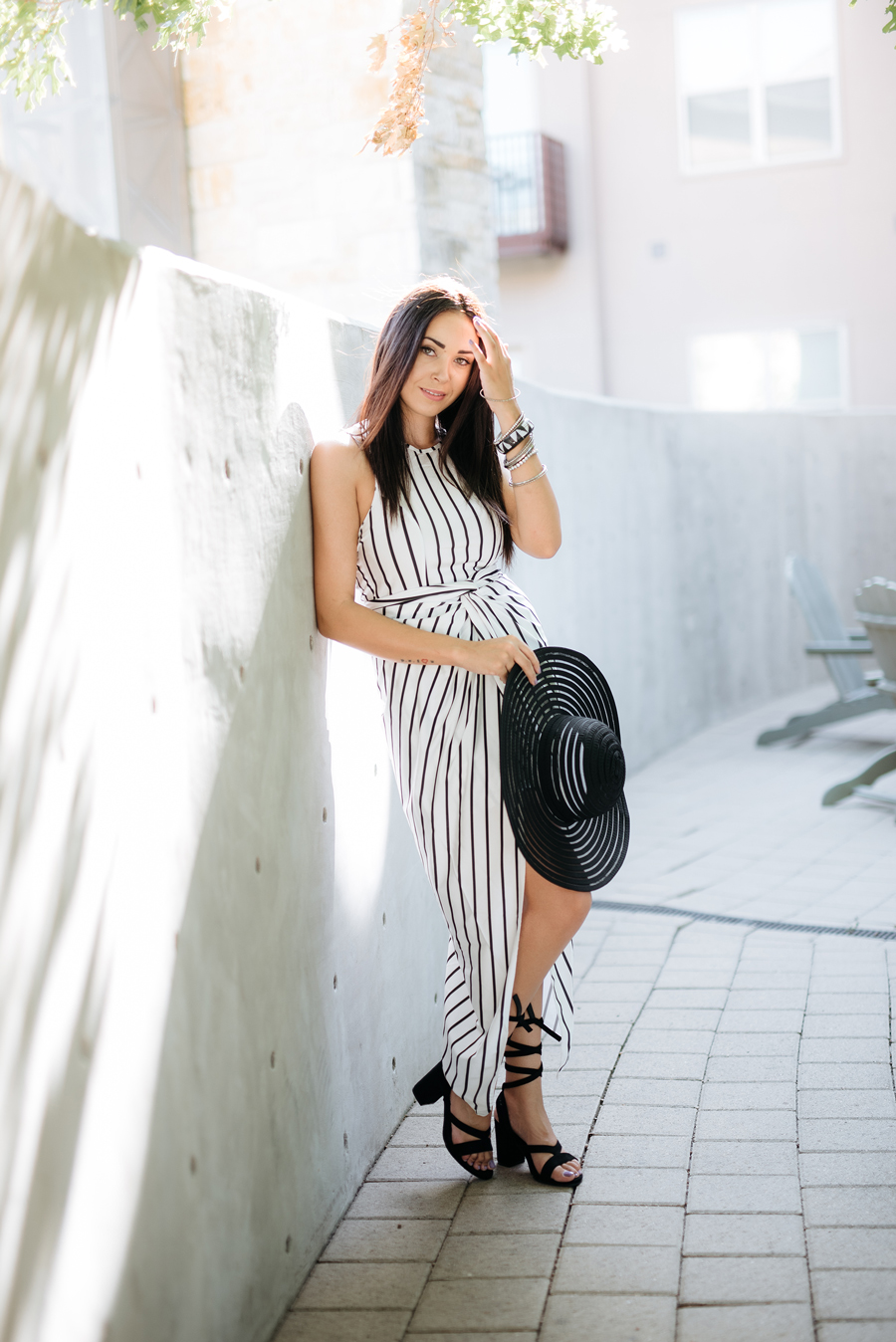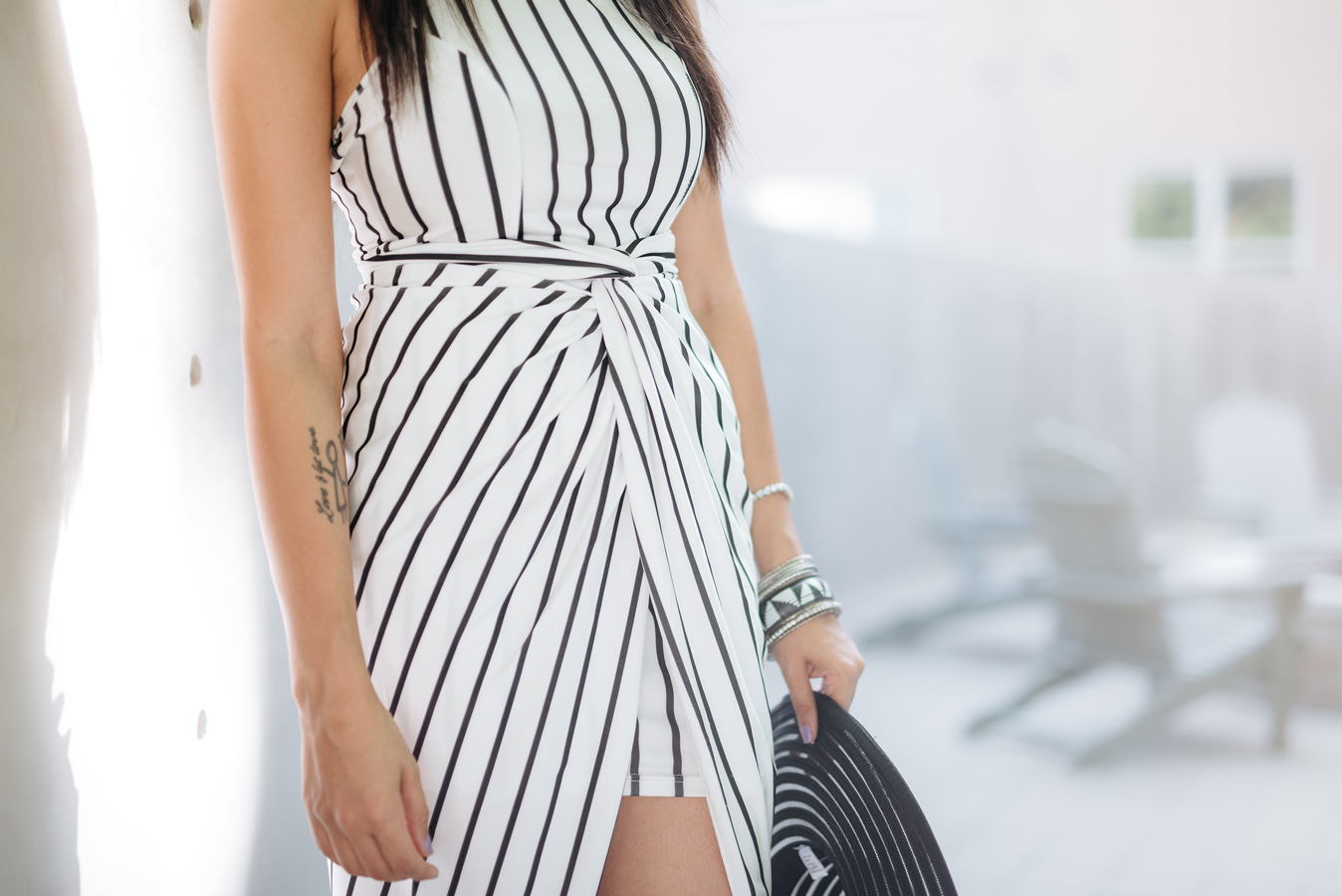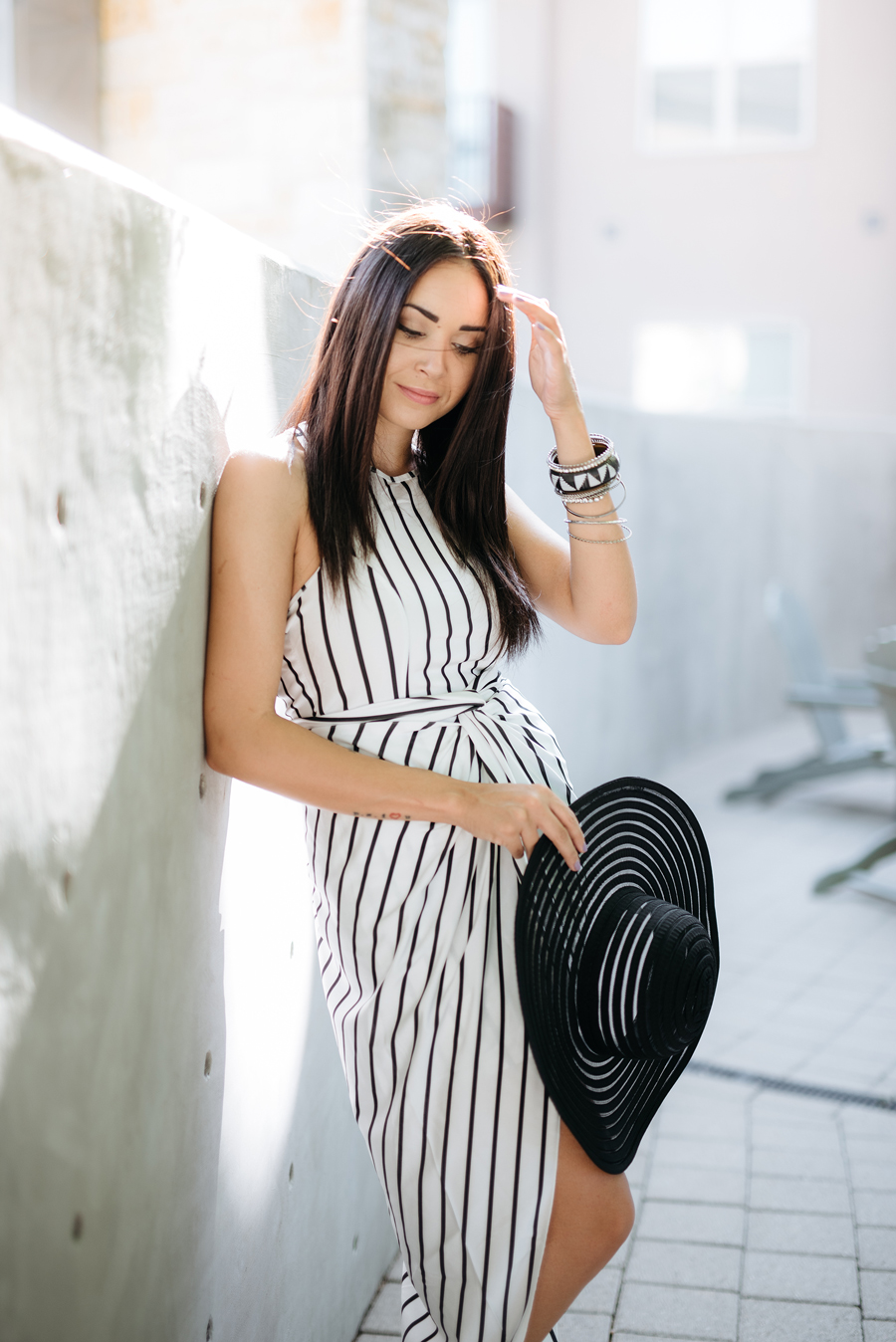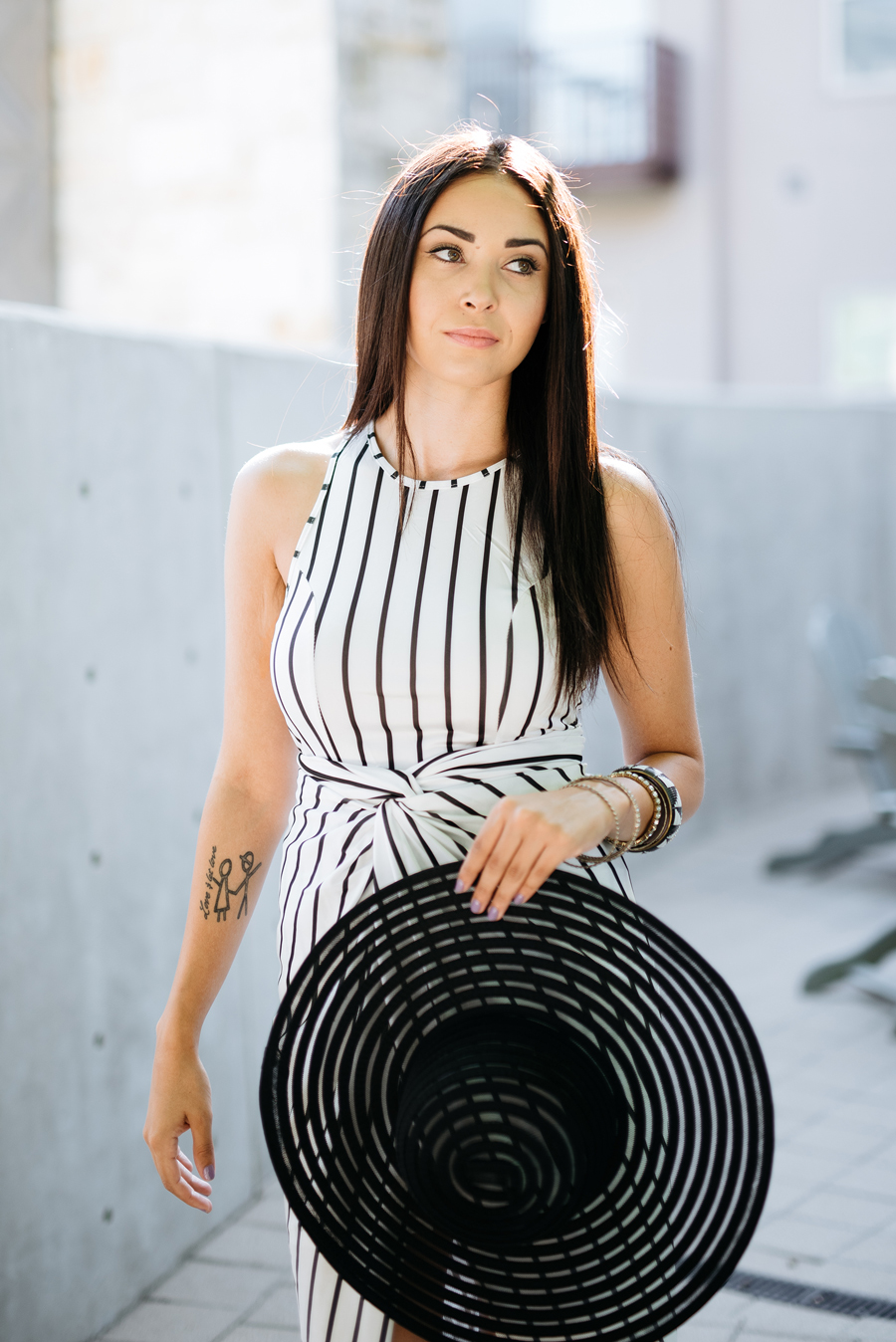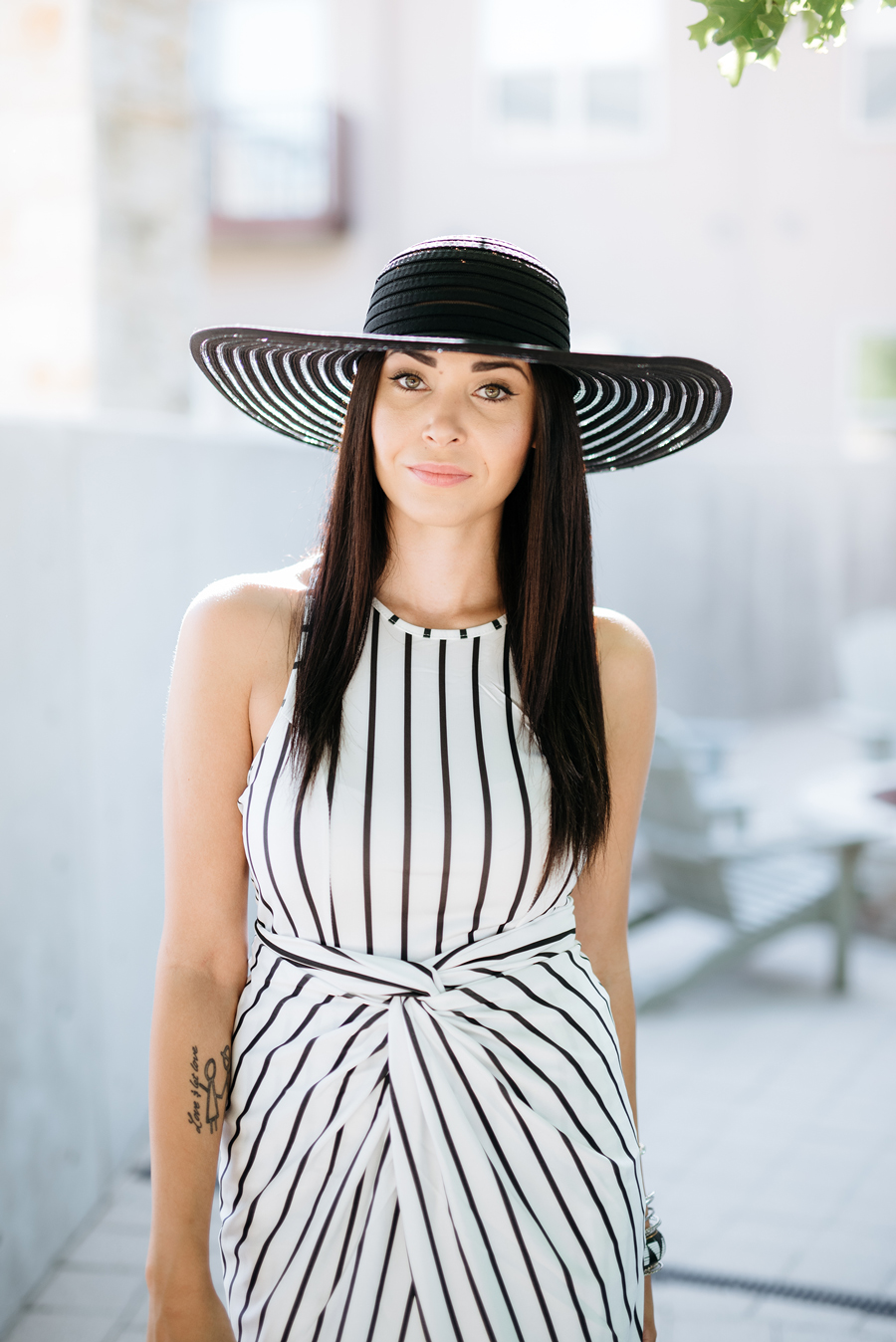 Wearing
Dress: c/o Zaful
Hat: Francesca's sold out, similar (under $10) & here
Sandals: Sugar c/o Zaful
Bangles: here 
Photos: Carlos Barron Photography
Thank you Zaful for sponsoring this post, all opinions are my own.
---
The Perfect Vacation Dress with LURE
The first thing that came to my mind when I saw this Ark & co dress was: Vacation.
Vacation, vacation, vacation.
It's the perfect dress for a tropical Summer vacay or, as in my case, just pretending you're on one. The blue, pineapple and rum drink didn't hurt either.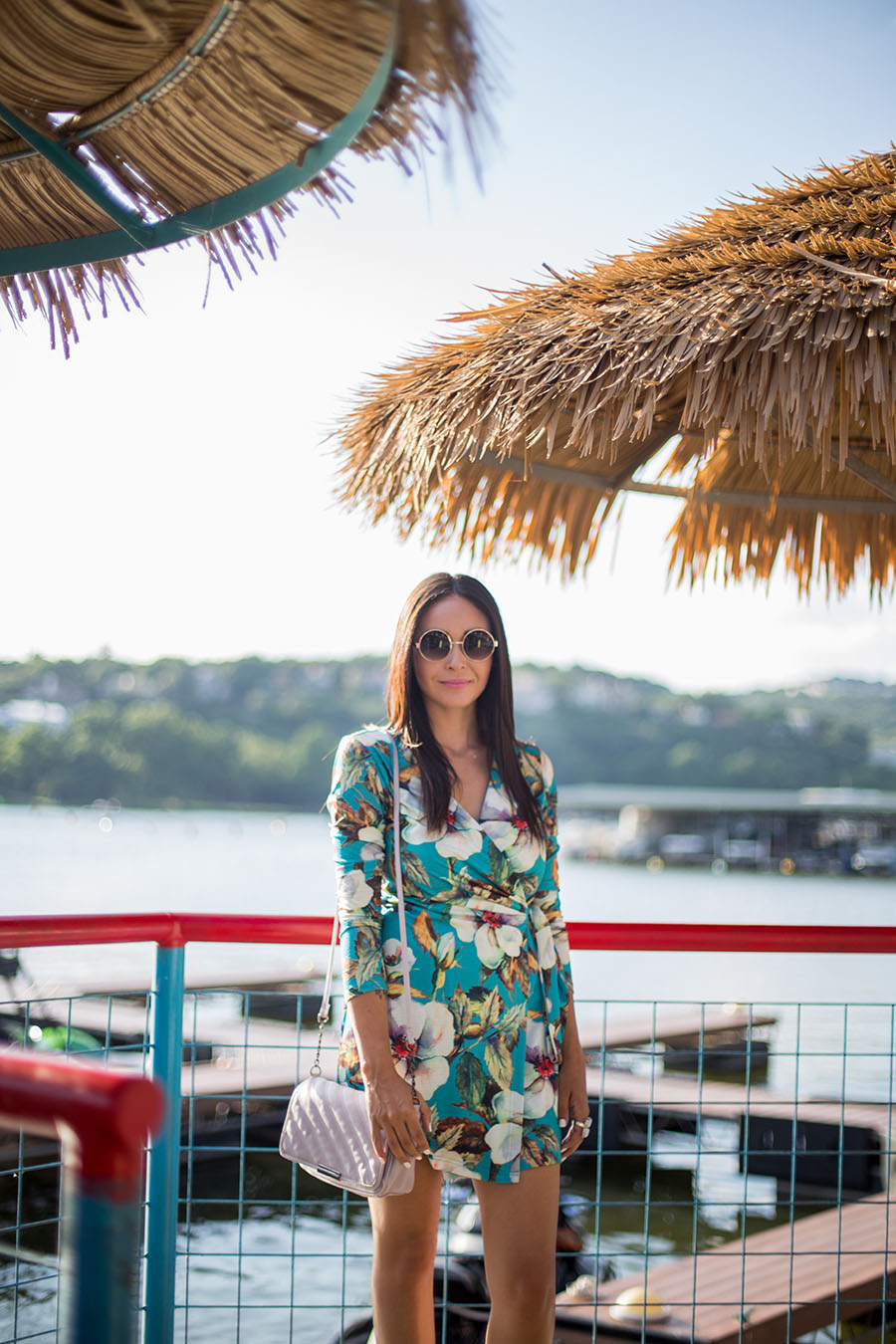 Apart from the great print of this dress there are a whole gang of other reasons it's an absolute must buy; it's lightweight, makes you look more tan, can be dressed up for a night out or with sandals for a day trip, its a wrap dress so its universally flattering on all body types and it's under $60!
Wearing
Dress: Ark & co c/o LURE by Young and Fabulous
Bag: old, similar for under $10
Shoes: sold out, similar and love these!
Sunnies: Nordstrom
Ring: c/o Pink and Silver Fashion
Earrings: Kate Spade via Nordstrom
Xx Sylvia 
Photos: Monique Rodriguez
---
Getting Pampered with NAAVA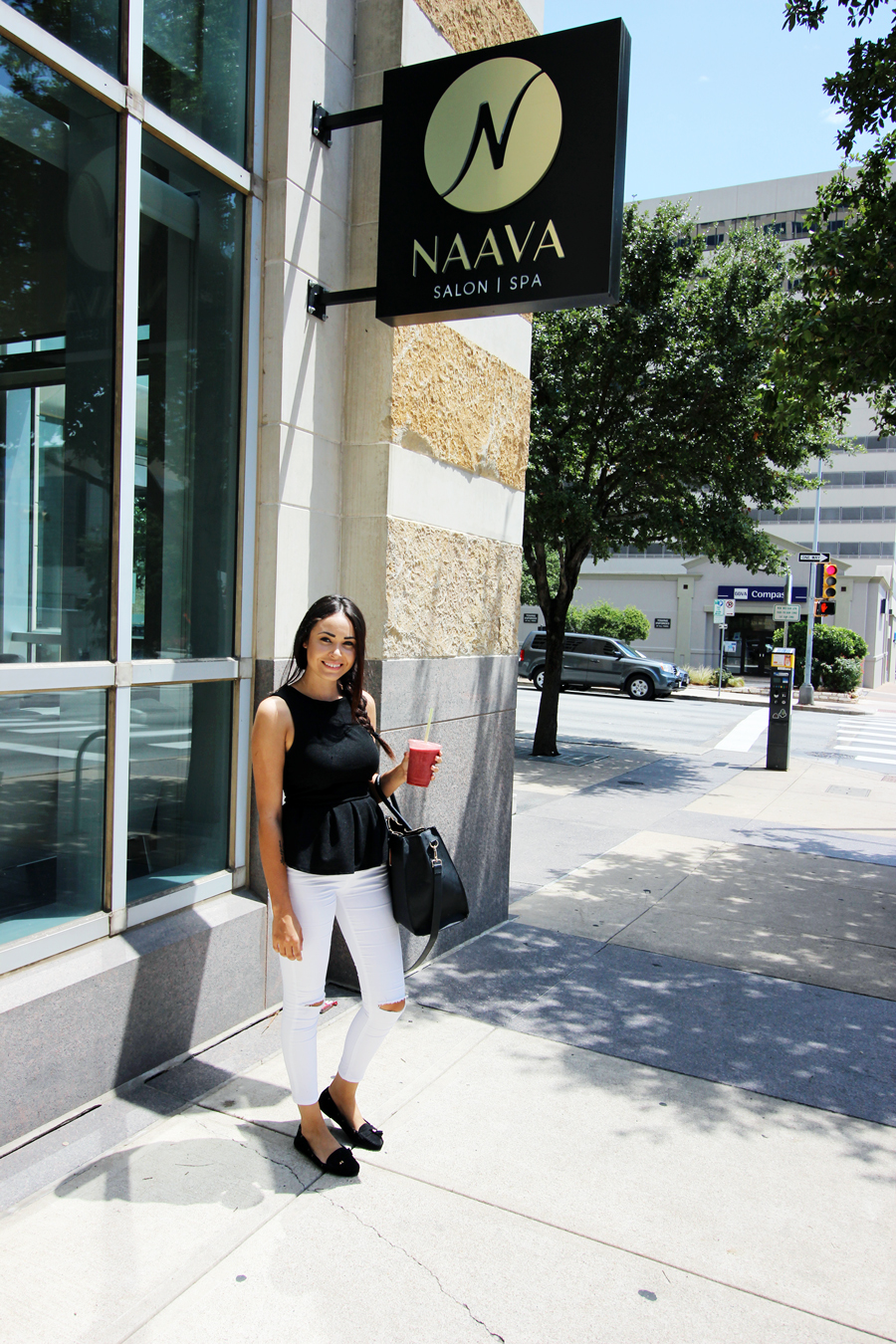 Last week I was invited into Naava, the largest full-service salon and spa in downtown Austin, for some much needed pampering. Ranked number three nationally as the best salon in the country by June Salon Today magazine; I knew that if I was going to find my new go-to colorist anywhere-this would be the place.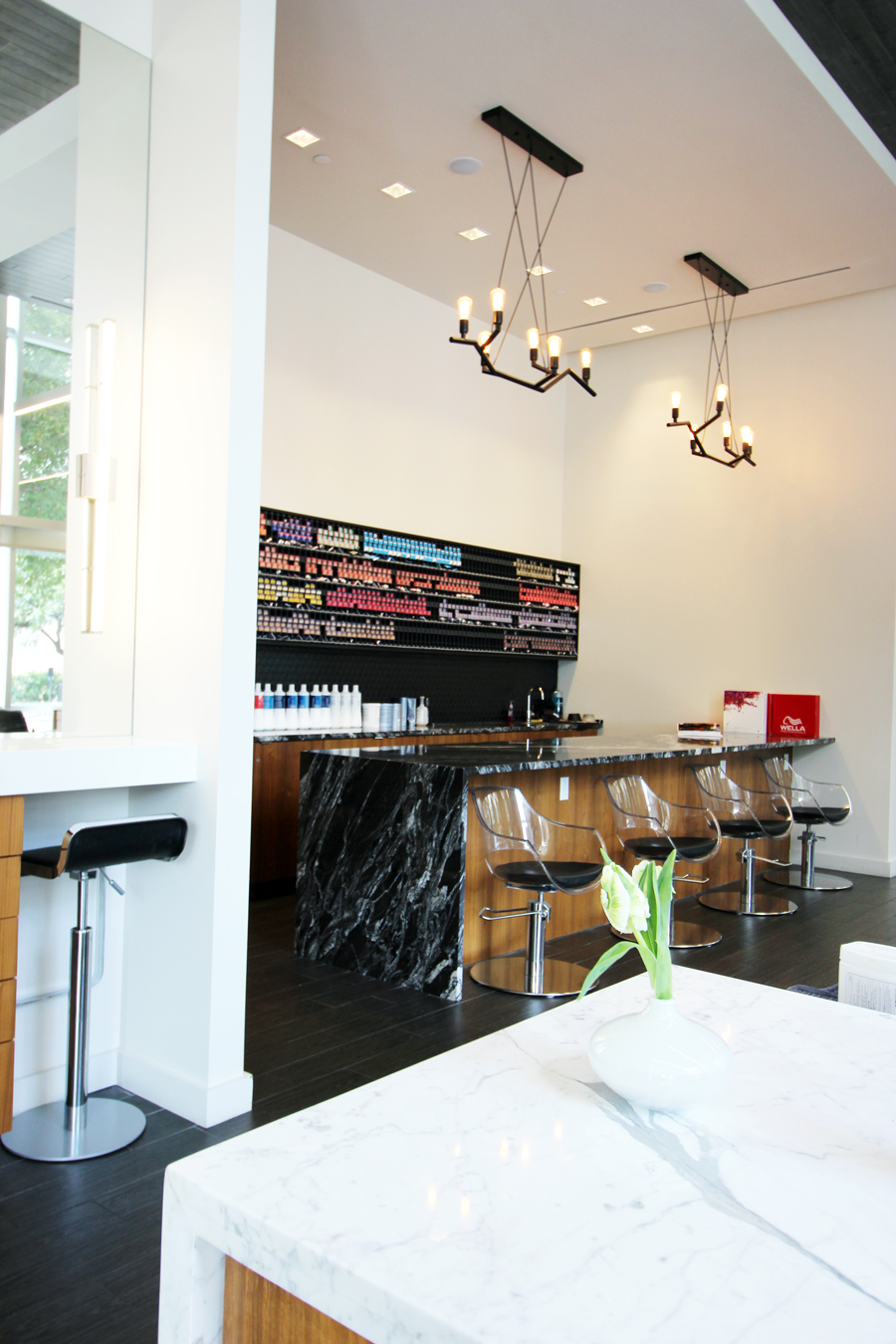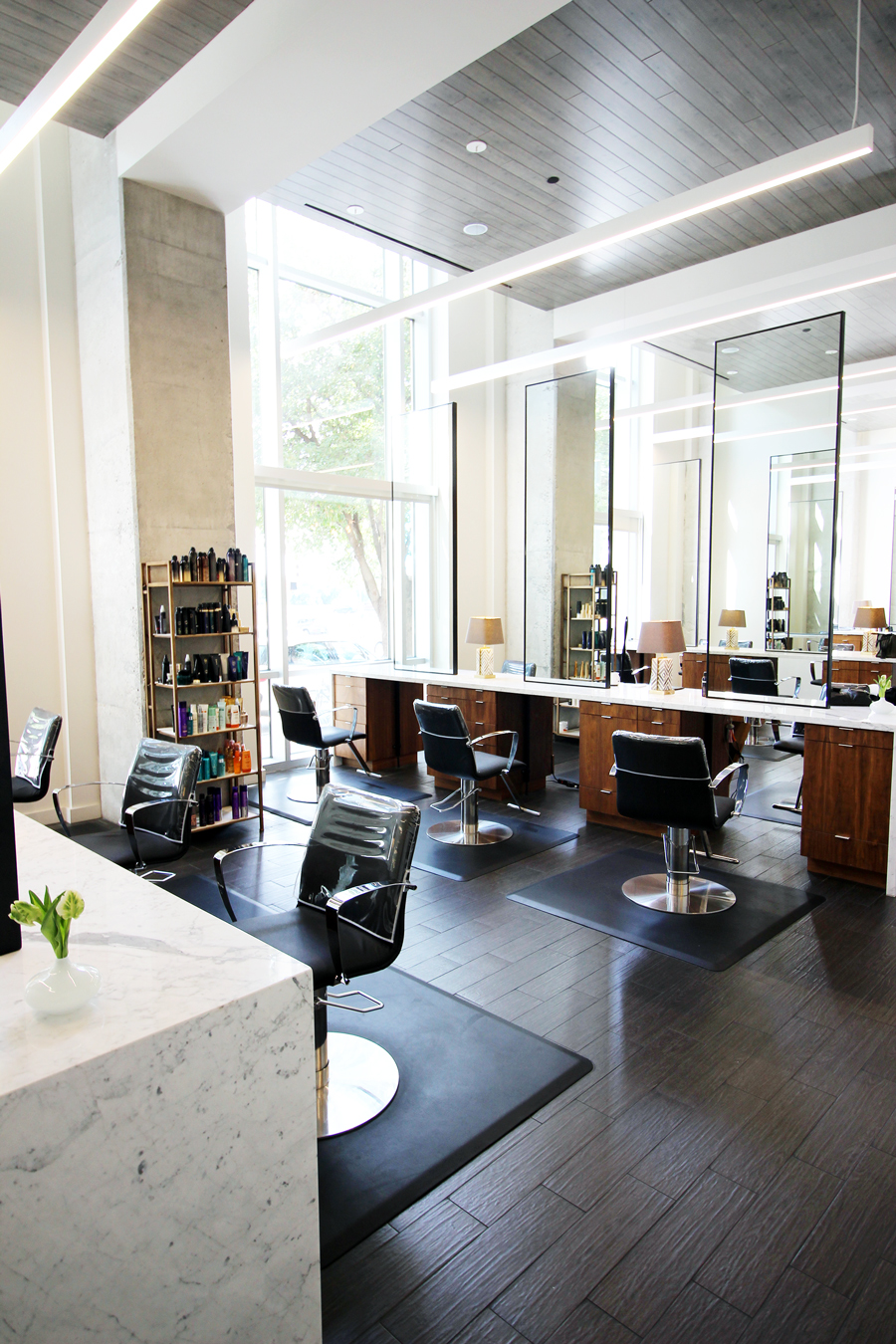 I arrived at the Navva and was offered a private tour of the space before my appointment began and was honestly taken aback by the salon. From the outside you would never guess how huge this place truly is. There are completely different areas-each with chic, vibrant energies; the salon which is airy and modern but still feels very private (even though you're surrounded by floor to ceiling windows). Then there's a sleek separate area for mani's and pedi's that would be perfect for hosting a girls day for the whole group along with a quiet, serene spa wing that I'll definitely be visiting soon for a facial.
I had the pleasure of working with Jean Francois, a recent transplant from Miami-which is only my favorite travel destination, so chatting him up was a blast. I let him know that my main goal was to cover some new greys that had not been invited but to keep my hair color as relatively close to the color it was. Jean was so informative, giving me information about different products and treatments that would be ideal for my hair type. He used an ammonia free dye that he said could cover hair up to 50% grey, so I was good to go.  Before I had even finished my color I knew I'd be back for a Keratin treatment. He explained that my coarse, frizzy hair would benefit greatly from the smoothing process, which cuts blow dry time in half. I always wondered how the babes in South Beach were able to keep their hair looking so amazing in the extreme humidity, and friends, this is the secret.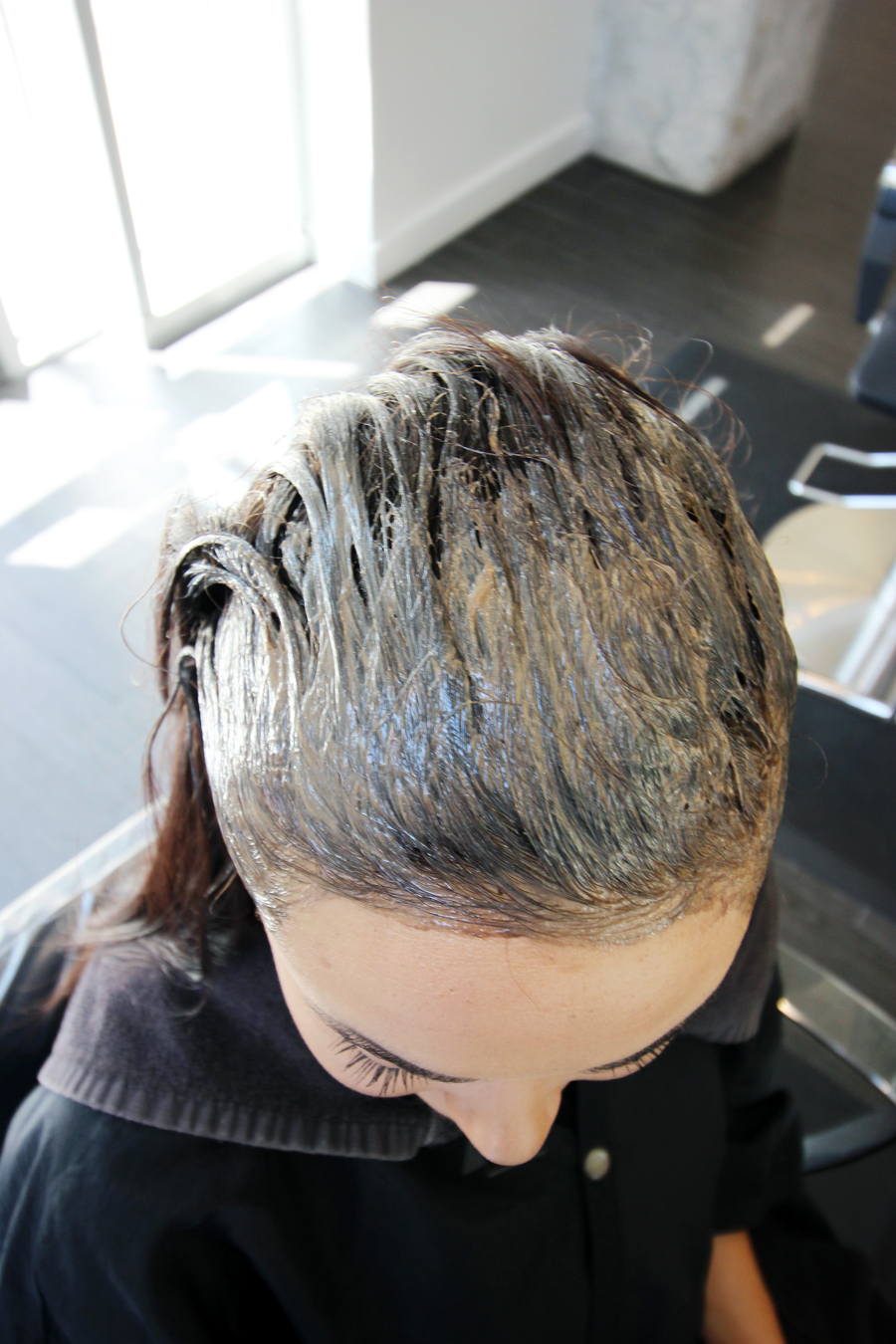 Look at how well he matched my color! Amazing!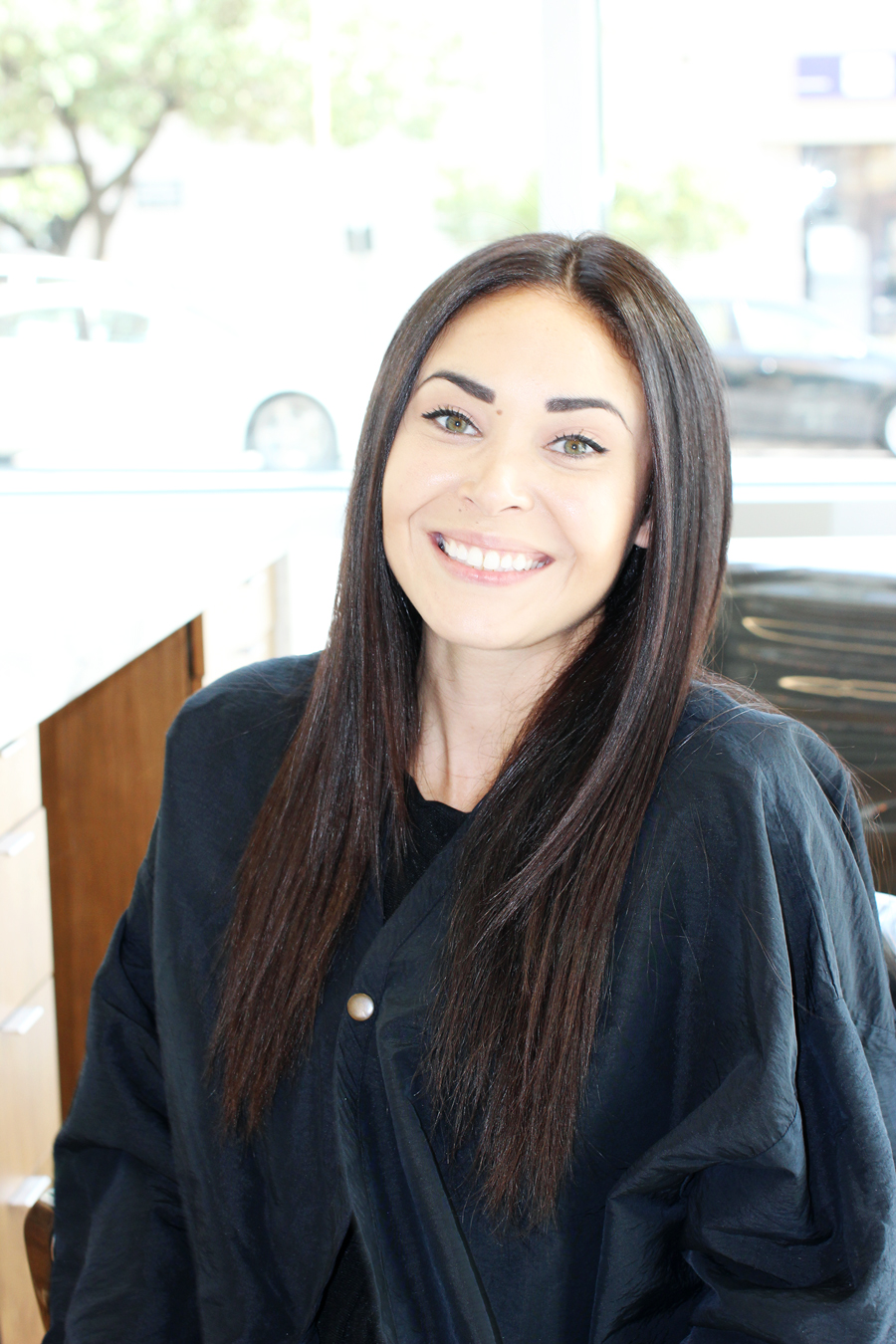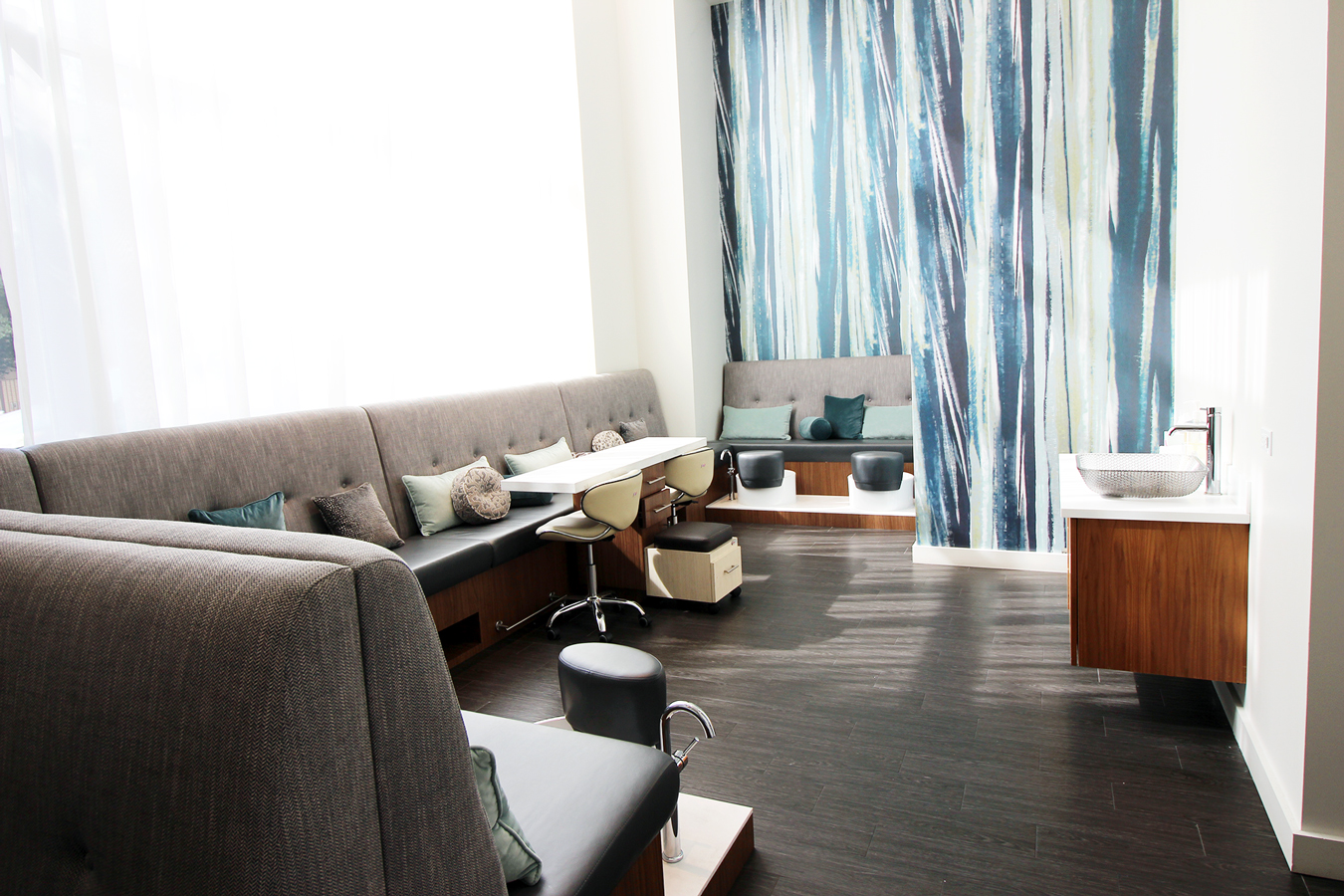 Wearing
Top: Forever 21
Jeans: Topshop via Nordstrom
Shoes: Steve Madden
Bag: H&M
Xx Sylvia
Big thanks to Naava for inviting me to try a free service, all opinions are my own.
---
Made My Own Yeezy Top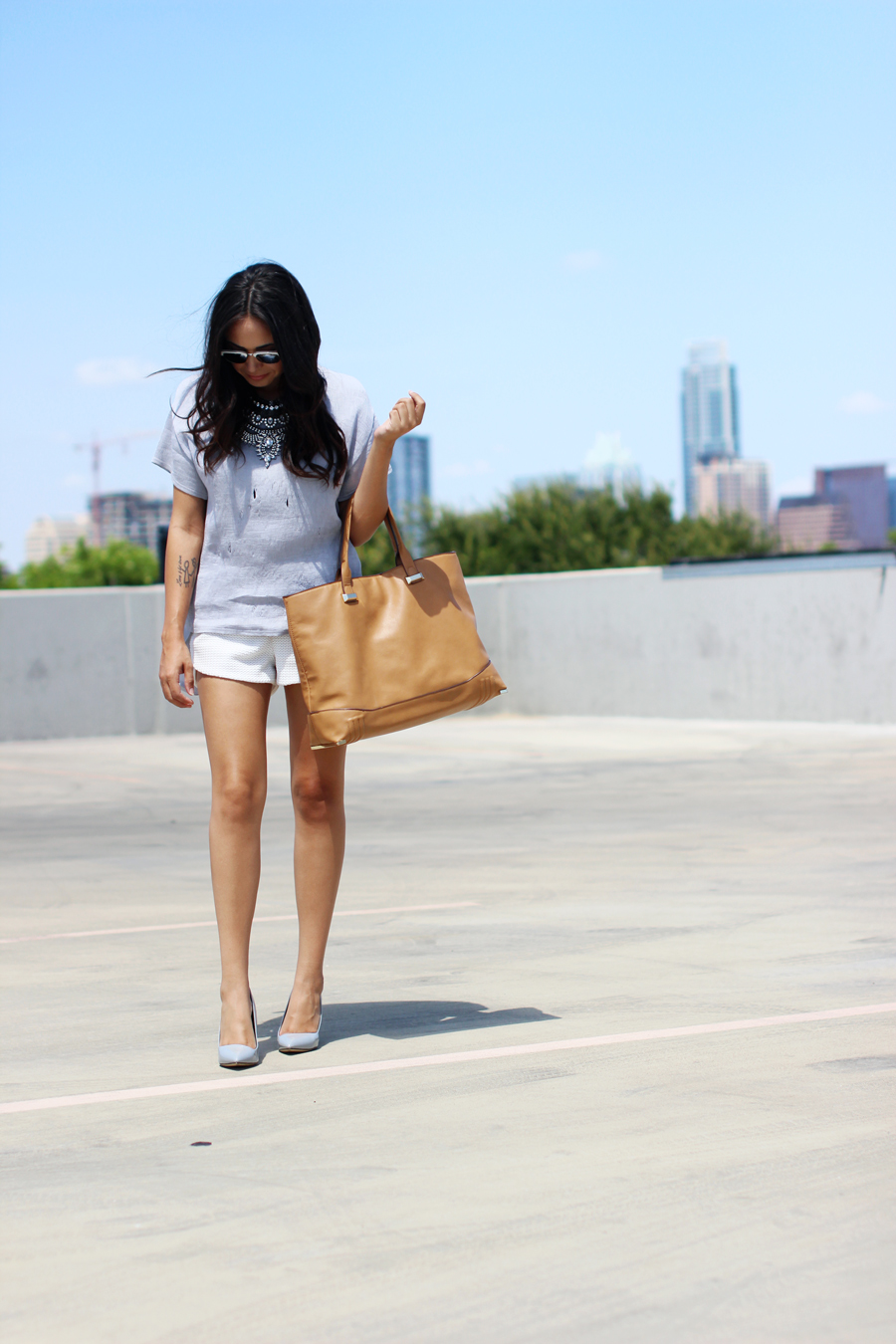 So, I bought this shirt during Zara's huge sale that was going on a couple weeks ago right? I wear it all day wrinkled because I'm lazy like that, then my boyfriend says "Hey lets go to dinner and catch a movie". Not wanting to look like I totally just rolled out of bed I finally decide to iron my top before we leave. I seriously didn't even touch the iron to the material, I held the shirt inside out and sprayed steam (as per the usual) and boom! Right in the center the once ribbed looking design was splitting before my very eyes. I couldn't believe it, I was pretty annoyed/upset/confused. The tags said that the shirt was OK to be ironed so what happened?
I started down the hall with a "Oh my god babe…" on the tip of my tongue when it hit me; if Kanye can get away with wearing clothes with holes in them-then why the hell can't I? I went back to the iron and added a few more holes in choice spots using the fabric ripping steam. Then I headed down the hall to show my boyfriend my new Yeezy-inspired top.
I decided to only add a few, small holes to the top until I wash (hand wash, but still) it so that way if the shirt decides to split any further it won't be as if I'm wearing a fishnet top. I do want to go back in and add a few more holes though, especially on the sleeves and near the bottom.
Wearing
Top: Zara, silk option
Shorts: Forever 21
Shoes: Aldo, Nordstrom
Necklace: c/o Mirina Collections
Sunglasses: Cole Haan via Nordstrom Rack
Bag: H&M
Have you DIY'd anything recently?
Xx Sylvia
---