New Orleans: What to Pack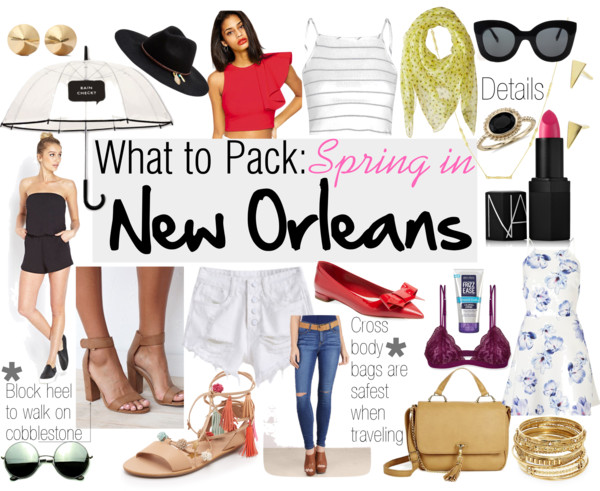 New Orleans has long been a favorite travel destination of mine; between the culture, architecture and food it's unlike most places I travel to (see beachy hangout). If you follow me on Instagram or Snapchat then you may have already caught on that I was supposed to be going to NOLA last Monday but postponed my trip due to the weather.
Well, I'm off to New Orleans.
The weather is still iffy/spotty; there's definitely still rain in the forecast but it's Spring and that's kind of to be expected, right? If you've never been to New Orleans in the Spring, think Miami minus the beach. It's very humid and muggy with scattered showers and then sunshine. Dressing in lightweight clothing is imperative, a nice sundress or romper will be key. For the most part everyone is dressed fairly casual but you do come across the sporadic seersucker suited gentleman accompanying his southern belle donned in the sweetest ladylike getup. Like I said though, very sporadic.
What I packed:
Shoes: I plan to be walking a LOT so flats, comfy sandals and a block heeled sandal for nights was all I packed in the shoe department. The streets of the French Quarter are paved in cobblestone so a thin heel is a definite ankle breaker, aka a big NO!
Dresses: Like I mentioned, its pretty casual so a few day dresses are all you'll need. Throw in a  LBD for a romantic dinner or night out (outside of Bourbon Street)
Tops: Crop tops, crop tops, crop tops… I can't say it enough. IT'S HUMID. If you don't feel comfortable in a crop definitely pack some lightweight tank tops and blouses. I've been obsessed with open side tanks, layered over a cute bralette.
Shorts/Skirts: Casual is key, denim cutoffs would be perfect, I packed my white ones. So would cotton shorts with fun patterns. Skater skirts are also a great option in lighter fabrics.
Accessories: Here's where you get to have fun; pack hats, sunnies, rings, necklaces, some lightweight scarves and a couple bold lipsticks, a red and a fuchsia. You're definitely going to need an umbrella as well as something to combat frizz in your hair, trust me.
Bags: I can't stress it enough, bring a cross body bag, it's safer and it keeps your hands free and functional. I don't know if you know this but you can drink on the streets in NOLA so you're gonna want a free hand for your phone (for pictures) and one to hold a hurricane (because when in Rome)
I hope this packing guide helps you prepare for a trip to New Orleans!
Do you have any upcoming travel plans?
Xx Sylvia
---
Spotlight: Ida Nematipour
Today I wanted to shine the spotlight on Ida Nematipour, I had the pleasure of chatting with this local Designer and Instructor at the Austin School of Fashion Design about the trailblazing work she's done with the school and in her personal life. This recent UT grad has found time to work at the school instructing classes while also diligently working on an upcoming collection that she's hoping will be ready later this year. This lovely lady used her vast knowledge to help create a College Prep Program with the school, allowing upcoming designers to get hands on experience creating their first mini collection and portfolio. Having sewn her first garment at the age of 12, who better to learn from?
Read on to learn more about Ida and her creative process & watch out for this lady's designs because it's only a matter of time:
Q: When did you first know you wanted to work in the fashion industry?
A: I knew I wanted to work in fashion ever since I was a child. My grandmother, mother, and aunt are all professional seamstresses, so I grew up around fabric and sewing machines. I began creating my own designs around the age of 12 with my first project being a dog coat for my poodle, and eventually grew to start making my own dresses. I even designed my own dress for my first school formal.
Q:  What do you design? What's your area of expertise?
A:  My design style has definitely changed since then, and I've grown to work with different types of garments and materials. My more recent designs have been heavily influenced by classic lingerie mixed with an edgy, grungy aesthetic, but I am also influenced daily by art, music, and the people that surround me. I am currently working on my first lingerie collection along with a ready to wear collection which will feature tailored suits and lacy evening dresses. I love working with
sheer fabrics and laces, and love to play with the structure/fluidity of my garments.
Q: Define your personal sense of style.
A: My personal style is very dark and mysterious, yet feminine, elegant and floral.
Q: Which brands or designers influence you the most?
A: While some big name designers like Alexander McQueen influence me greatly, I am mostly influenced by local designers and friends like Melissa Taylor of Katastrophic Clothing. I started out as her design intern, and she has grown to become one of my good friends. Her fashion ethics and style have changed the way I view fashion and manufacturing, and I am forever grateful for all that I have learned from her.
"I've changed majors and career paths many times, but I have always been creative in nature and I know that I would have ended up in another creative industry if I wasn't in the fashion industry."
-Ida
Q: What led you to start teaching at ASFD?
A:  I started teaching at ASFD the summer before my last semester at UT. My garment construction professor at UT, Karen Bravo, also taught classes at ASFD, and suggested that I apply for the summer camp instructor position. My life has changed dramatically ever since, and I am so glad to be apart of such a great community of strong, talented women.
Q: What advice would you give to all of the hopeful/starting out designers?
A: My advice to all starting designers is to always learn, always grow, and always be confident in yourself. The fashion industry can be unfriendly at times, and not everyone is going to love all of your designs. You need to be confident in yourself and your work, and learn to take criticism in a positive way.
Q: Tell me more about the College Prep Program?
A: The college prep program is designed to help aspiring designers create their first mini collection, and gain hands on experience working with pattern making, garment construction, and styling as well as have their first professional photoshoot experience.
Q: Do you think, as a fashion designer, having a degree makes a difference in designing opportunities?
A:  I do think having a degree makes a difference, but I also acknowledge that a path to a degree might not be the best option for everyone. It really depends on what kind of experience you are looking for and what you are looking to gain from your education. I've learned many things in the process of getting my degree that I wouldn't have learned otherwise, but it was a difficult journey. Overall, I am glad to have a degree versus not having a degree, and I have learned many  invaluable lessons and met many amazing people along the way.
Q: Where do you see yourself in 10 years?
A: In 10 years, I see myself running my own brand and business. I'm hoping that I will be able to grow and refine the brand that I aim to launch within this year, and possibly have a storefront for the company. I also hope to sell my designs to major retailers at some point in the future.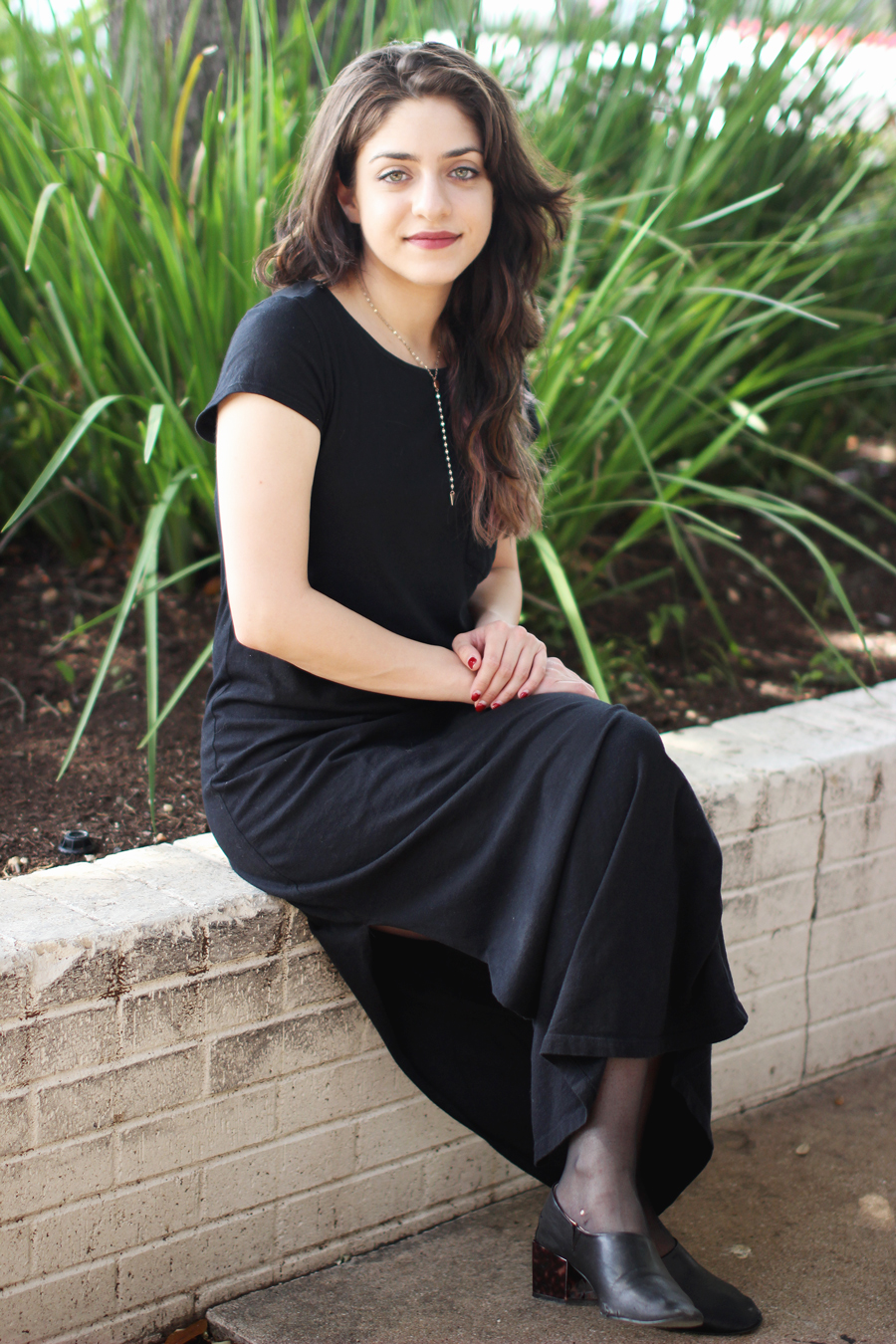 Xx Sylvia
---
s.t.e.f at kiki nass
To meet designer Stephanie Montes of s.t.e.f 
Thursday, May 19th
6pm-8pm
Lamar Union
1100 S. Lamar Blvd.
(Across from Cantine)
View the new 
accessories line from s.t.e.f. of laser-cut and hand-dyed & painted clutches and cuffs, along with fresh apparel pieces,
that require a high level of craftsmanship with a focus on natural textiles, effortlessly blending style with sustainability. 
s.t.e.f
is an American-made, eco-friendly clothing + accessories line that is designed and handmade in East Austin, Texas. 
Hope to see you guys there.
Support Local!
Xx Sylvia
---
Denim Midi
This dress is a Spring must have. The length and the heavy denim fabric make it perfect for avoiding any potential Marilyn moments. The fit and flare shape is so ladylike and that in contrast to the denim material is what really stole my heart. I paired the dress with a block heel sandal and floppy hat and boom, my (thrifted) denim dress feels so classic and a little posh!
Thrifting is still a new thing to me, for years I lacked the patience to truly thrift, heading only to places like Buffalo Exchange or similar spots. Lately though, and I'm sure it has to do with the blog and the endless goal of originality when dressing, I have had a new resurgence of patience while shopping. I can spend hours sifting through item after item just to find that key piece that I can't live without. This dress was just one of those finds.
Wearing
Dress: Thrifted, love this one
Sandals: old, similar here & here
Bag: old, great option & you can grab this one here or in store!
Hat: sold out, love this one & this one's under $25 & so cute!
Necklaces: shorter- Shopbop, longer- c/o Beaded by W
Xx Sylvia
---
Abstract Floral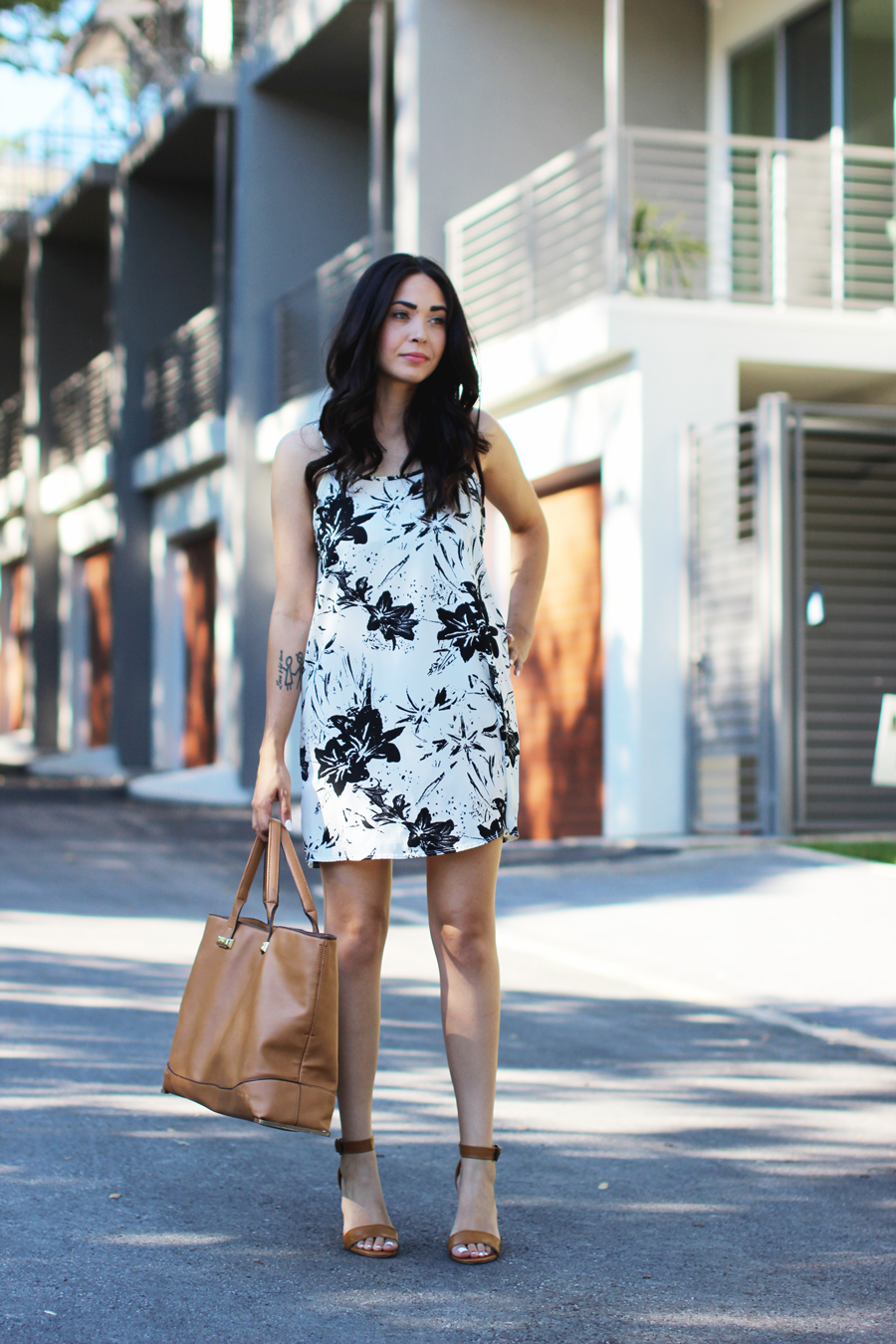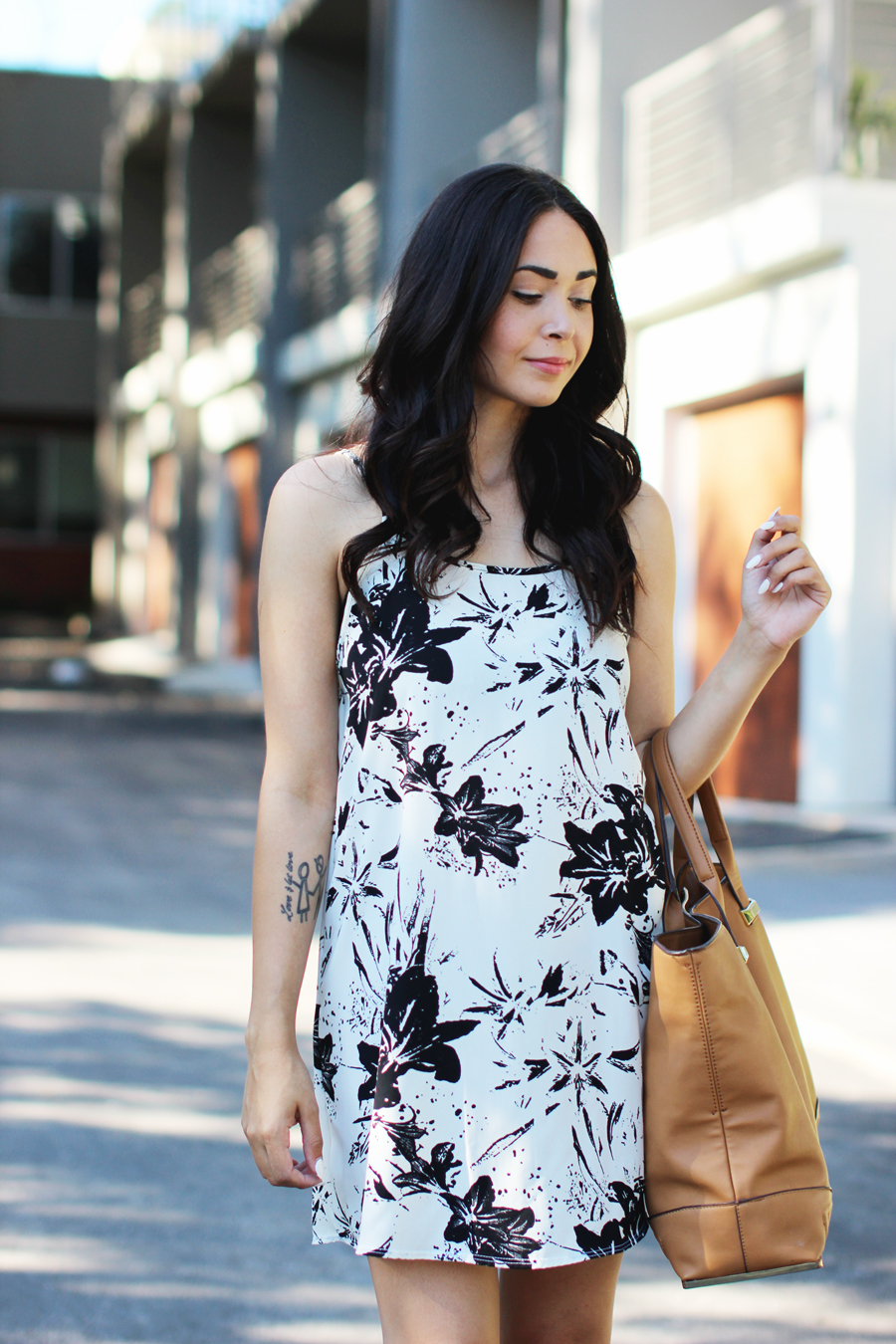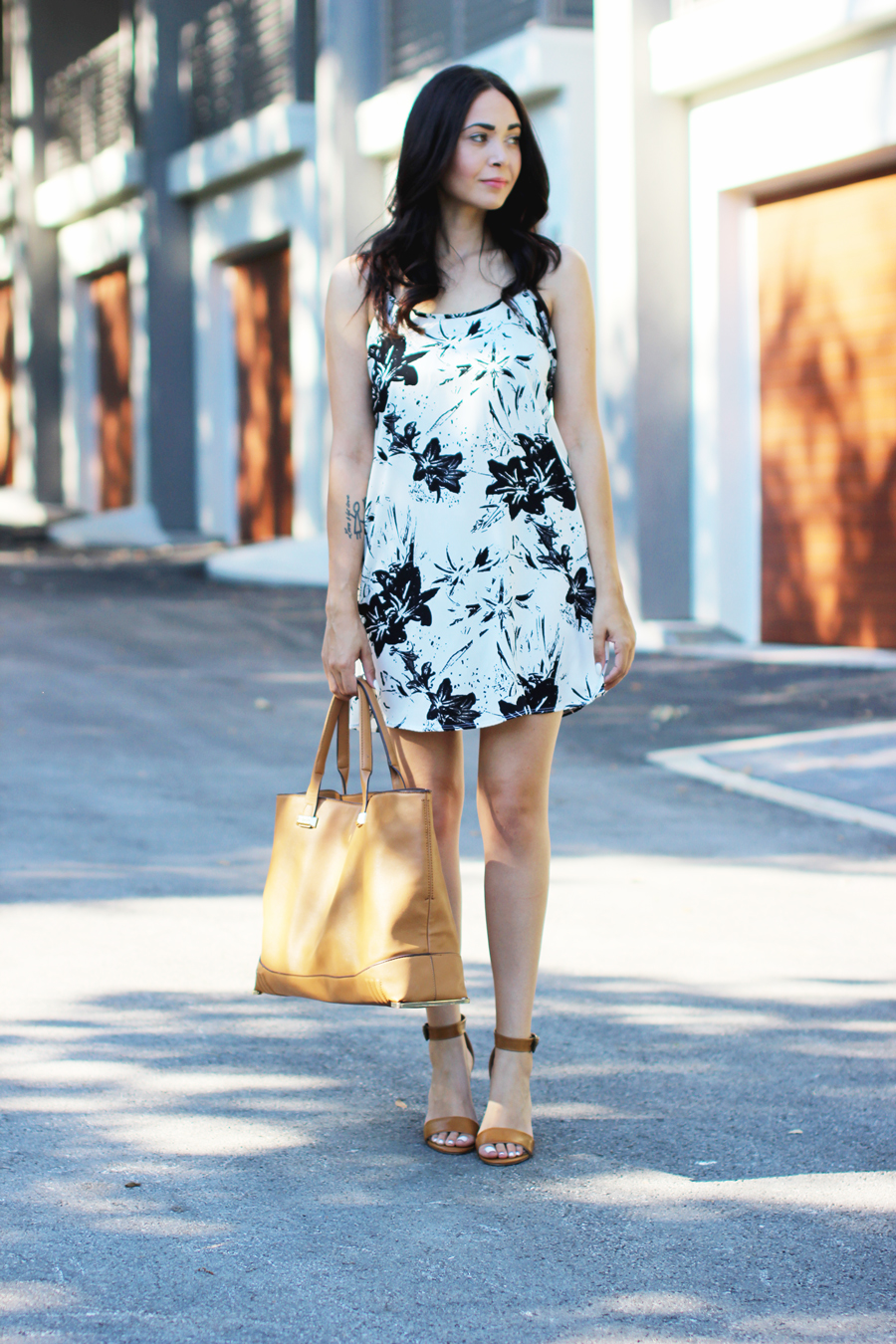 Summer just got so much easier to dress for thanks to this cute little lightweight number from Pink and Silver Fashion. This print is right up my alley, the simple black and white floral print gives just enough visually without being too busy and paired with simple cognac details its casual enough for a day out running errands or catching up with girlfriends.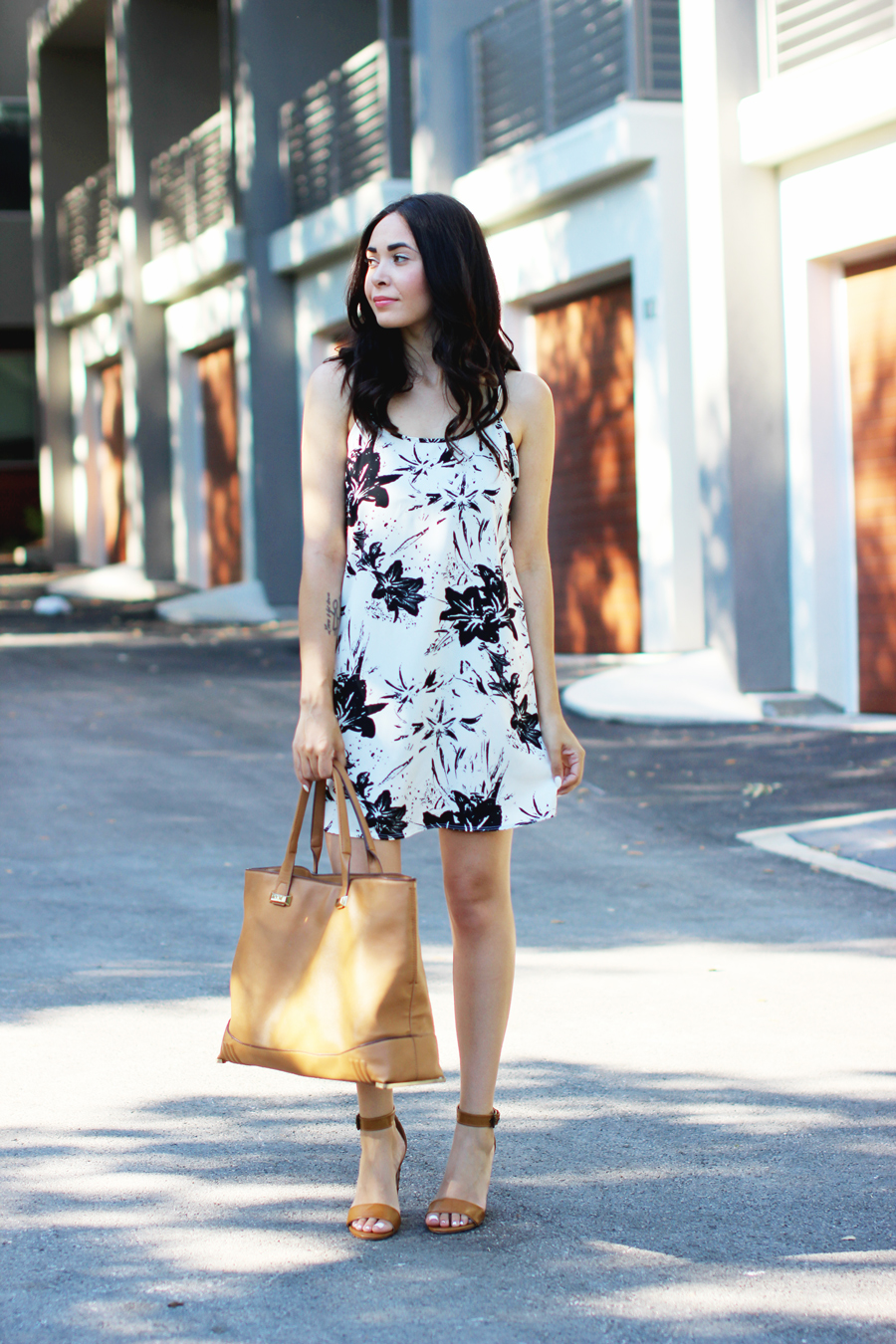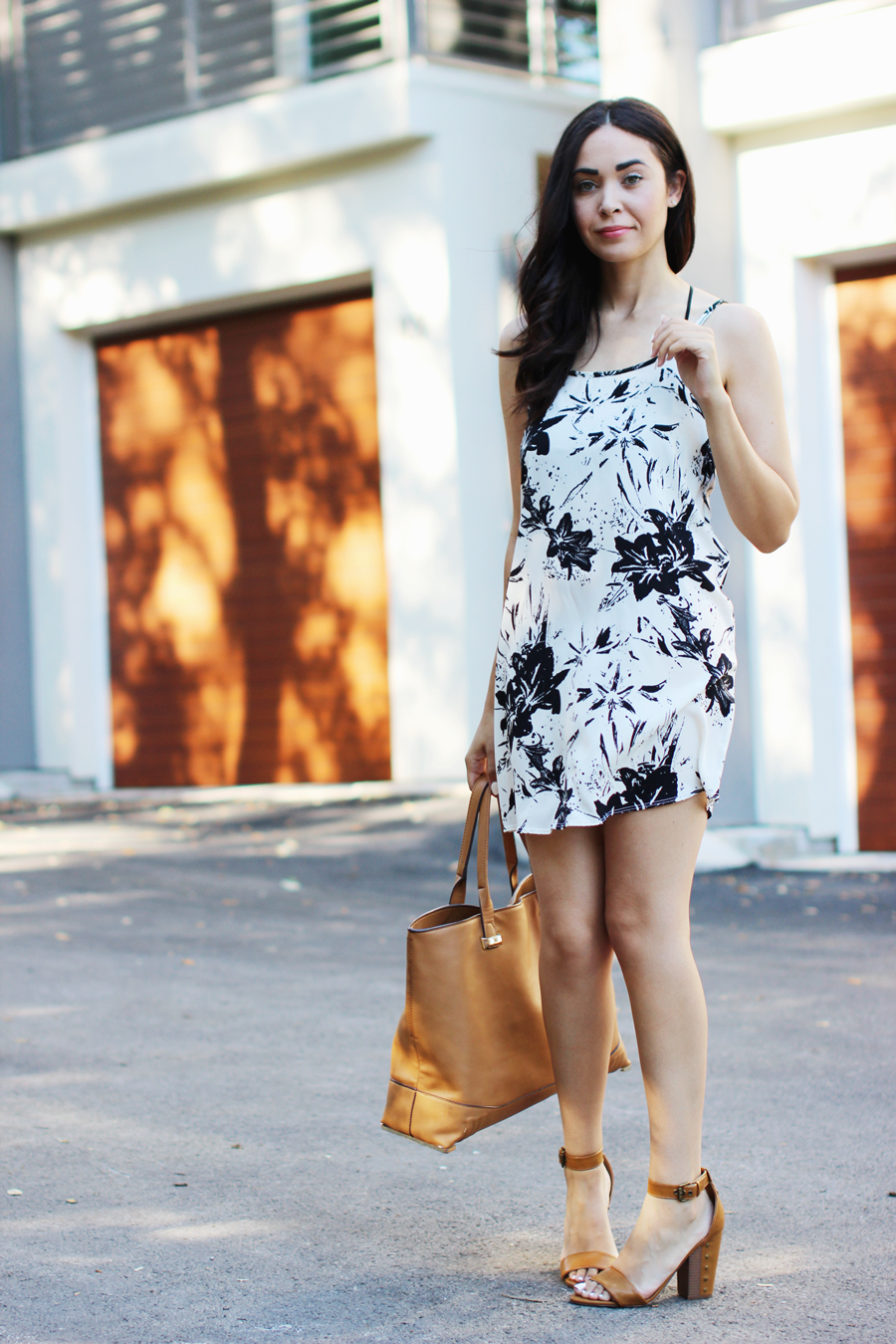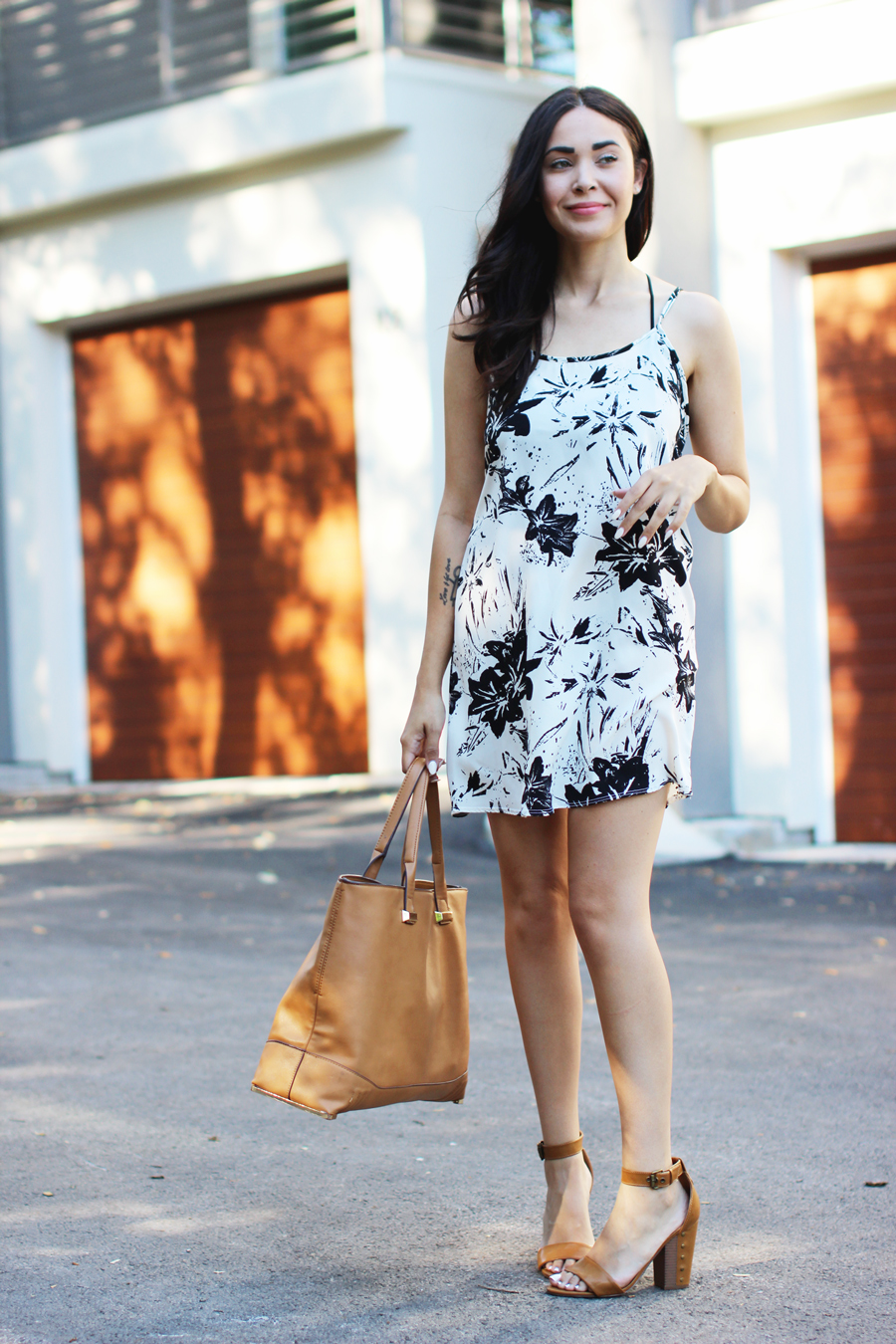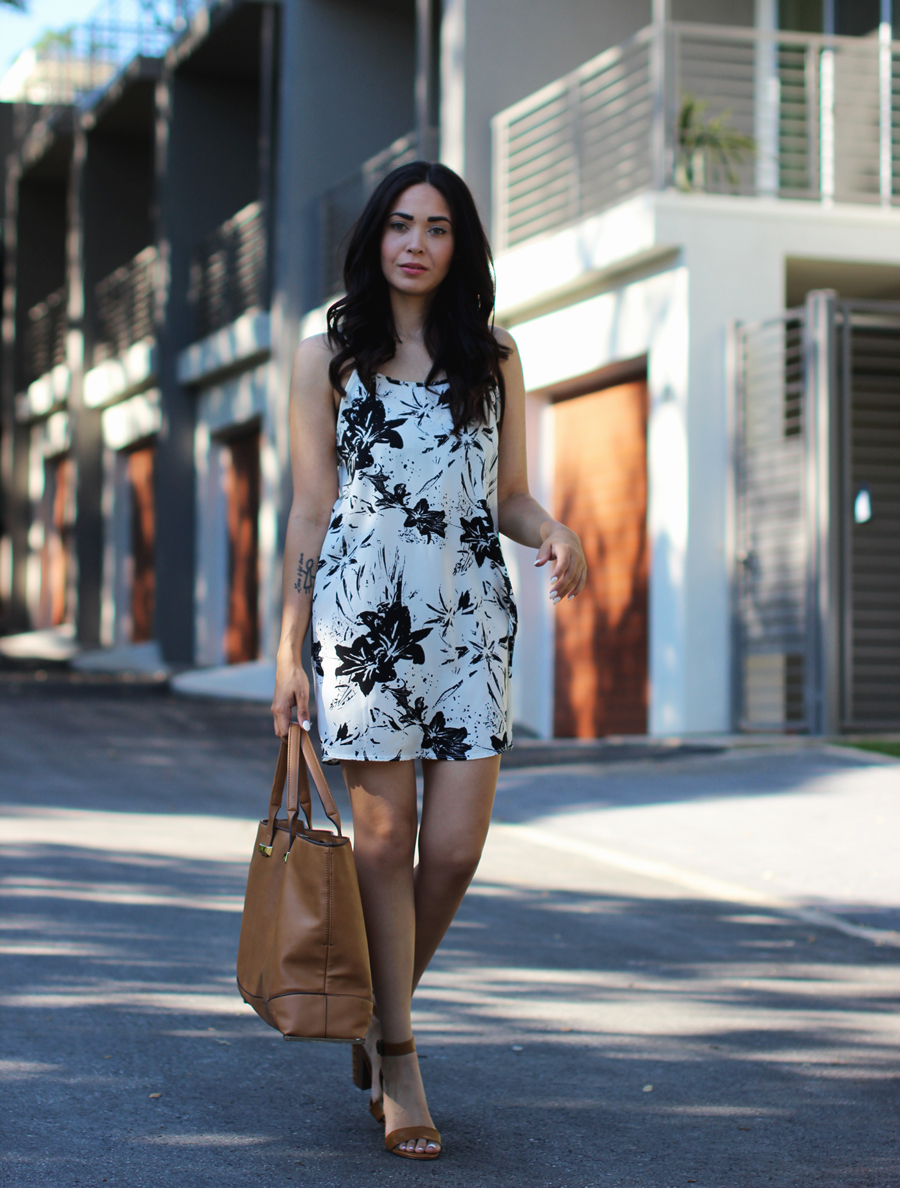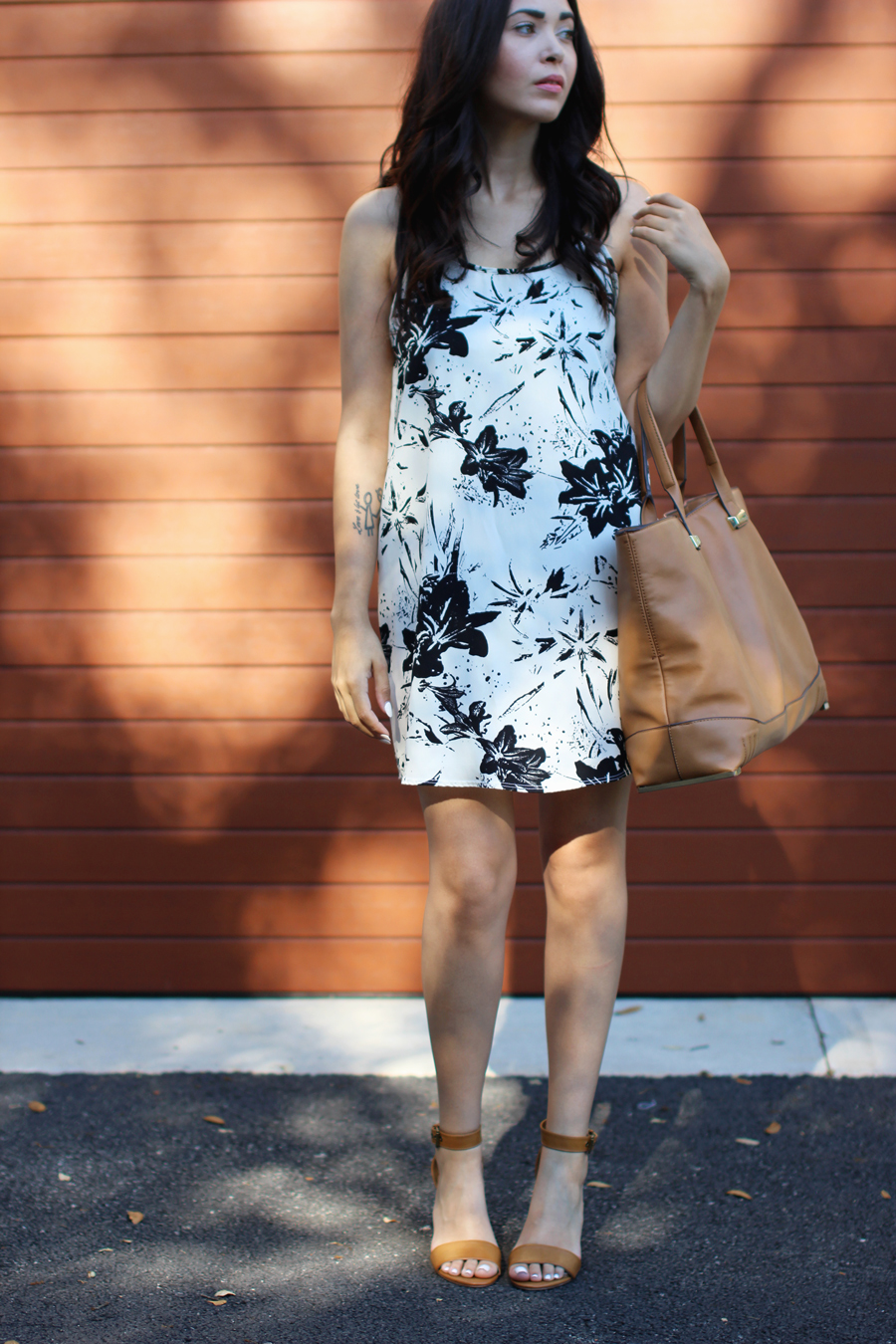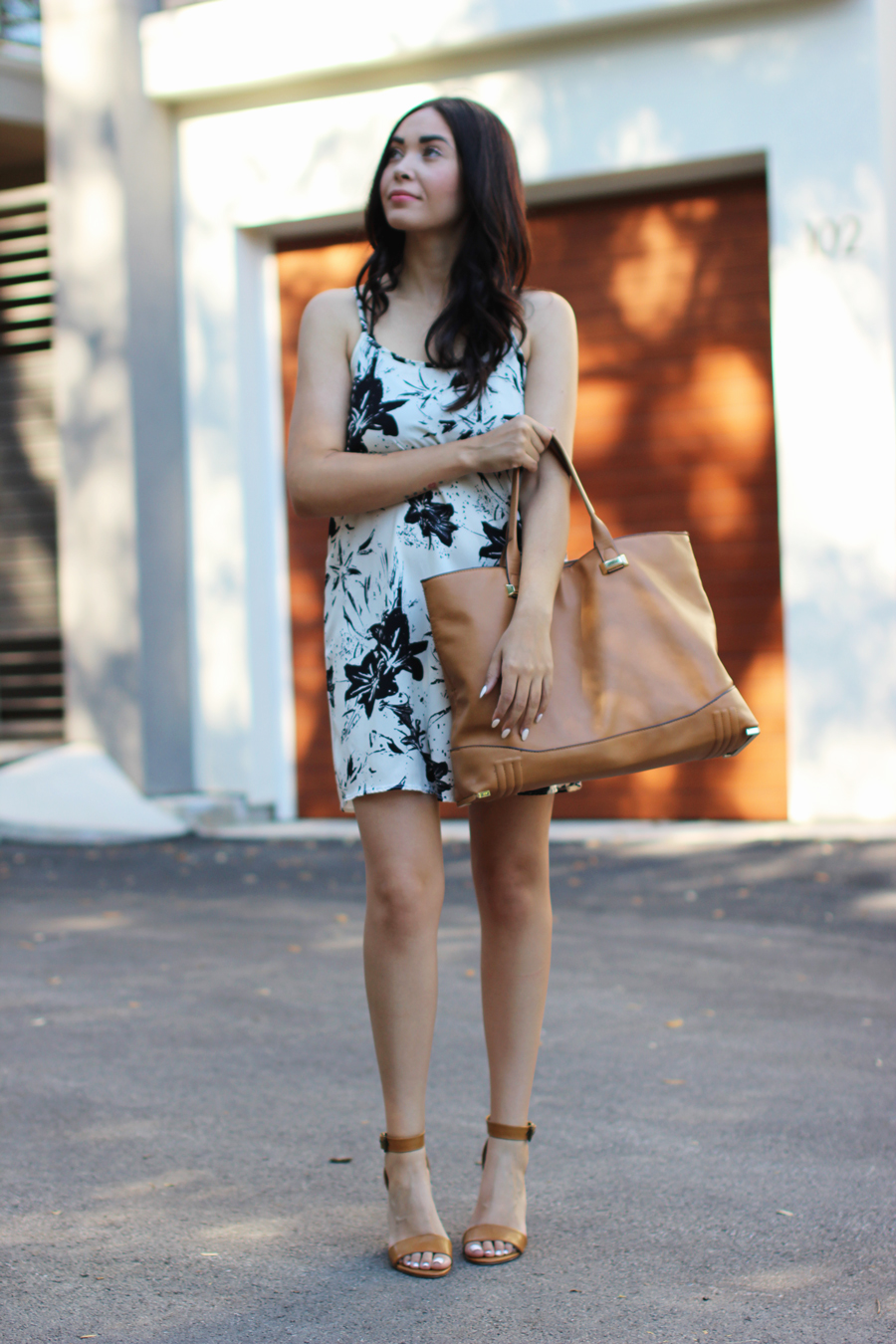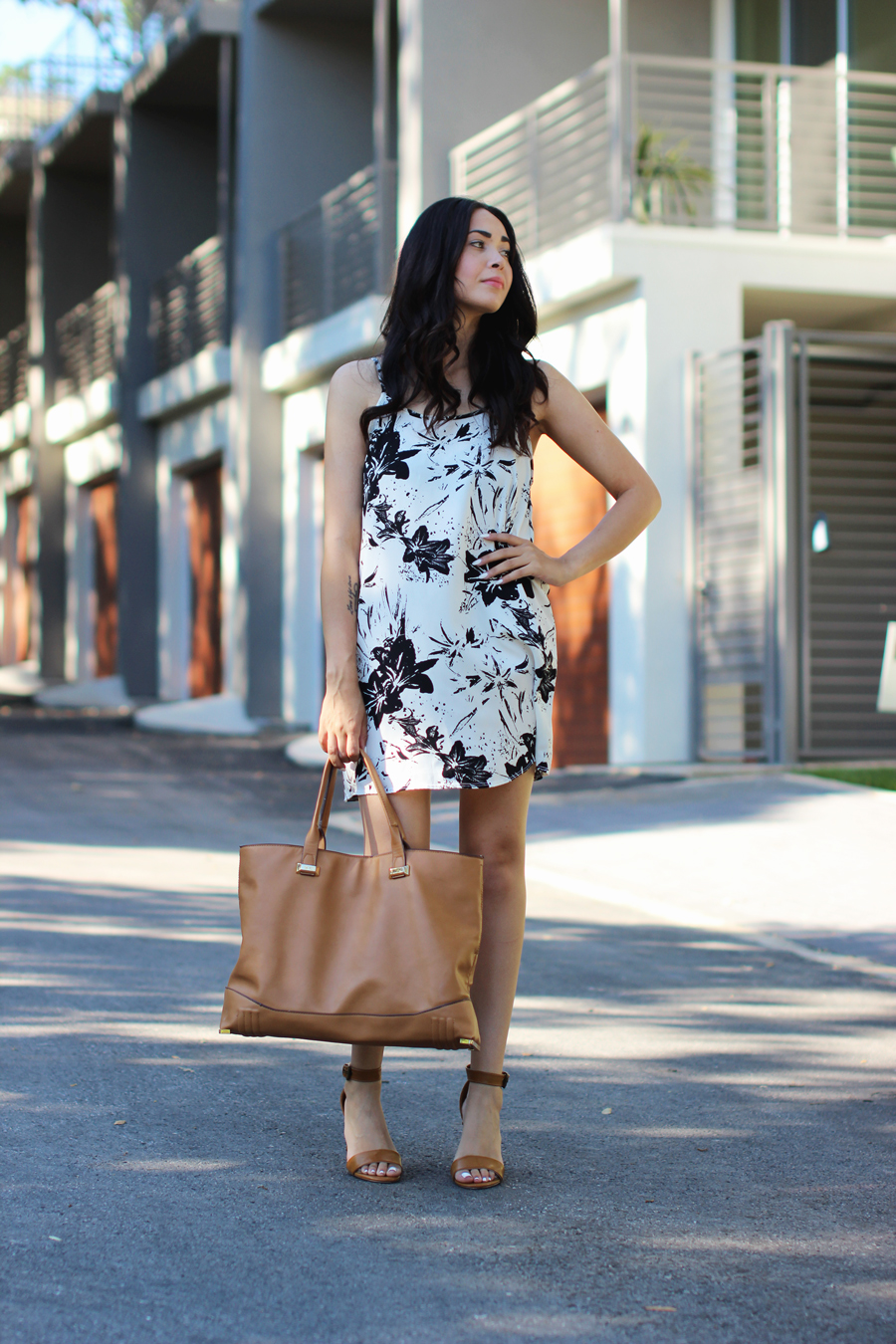 Wearing
Dress: Pink and Silver Fashion
Shoes: old, similar or these too
Bag: H&M old, love this structured one
Xx Sylvia
---