Prepping for Fall early with Shein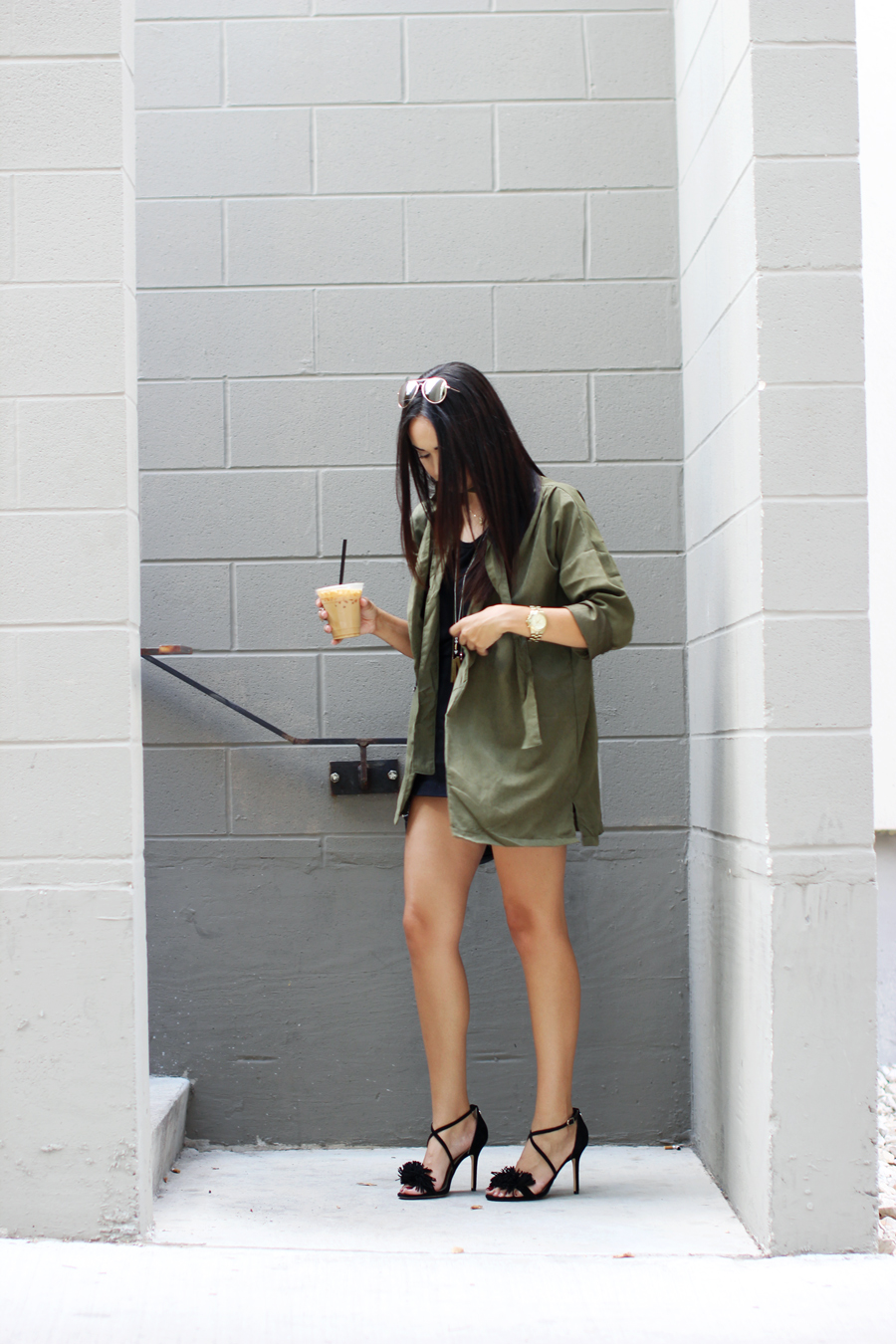 When the temperatures are steadily climbing the last thing on your mind is shopping for Fall, I know, but it's time to slowly start working your anchor "cool weather" pieces in.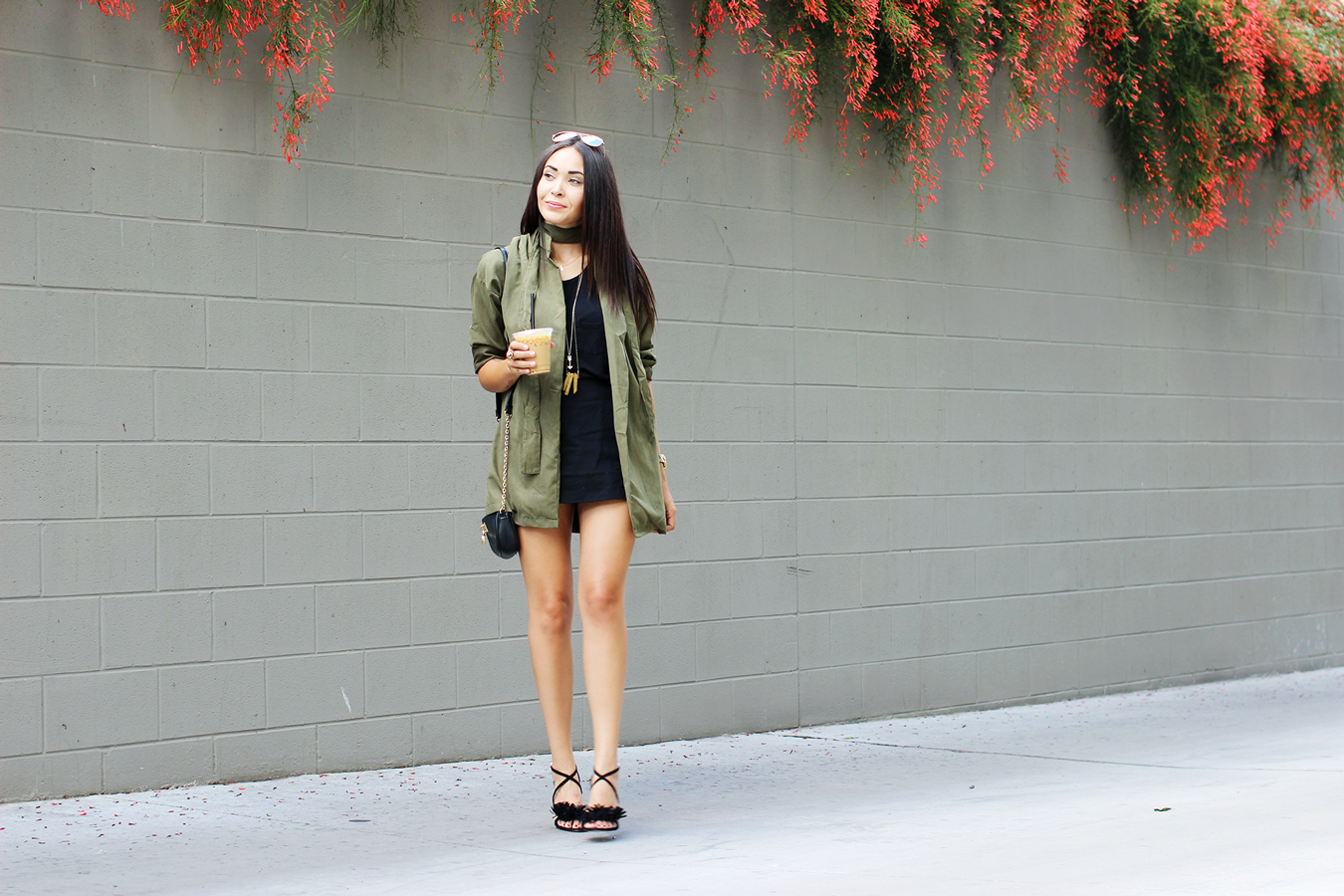 I like to start with my layering pieces, the stuff I might actually get some use out of now as well-that way I don't feel like I'm buying things but not having new clothes. You know what I mean? Basic crew neck tee's are always on my shopping list, especially in silk varieties (like this one) or stripes. They're easy to layer and never go out of style.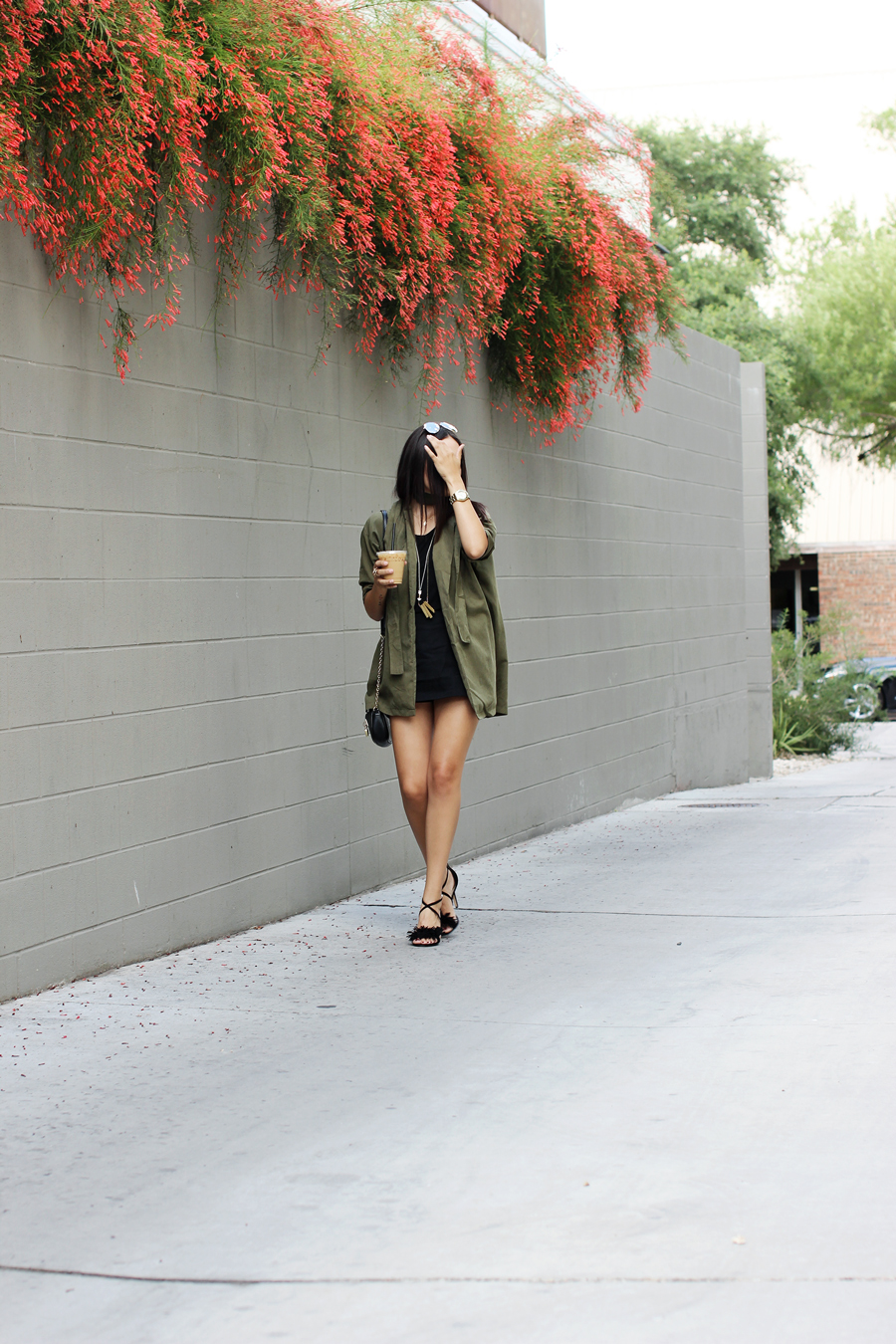 I always grab a few new cardigans as well, last year I was obsessed with duster cardi's and will most likely stick to oversized styles this year too. I tend to stick to solid colors in muted tones; your olives, tans and greys but have been known to grab a leopard print one to toss in the mix.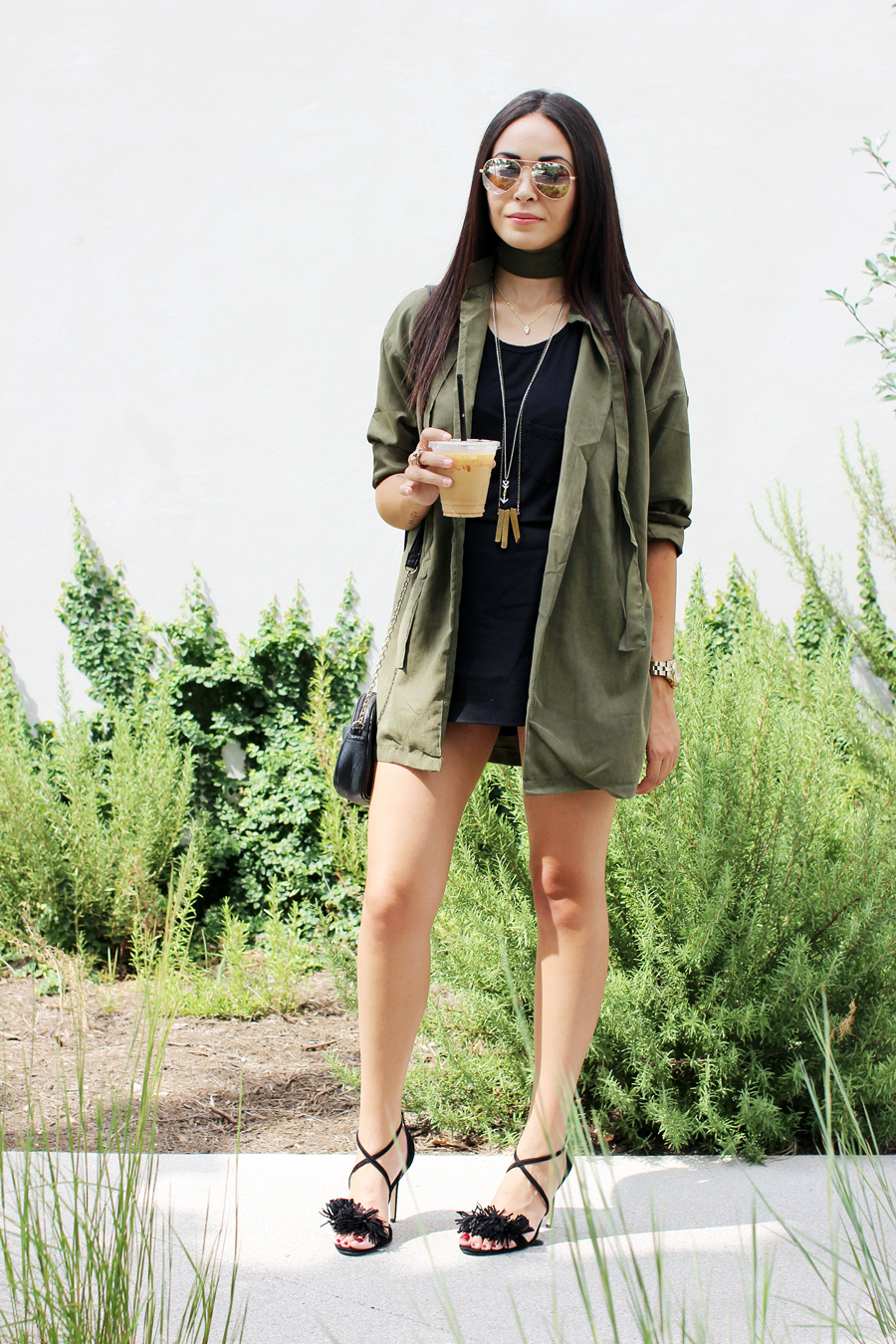 Lightweight outerwear is a MUST, year round for me but especially in the Fall. The light briskness we experience in Texas well into December means that we have more of a Fall than a Winter so light weight really is key.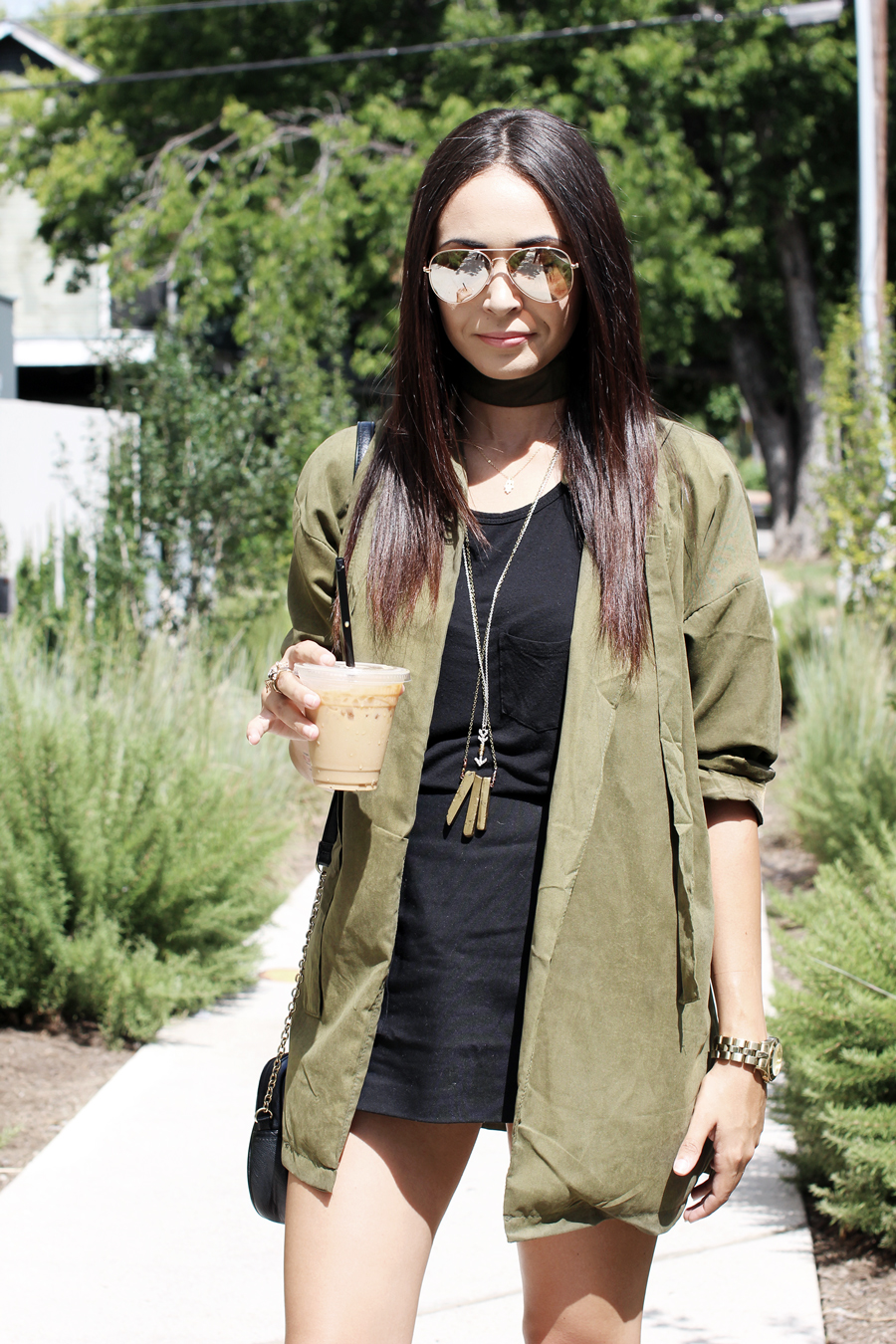 This lightweight jacket here for instance is the epitome of transitional. It's oversized, breezy and the perfect year round color. It comes with a sash style belt that I decided to wear as a skinny scarf/choker today but will definitely use to tie at the waist when I need to keep the warmth in.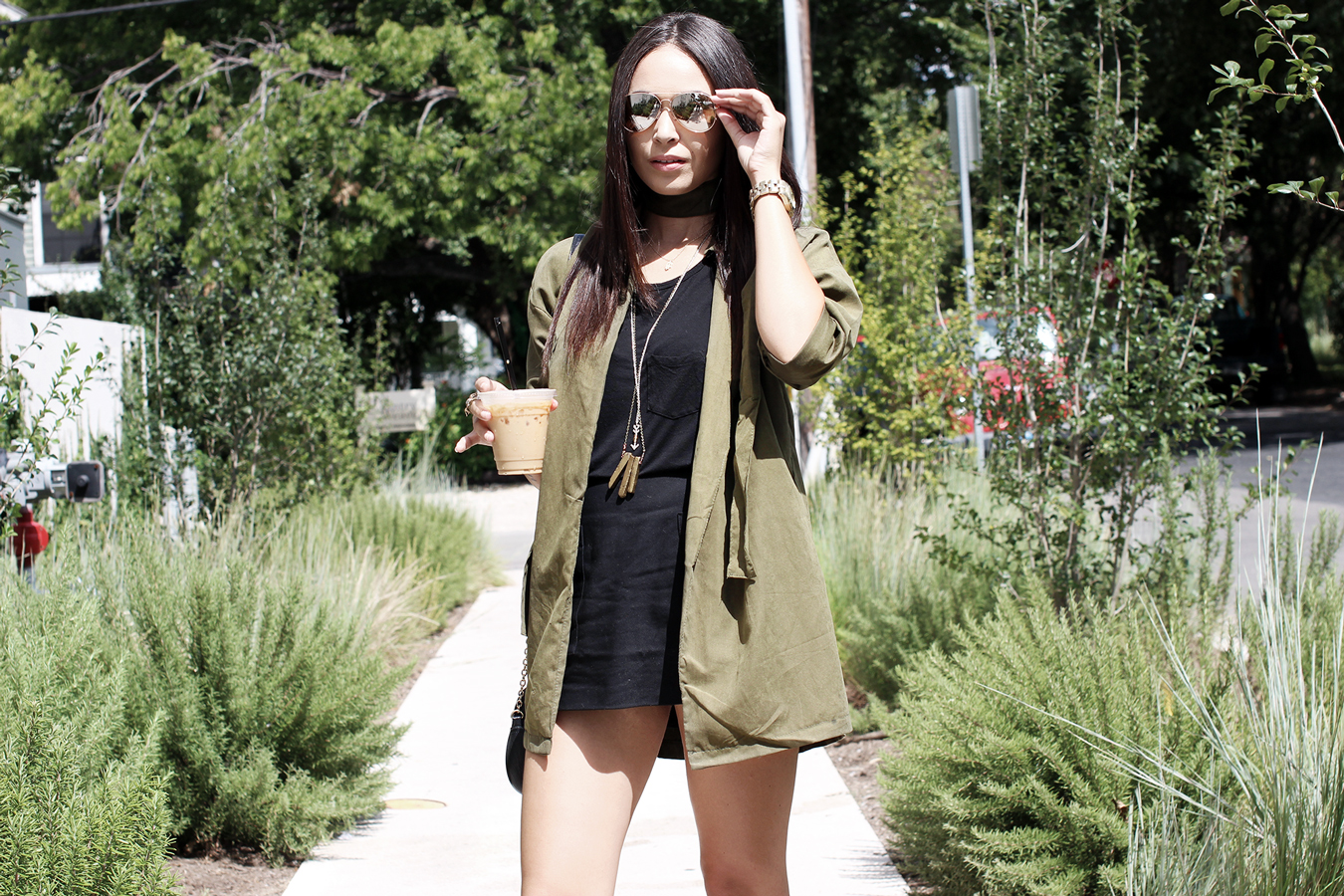 Apart from clothing, you have to start adding variety to your accessories because these are the details that are going to differentiate your looks. Pre-fall your best bet is to start keeping an eye out for skinny scarfs, oversized scarfs, beanies, printed stockings and hats. Jewelry is a year round need but in the fall I notice that I start looking more for layering necklaces of varying lengths and handfuls of statement rings.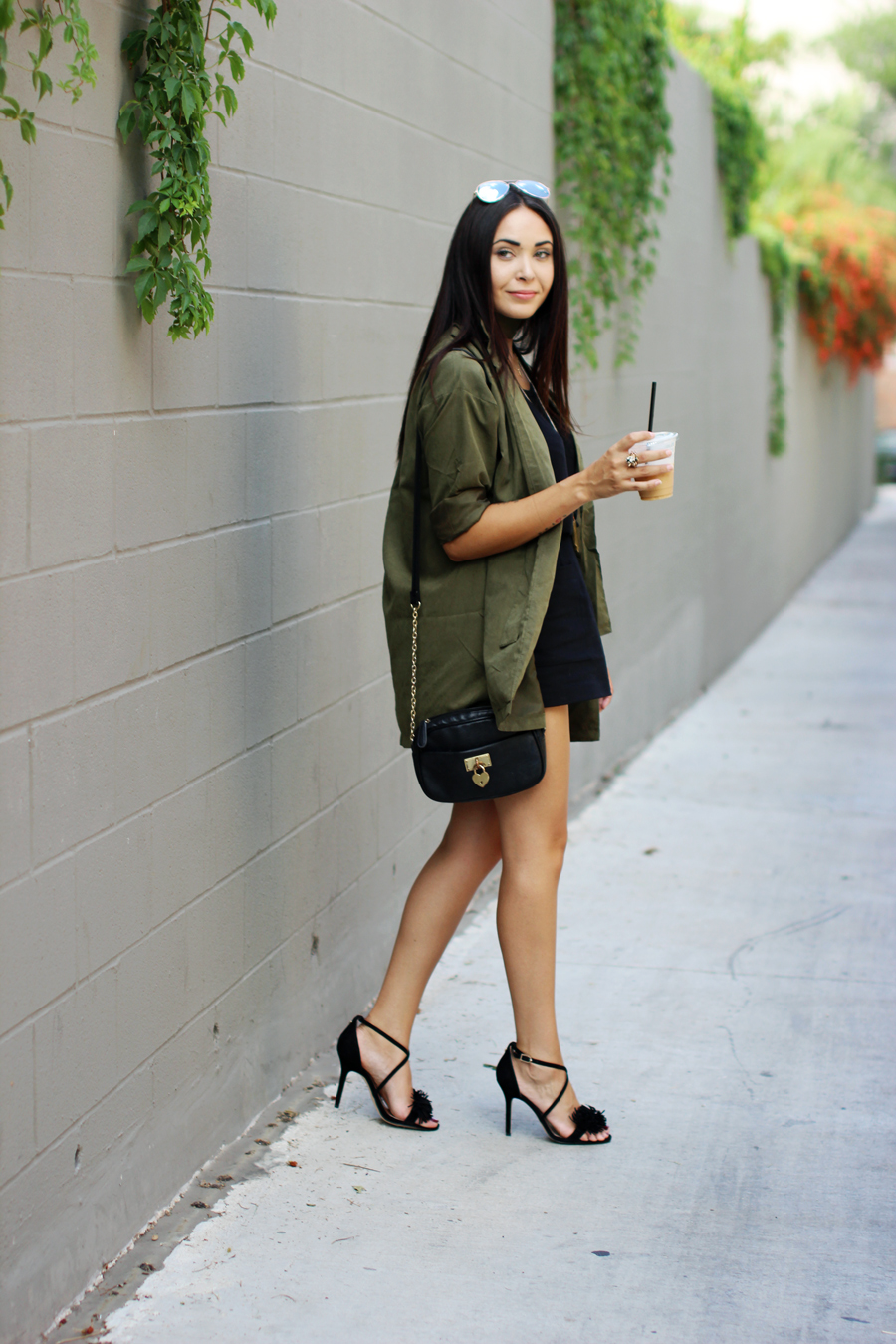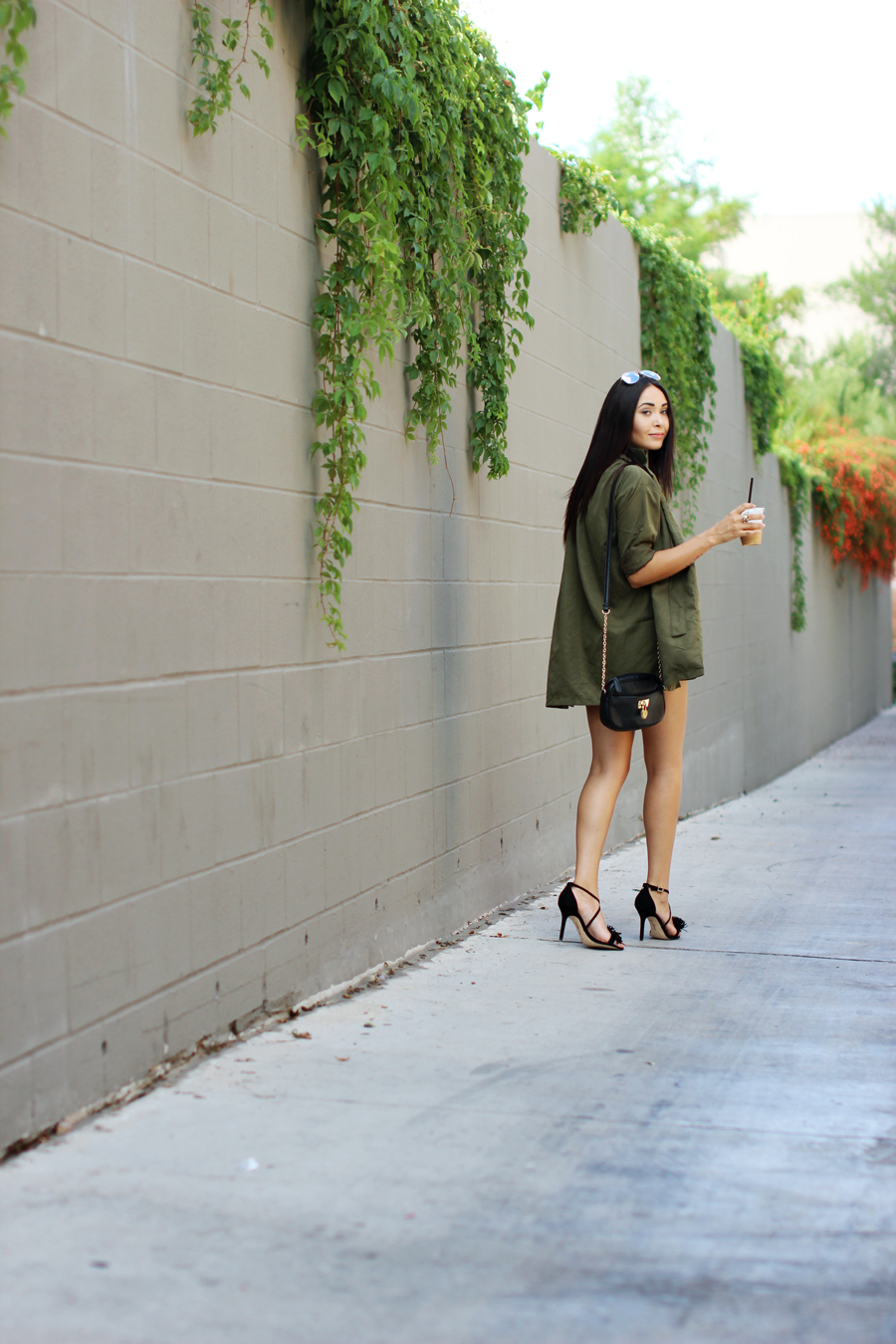 Wearing
Jacket: c/o Shein
Tank: Nordstrom
Skort: Zara, similar
Heels: Sam Edelman
Necklaces: Hamsa,  Layering
Bag: Forever 21, similar
Sunglasses: Nordstrom

Xx Sylvia
Some of the items in this post were gifted to me but all opinions are my own.
---
Pool Partying with St Bernard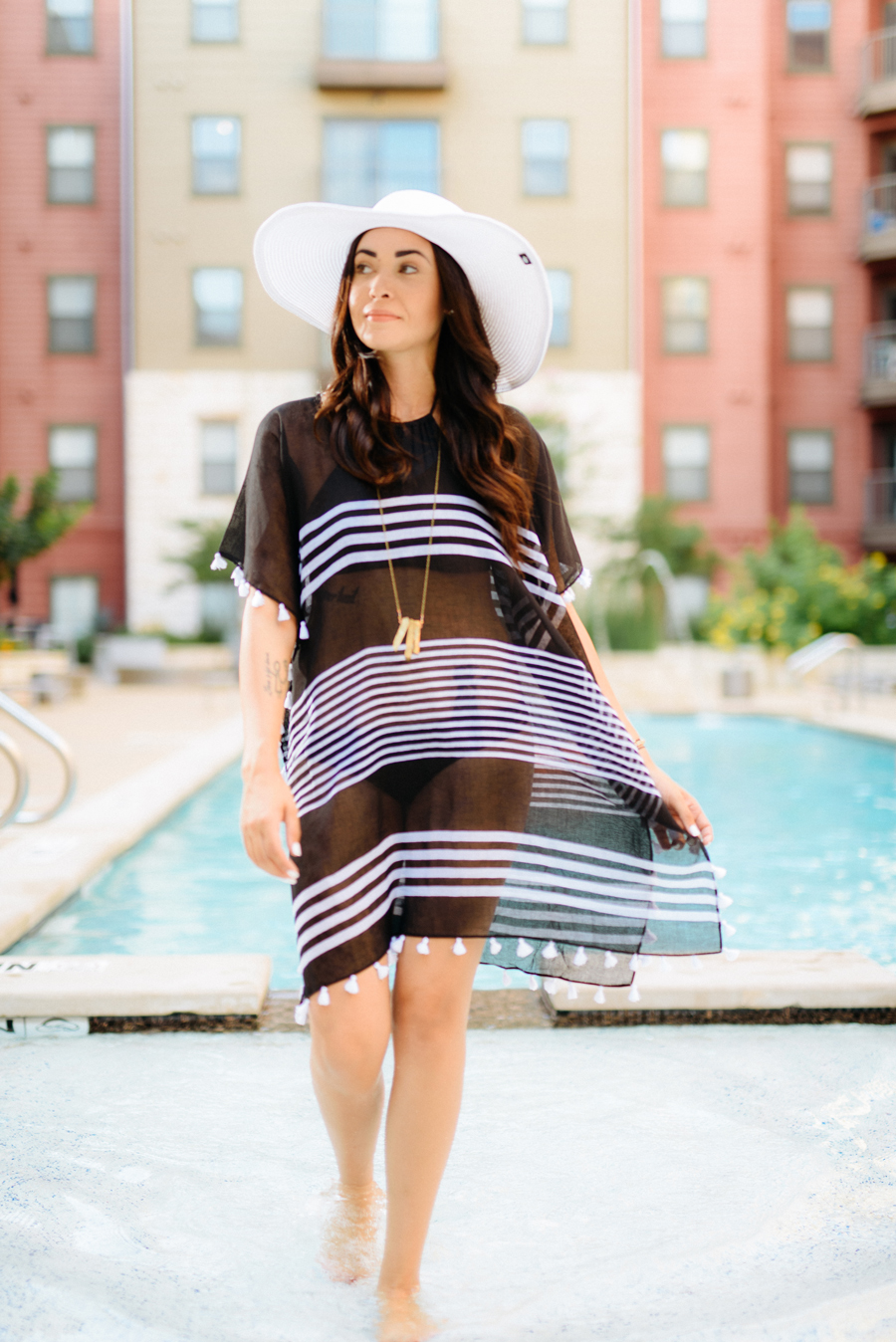 With this heat, a bikini and cover up is really all you need.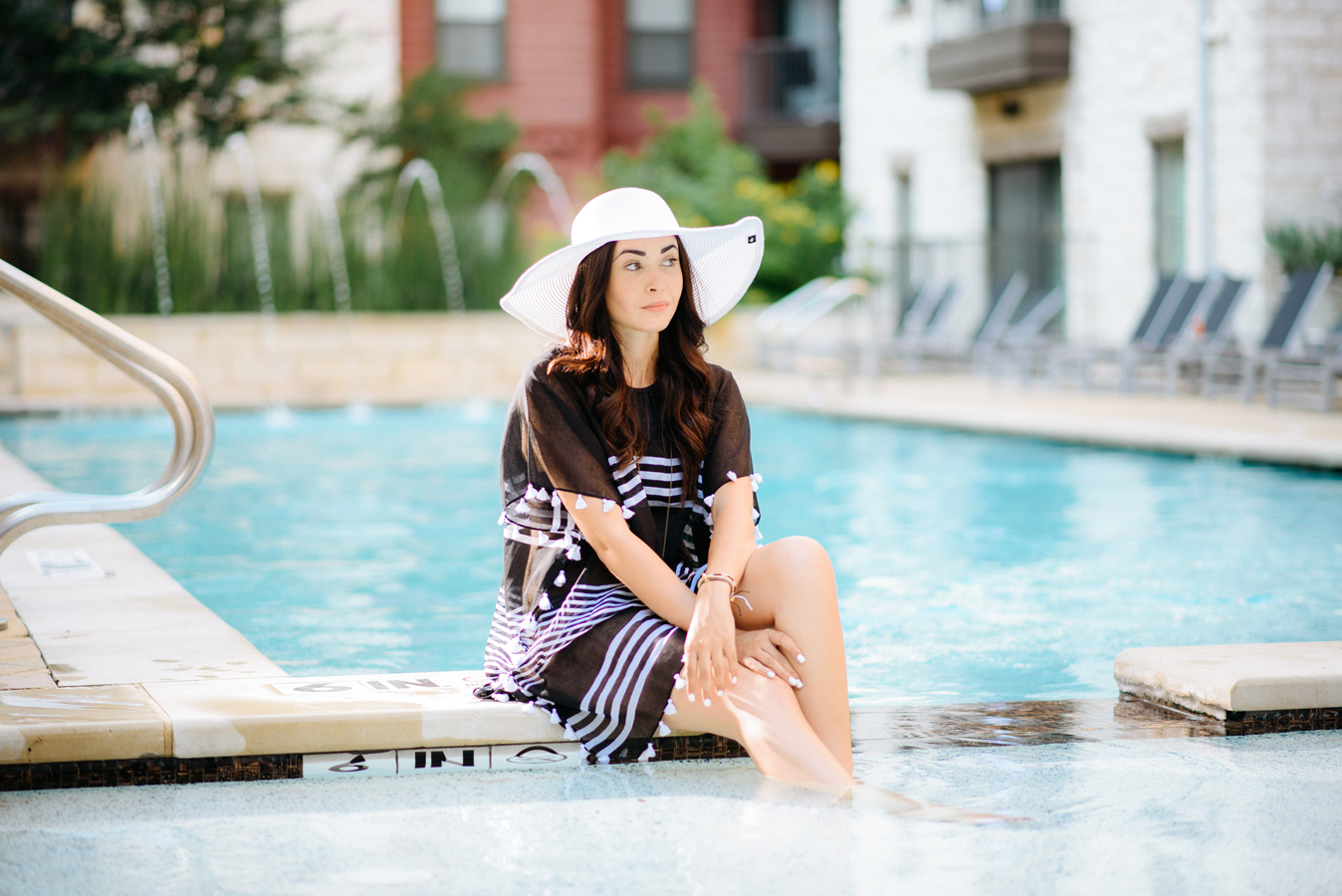 & OK maybe a sunhat, sunblock, a beach towel, bag, sunglasses and pool floats…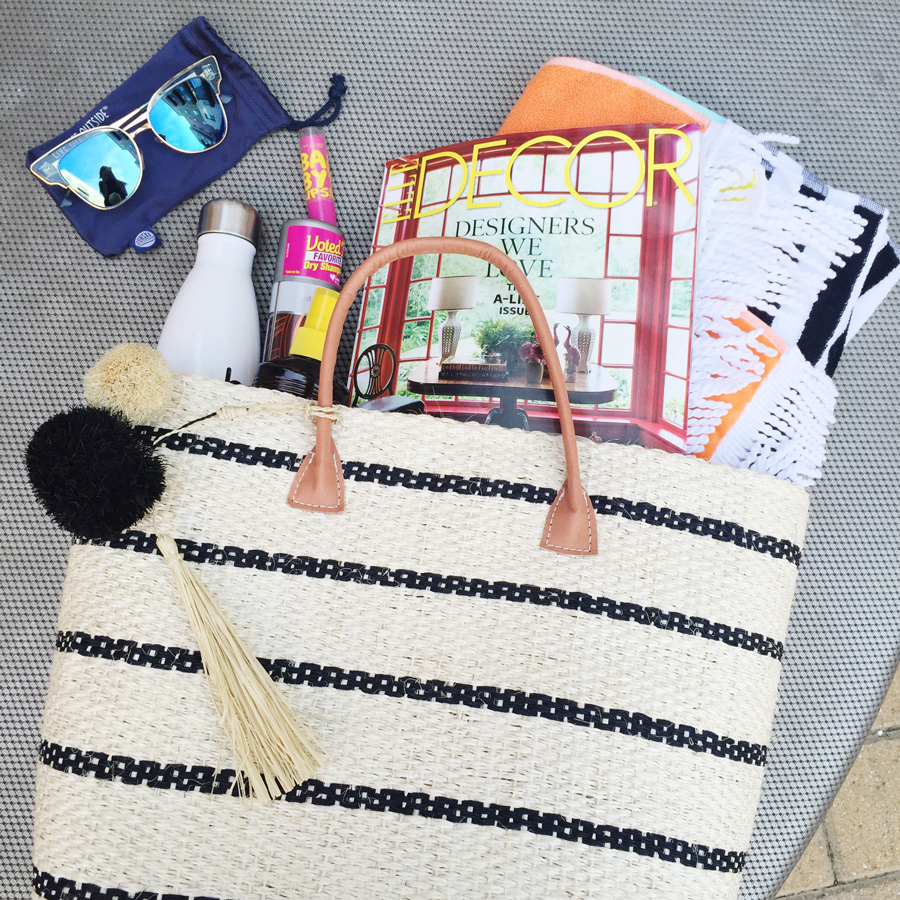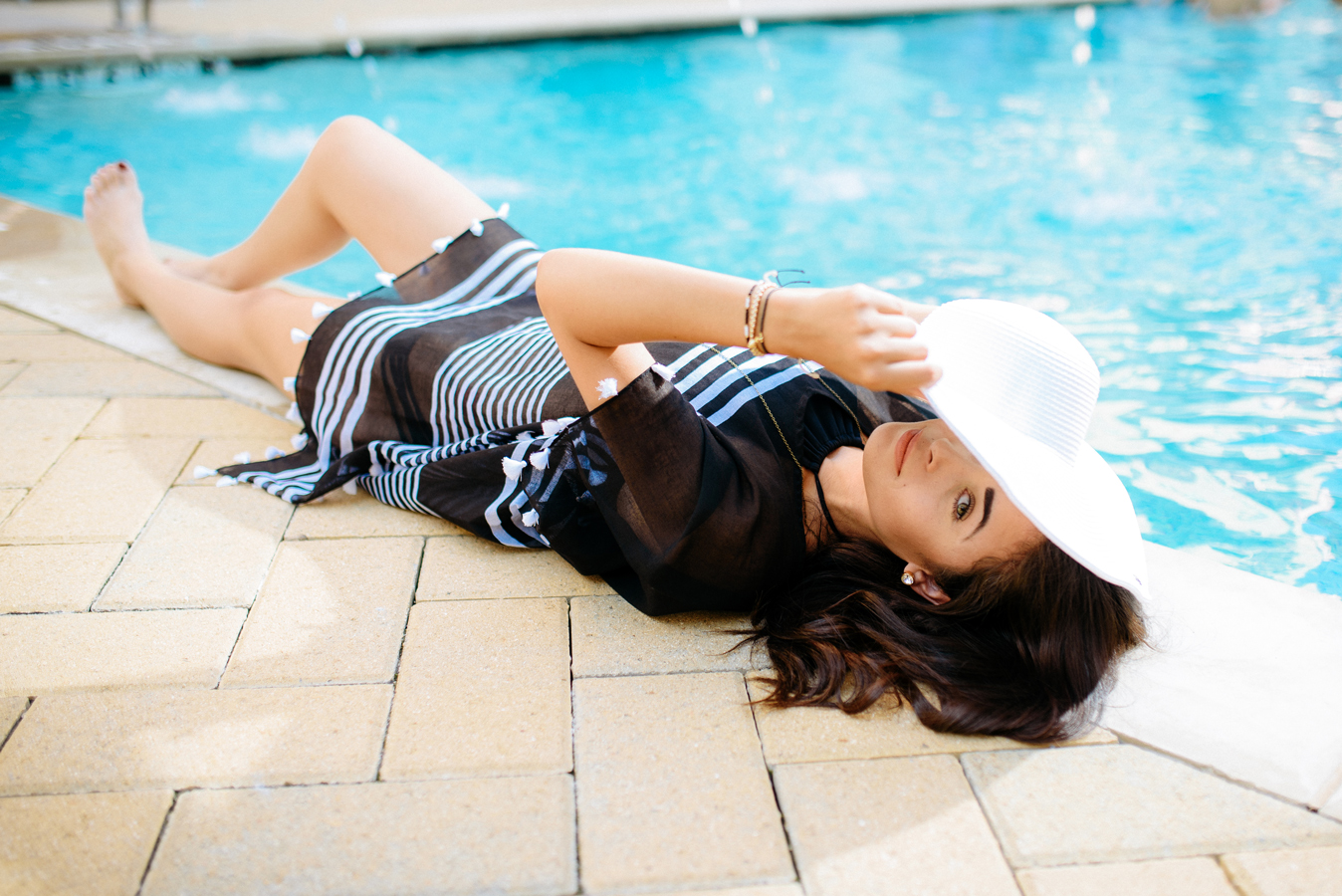 …oh and your favorite babes and a pool.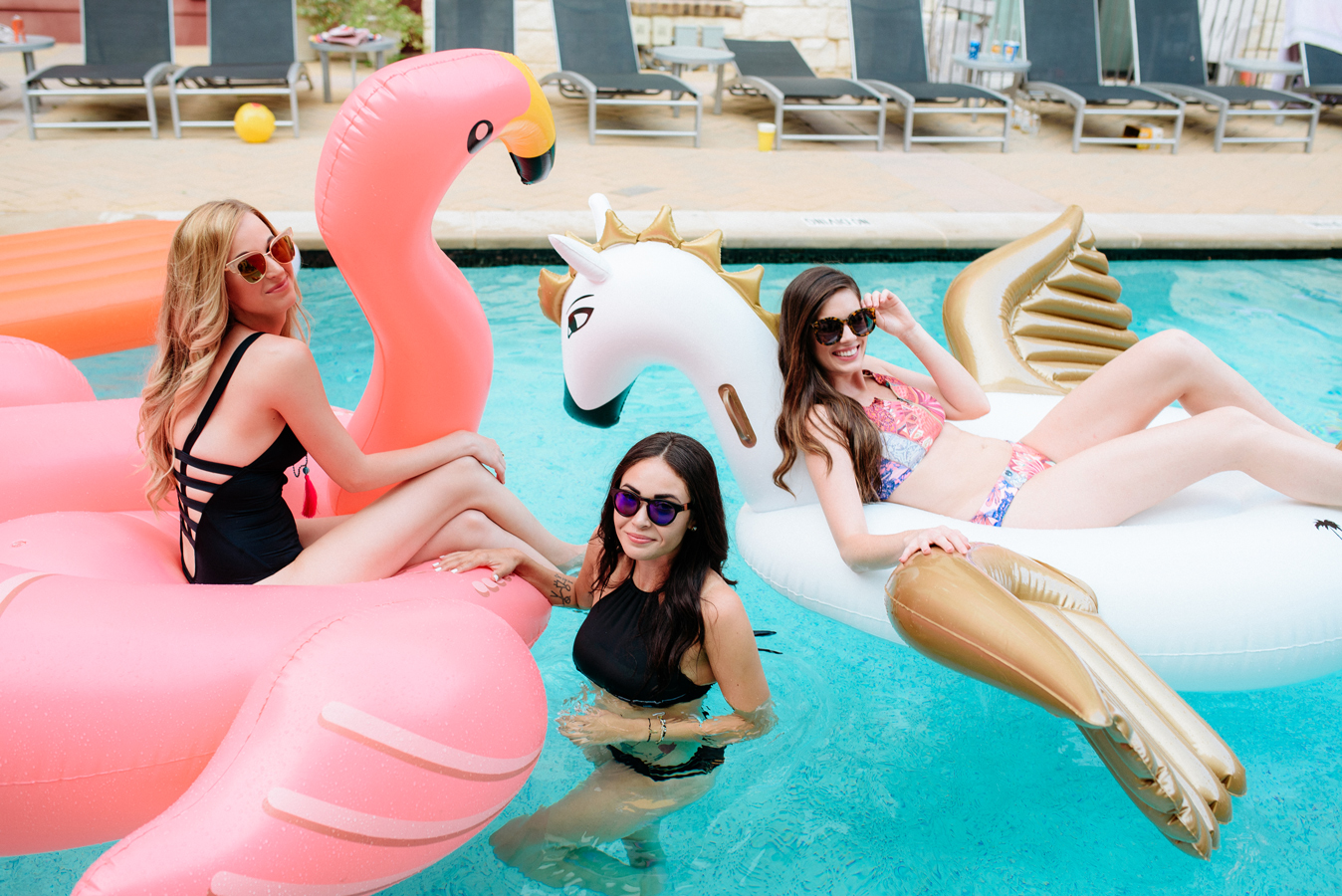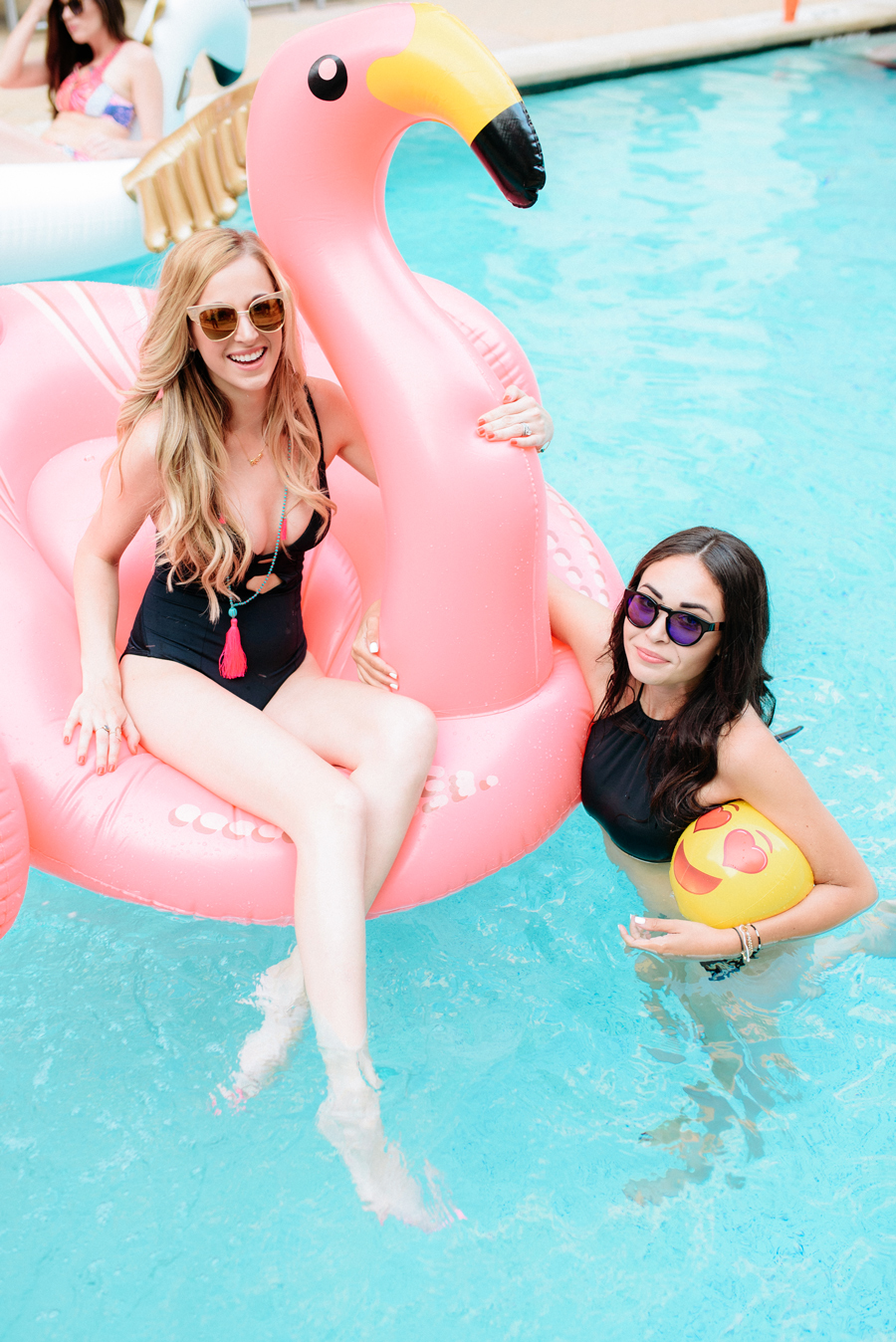 & besides those last two, you can grab everything at St. Bernard Sports.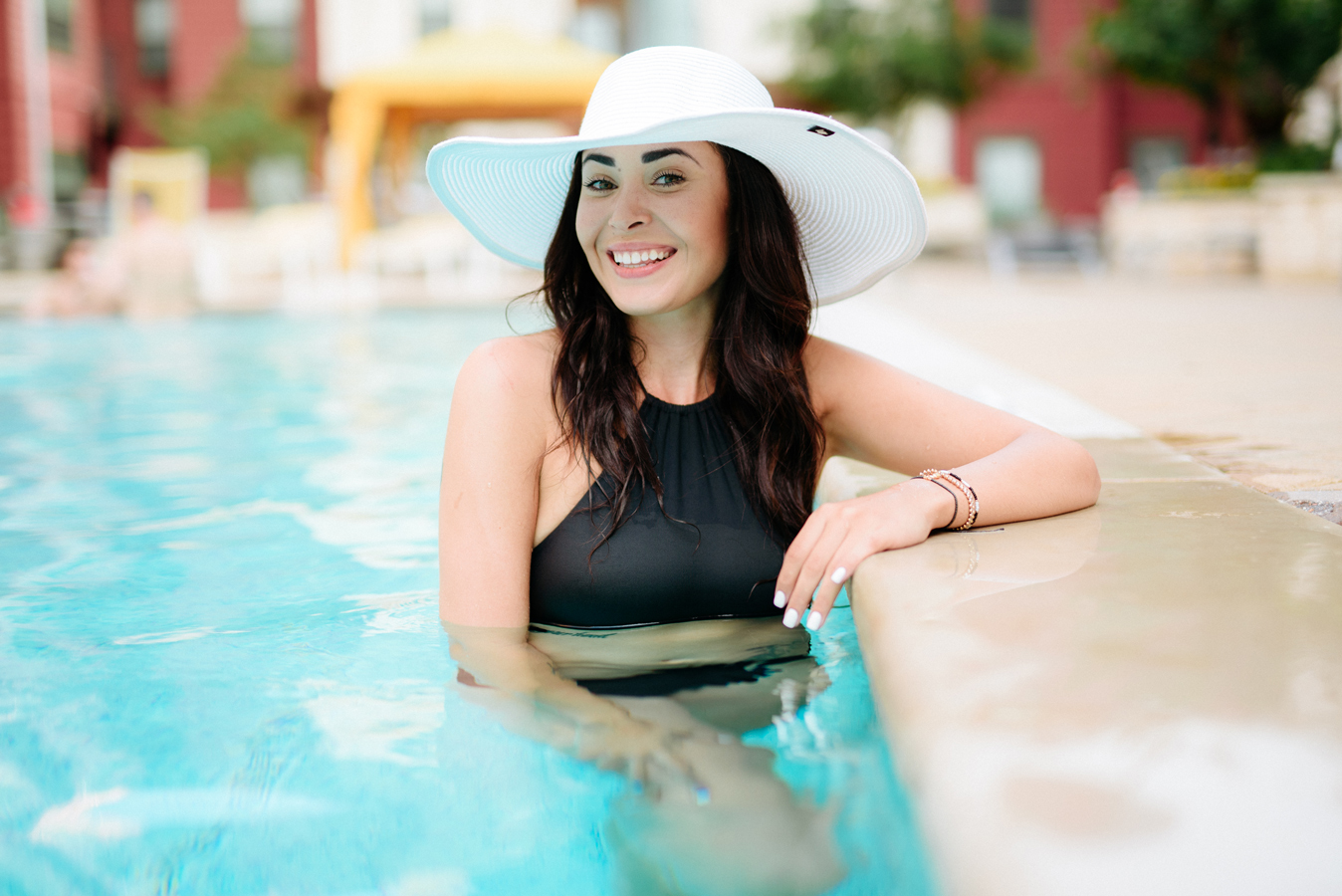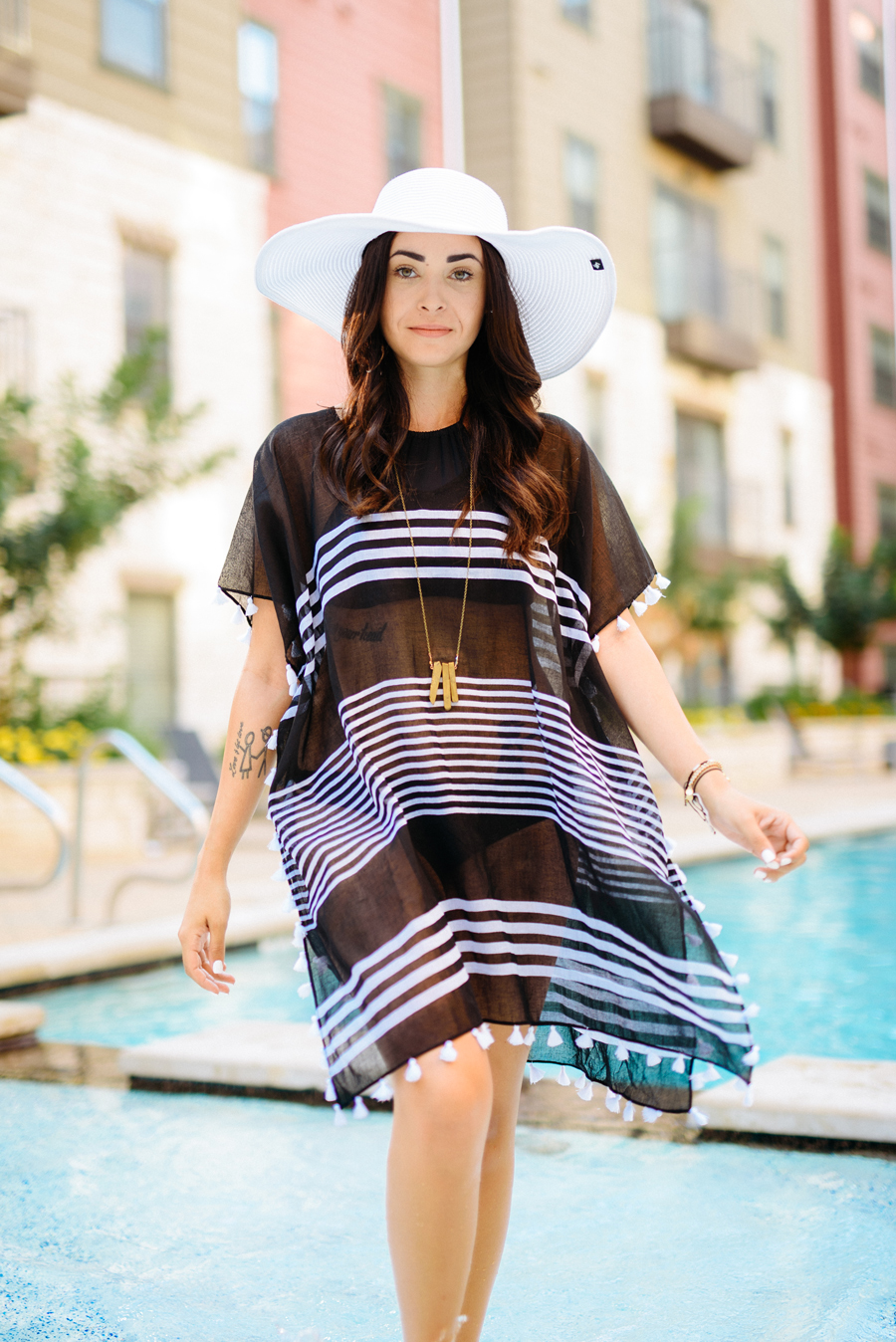 Can you say pool party?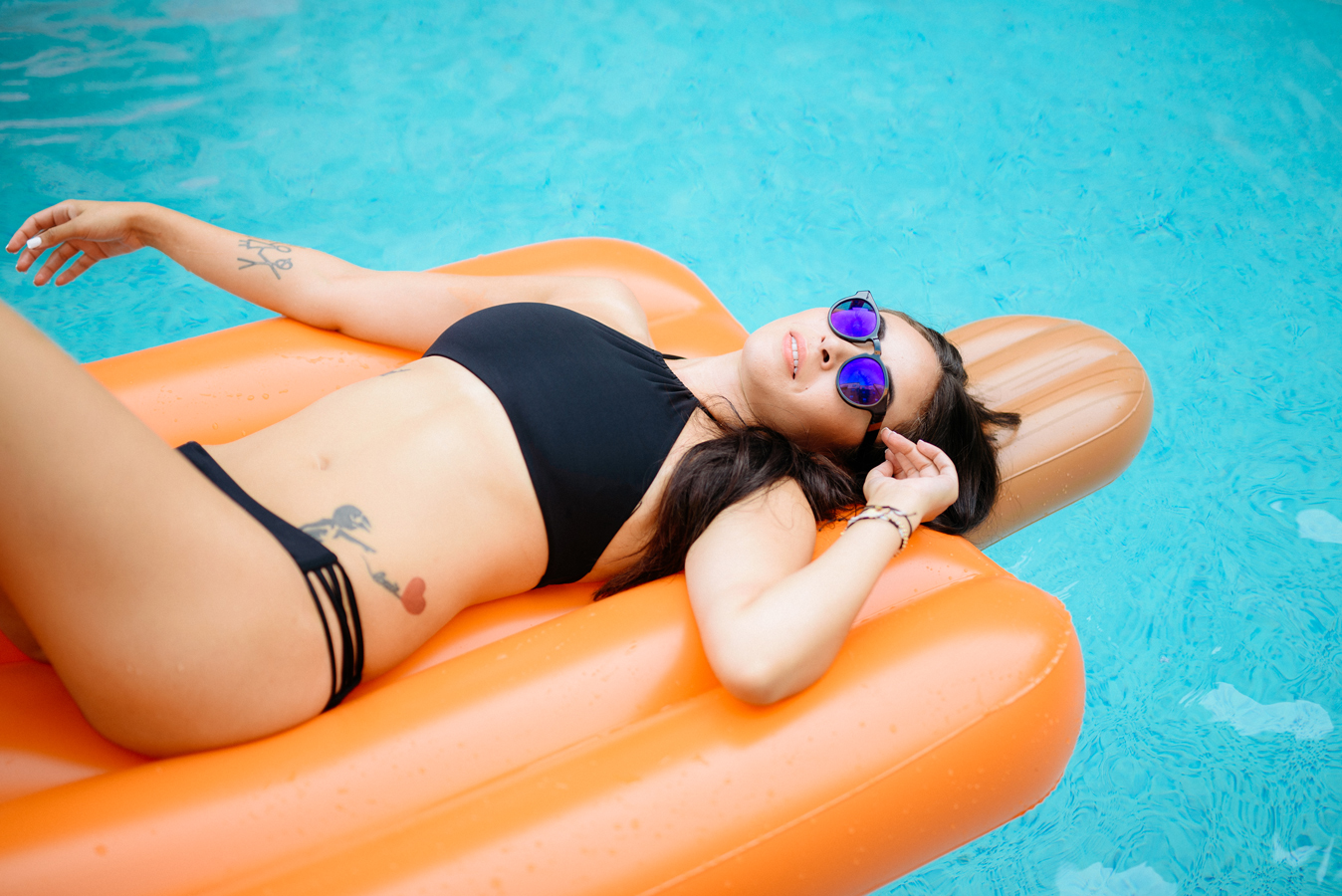 St Bernard has long been a favorite shop of mine when it comes to sportswear, with their expansive selection it's impossible to not find something you can't live without. There are swimsuits at every price point and the selection of "little extras" to complete the party were unbelievable; I'm talking little drink holder floats, pool party themed coasters, beach bags for every style and some of the cutest beach towels I've seen in some time! I love this one & this one is a close second! I grabbed this cuter than cute, halter styled bikini that actually wraps around again but I decided to style it with the basic tie this time. A black bikini is timeless and perfect for mixing and matching so I knew ahead of time that I wanted to go in that direction but that doesn't mean I didn't try on this suit, this one and even this one piece (bad quality mirror pic below) that I seriously almost got instead and even attempted to exchange for but it was already sold out in the store. Proof that if you snooze you lose (or have to wait and order it online and then have two new suits).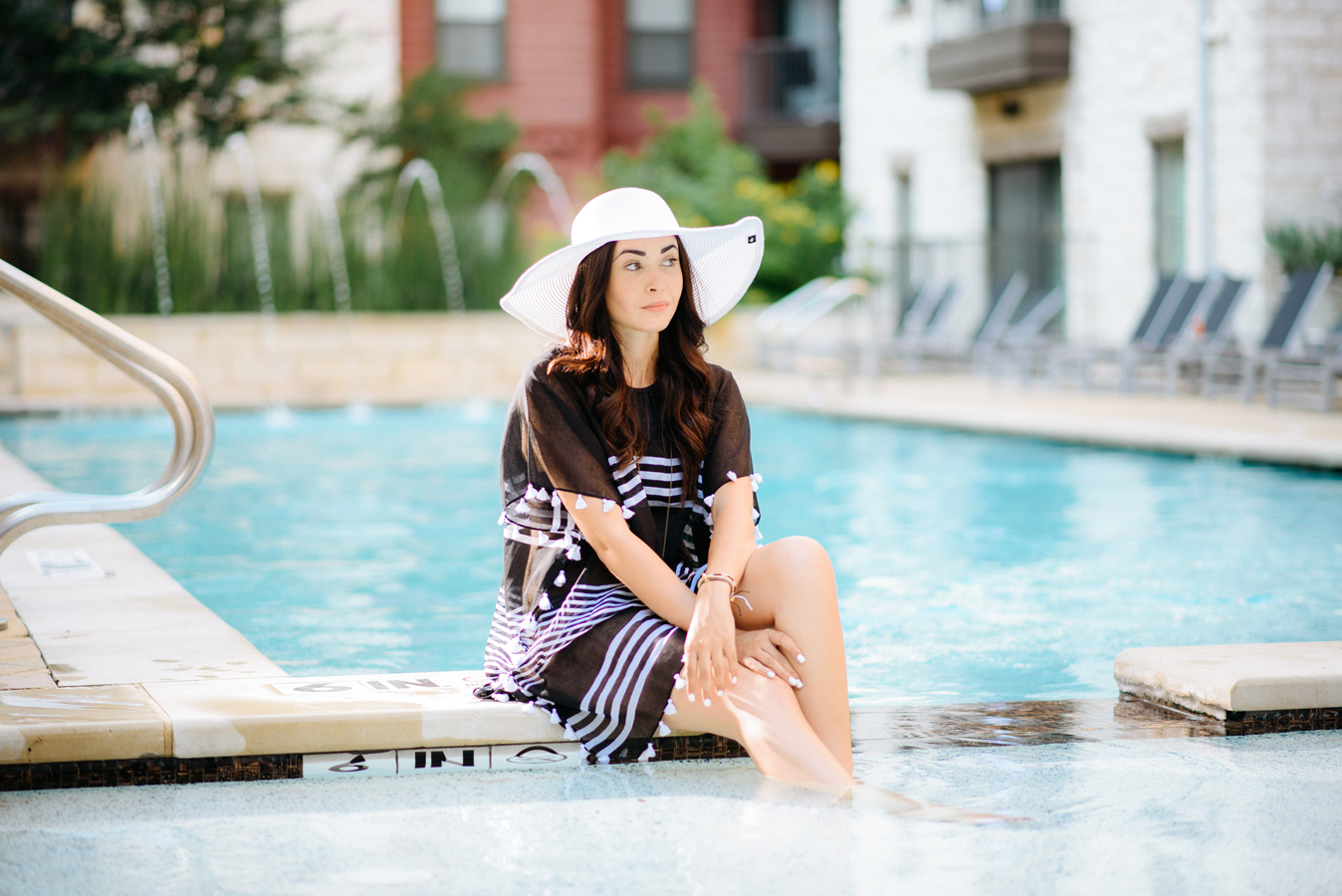 St Bernard Sports is one stop shopping for more than just pool parties; I got sidetracked while in the store and found myself eyeing a yeti cooler and even a yoga mat (though I already have one that gets little use).
Wearing
Kaftan: Seafolly Gilly Island c/o St Bernard
Bikini: L-Space Lizzie Wrap top, L-Space Low Down Bottom c/o St Bernard
Sunglasses: Westward Leaning c/o Ditto
Floats: Pegasus, Flamingo
Necklace: Layering Necklace c/o Ameliorez
Xx Sylvia
*Thank you to St Bernard for sponsoring this post. All opinions are my own.
& thanks to By, Hilary Rose and Hey Kailey Mae for partying at the pool with me, be sure to check out their blogs!
All photos: Carlos Barron Photography
---
#NSale Picks
If you don't take advantage of the Nordstrom Anniversary Sale to stock up on all of your Fall must haves then you're just doing it wrong! The main things I look for during the sale are: Outerwear, Shoes-closed toes and especially boots, beauty products, denim and great layering options.
Ghillie Flats are still a hot item and with cooler temps right around the corner you're going to want closed toe options. These are $30 off ($59)  and come in 5 different colors or snake print (the metallic and snake print are starting to sell out in sizes already) and you can start wearing them right away! Boots are an essential and all last season I was kicking myself for not scooping up an over the knee style during the Anniversary Sale, not this year though. I really love these, for only $100 this is one of the best deals I've come across regarding boots, they're still stocked in most sizes and come in 3 colors. I'm also on a huge oxford thing right now, I'm in love with these little metallic cuties here.

I've wanted a Burberry quilted jacket forever and this one is hands down the cutest I've ever seen. The military inspired fishtail back and exaggerated shoulder flaps give this classic coat a trendy edge. I want it in dark olive and black and this may be the time to finally make the investment because they are currently $300 off!! I'm also really obsessing over this double breasted peacoat by Thread & Supply at under $50 it's really a must! Below are some of the other coats and jackets I'm keeping in my cart.

This structured tote is sooo cute and comes in cedar or black. This drawstring tote is a great alternative to the typical drawstring bucket bags and comes in 4 colors including a cognac that is perfect for any UT Longhorn fan! I also really like this crossbody bag.
Finally, I like to grab a few things to wear now that I can layer later as the weather changes like light tunics, blouses and even dresses. This simple black and white tank for example is perfect for layering, or this twist front blouse and a utility vest is always a must if you haven't added one to your arsenal yet. This is just my first run at the Anniversary Sale, stay tuned!
Shop the faves:
Xx Sylvia
---
Nordstrom Anniversary Sale
The Nordstrom Anniversary Sale kicks off tomorrow; early access for card holders until the 21st, then open to the public from July 22nd-August 7th. This is THE SALE OF THE YEAR-every year. It's the prime time to stock up on your favorite beauty products, grab new outerwear or a great designer handbag at a fraction of the price and these aren't last season's "nobody bought me's", these are the latest designs and best styles that top designers have to offer for the upcoming season.
The most important thing to keep in mind is that this sale is only thru August 7th- you don't want to miss this so mark your calendars!  After August 7th all of the items will go back to they're regularly marked prices for the season. I'll be sharing my top picks from the sale throughout the next couple weeks as well as great ways to wear my faves now and throughout the cooler months. You're going to be seeing "#Nsale" everywhere over the next few weeks alerting you to related items from the sale. This is a great time too to sign up for LIKE TO KNOW IT, which you can do here. If you're still unfamiliar with "Liketkit" it's really simple, you just sign up and then when you like photos on Instagram featuring this  "#liketkit" hashtag and link you'll receive ready to shop emails containing the exact (or similar) products to the ones being worn straight to your inbox. I even set up a separate folder within my inbox just for my Liketkit emails so that I have them all in one spot for easy shopping later!
Wearing
Top: Shein
Shorts: Abercrombie, similar here from Pacsun or here from Shopbop
Hat: Nordstrom
Bag: Zara, similar
Sunglasses: Nordstrom
Choker: Shein Under $5!!
Happy Shopping Dolls
Xx Sylvia
---
Why Every Woman Needs a Red Dress
There's something so va-va-voom about a red dress.
& luckily it's a color that looks great on basically every skin tone. I'm especially loving it since getting a little bit of a tan, it only took getting a pretty bad burn first. I wouldn't recommend getting color my way but I will enjoy it while it lasts. As a matter of fact, I think I may have to pick back up on my sunless tanning to keep this glow a little longer. What are some of your favorite products for at home tanning? In the past I've used St. Tropez (this one & this one) and Jergens Natural Glow, each of which were gradual at building color and did zero to little staining to my palms. 
I picked this dress up to wear over the 4th of July holiday weekend and now I'm wondering how I went so long without having a red dress in my wardrobe, without having much red anything. It's actually really sad, my closet is color coordinated and the red section had no more than 6 items-the only thing I had less of was orange. I'm now on a mission to change that.   
Red draws the eye; it's bold, it's fierce and it's contagious.
Wearing this dress was an instant boost of confidence, red dresses always are. I especially loved this ladylike silhouette, wrap dresses are always flattering. Perfect color, perfect cut, 2 for 2, because red is such an eye catching color I didn't want anything too revealing or showy so keeping it at a midi length was the solution to mixing demure with fun and flirty.
Check out these red gems:

 If you're going for a dress in a bold color or pattern make sure you pick something in a cut you absolutely love, everyone's eyes will be on you-you're going to want to feel as confident as possible.
Wearing
Dress: BCBGeneration 
Sandals: Similar
Belt: Amazon
Sunglasses: Nordstrom
Bag: thrifted, similar
Xx Sylvia
---