Swimsuit Cover Up Styled 3 Ways
I love a piece with some versatility, the more places I could potentially wear an item the higher the chances are of me buying it. It's the CPA or Cost Per Wear mentality. I try to envision how many outfits I could create using this piece and ones I already own, if more than a few ideas come to mind more often than not I'm buying. I may have a small shopping problem but I'm still very cautious and frugal at the same time, the items I buy need to make sense within my wardrobe and be a piece that will actually be used. I've had far too much experience with buying stuff only for it to sit in my closet dying with the tags still attached, I'm older now, I have to make better decisions.
My swimsuit cover up today is the perfect example of a prime transitional piece, a key item to last through different occasions as well as different seasons.  Originally bought as a swimsuit cover up, I know, no way! This little tunic has made it's way on some errands, a plain ride to Miami and even a happy hour or two. Today I wanted to show how easily you can transition your cover ups to last you longer than summer vacation.
This is how I styled my top to last me throughout every thing I needed to do:
This being a swimsuit cover up, it's usually the first one I grab. I love the colors, it's bold without being too loud and since most of my bikinis are black, it doesn't hurt to add the punch of colors. When it comes to lounging around the pool or being anywhere near a body of water slides are key for me; easy on, easy off. Can't say it enough, the pool shoe! I've lived in these super mod ones from Forever 21 basically since March.
I got this perfect pool bag a couple years back at the Fragrance Festival at Nordstrom. Score of a lifetime. There I am minding my own business rummaging through some makeup when a super friendly associate comes over to me and starts telling me all about the Fragrance Festival , you could pre-order bottles at a discount of a price and even get them engraved at no cost. This was really cool because it was around Christmas time, so engraved cologne/perfume definitely seemed like a great option as a gift alternative for a few folks. Well, what do you know I just so happened to need a new perfume, ah fate. Pre-ordered my Burberry Brit, declined the engraving, it was for me and I'm not into monograms, I'm just not.
Two weeks later I get that call, my perfume is in, oh no I have to run to the mall, what ever will I do? I get there and my old, new, best friend, sales associate, person who had been helping me out HOOKED-IT-UP! Soo many free samples of new perfumes, lotions and even makeup samples, a small deep red clutch with a bow and this, this shiny, metallic, Michael Kors, perfect, pool bag. Instant love.
Message of the day: Get on that Fragrance Festival!
Simply throwing on some classic black chino shorts (here) and sandals (similar) give this swimwear the casual coolness it needs to be pulled off as hip day wear. I toned down the busyness of the top by sticking to the same color everywhere else, black. The black really draws your eye to the darker parts of the shirt making the pattern the star of the show.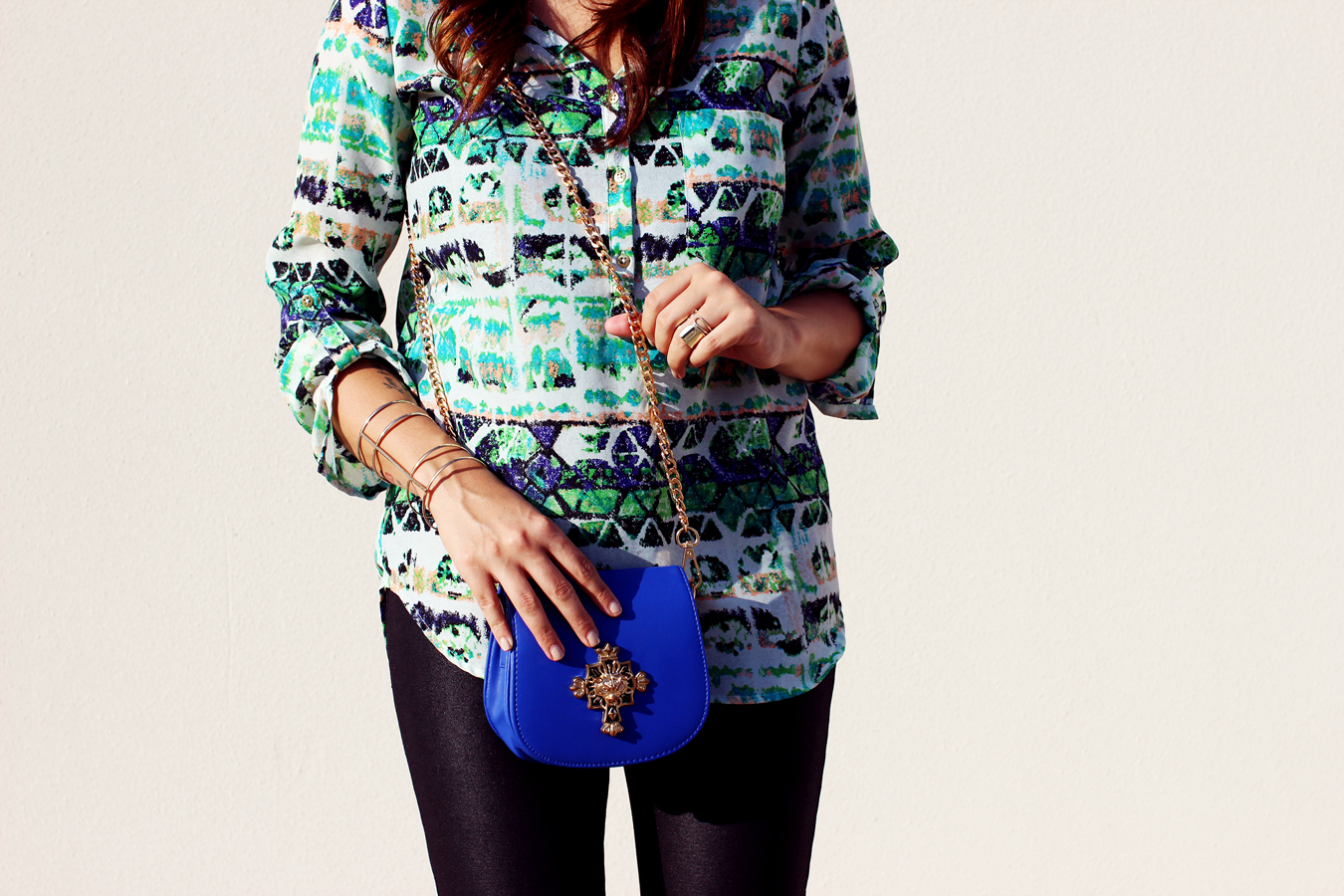 This top has seen more than its share of margaritas, let me tell you. That's for two reasons:
1. The colors are made for mixing into your spring and summer wardrobe
2. Spring and summer are great for margaritas
I love mixing colors in the summer and I knew right away that this top paired with some skinny black pants (on sale here) and great bold lip (obsessed with this one) would be perfect for a dinner date with the girls. Really wanting to emphasize the colors I paired this look with a blue clutch and stark black and white sandals (closest style). This outfit has such a vacation vibe to it and it definitely put me in that state of mind, all that was missing was a beach.
How do you get the most out of your pieces?
Xx Sylvia
---