My LA Diary: January 2017
I love any excuse to hop over to Los Angeles and my brother living in West Hollywood with a spare room has been all the reason I've needed over the last couple of years. It's always so much better when visiting family means visiting a cool city with tons of things to see and do! My brother didn't come home for Christmas last year so in January my boyfriend and I decided to take a little week vacation to visit and deliver our gifts in person. We, with our luck of course, chose the one week LA was super overcast, rainy and cold so we had to improvise. Instead of beach walks and outside everything we were literally trying to dodge raindrops the whole week…here's a little recap of our rainy week in LA.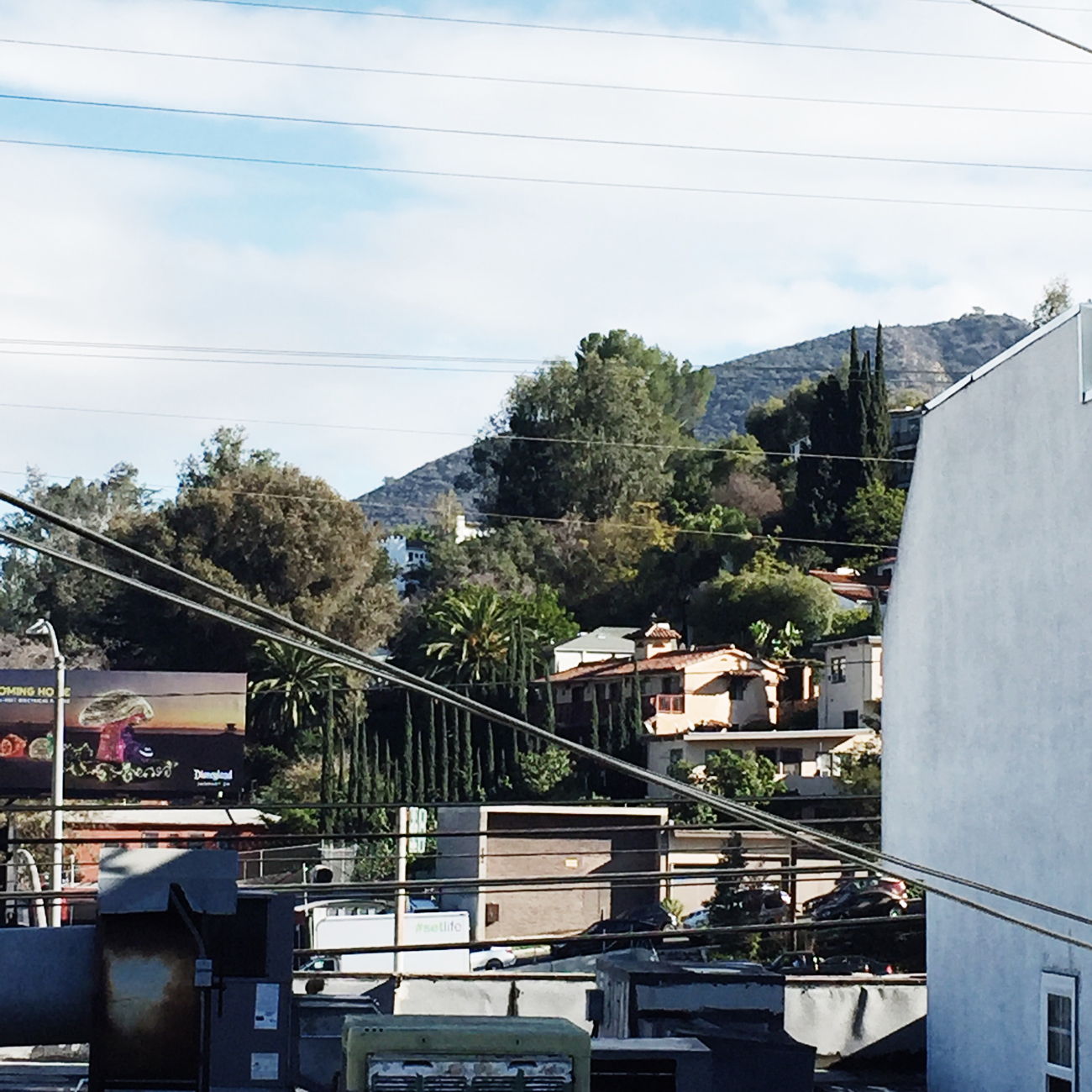 Wearing
Booties: Nine West
Jeans: Paige
Jacket: Shein
Purse: Rebecca Minkoff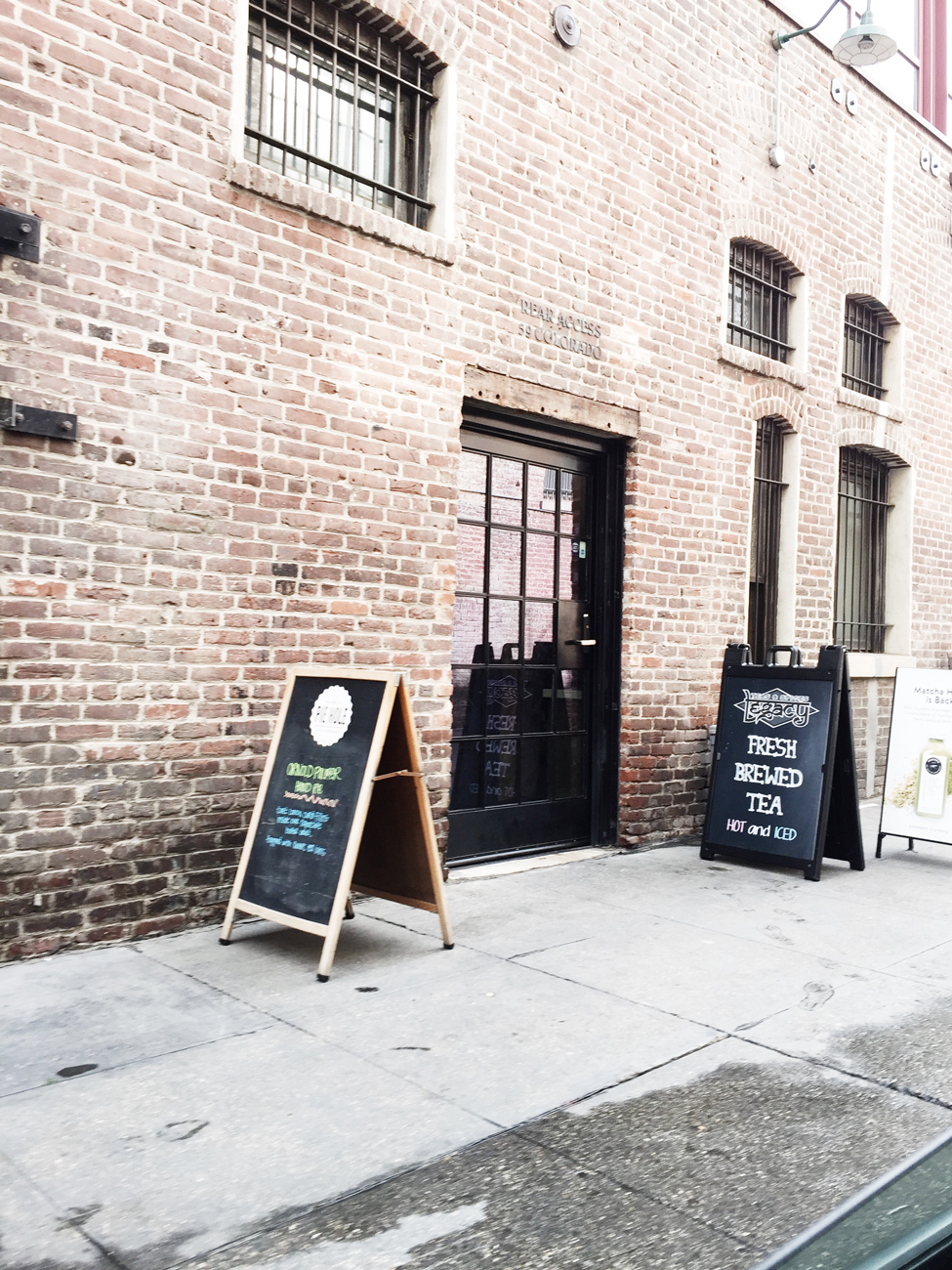 Our second stop, after dropping off our luggage, is always a coffee shop and this time we decided against the usual blogger stop at Alfred Coffee and Tea and opted instead for a very industrial feeling spot called The Pie Hole which came highly recommended by my brother's girlfriend.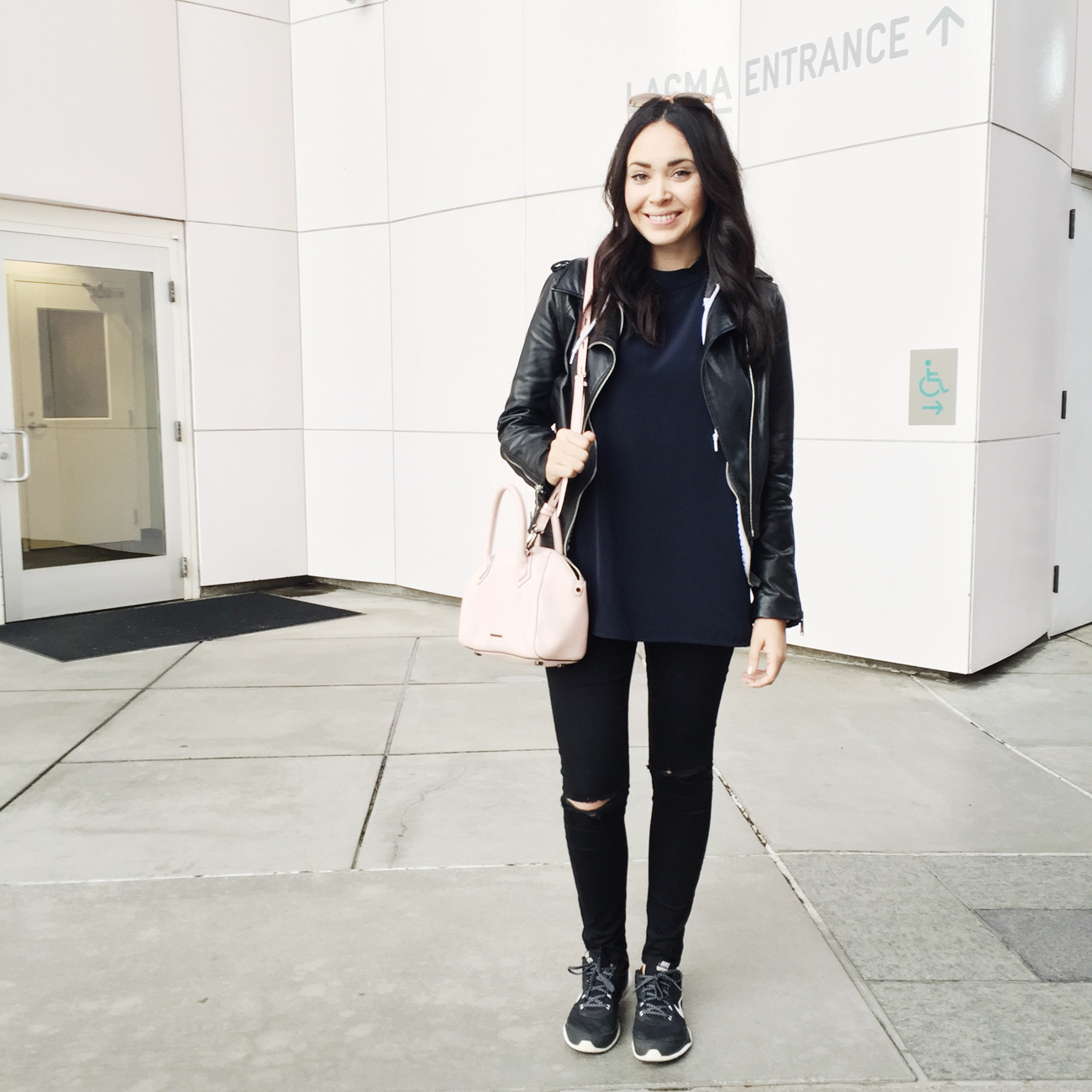 Wearing
Jacket: BCBGeneration
Sweater: American Apparel
Jeans: Topshop
Tank: Uniqlo
Shoes: Nike
Purse: Rebecca Minkoff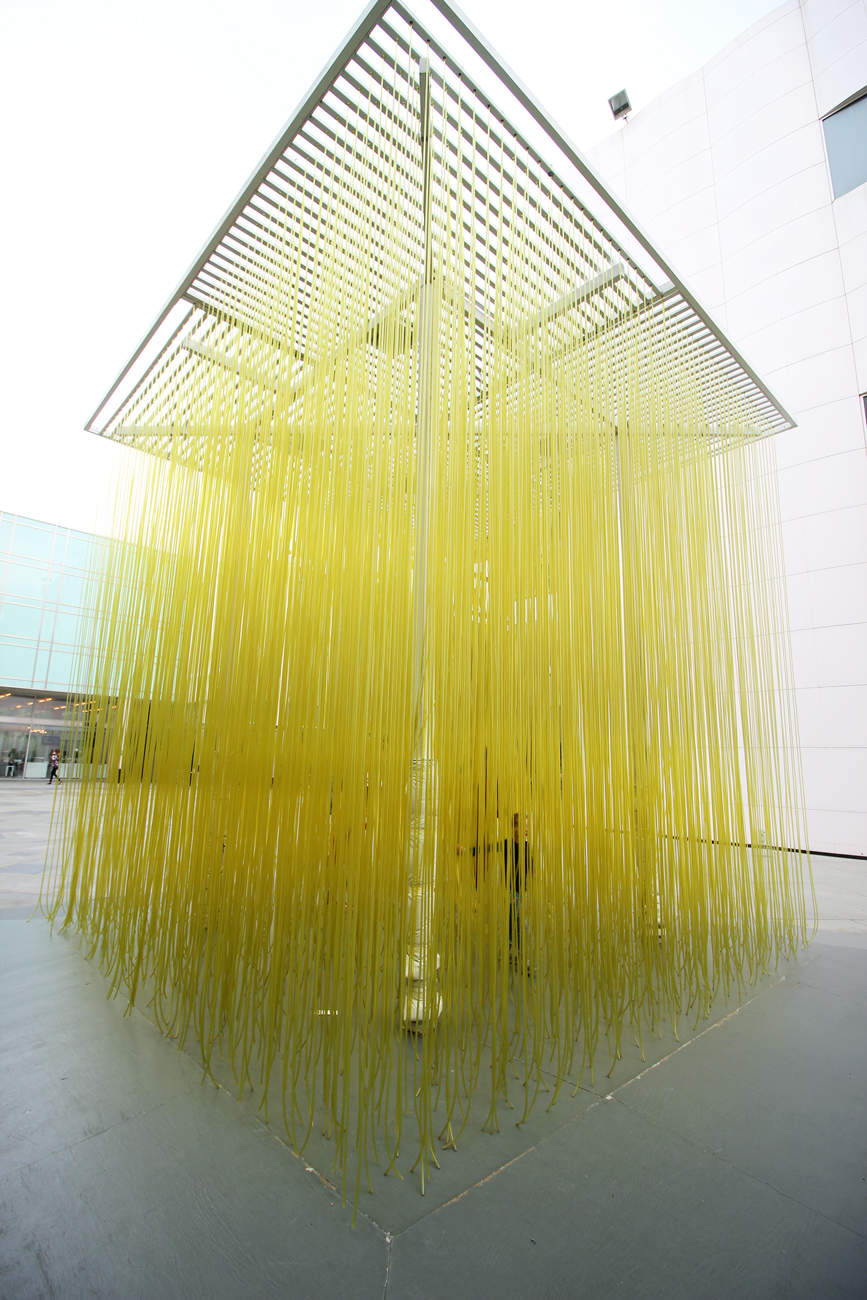 The LACMA is always a destination for me, with equally as beautiful of installations outside as inside.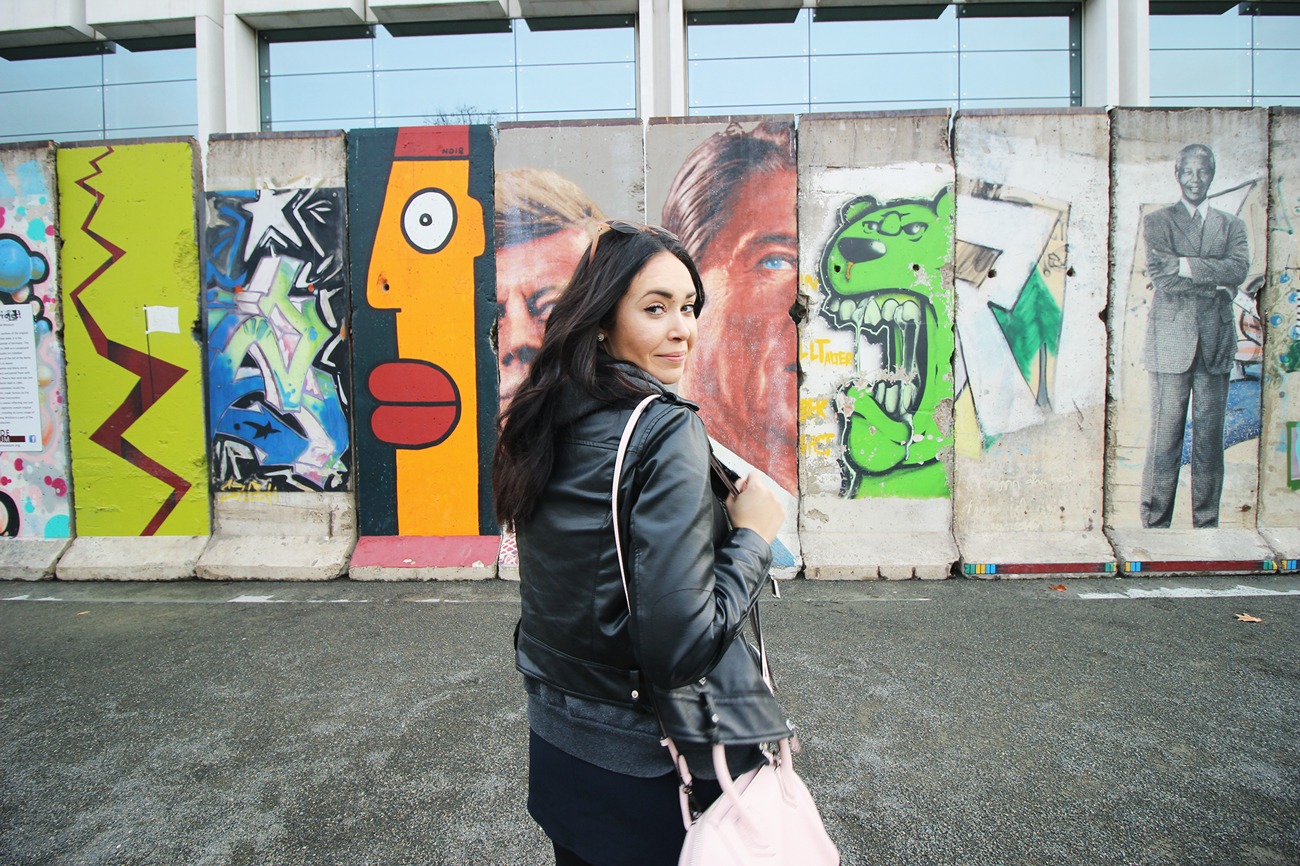 "Get on MY walls" is basically what I kept saying over and over throughout the museum, that or "hmm I could do that" followed by laughs from my brother and boyfriend.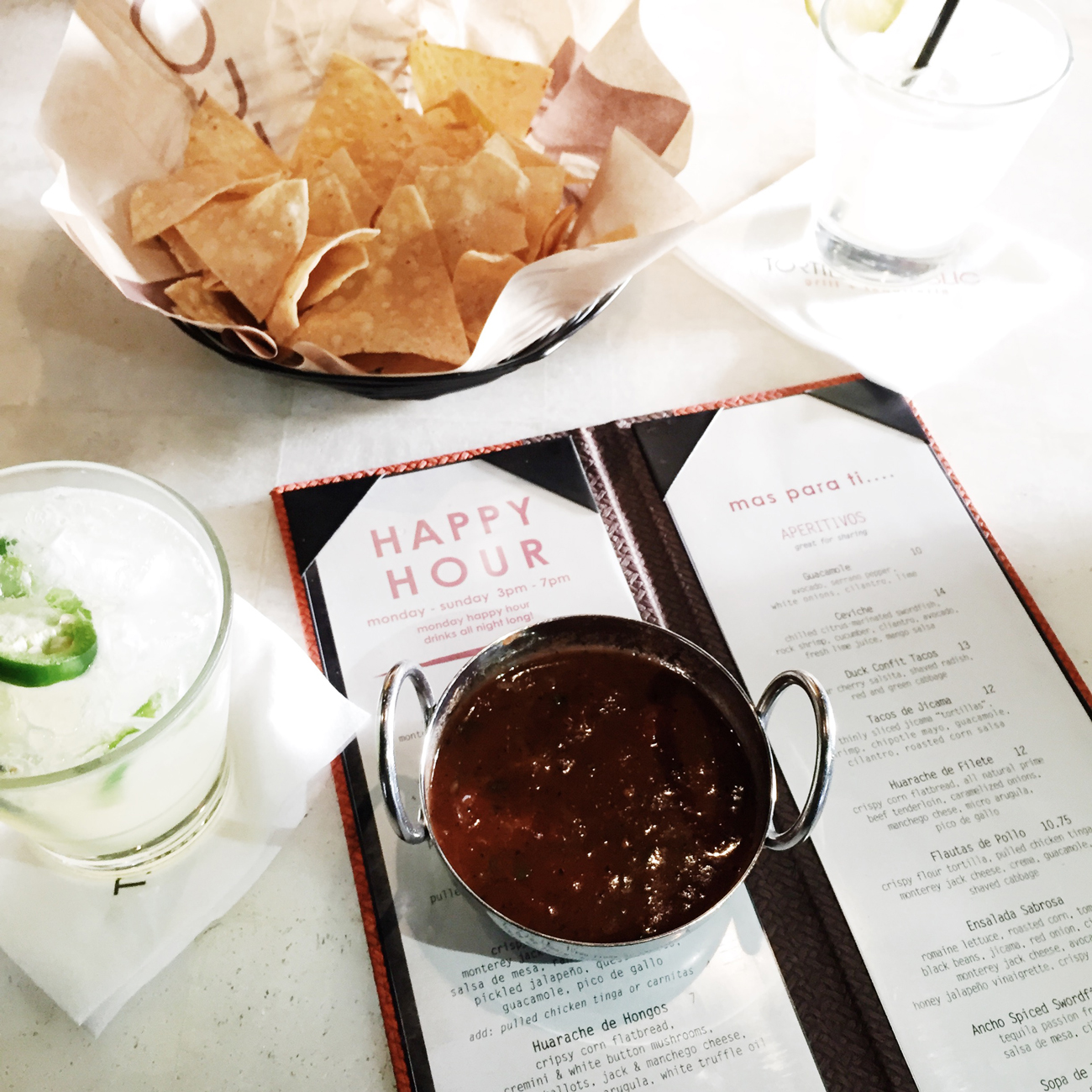 Restaurant hopping is probably a good majority of what I do on vacation and this trip was no exception. We checked out a number of places including Cecconi's, The Hudson, Gracias Madres, Nonna's Empanadas, Saddle Ranch and a slew of coffee shops including Waffleshots, where they fill specialty cake cones dipped in chocolate and other decadent treats with espresso.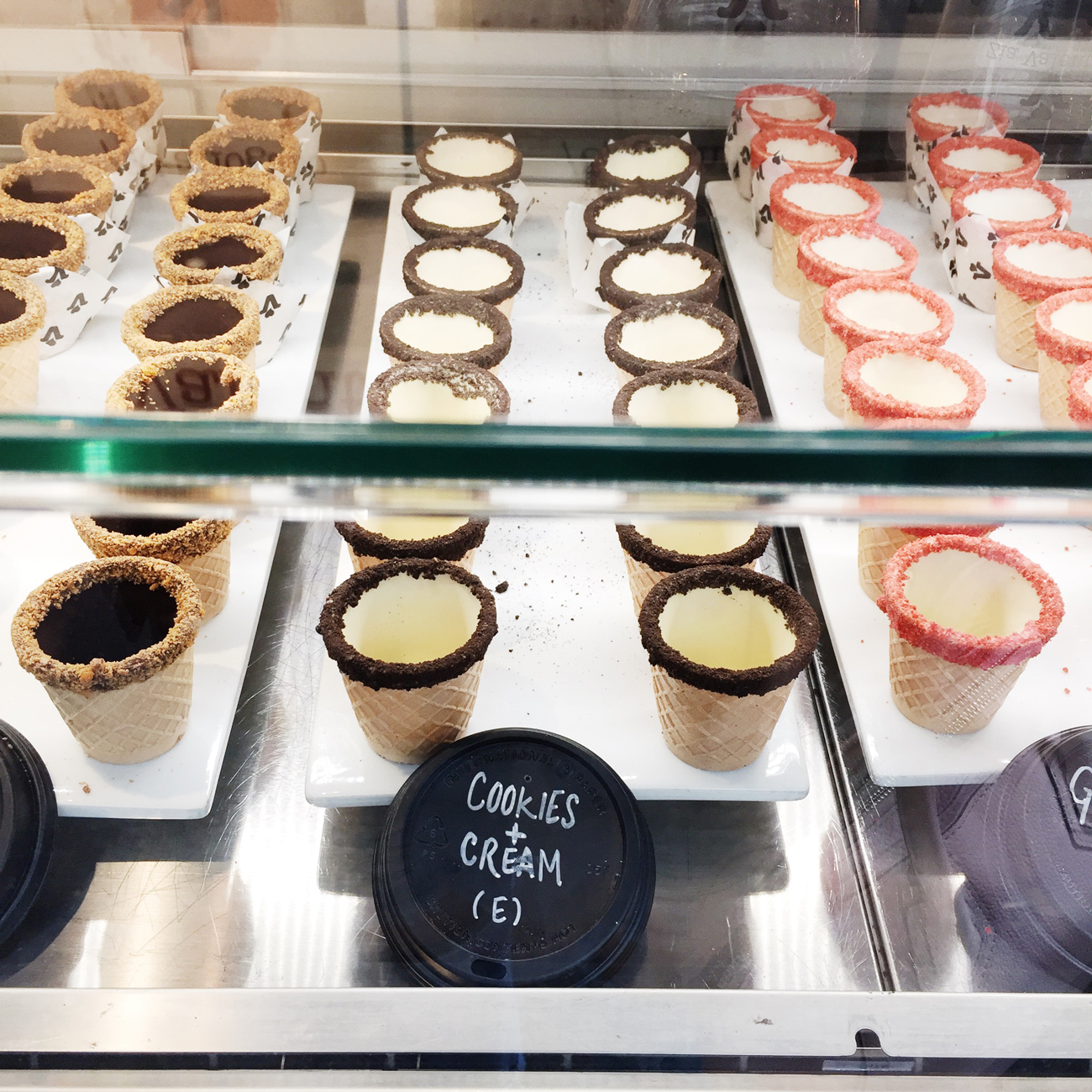 This view from lunch inspired a little post-food shopping trip at one of my favorites, Zara. A lot of times you want to check out completely local shops only but keep in mind that different regions carry different styles in major retailers too. I found so many pieces at Zara that I hadn't seen at my local store just days before.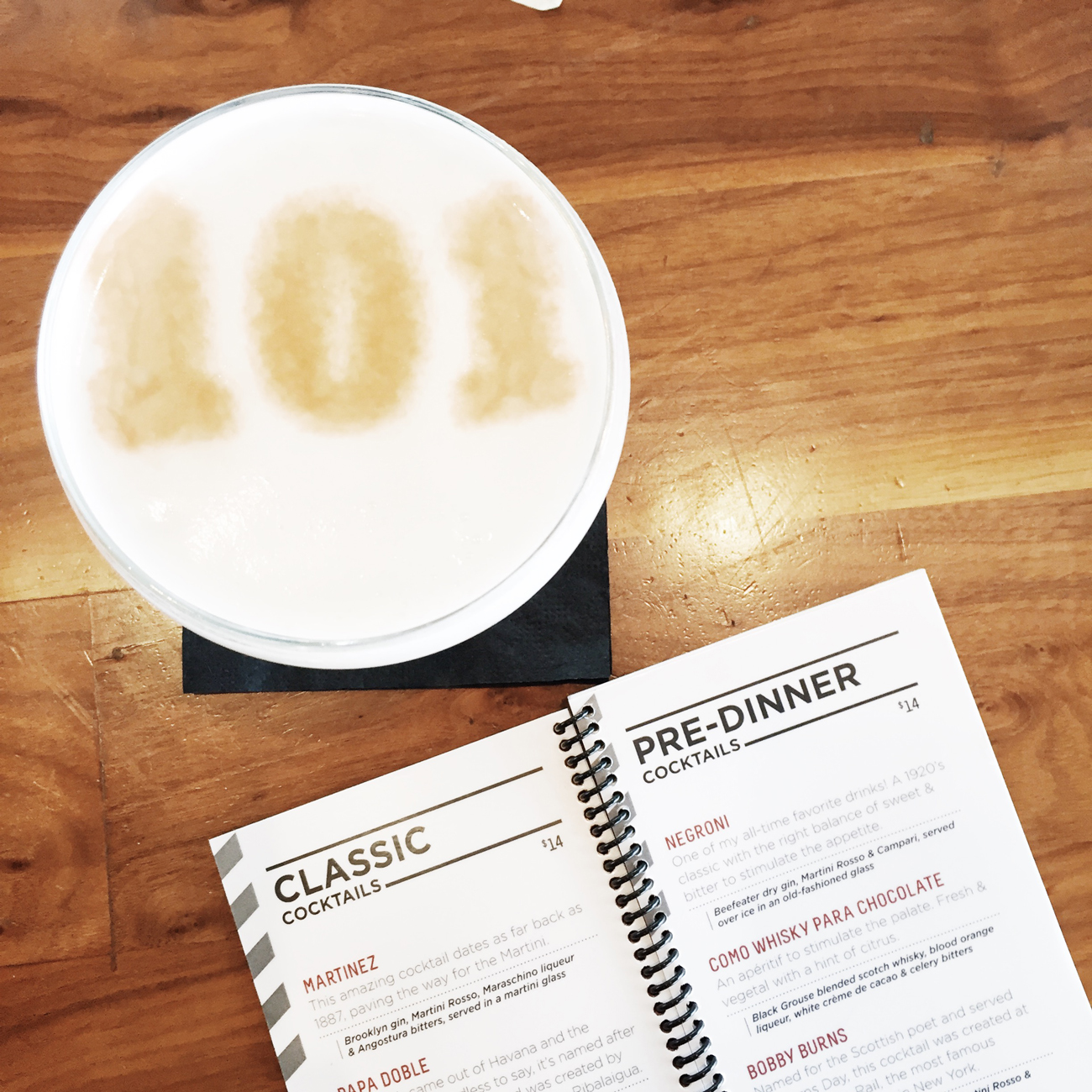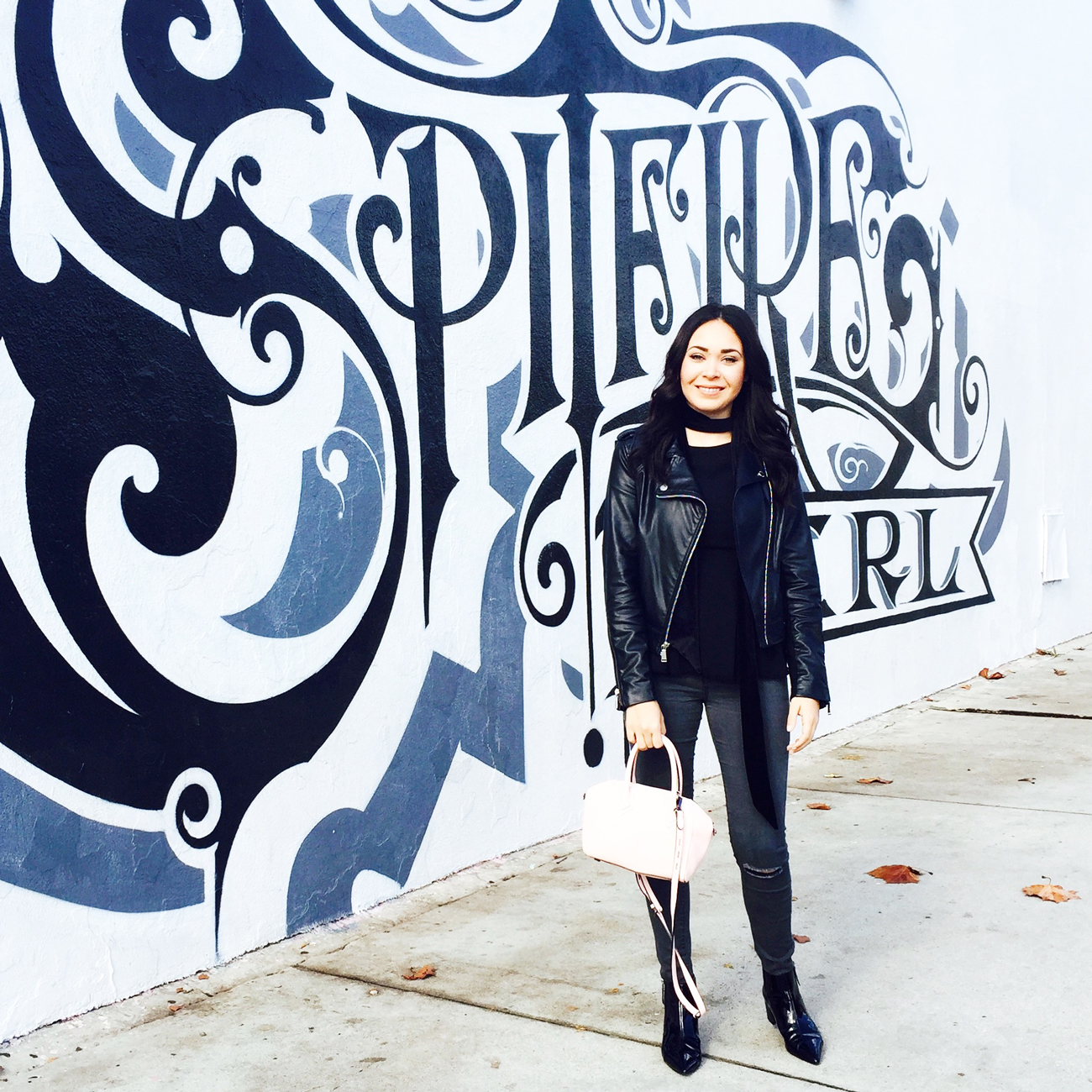 My boyfriend spent an entire three hours thrifting with me on Melrose. We hit up American Vintage where I found the perfect oversized denim jacket and Wasteland which was my absolute favorite spot for finding designer pieces.
Wearing
Jacket: BCBGeneration
Jeans: Topshop Leigh cut
Boots: Zara
Purse: Rebecca Minkoff
Scarf: Zara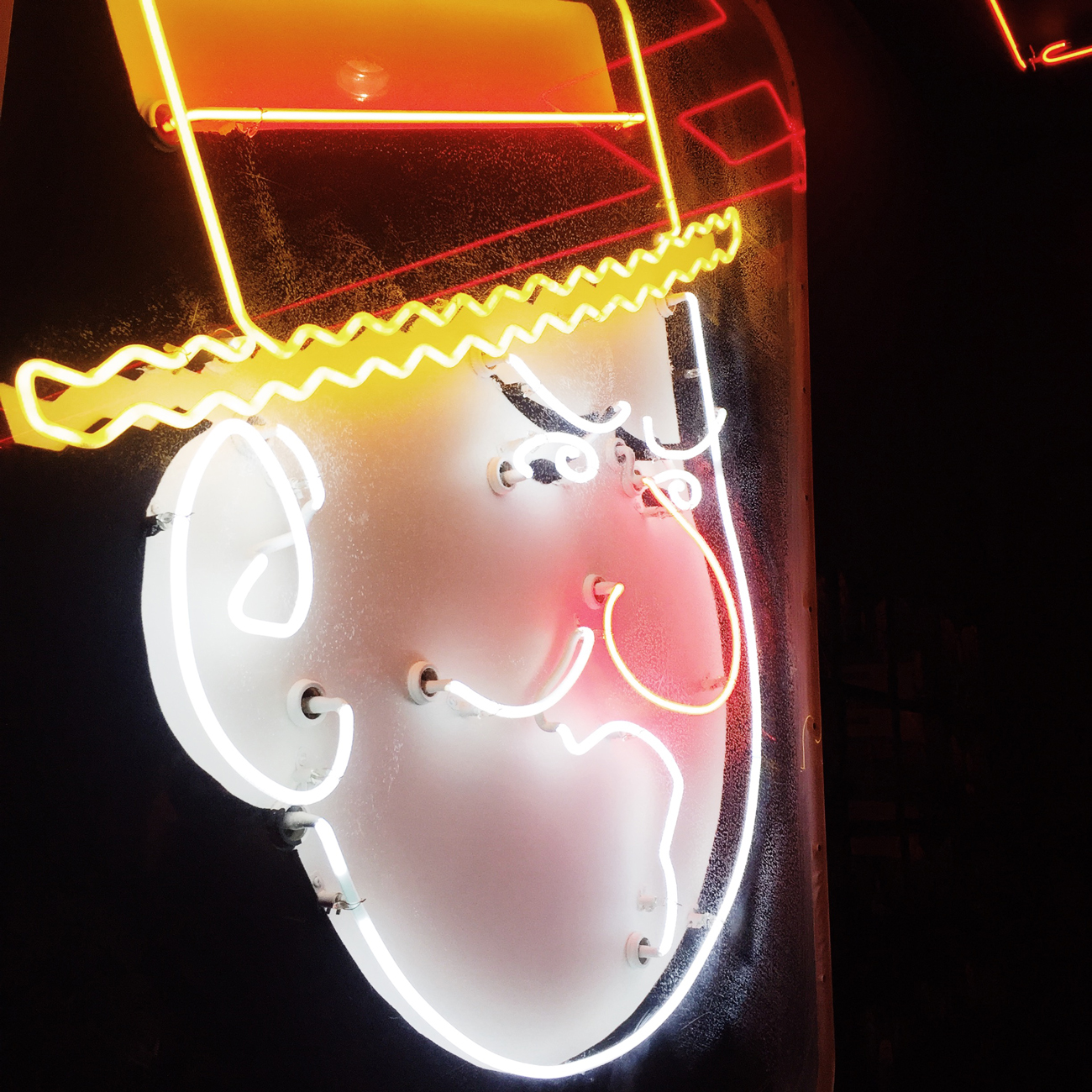 On our last night in LA we went to The Comedy Store and really lucked out with appearances by Chris D'elia, Rhys Darby, Margaret Cho and Joe Rogan to name a few. This was hands down my favorite night and Chris D'elia absolutely killed it!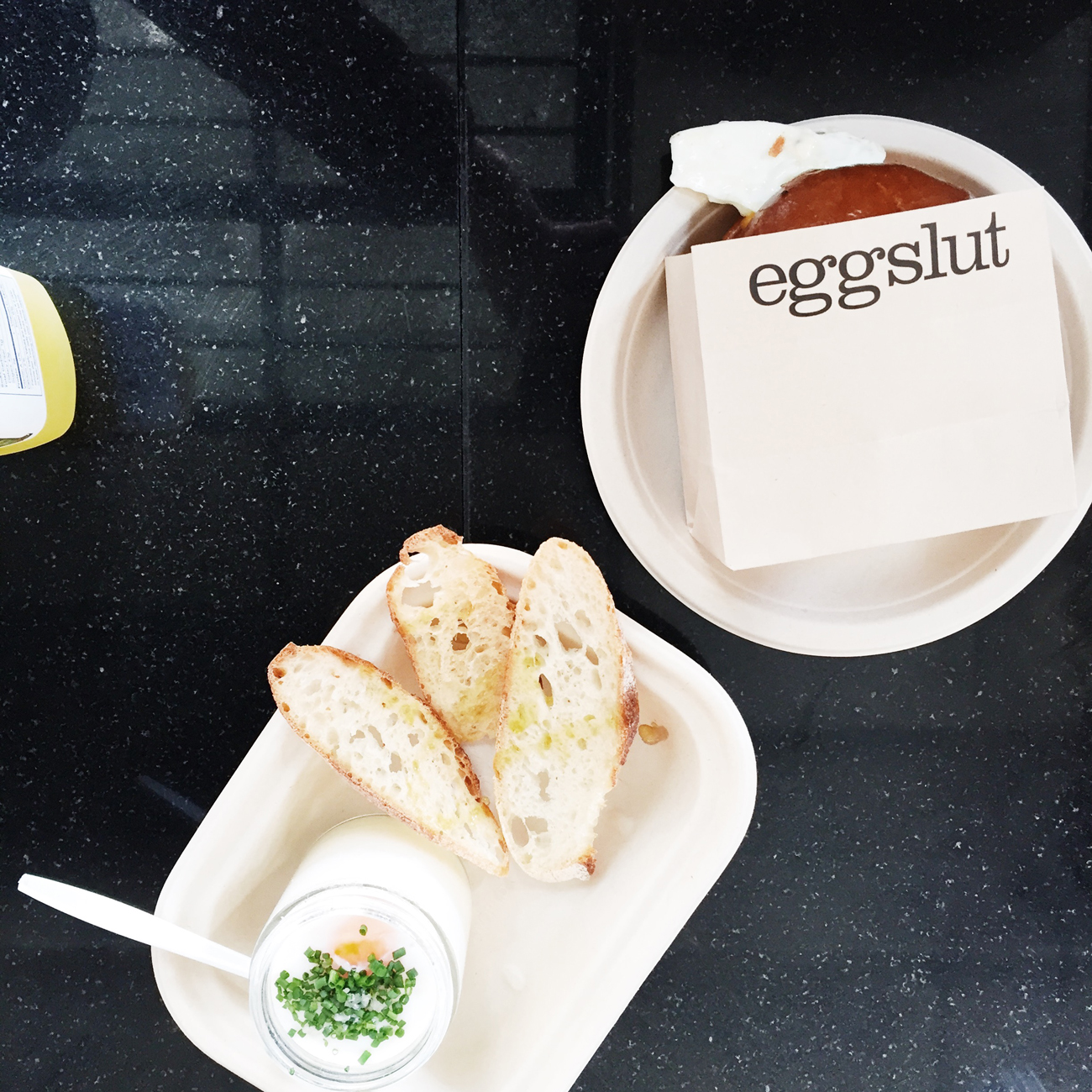 & On our last day we went to Eggslut and it was E-P-I-C! An absolute must try if you're in the area. I got the Sausage Egg and Cheese sandwich and my boyfriend got the Slut, a poached egg over potato puree. Pure goodness in a jar.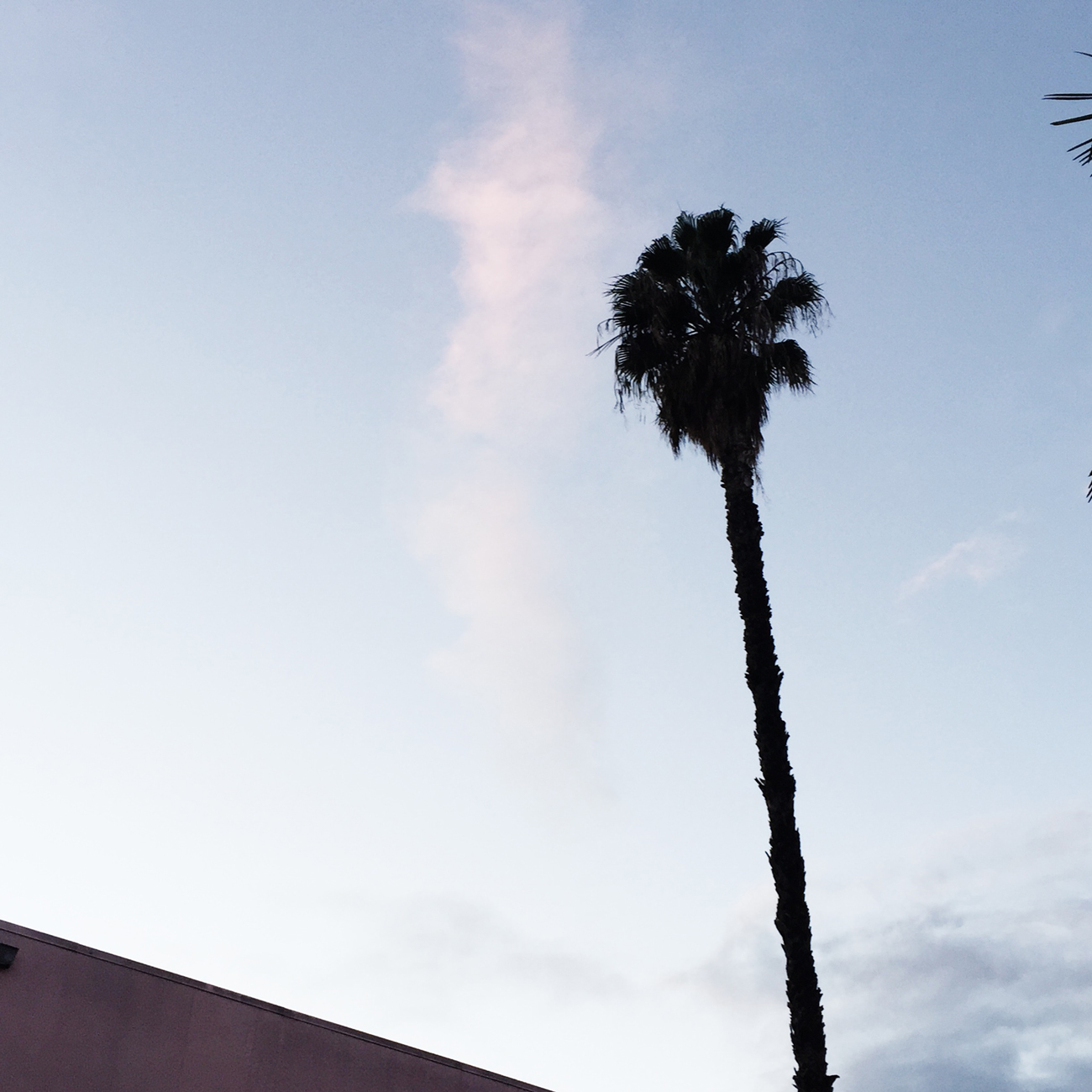 Oh LA, until next time…
Xx Sylvia
---
My Favorite Mock Neck Sweaters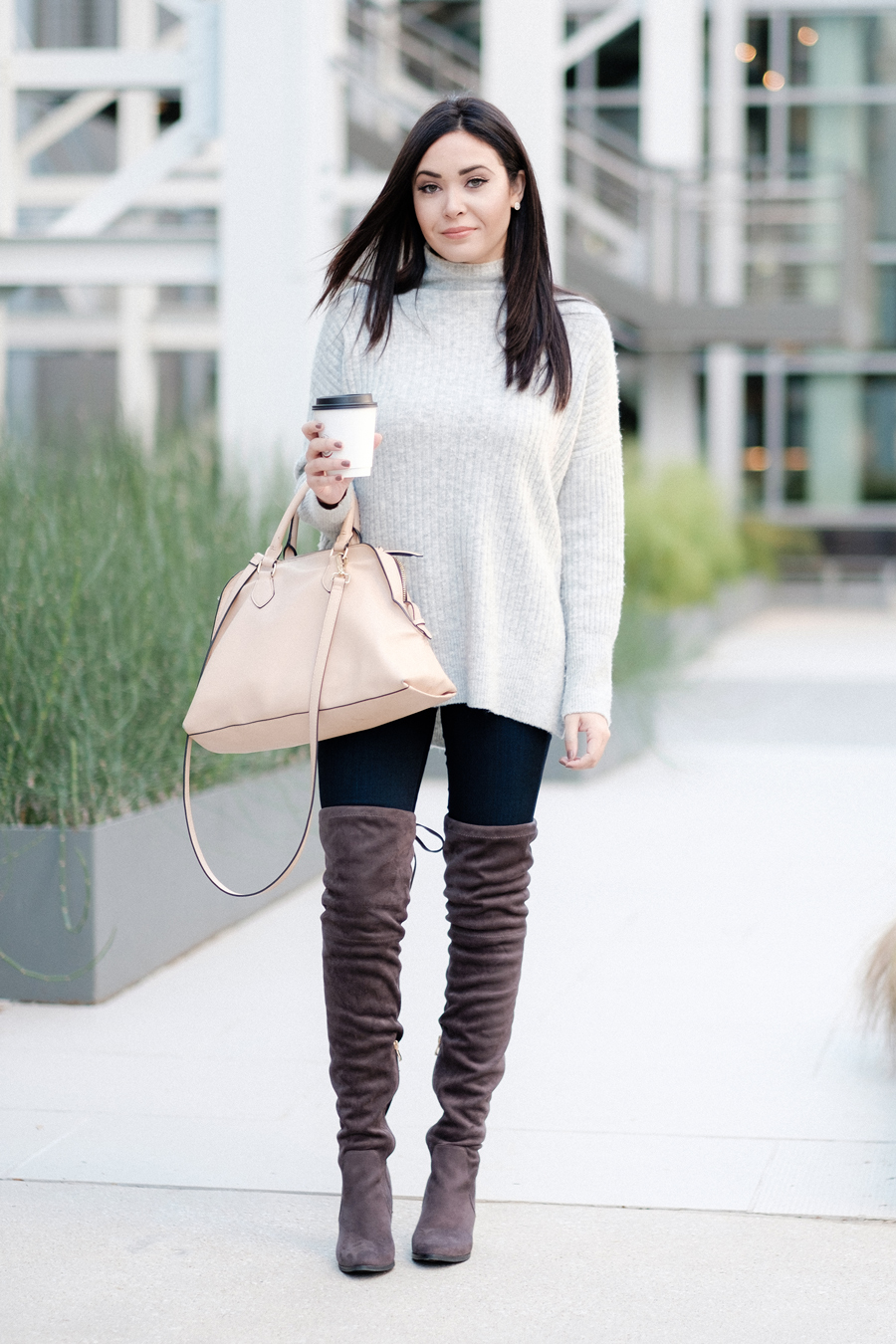 I love sweaters period.
This year though I was especially drawn to mock neck styles and this particular Topshop cutie was my absolute go-to. I loved the light-weight but warm, touchable fabric and I decided to size up to a UK 8 for a nice oversized fit, perfect to wear with leggings or skinny jeans and OTK boots like I styled it here.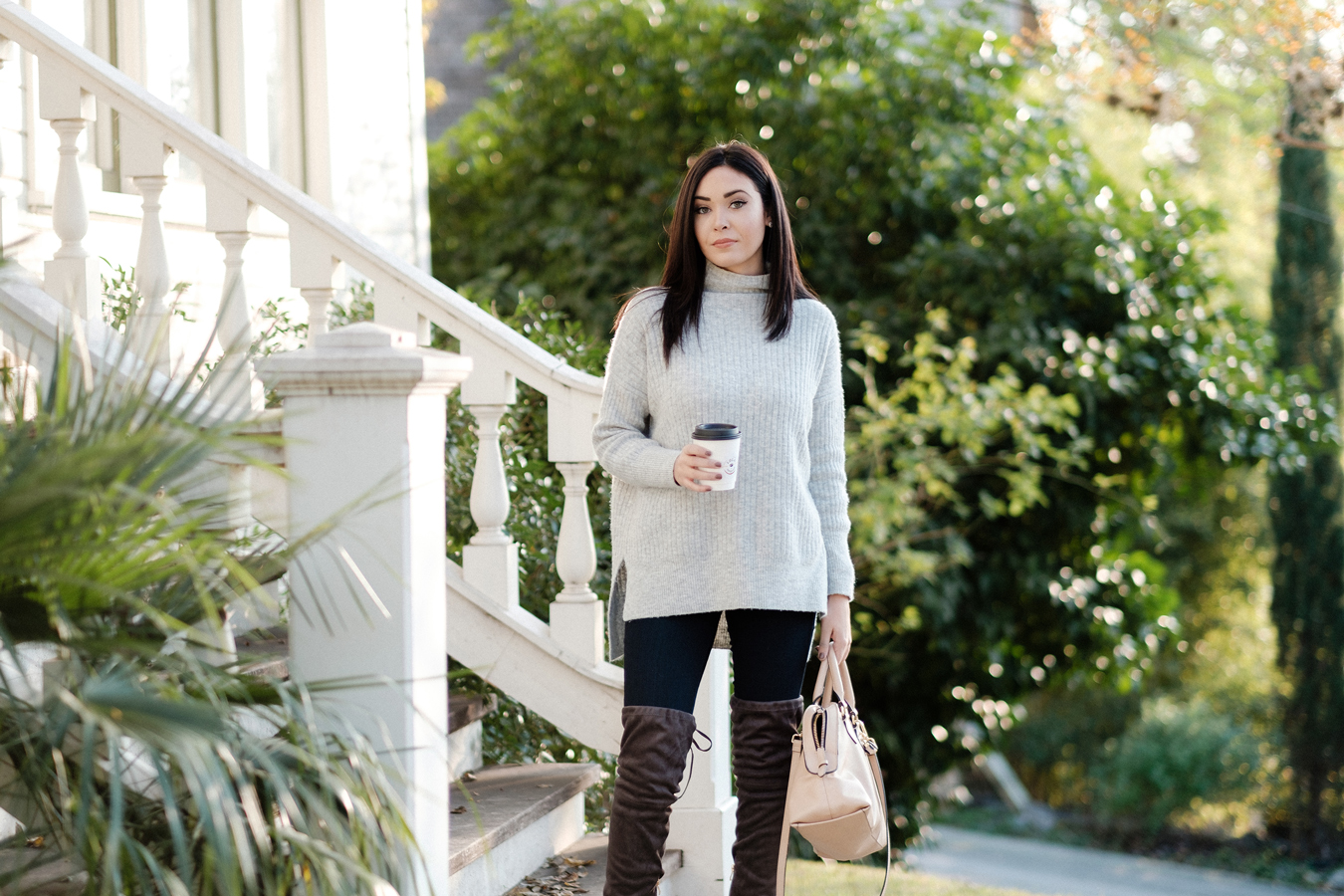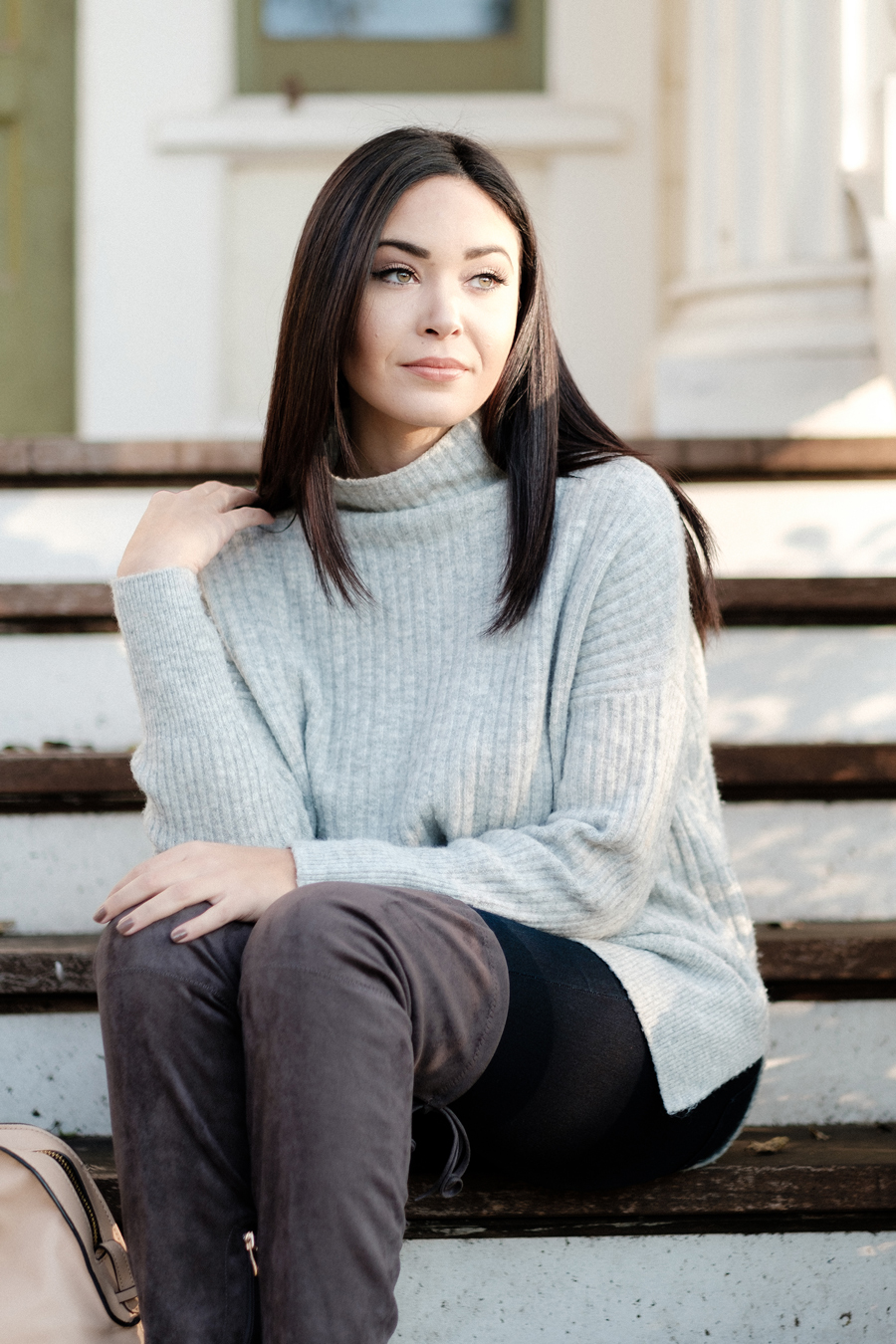 Think of the mock neck sweater as the updated trendier version of a turtle neck. You still get the neck coverage and warmth but without all of the extra fabric making you feel constricted or like you're being suffocated.
Below are a few others that I'm also lusting over:
This textured, detailed Miss Selfridge sweater is classic and fun.
A sleeveless style like this one from H&M is great for layering. (I have one in navy)
Details, details, details with this cutie from Macy's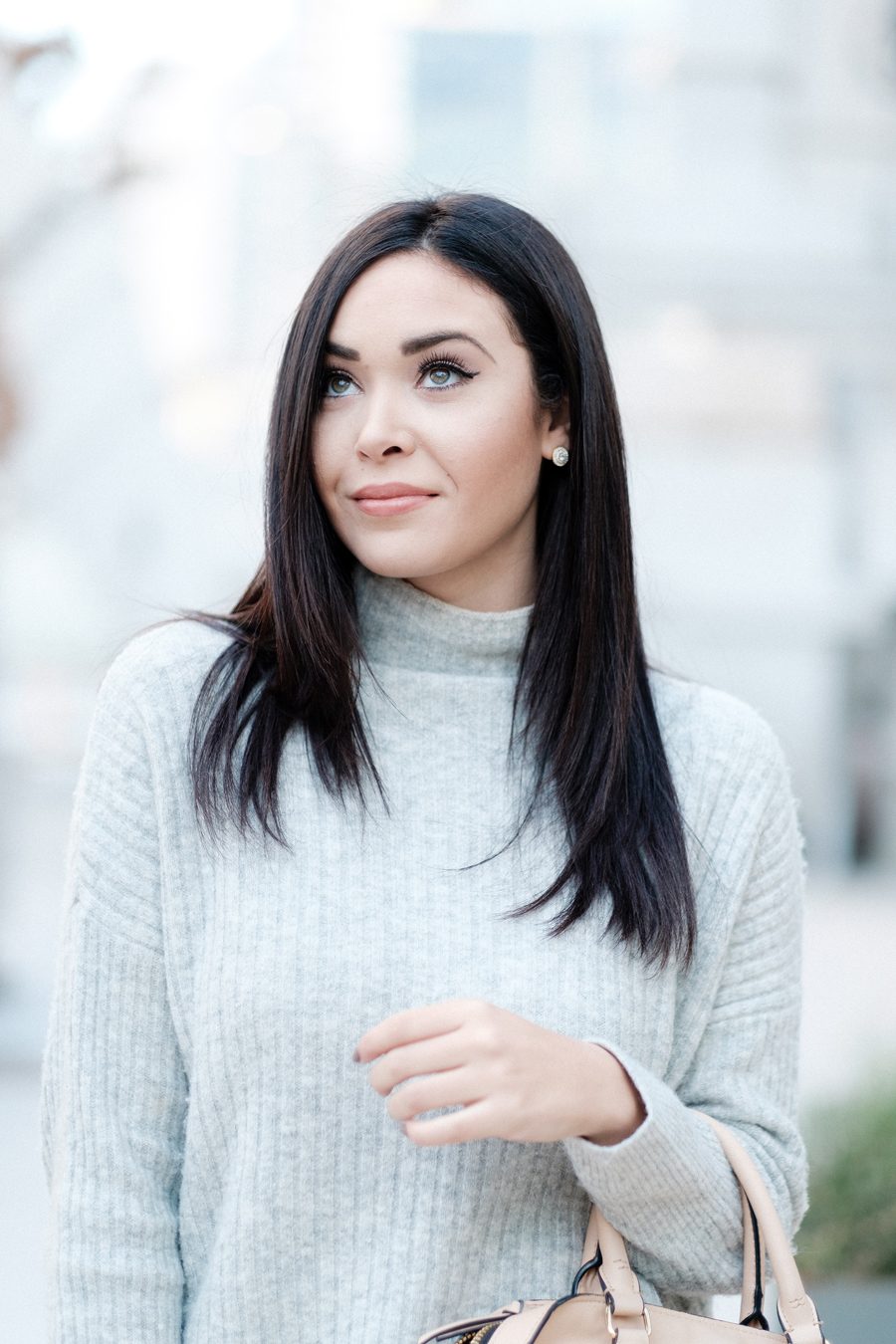 Wearing
Sweater: Topshop via Nordstrom
Jeans: Paige
Boots: Catherine Malandrino
Purse: Zara
Earrings: Nadri
Xx Sylvia
All photos: Carlos Barron Photography
---
Winning in this Who What Wear Dress
Where my Target lovers at? …um, everywhere! Seriously, who doesn't love or have a love/hate relationship with Target?! It's just too good; I love it but my wallet never enjoys the trips to my beloved one stopper. Two pieces from this look were purchased at Tar-jai (just realized I have no idea how to spell the favorite fancier way of pronouncing it) on completely "non-fashion-related" runs. My dress, the definition of effortlessly pulled together, was under $40. I loved the menswear inspired touches and the color was on cue for my Fall feels at the time of purchase. It's a classic piece in a soft, silky blend fabric that will last seasons to come. I also scored these oh-so-comfy peep toe booties for a steal, also under $40! (more about them in a later post)
I decided to walk the feminine-masculine line in this look by playing with contrasting details; a leather jacket on top and a lace slip peaking from beneath. The tailored appearance of a button down shirt leading to the flowy-ness of a midi dress silhouette. A structured, geometric like, hard bag in a soft, lady like hue. The perfect balance.
Speaking of balance… if you follow me on Instagram then you probably noticed that I went on a brief vacation to Los Angeles last week.  I'll be trying to balance my work/life/writing time more efficiently to get you guys a complete travel guide including a recap of a few thrift shops I rummaged through while there. Stay tuned or sign up for my newsletter to be notified of new posts!
Wearing
Dress: Who What Wear x Target
Peeptoes: Target
Purse: Rebecca Minkoff
Leather Jacket: BCBGeneration
Slipdress: Shein
Sunglasses: Buffalo Exchange
Earrings: Nadri via Nordstrom
Xx Sylvia
---
The 7 things You Need in Your Wardrobe this Season
Not really one to hop on trends, I tend to stick to classic styles and won't spend higher than Forever 21 prices on anything I deem to be "too trendy to last." Given that last statement I can spot a good trend when I see one and if it's something that suits me on a personal level I'll definitely give it a go and invest when necessary. These "trendy" items are some that I've found to be critical in my outfit planning as of lately.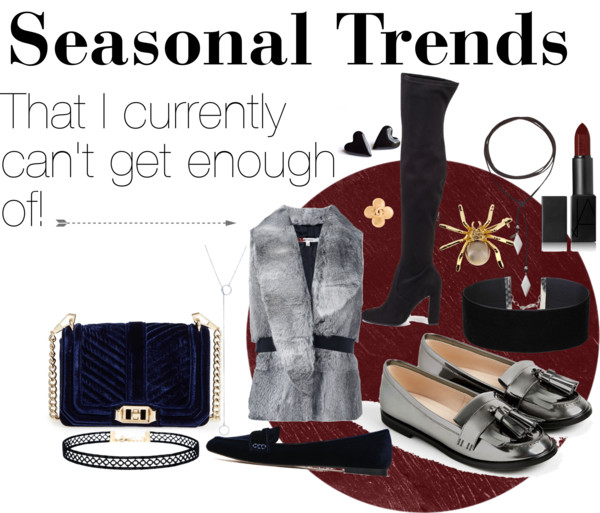 Menswear Inspired Oxfords– these should be replacing all of your round toe, super ballerina-esque flats immediately! I have a variety of styles; patent, sparkly sequined lace ups and even velvet. They are just as comfortable as throwing on a pair of flats but give a more polished appearance to your outfit.
Faux Fur Vest– whether adding a little textural interest to an otherwise monochromatic outfit or using it for added warmth, there are a number of reasons you need at the very least one in your wardrobe. If just easing into this trend try starting with a black one or even a leather/faux fur blend like this one here. I'm now up to three, a black one, white one and a great ivory to grey ombre style.
Chokers & Lariats– these aren't your middle school stretchy plastic chokers, invest in a sparkly number or buy a fun velvet style in a funky color either way try AT LEAST one style this season! The lariats are key for minimalist, the endless styling capabilities means more looks with less items.
Velvet– start small, I did- I jumped in feet first, pun intended, with a pair of velvet loafers (killing two trends with one buy!) then immediately bought a pair of velvet work pants in burgundy because, hello! It was a must! If velvet is scary for you try starting with a velvet choker or even a statement bag in the fun fabric.
OTK boots– you guys are going to laugh but until last year OTK boots were so "Pretty Woman" to me, I just couldn't do it. I loved them on other people but never myself! I have no idea what changed but now I'm obsessed, I love the more form fitting styles with minimal details like the Steve Madden "Emotions" or Stuart Weitzman "Highland" they just work best on me.
Mixing Blue and Black– throw this outdated fashion rule out the window! Mixing blue and black is the new black…you get the point! It's so chic, it shows that you're hip, current and as my grandma would say "with it".
Deep Red Lipstick– it's the season to go bold and nothing is simpler than adding a punch of color on your pout. Some of my favorite colors as of lately have been deep, dramatic reds.
What have been some of your must have items this season?
Xx Sylvia
---
Holiday Planning & Shopping Made Easy
Holiday shopping can be such a stressful activity; all of the crowds, the guess work and the endless searching-it's overwhelming. You end up settling for something that "might work" or doing the dreaded, cliche "gift sets" that line every department store. Setting up a Personal Stylist appointment at Nordstrom for your holiday shopping is a great way to simplify the entire experience while achieving personal gifts in an effortless way. Whether you need to buy gifts for the entire family or just that one picky family member or friend there are a number of ways to make it easy through our styling appointments!
Let me handle the choosing- after a brief consultation call to gather information about who you need to buy gifts for, what their likes/sizes are I can then set a room with all of the potential gifts I believe they would love. You come in and we go through the options together. This is great for those "hard to shop for" people in your life! Then let me gift box everything while you enjoy a hot coffee or tea.
Prior to your appointment with me in store open up your online Nordstrom account or app and create a wishlist of all of the possible gift options then I can access your wishlist and have each of the items available for you to check out in person in your very own personal suite. Come into the store without the stress of having to battle the crowds and shuffle through endless racks, look through only the items you want to see and purchase what you love! I can then gift box and help you to your car.
Choose your items, place them in your wishlist, email it to me and I will process the transaction, gift box and label the gifts then have them ready for you to pick up same day. You pull up (to a designated spot, that's right-no having to search through the holiday parking madness) and I run everything out to your car!  Great for those trying to avoid the entire shopping experience but not wanting to depend on online orders being delivered on time. Have family out of state? I can ship directly to them too!
Thinking about giving a gift card to Nordstrom? Give the gift of a Personal Styling Experience Gift Card, with no additional charge you can make the recipient of that gift card feel extra special with a one-on-one experience catered to them. Contact me for details!
Holiday shopping doesn't have to be stressful. Gift giving is a joyful experience and when you let me knock out the searching for you we can keep it that way!
Text me at 512-842-6693 or email: Sylvia.Vaquera@Nordstrom.com to set up an appointment or talk about the best option for you!
Happy Holidays!
Xx Sylvia
---